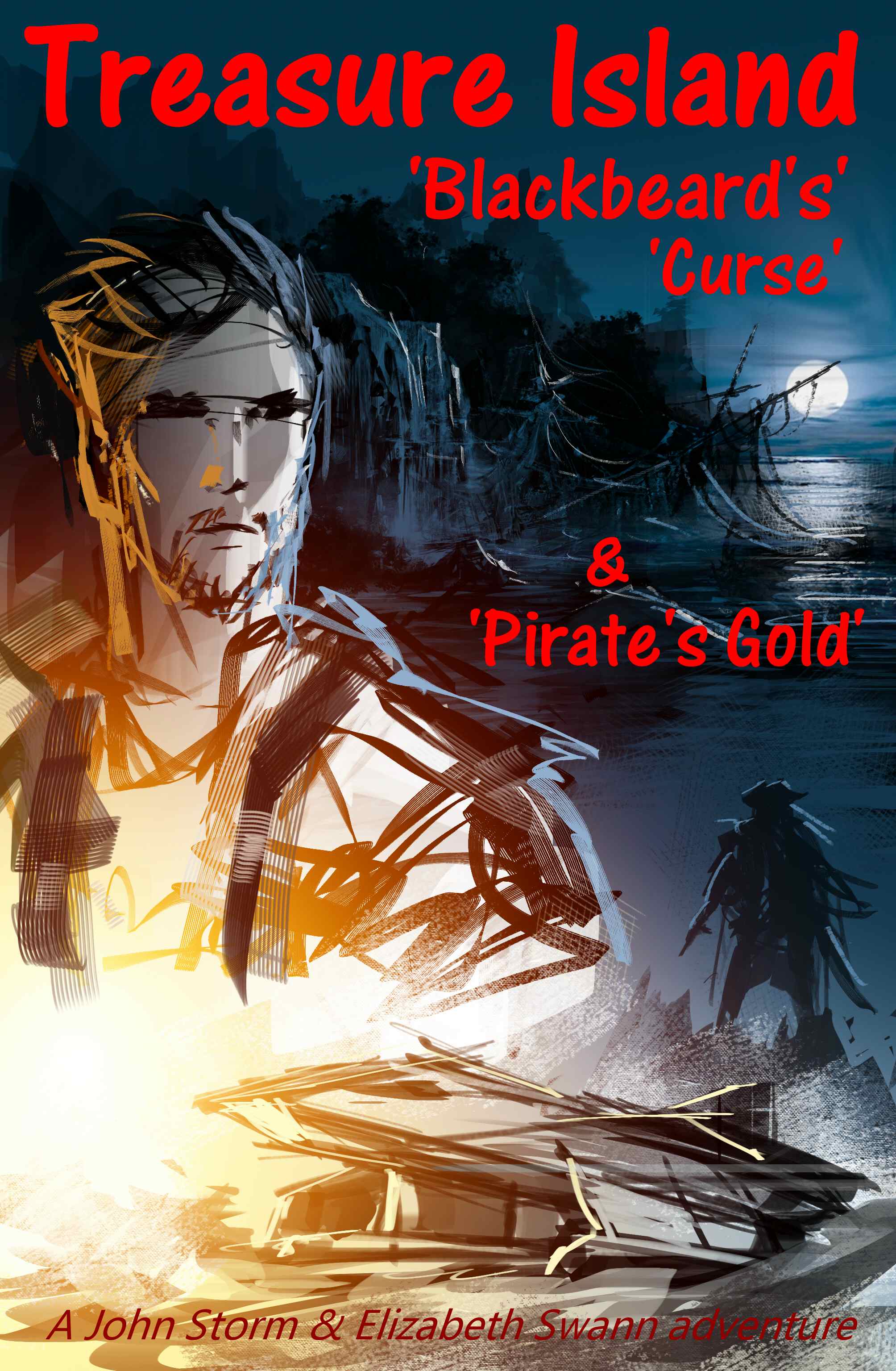 Blackbeard's Curse & Pirate's Gold (draft art) for the Cleaner Ocean Foundation's graphic novel adventure
Edward Teach, known as Blackbeard, was a privateer, at first pardoned by King Charles II of England, then hunted down for blockading Charles Town post clemency, where he was cornered by Lieutenant Robert Maynard of the British Royal Navy and beheaded. It was thought that Teach had amassed a fortune in gold and precious gemstones.
But, Blackbeard's cursed treasure was never recovered, even though Lieutenant Maynard had found a parchment when searching the pirate ship, 'Adventure,' giving directions to a location, most obviously where something important was buried, yet the map did not reveal which island to begin a search.
The map is passed down through generations over three hundred years, ending up with Lord James Huntington, a prominent member of the British Geographical Society. He keeps a watching brief for any clue that may help him find the $billion dollar haul of the century, that will also enhance his explorer status.
Enter our ocean adventurer, John Storm, who has been asked by Blue Shield and UNESCO, to survey Port Royal, should further damage to the underwater city be occasioned by another Caribbean Sea earthquake.
During the survey, the famous subsea archaeologist locates the grave of Captain Sir Henry Morgan, a former pirate, also known to have buried treasure in the Caribbean. In Sir Henry's coffin Storm finds a secret compartment, in which there is a wooden engraving, with clues to the location of Skeleton Island, a very small and out of the way land mass, that was uncharted at the time. This turns out to be 'Old Providence' (Isla de Providencia), off the coast of Nicaragua, some 700 kilometers distant from Jamaica. A perfect hiding place off the beaten track.
Lord Huntington, who had suggested John Storm should be employed by UNESCO, finds out about the wooded engraving from his snitch William Gray, a former US Navy Captain.
And so the adventure begins .... a race to recover Blackbeard's hoard .... with plenty of pirate rivalry, and even some swashbuckling swordplay, into the bargain.
THE ORIGINAL 'TREASURE ISLAND' - by CAPTAIN GEORGE NORTH
It is thought by many that a close friend of Robert Louis Stevenson and occasional literary collaborator, William Ernest Henley, an energetic, talkative man with a wooden leg, was the model for Long John Silver. Stevenson worked on the first draft of the story while living in both Scotland and London – he wrote quickly – completing the first 15 chapters in as many days.

During the 19th century the desert island 'romance' style of novel, which features shipwrecked or marooned characters confronted by treasure seeking pirates or angry natives had become one of the most popular fictional styles in Great Britain. It is obvious that Treasure Island was the climax of this development.

Stevenson borrowed ideas and material from many different literary sources: Daniel Defoe's Robinson Crusoe (1719), S. H. Burney's The Shipwreck (1816), Sir Walter Scott's The Pirate (1822) and James Fenimore Cooper's The Pilot (1823). More specifically, in an 1884 letter, Stevenson admitted; "Treasure Island came out of Charles Kingsley's At Last, where I got the Dead Man's Chest — that was the seed — and out of the great Captain Johnson's History of the Notorious Pyrates." He admits that he took the idea of Captain Flint's pointing skeleton from Edgar Allan Poe's tale of buried treasure The Gold-Bug.

Stevenson also admitted that he constructed Billy Bones' history from the pages of Washington Irving, one of his favourite writers.

From these various sources and ideas, Stevenson skillfully constructed the definitive pirate adventure novel; a coming-of-age story noted for its fine plot, suspense, atmosphere, characters and action, as well as influencing forever the popular perceptions of pirates such as treasure maps marked with an 'X', schooners, the Black Spot, tropical islands, and one-legged seamen bearing parrots on their shoulders.

The story was originally serialised in the children's magazine Young Folks between 1881 and 1882 under the title Treasure Island, or the Mutiny of the Hispaniola and credited to the pseudonym 'Captain George North'. It was first published as a book in 1883.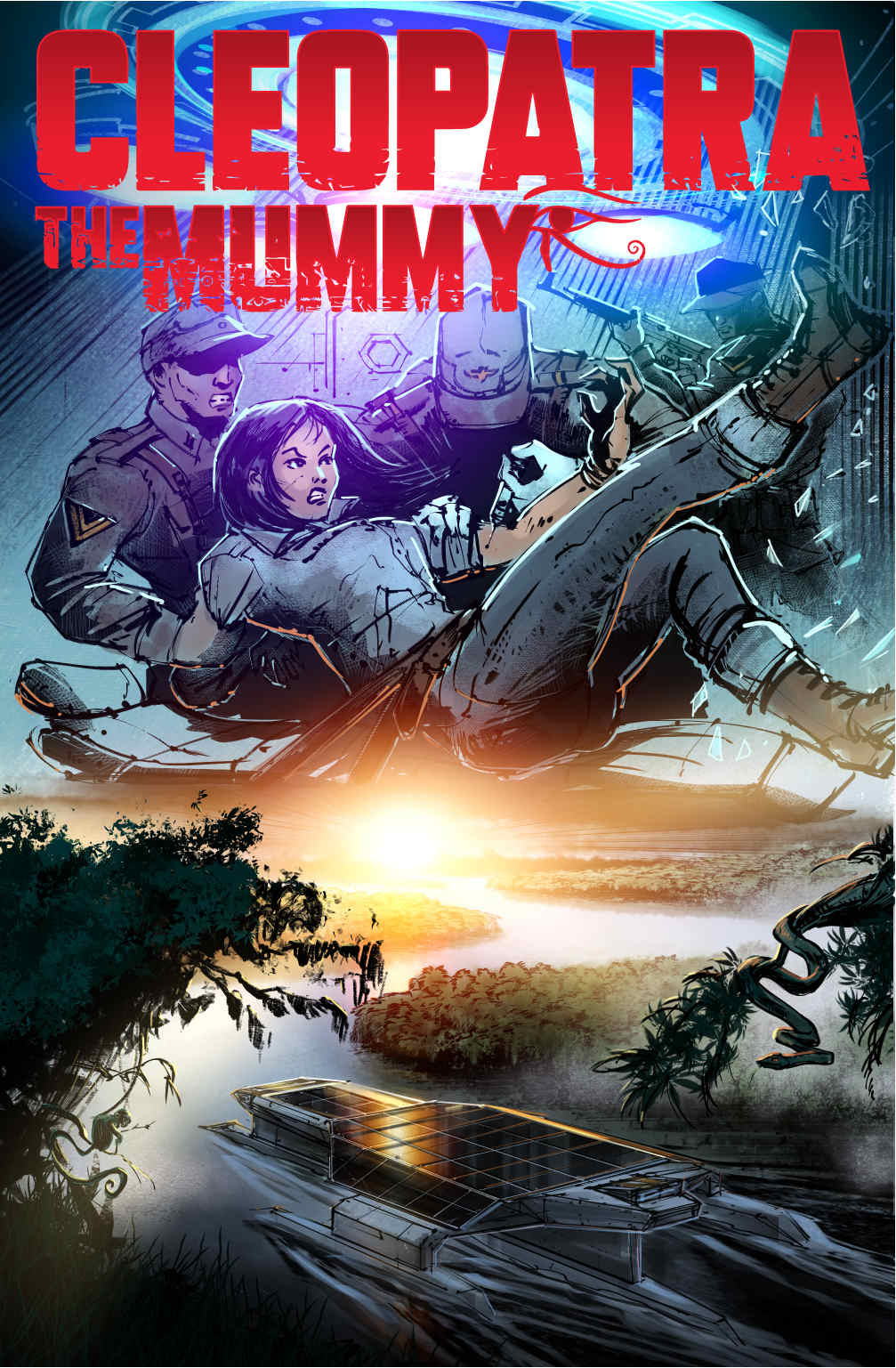 Cleopatra The Mummy (artwork) for the Cleaner Ocean Foundation's graphic novel adventure
Please use our A-Z INDEX to navigate this site, or surf HOME