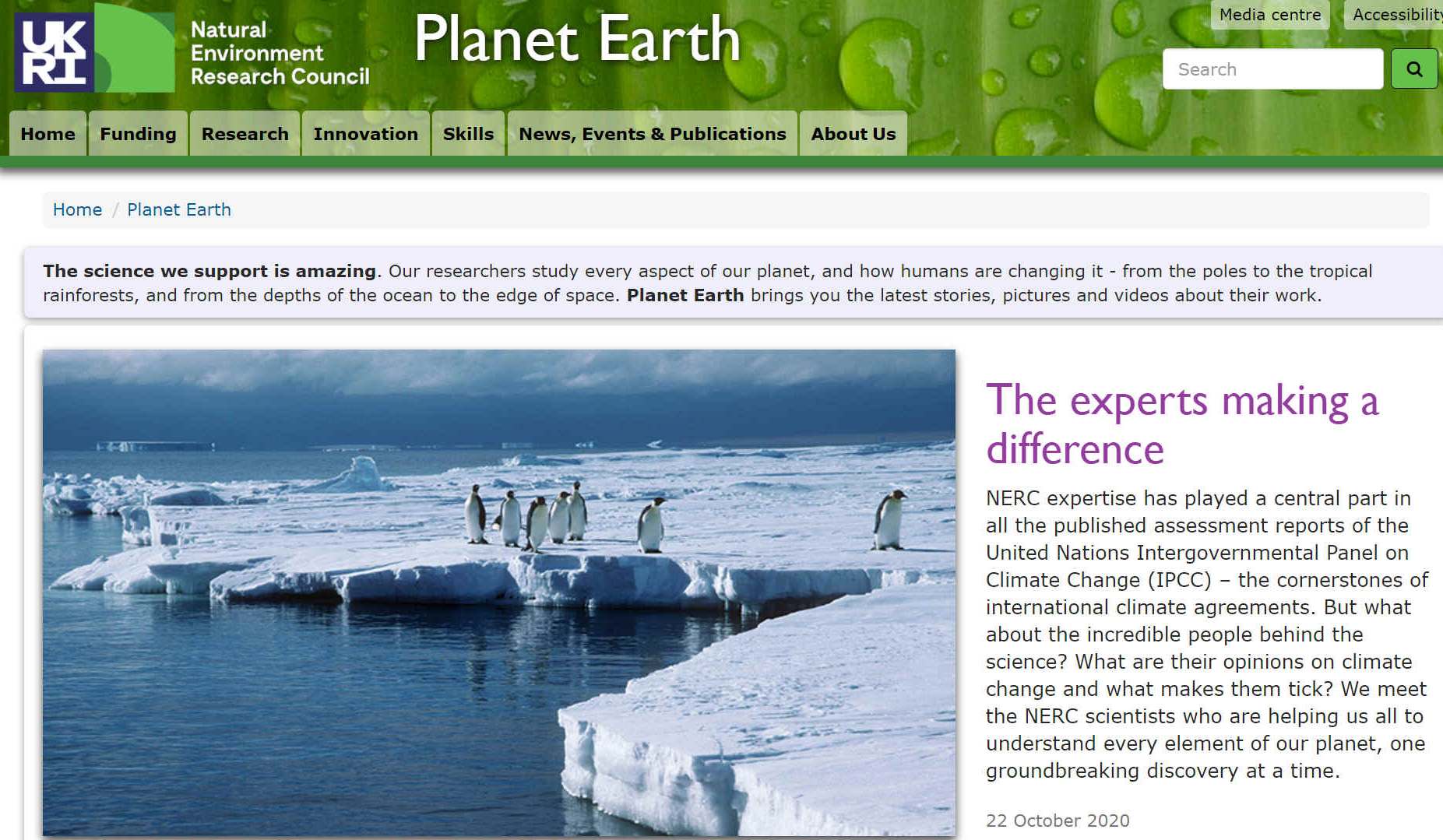 NERC - Is the Natural Environment Research Council a back door brain drain to inventive and truly independent entrepreneurs, with uncomfortably close ties to the military? For sure the objectives look to steal patent-able intellectual property (ideas), to drive (or underpin) an at present unsustainable economy. It remains to be seen if the situation improves.
The NERC appears to be engaged on a recruitment programme, in partnership with One Planet, Innovate UK and Research England.
The Natural Environment Research Council claims to be the UK's largest funder of independent environmental science, training and innovation, delivered through universities and research centres. Though the term "independent" is questionable.
Where does their money come from, and are they, via their virtual monopoly situation, stamping out truly independent "grass-roots" innovation? Is the money they use for funding derived from taxes, and does that make the research public property?
It is true that we no longer live in a natural world - there is virtually no part of the environment that humans have left unchanged.

Our growing population and the way we live has changed our relationship with the environment and humans are now the dominant source of change.

People around the world aspire to escape poverty and improve living standards: achieving this whilst living within the Earth's limits is one of the greatest challenges of the 21st century. We believe this should be linked to the Earth's ability to sustain life, not linked to printing presses that generate "promises" of payment on presentation of a piece of paper called a bank note, that is in reality a means to superheat the economy - that in turn creates global warming. The objective being for bankers to get rich on the backs of the workers - without lifting a finger themselves.

NERC claim that their science has a critical role to play in meeting the anthropogenic challenge - to help the UK deliver innovation and growth, balanced with responsible environmental management. Indeed, 'growth' is the problem. We should be looking at a gradual curtailing of the paper based economy - until environmental equilibrium is reached.

The NERC was created in 1965 when a number of environmental research organisations and surveys were brought together by Royal Charter. From 1 April 2018, NERC became part of UK Research & Innovation, an organization that brings together the UK's seven research councils, Innovate UK and Research England to maximise the contribution of each council and create the best environment for research and innovation to flourish.
Sadly, that objective flies in the face of encouraging independent entrepreneurs (who are not academics) with genuinely creative ideas, in denial of Article 14 (indirect) discrimination. The NERC creates a situation where those outside of academia are stonewalled. It is a closed club, that tends to suffocate visionaries.
The NERC claim an alternative vision to ensure the UK maintains its world-leading position in research and innovation. What that can mean is money for the boys in the academic club, to the exclusion of all others. A sort of eugenics programme to exclude those who have not studied conventionally. At the moment there appears to be no funding for talented individuals outside of academia. Something the State may want to pay some attention to.

NERC responsibilities as set out in the Higher Education & Research Act 2017:

- carry out research into environmental science, technology and new ideas
- encourage and support the provision of postgraduate training in environmental science, technology and new ideas
- facilitate, encourage and support environmental research, technology and new ideas
- facilitate, encourage and support the development and exploitation of environmental science, technology and new ideas
- facilitate, encourage and support knowledge exchange in relation to environmental science, technology and new ideas
- collect, disseminate and advance knowledge in environmental science, technology and new ideas
- promote awareness and understanding of environmental science, technology and new ideas
- provide advice on any matter relating to NERC functions
- promote awareness and understanding of NERC activities.
Nowhere in the above is sharing with those outside of academia mentioned, although it is implied. In reality, those outside of learning institutions are effectively stonewalled.
This is an allegation borne of genuine attempts to get at information for independent use. In that regard, it is a pity that the noble objectives cannot be achieved in the view of entrepreneurs wishing to avail themselves of State supported research that is not disseminated, but rather guarded and lacking in transparency, though such research is funded by the taxpayer.
THE MAYFLOWER AUTONOMOUS SHIP
the Mayflower Autonomous Ship (MAS) is scheduled to begin its journey across the Atlantic Ocean at some time in 2021. The launch of the project was to, commemorate the 400th anniversary of the Pilgrim Fathers' voyage to the new world.
CONTACTS
Natural Environment Research Council
Polaris House, North Star Avenue
Swindon, SN2 1EU
United Kingdom

01793 411500
web@ukri.org
LINKS & REFERENCE
https://nerc.ukri.org/about/whatwedo/vision/
https://research.ncl.ac.uk/one-planet/howtoapply/
https://research.ncl.ac.uk/one-planet/studentships/OP2168Nigel Penna-Measuring-the-0ocean-from-an autonomous yacht-sized robotic ship
https://www.ncl.ac.uk/
https://mas400.com/