WORKSHOPS: The Foundation has use of two small workshops and a larger (external) flat concrete area for the fabrication of boats and parts. This is the metal working shop, where three small car prototypes had previously been hand constructed from scratch, two of them electric. One with a hydrogen battery cartridge, quickly demountable, for a lithium battery cartridge by way of exchange. Taking just a couple of minutes to complete. Application number 80078 (Automotive Transformation Fund) 4 August 2020 "Hydrogen Battery" relating to SmartNet dual purpose Grid load levelling EV service stations. Funding request not forthcoming, not pursued with no support from UK policies, and Brexit blocker to EU applications. Also rather surprising was a total lack of feedback from competition organizers. Vehicle projects shelved, accordingly. Unsurprisingly, EV infrastructure has no advanced. But may see more support following the Russia Vs Ukraine war, focusing policy makers on energy security.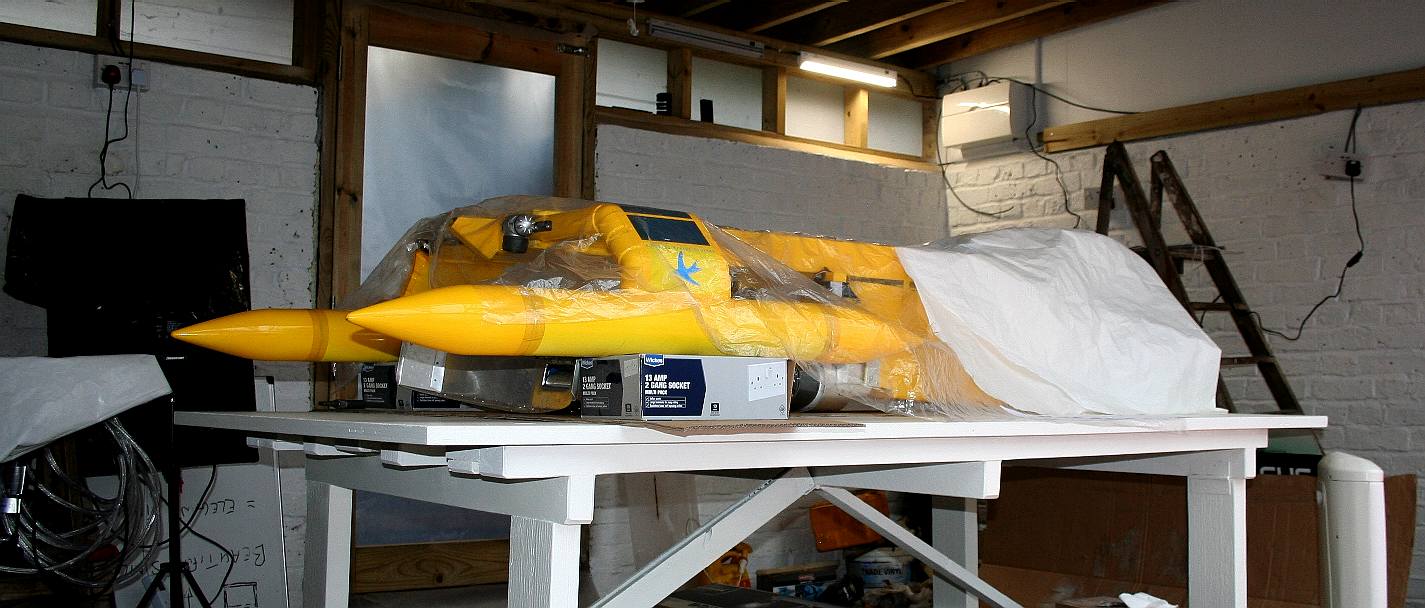 THE ROBOT LAB: The robotics laboratory roofed and dry with power and lighting to enable further development of scale models used for testing, without taking workshop space that is used for constructing full size components.
The Cleaner Ocean Foundation (COF) maintains, operates, and where needed, improves on their (model) fabrication workshops at their HQ in Sussex, England. The unit has facilities to build large scale models, such as for autonomous energy harvesting apparatus for low drag hulls powered by hydrogen fuel cells, with solar assistance.
It is especially important to have space, where the solar assistance is by folding photovoltaic panels, that present a large area to the wind - and are sure to need to welding and other engineering facilities. Including making wooden formers, and some composite parts (GRP, Carbon Fibre).
Welding equipment include a 450amp 3-phase inverter; 240amp TIG and spool on gun (for ally); plasma cutter; 180amp stick (arc) welder, and a 20kVA 3-phase diesel generator portably mounted on a trailer.
To date, there have been few grants to help us accelerate clean technology. Leaving us to develop concepts as and when director loans and volunteers or students are available.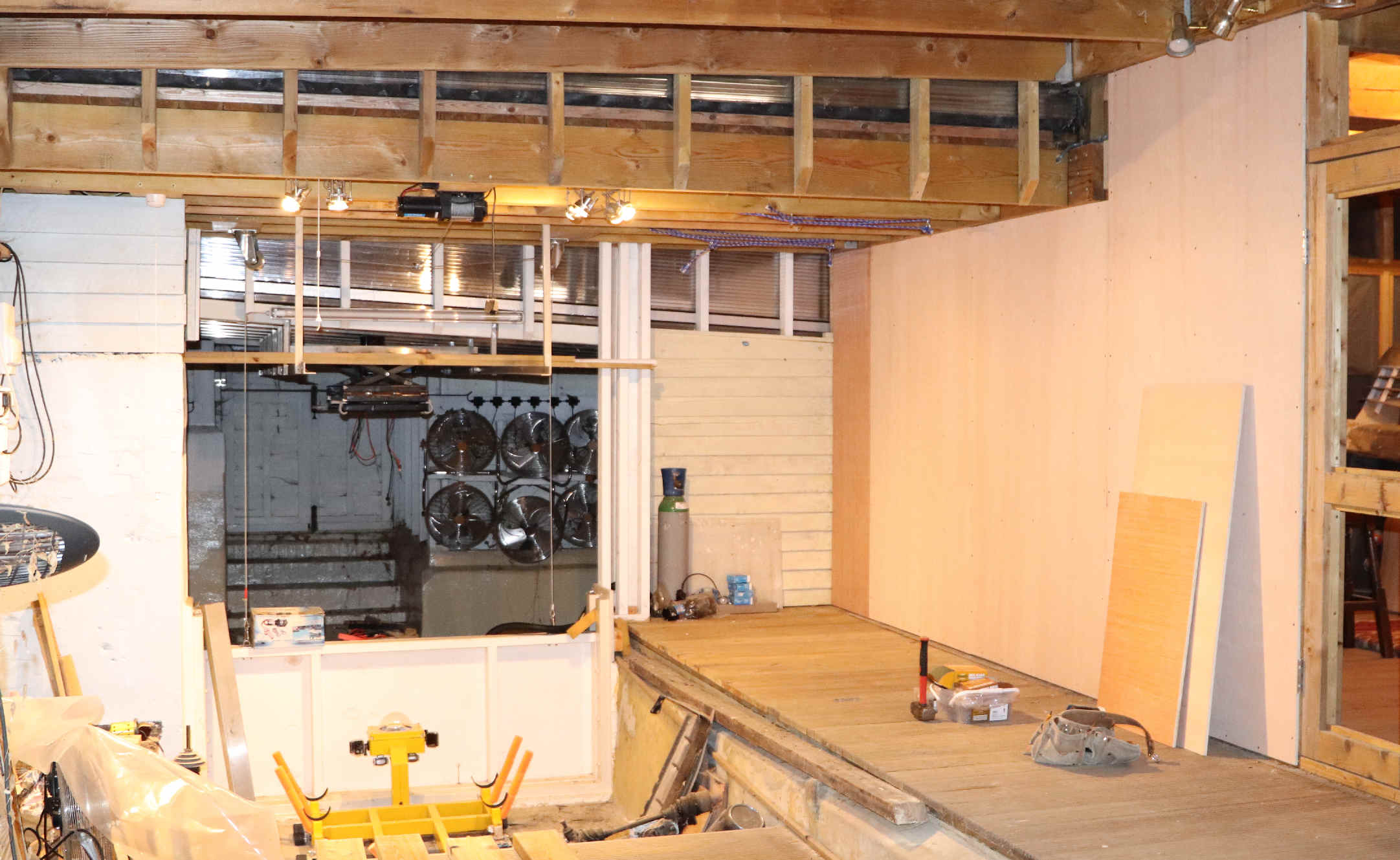 WATER TEST TANK - Shown here in November 2022, Now separated by an additional moisture proof partition. This is the water basin that is used to trial scale model hulls, for sea-keeping and drag. Featuring wind making fans that are useful to test roll stability when large solar arrays are deployed.

Commercial shipping is now subject to IMO regulations to rid us of air pollution from dirty bunker diesel oil fumes. The objective is to make marine transport zero emission by 2100. The transition is not going to be easy with so much invested long-term by fleet operators, in black soot belchers, and dirty bunker fuel diesel engines.
Large cruise liners and cargo ships might benefit from solar assistance, providing some relief for renewably generated hydrogen and electricity, to charge battery vessels, and power fuel cells.
DECK AREA MULTIPLIER
As an example, a traditional, large, cargo ship with a deck area of some 5,000 m2 might generate 4,000 kilowatts (kW) in a day. This could be increased (optionally) by a factor of three (area) and doubled (by tracking) to give 24,000 kW in a day (24MW). Converted to propulsion (optimally) by electric pod thrusters, to provide roughly 10-20% of the daily propulsive energy of a cargo vessel. Dependent on efficiencies of the ICE comparison, and assuming a higher conversion rate, electricity in - to thrust - of submerged electric jet thrusters (pods), that have no drive shaft or gearbox losses.
At the moment solar power has taken a back seat due to a lack of suitable deck space, but could be employed if the folding wing system we have in mind is developed as a bolt on accessory, to challenge, and/or supplement wind assisted ships. Care should be taken not to shade PV panels, in designing any installation.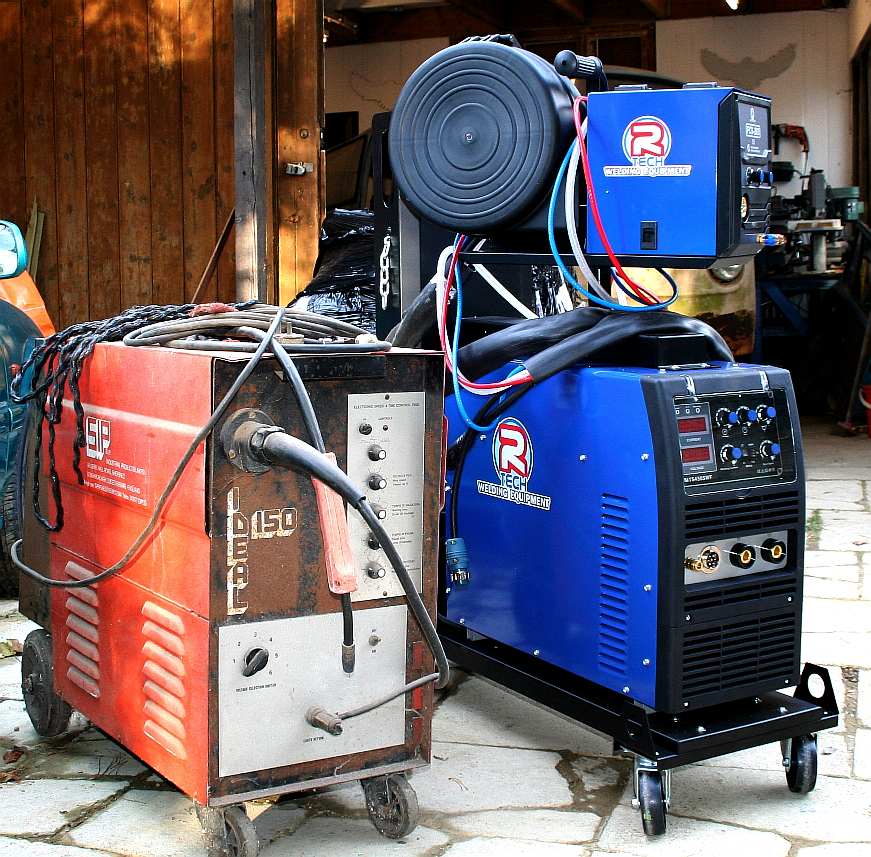 OLD & NEW - The Ideal 150 from SIP did our welder proud for over 20 years. Before that, he used an Oxford Bantam 180amp stick welder. The machine on the right is the all singing and dancing 450amp, 3-phase machine, with separate (top mounted) spool - and double pinch wheel drives, for continuous welding cycles. This machine was purchased in 2016, to be used to construct the steel frames for an AmphiMax, beach launching, amphibious vehicle - for a RiverVax size (17m) prototype. The AmphiMax concept was proven in 2022, when a 1:20 scale model successfully transported the 1:20 scale SeaVax (proof of concept boat). These vehicles are kept in storage as potential historic vehicle. The Foundation applied a number of times for funding assistance, to test the water. It appears that plastic pollution was not high enough on any political agenda in years gone by. It did make in onto the COP15 agenda in 2022, but will be years before funding finds its way to similar projects, assuming there are future champions, to take up the challenge. The Sargassum plagues may generate funds to prevent pristine Caribbean beaches from stinking, full of rotting seaweed.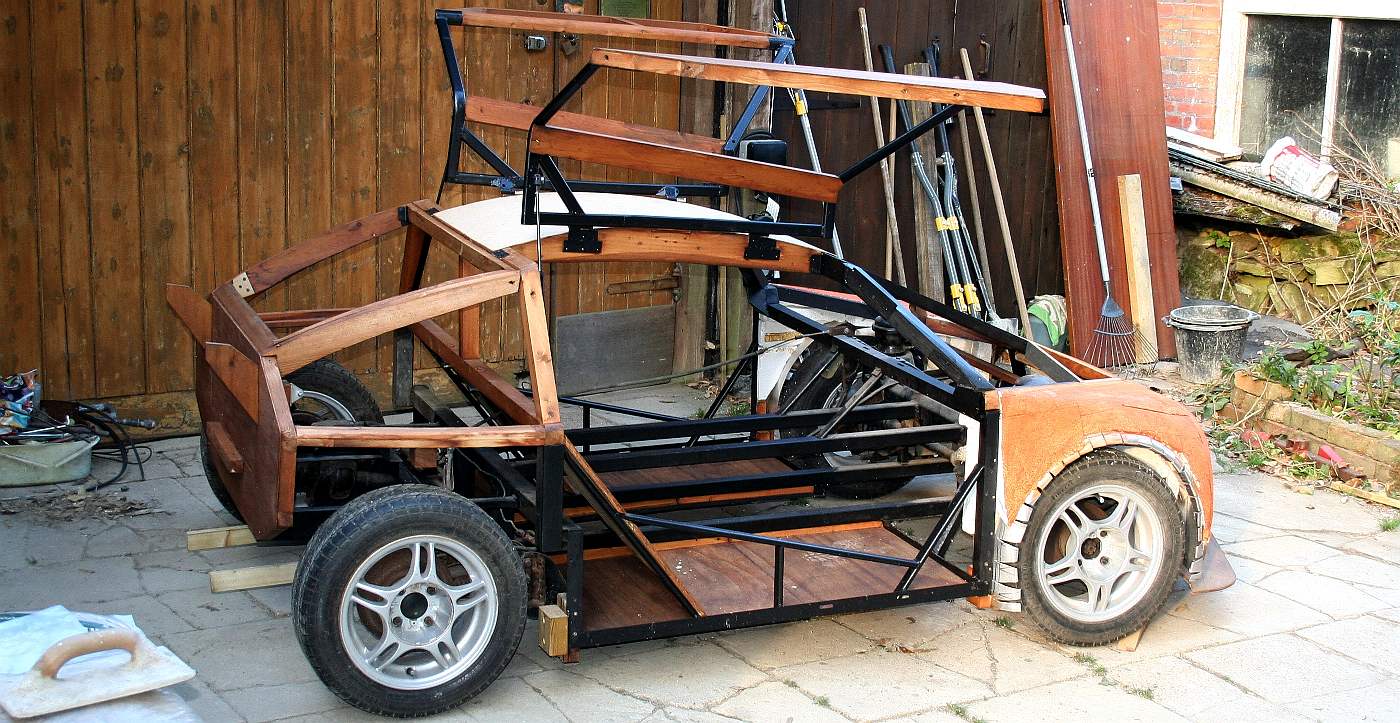 A team of student volunteers helped to build this gull wing sports car, to teach them design and welding skills, going back to the days when cars were hand built custom specials. We used the SIP 150 MIG welder to make this car. No welding plant, no car. No workshop - No car. No staff - No car. It is hydrogen fuel cell powered, with a fast swap cartridge system built in, to change to lithium batteries. Now all we need is for the National Grid to catch up.
WELDING PLANT - The Foundation is well equipped to deal with metal joining on proof of concept models, or on small prototypes, which includes small boats and cars full size. [LEFT] 20kVA 3-phase diesel generator [RIGHT] WELDING KIT - In our opinion this has got to be the Rolls-Royce of welding equipment. This is one of the welders from the R-Tech range that is extremely versatile. It is a digital DC welder that is inverter based. It is also one of the few machines that you can buy that allows the operator to use a 'spool on gun,' where instead of using the drum inside the machine feeding through a euro-torch, you can use a gun that has a 0.5kg wire drum spool holder and drive mechanism mounted on the torch. This is ideal for aluminium welding where the friction of the euro-torch liner is often enough to prevent the pinch wheels from being able to deliver wire to the welding tip. The MTS255S Digital Synergic Inverter MIG, DC TIG and MMA welder features a high 35% duty cycle, Synergic digital control panel with 9 memory store facility, MIG wave adjustment for fine control of welding arc, 5KG reel capacity with optional spool gun system for easy alloy welding. Ideal for maintenance, automotive and fabrication welding. This machine automatically adjusts wire feed to power/wire type set by operator. It has infinite fine control of welding voltage/amperage to offer very smooth low splatter welds on all steels and aluminium due to its inverter technology. The metal wire feed takes 0.6, 0.8 and 1.0mm wire. This beautiful machine outputs: 250 Amp MIG Welder, 250 Amp DC TIG Welder and 200 Amp Arc/MMA Welder. You can weld from as low as 25 Amps in MIG mode. The machine is generator Friendly (min rating 10KVA) and takes 5kg reels of MIG Wire. CONTACT: R-Tech Welding Equipment Limited, Unit G1 & G2 Innsworth Technology Park, Innsworth Lane, Gloucester, GL3 1DL. Telephone: 01452 733933. Website: http://www.r-techwelding.co.uk/ Copyright photographs © 5 December 2016.
ORIGINAL CONCEPT
As far as we know the system we are developing is unique, and has not been attempted as a working model, or at full scale.
We are working at 1:20 scale. Using a mix of custom build parts, and components that are available off the shelf.
The full size system will more than likely use rotary hydraulic motors. At one twentieth scale we are using a 12 volt dc motor mated to a gearbox for 140:1 reduction. We intend experimenting with other set-ups and even belt reduction systems. Leaving few rocks unturned in the quest for practical perfection.
You need not operate in the maritime sphere to join in this cleaner ocean adventure, merely share an interest in conserving the seven seas with pollution free transport, and a desire to help where you might. On 21st December 2022, we were blessed with one short week where it snowed and settled. Temperatures plummeted to 1-3 degrees C. And the ponds in the Park froze over almost completely for one day. Our roving cameraman captured the stunning picture below, on his way back from the little village of Herstmonceux, heading south, just slightly off the beaten track. One week later it rained and temperatures climbed to 10 degrees centigrade. It has not stopped raining since, and it is very nearly the New Year 2023 as we write.