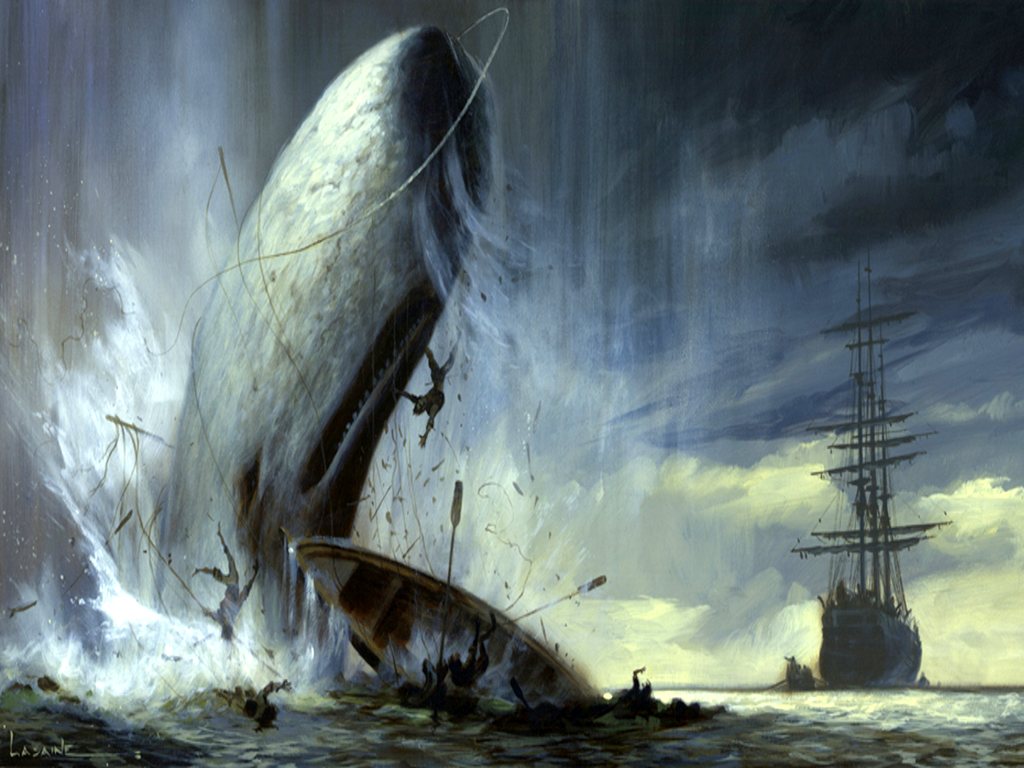 One of the classic scenes that almost every artist wants to paint. Moby-Dick takes out a boat load of harpooneers. In 1820 a sperm whale matching the description of Moby-Dick stoved in the Essex, commanded by George Pollard, with Owen Chase as the 2nd mate. In 2015 this story was made into a superb film starring Chris Hemsworth, called In the Heart of the Sea.
The idea for Kulo-Luna was planted in the young Jameson Hunter when he was a boy in London, and his father took him to see a cinema showing of the awesome Warner Bros movie starring Gregory Peck, about a giant albino sperm whale and Captain Ahab's quest for revenge.
He thought nothing more of that until news coverage of whales being taken by Japanese whalers, despite international agreement as to conservation. His favourite whale was the humpback. He was also keen on solar powered boats, and thought to include a solar boat in his story, that was to draw attention to marine litter and ghost fishing nets in the ocean. Since this pollution is killing hundreds of whales every year.
After some research on the subject, Jameson learned of the Essex sinking in 1820 and Mocha Dick, the real events that gave Herman Melville the inspiration for Moby Dick. Thus were Melville was inspired by his experiences, he passed on the creativity to in turn inspire others.
Discarded fishing gear and single use plastic is a modern menace that Governments are failing to tackle with due diligence, just as they failed to deal with the warming of the planet from the use of fossil fuels with what many might describe as sensible safety limits. Though the intensification of farming to feed a growing population is also a major contributor to greenhouse gases. See Work Package 9, under 'dissemination' (ocean/climate awareness).
Kulo Luna could be a beautifully illustrated book, a graphic novel, and (eventually) the beginning of a movie franchise, with good potential for sympathetic product placing.
Much like the James Bond franchise, John Storm is a no-nonsense problem solver, only he works to defeat man-made conservation disasters that are real, instead of megalomaniacs hell bent on world domination, who are fictitious.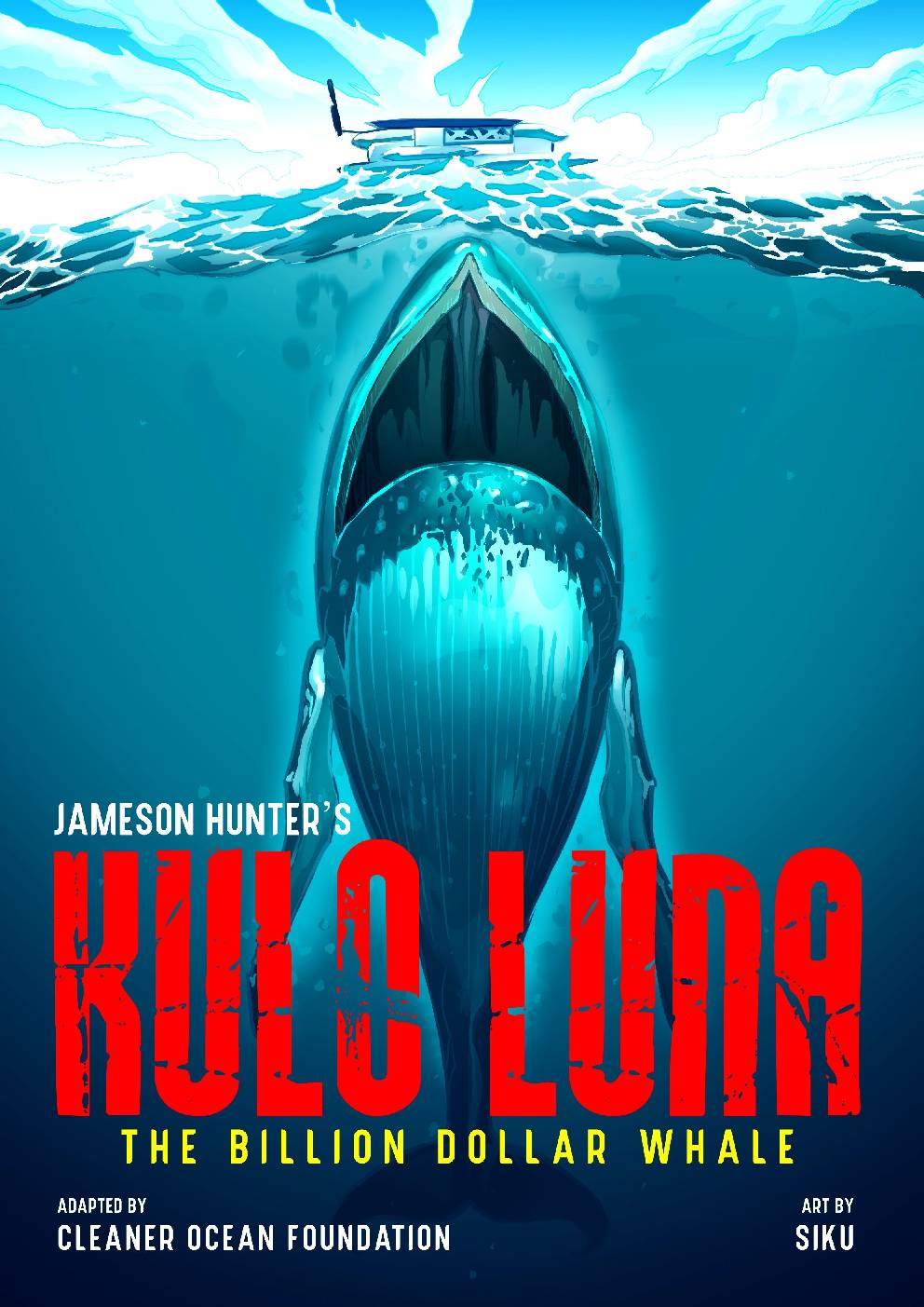 COVER ART - Watch this graphic novel cover come to life in a Youtube showing the artist creating the theme, with several ideas as to treatment, before settling on this Jaws inspired classic. Please click on the picture to see the video diary.
READ KULO LUNA - THE PUBLISHED CHAPTERS
The last four chapters will be released on publication of the in-progress graphic novel version of this story.
SCENE

DESCRIPTION

LOCATION

Chapter 1

Arctic Melt (Prologue)

580 W, 750 N

Chapter 2

330 S, 1510 E

Chapter 3

330 20'S, 1520 E

Chapter 4

200 N, 1600 W

Chapter 5

330 N, 1290 E

Chapter 6

200 N, 1600 W

Chapter 7

130 S, 1310 E – 350 S, 1380 E

Chapter 8

200 N, 1600 W

Chapter 9

240 N, 1410 E

Chapter 10

200 N, 1600 E (middle of Pacific)

Chapter 11

250 N, 1250 E

Chapter 12

140 N, 1800 E

Chapter 13

150 N, 1550 E

Chapter 14

100 N, 1650 E

Chapter 15

100 N, 1650 E

Chapter 16

100 N, 1650

E

Chapter 17

100 N, 1650 E

Chapter 18

150 S, 1550 E

Chapter 19

150 S, 1570 E

Chapter 20

20 S, 1600 E

Chapter 21

170 S, 1780E

Chapter 22

200 S, 1520 E

Chapter 23

250 S, 1530 E

Chapter 24

250 S, 1530 E
Production of the graphic novel version of Kulo Luna started in August 2020 with the launch of an Ocean Art Competition - that closed in September 2020. Like Moby Dick, Kulo Luna is about a giant humpback whale that fights back to sink a pirate whaling boat. Kulo Luna sinks a modern whaling boat, much as depicted in Herman Melville's Moby Dick, except that is this day and age whales have explosive harpoons to contend with, sonar and rusty steel hulls. Regardless of the difficulties, Kulo Luna finds a way to crack the hull of the Suzy Wong, just like Moby Dick in Herman Melville's tremendous volume.