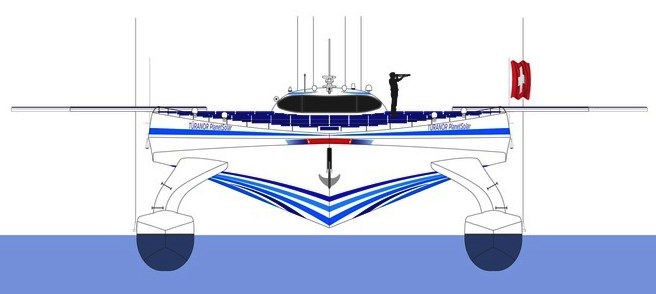 On a solar boat speed is all about having a large solar panel area in relation to the mass of the hull. Other considerations are frontal area and hull drag.
MONACO TO MONACO

On the 27th of September 2010 Tūranor PlanetSolar started on a journey around the world from Monaco. With this expedition, the initiators of the project aimed to focus the public awareness on the importance of renewable energies for environmental protection.
The idea was developed by Raphael Domjan and a team, including:
1. The great grandson of Jules Verne; Jean Verne;
2. Jean-Louis Aucouturier, Professor Emeritus at the ENSEIRB Graduate Engineering School - Bordeaux Science and Technology University and President-Founder of the Electric Boats of France (l'Association franēaise pour le bateau électrique - AFBE);
3. Jean-Luc Van Den Heede, Navigator and Record Holder of the solo non-stop westward circumnavigation by sailboat. Ten Cape Horn passages, four around the world sailing tours; two of these tours in the Vendée Globe Race; and
4. Fernand Cuche, Conseiller d'Etat neuchātelois.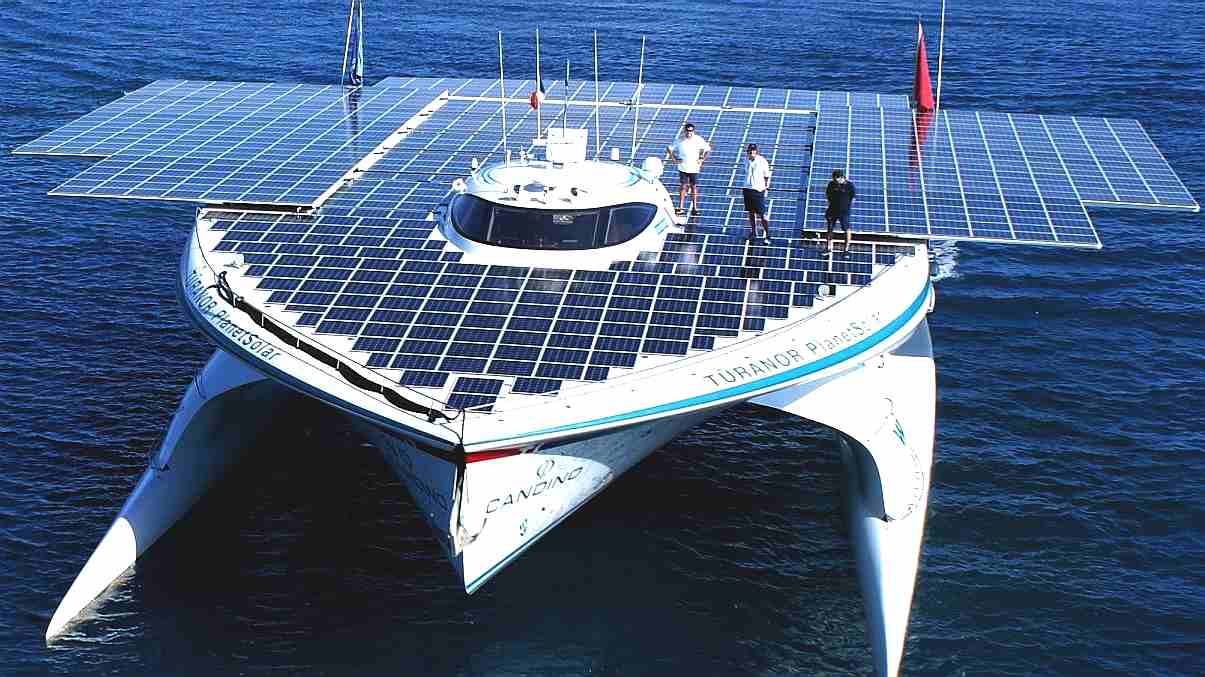 THE CREW
A crew of six set out to circumnavigate the globe using only solar power. Captain of the expedition was Frenchman Patrick Marchesseau. Other participants were Christian Ochsenbein (Bern, Switzerland) and Jens Langwasser (Kiel, Germany); as well as project initiator, president and expedition leader Raphaėl Domjan (Neuchatel, Switzerland).
On 27 November 2010 the solar boat reached Miami. A significant stopover was Cancśn, during the United Nations World Climate Conference.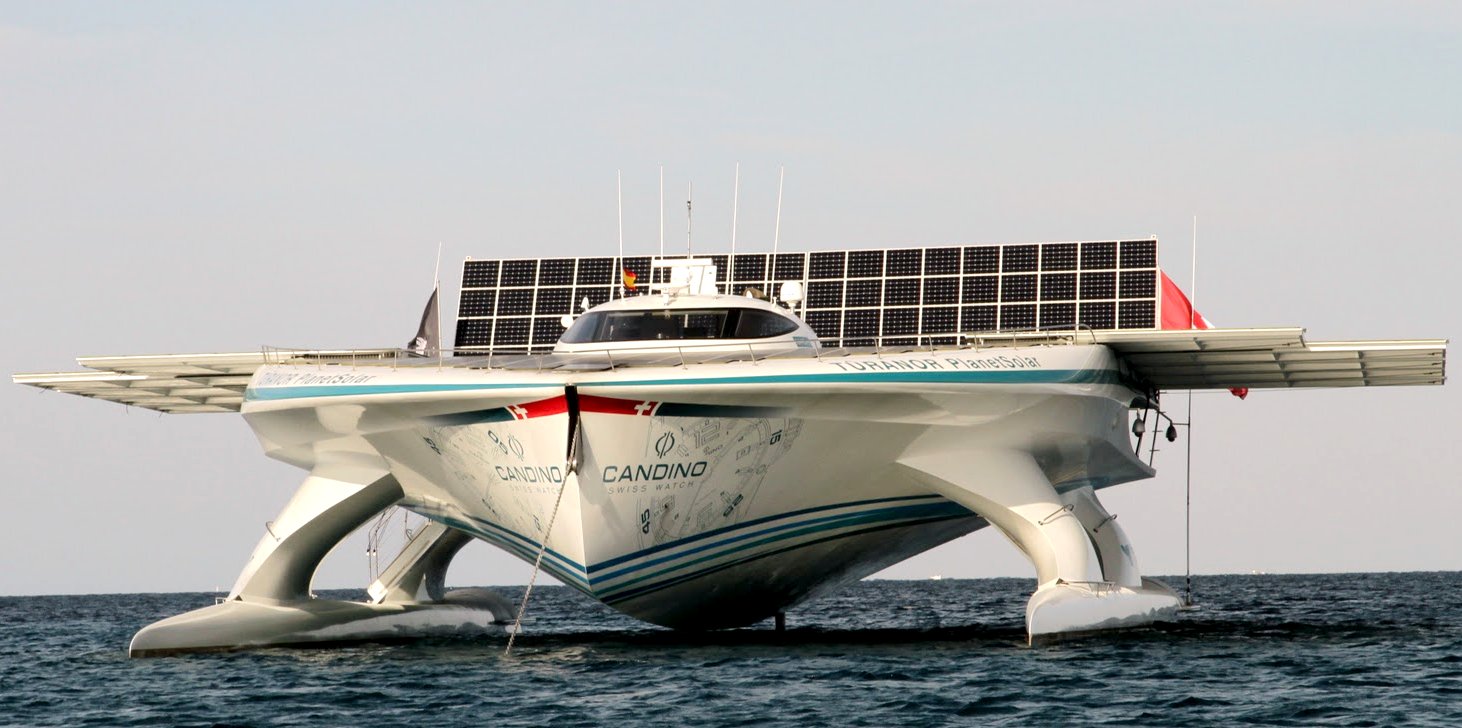 At the centerline of the world tour, the French Canadian Captain Erwann Le Rouzic took over in New Caledonia mid May 2011, to assist with navigation sharing the master's responsibility with Captain Patrick Marchesseau.

On the first solar boat expedition around the globe, the Tūranor PlanetSolar set two records:
1. fastest crossing of the Atlantic Ocean by solar boat and
2. longest distance ever covered by a solar electric vehicle.

After 584 days, Tūranor PlanetSolar returned to Monaco on 4 May 2012 having sailing around the globe. Technical problems with the propeller system had forced the vessel to stay in an Asian port for two weeks of repairs using local craftsmen.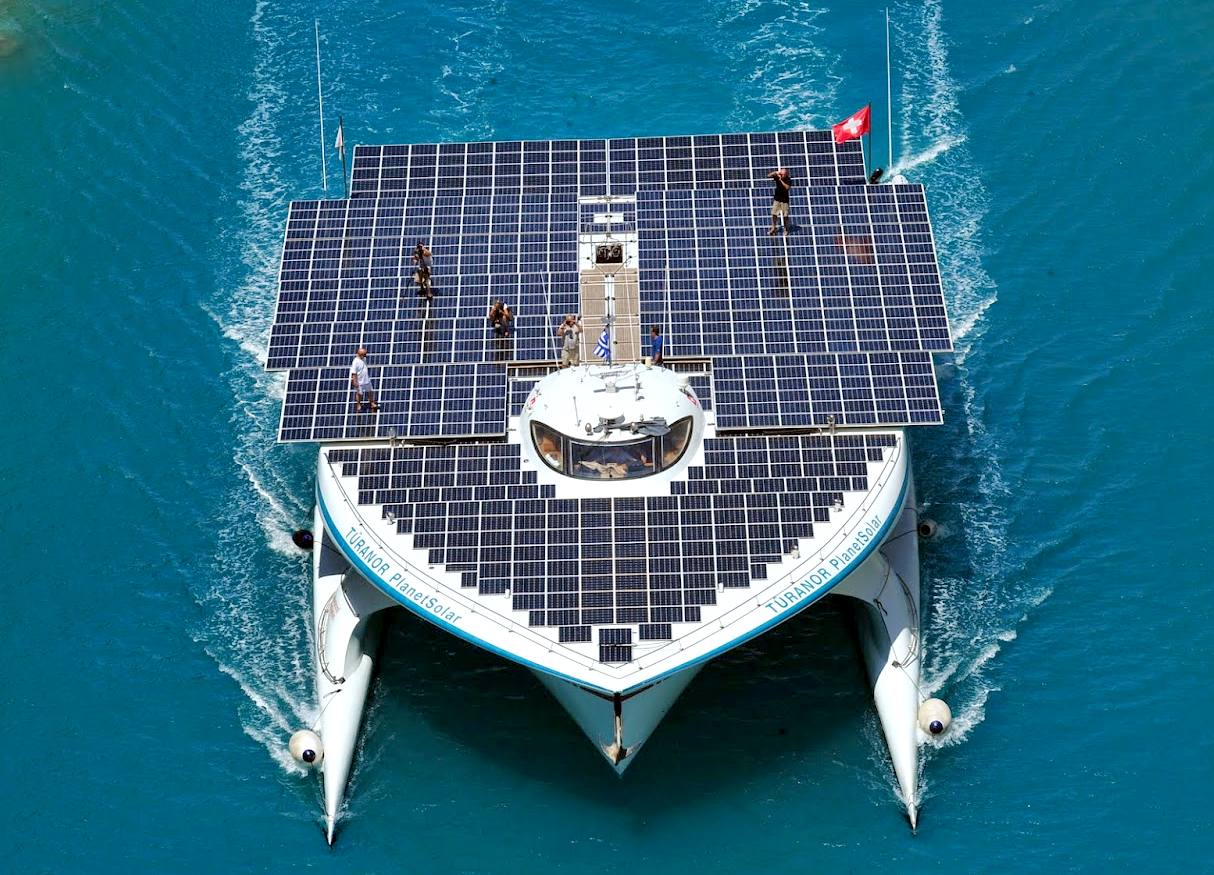 PLANETSOLAR SPECIFICATIONS

Length 31 m
Length (with "tail flap") 35 m
Width 16 m
Width (with "side panels") 26 m
Unladen weight 89 t
Height (above the waterline) 6.5 m
Total surface area of the solar panels 536.65 m2 (@17.4% efficiency)
Number of modules 825
Number of photovoltaic cell 38'000
Cell efficiency 22.6%
Total weight of the Li-Ion batteries 12 t
Autonomy without sunshine 3 days
Cruising speed 5 knots
Maximum speed 9 knots
Maximum engine power 120 kW
Crusing speed power 20 kW
Peak performance 93.5 kW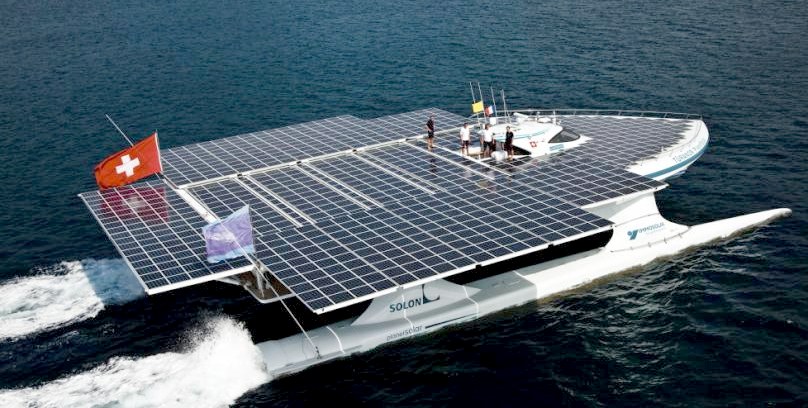 COMPARE DESIGNS
This is a useful comparison table between the Elizabeth Swann and PlanetSolar based on the published details above. Note the Swann's specification is draft (estimated) and subject to change as the development proceeds, the Planet's spec is actual:
| | | | |
| --- | --- | --- | --- |
| ELIZABETH SWANN | | | PLANET SOLAR |
| - | | | |
| Peak power [ave pv+wind] = | 90kW (120 hp) | - | 93.5kW (125.34 hp) [pv] |
| - | | | |
| 24hr averaged power = | 28kW (37.5 hp) | - | 31kW (41.78 hp) |
| - | | | |
| Peak power to weight ratio = | 3.6kW/ton (4.6hp) | - | 1.05kW/ton (1.4 hp) |
| - | | | |
| 24hr averaged p/w ratio = | 1.12kW/ton (1.5 hp) | - | 0.34kW/ton (0.46 hp) |
| - | | | |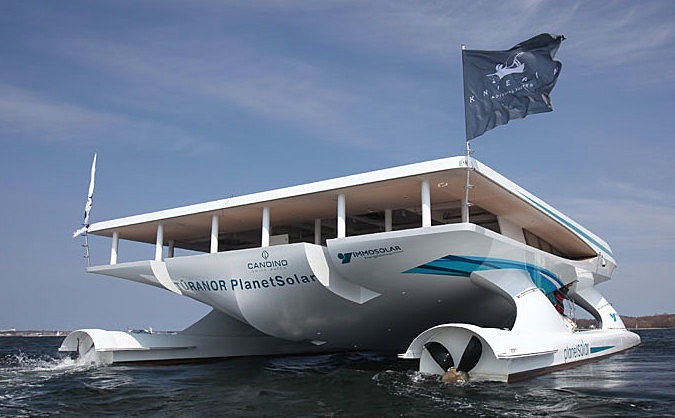 Note the unusual propeller design of this boat - surface piercing blades or paddles that create a lot of splash.
TRANSATLANTIC RECORD APRIL 25 - 18 MAY 2013
The previous solar Atlantic record set by MS Tūranor PlanetSolar in November 2010 was bested in 2013, using the same route - from Las Palmas, Gran Canaria, Spain, on April 25, 2013. She sailed across the Atlantic Ocean, traveling at a speed of 5.3 knots before it reached Marigot, St Martin, in the French West Indies on May 18, 2013.
Despite several consecutive days of cloudiness the boat reached its destination in 22 days, 12 hours and 32 minutes - four days shorter than in 2010. PlanetSolar previously held this record with a time of 26 days 19 hr 10 min. See certificate below.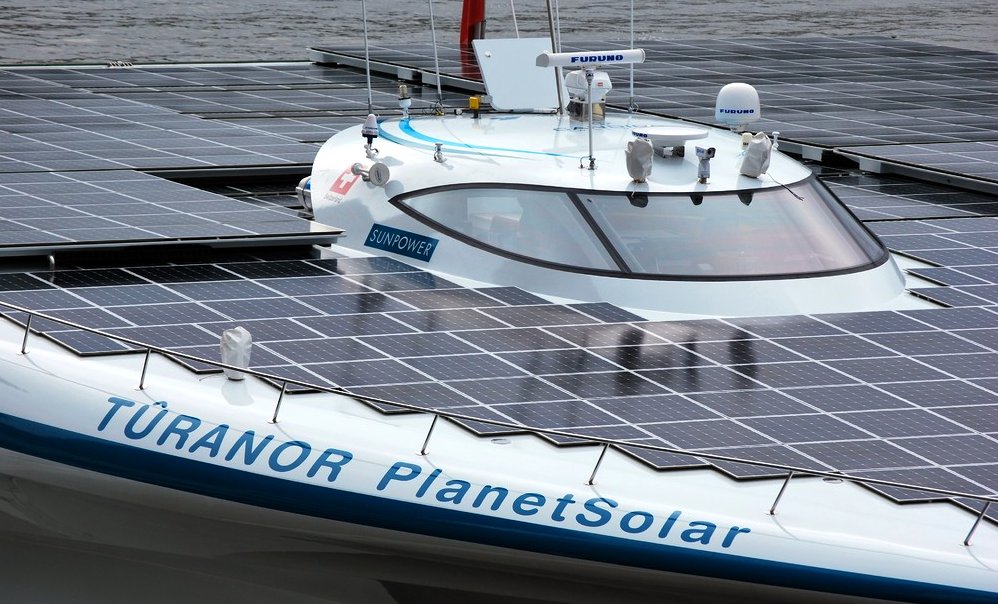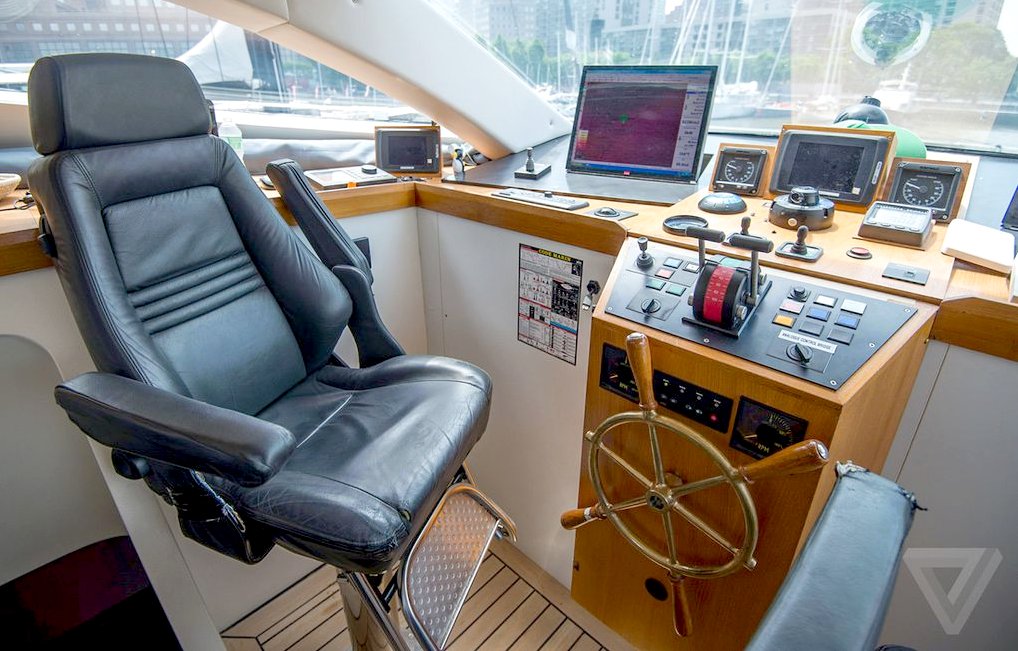 Switzerland's MS Tūranor PlanetSolar, is currently the world's largest solar boat (Oct 2020).
Having departed Las Palmas, Spain, on April 25, 2013, the solar powered boat sailed 2,867miles (5,310 kilometers) across the Atlantic Ocean again. It is difficult to compare the two crossings because they were conducted at very different times of the year. But it is sure that major improvements over the previous winter - particularly to the propulsion system - had increased the ship's performance, according to Gérard d'Aboville, Captain of the MS Tūranor PlanetSolar.

The boat's energy consumption had to be carefully managed in order to maintain an efficient speed and reach St. Martin in less than 26 days. During the transatlantic crossing, the crew encountered phases of substantial cloudiness for several consecutive days and had to adjust the route. The adjustments increased the travelling distance by 7%, but enabled the PlanetSolar crew to avoid winds and unfavorable swells. Hence, route planning was as important for the Swiss boat as for the Elizabeth Swann.
Guinness Book of World Records, certificates for transatlantic and circumnavigation 2010 and 2012 by a solar powered boat.
Please use our A-Z INDEX to navigate this site