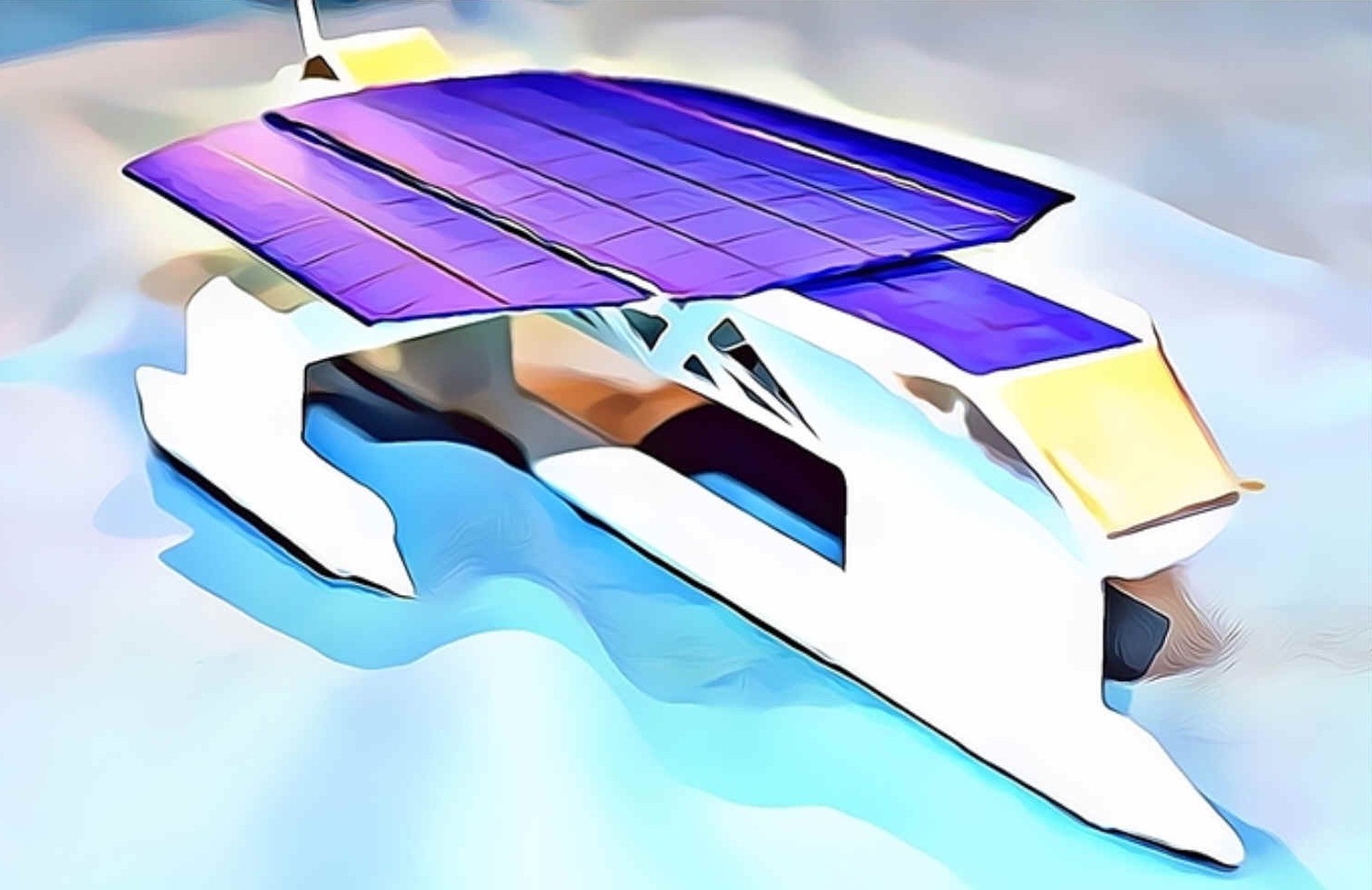 SWATH DESIGN - It all started with this tiny model, made of paper and cardboard. It floated perfectly as a submerged central hull, with outriggers just skimming the water surface, to provide stability.
In the years that followed a swing wing system and wind turbine boom were developed on a land vehicle. The idea is to combine a rotary sail generator with solar panels to allow faster blue water transits, allied to advanced computer navigation for green lanes.
The 'Elizabeth Swann' is an in-progress design study, under development, in the hope of defining a technical/cost compromise that will allow the vessel to beat the present water speed record for solar powered vessels affordably. For this we need minimum frontal areas in and out of the water, and superior hydro and aerodynamics - all linked to efficient energy harvesting apparatus, and an exceptionally efficient all electric propulsion system.

There are 2 possible designs we are evaluating cost and complexity wise:
1. A single central submerged hull stabilized by outriggers - or Small Waterplane Area Triple Hull (SWATH).
2. A single central wave piercing hull stabilized by outriggers as a trimaran.
Both of the proposed hull designs share the same:
a) Ultra light superstructure purposed designed to harvest energy from nature via b) and c) below,
b) Solar wings that track the sun and fold for storms, in concert with
c) A turbine generator on a mast that tracks wind conditions and furls for storms.
The Swann is a floating laboratory, as an experiment to either prove or disprove whether a wind turbine, allied to solar panels, can make a significant improvement in blue water performance. With Europe engaged in their Green Deal, and with the IMO seeking 40% CO2 reductions by 2030 we hope to be able to make a significant contribution to man's knowledge and mastery of the ocean one way or the other.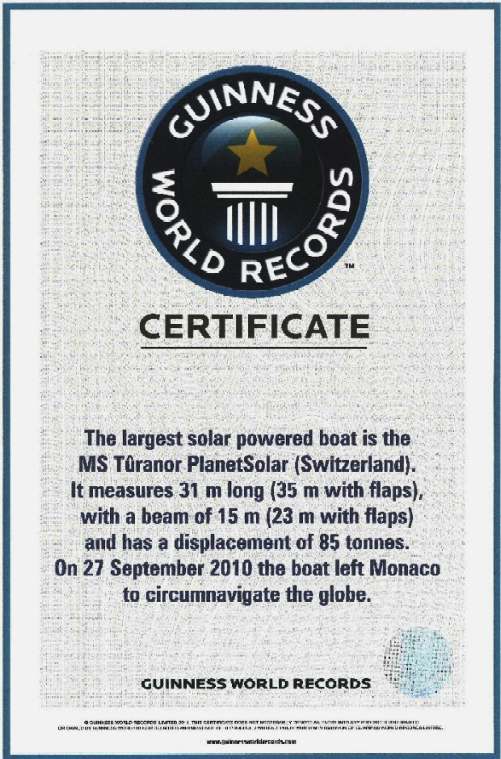 At the present time the Guinness Book of World Records, lists the world's largest solar powered boat as the MS Turanor PlanetSolar @ 31 meters long x 15 meters wide and 85 tonnes. The Swann will then set a new world record @ 44 meters x 16.6 meters beam. We look forward to the day that we receive a similar Certificate - raising the record - and we can, but only with your help. This record is over 10 years old.
The 'Swann' is to include performance data logging and analytics, designed to help our designers define a formula for zero emission ships of the future. That could mean your coffee, mangos, avocados, rice and other delicacies, don't carry a climate penalty - making them taste that much better.
The Foundation is keen to build a strong consortium in readiness for suitable (Green) calls, to include hydrodynamic development of the wave piercing hull, finite element stressing, wind turbine design and high performance solar panels, advanced hull metals and joining, batteries, communications, robotics, COLREGs compliant AI autonomous navigation, propulsion and hydraulics.
That said, we are making generous provision within the vessel for a crew of 6 scientists and adventurers, including a forward helm with seating for 3, a rear helm with seating for 6, a galley and mess room. Total sleeping accommodation is for six, in bunks.
As of January 2021, there were no funding calls 100% on point, but we hope that may change as a top up to other fund raising efforts. It's hard enough getting funding when the brief is spot on, when vague and only just touches on the subject, it's an automatic rejection for an SME without a trading track record. Hence, a waste of time applying - and time is money! But the battle to cool our climate is a race against time that we hope G20 governments rise to before it is too late: Tempus Fugit.
[LEFT] The current record holder, 'MS Tūranor Planet Solar' was a heavy catamaran weighing in at 85 tonnes. PlanetSolar had four motors, two for cruising (7.5 knots) and 2 x 60kW units to give a top speed of 14 knots (26 km/h; 16 mph). PlanetSolar has a 31 meter hull, 35 meters with the rear solar flap extended. Her Beam is 15 m (23 m with wings extended) The side wings on PlanetSolar were pulled out on rollers manually, using sailing winches.
[RIGHT] In this CAD drawing we see the Swann's superstructure closer to sea level than the SWATH design, but still with massive wave clearance, compared to PlanetSolar. The simple cylindrical hull design may be revised to further reduce air and water drag - and allow the crew to walk topsides, so long as the shape in contact with the water is circular to present the least wetted area. The outrigger sponsons are ride height adjustable with a proprietary drag reducing system (not shown).
The Elizabeth Swann is a Climate Change Challenger, she is a leading edge design with many innovative features designed to increase our knowledge and mastery of the sea.
Join us if you will for a voyage into the nautical unknown where the Queen of the Seas is a zero carbon vessel that harvests the energy it needs for transit from nature. She needs no diesel to travel from waypoint to waypoint, and no crew to hoist the mast or control the solar panels.
That is our dream and ambition.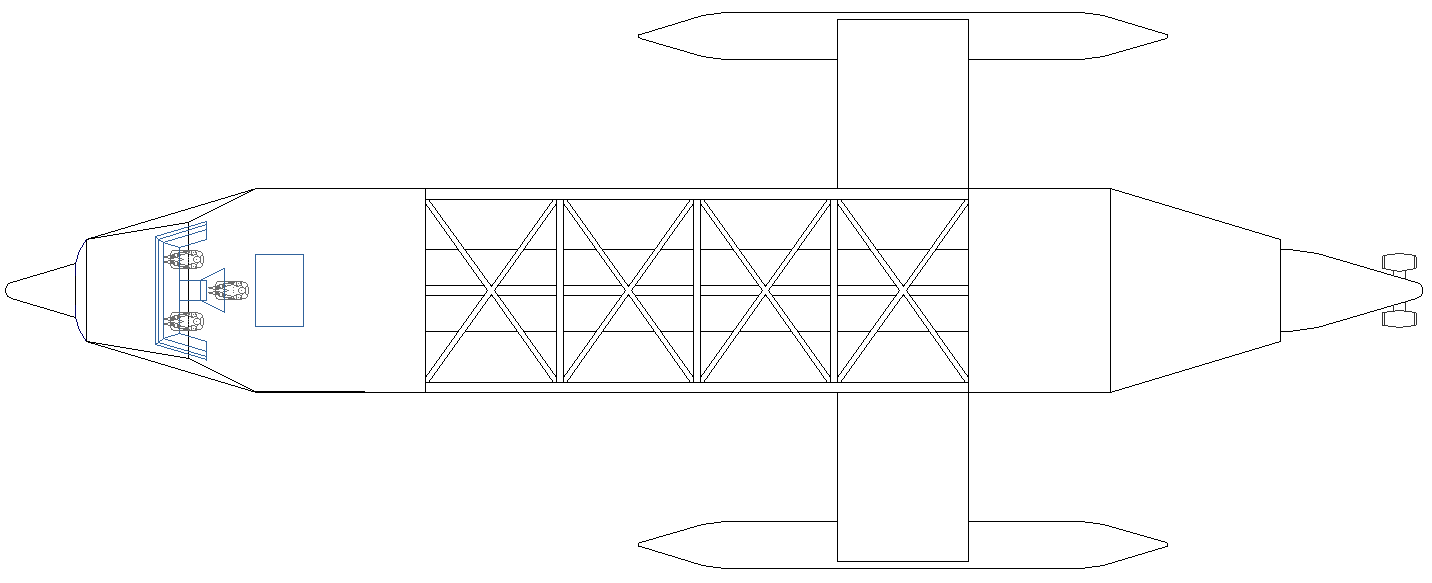 HULL & SUPERSTRUCTURE - The trimaran design in plan view without solar panels or wings. The hull can be built as 12 sub-assemblies. Such that the alloy fabrications can be outsourced and assembled at any suitable site for launch. The largest sub-assembly would be the central triangulated spaceframe @ 16 meters. Fore and aft cabins are 10 meters long. All suitable for road haulage.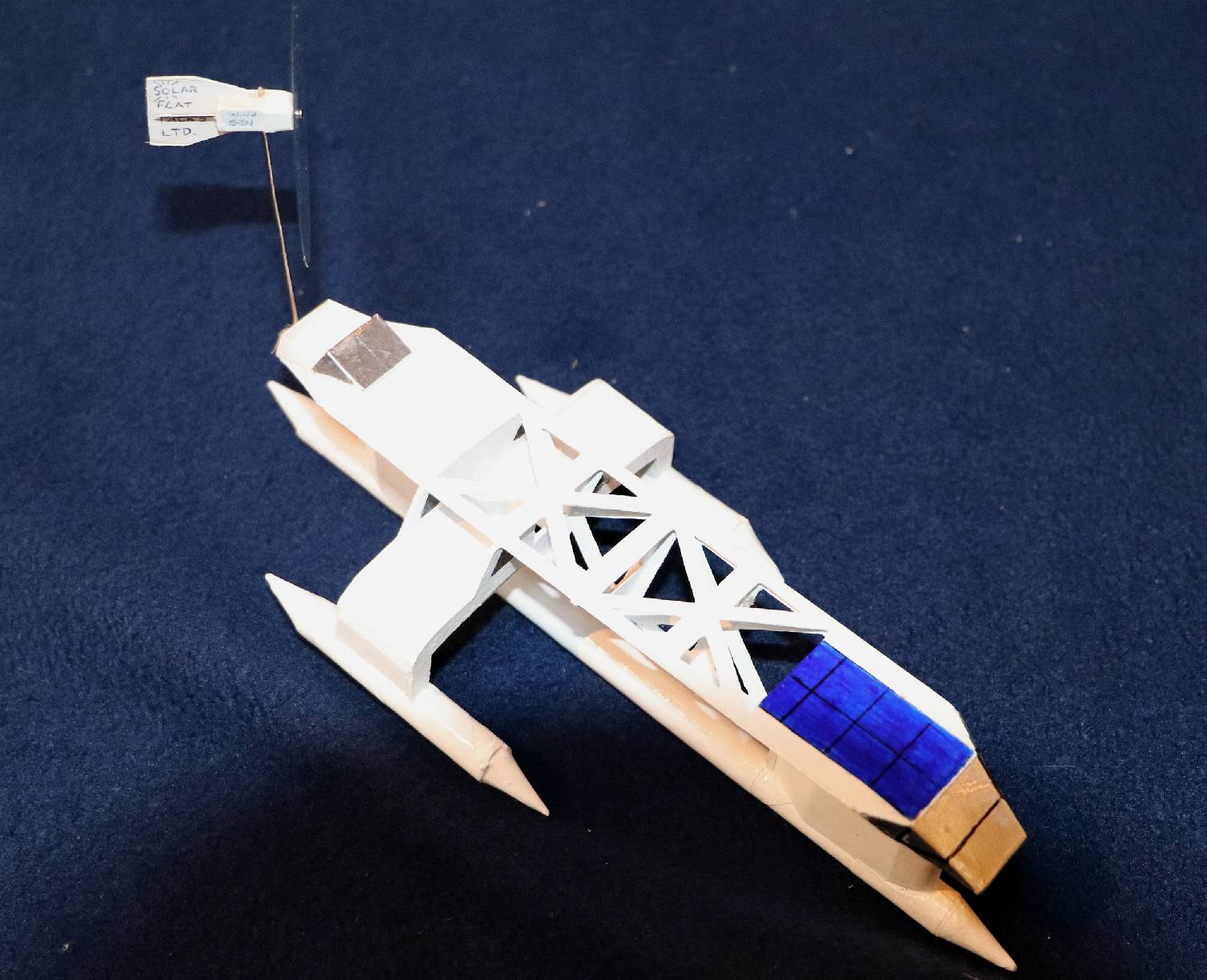 FAITHFUL REPLICA - You can see from the 1:200 model, that the CAD version of the proposed design closely resembles the original concept.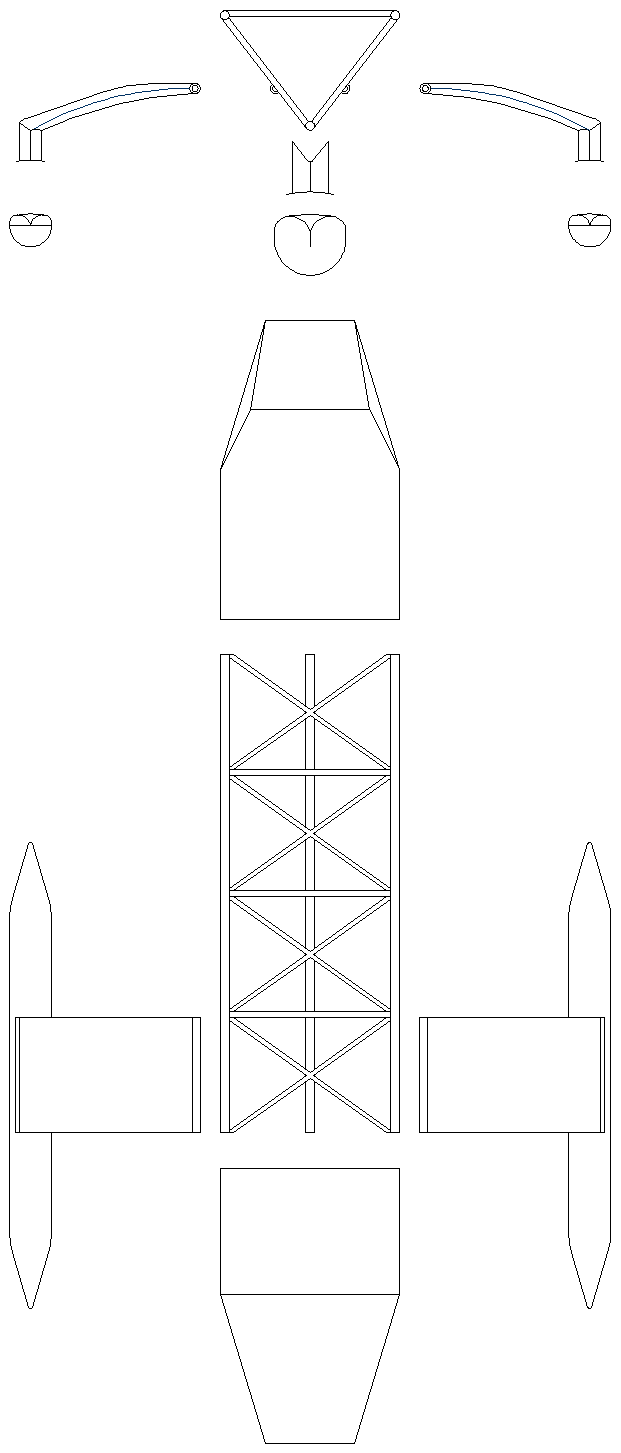 DRAFT SPECIFICATIONS
Material: 5083 marine alloy (substantially)
Hull length: 44 meters (nominal)
Hull width: 16.6 meters, to sponson outers
Central hull diameter: 1.15m x 39 = 41.5 tonnes (seawater displacement)
2m x 39m = 122 m3 (in semi submerged mode) or
2.46m (for wave piercing hull) subject to tank tests
Theoretical displacement: 30,000 - 45,000 kilograms (target)
Type of hull: Low drag trimaran hull (semi-submerged) or (wave piercing arrow)
Cruising speed: 8-10 knots (using only renewable energy)
Desired max. speed: 15-18 knots (augmented)
Autonomy level: Fully energy autonomous, and unmanned ready
Energy harvesting capacity: 70kW in bright sunshine, 10kW at night
Crew: sleeps four in rear cabins.
Navigation: COLREGS compliant autonomy when 'Captain Nemo' autopilot engaged
AI: Onboard geospatial data harvesting 'Hal' system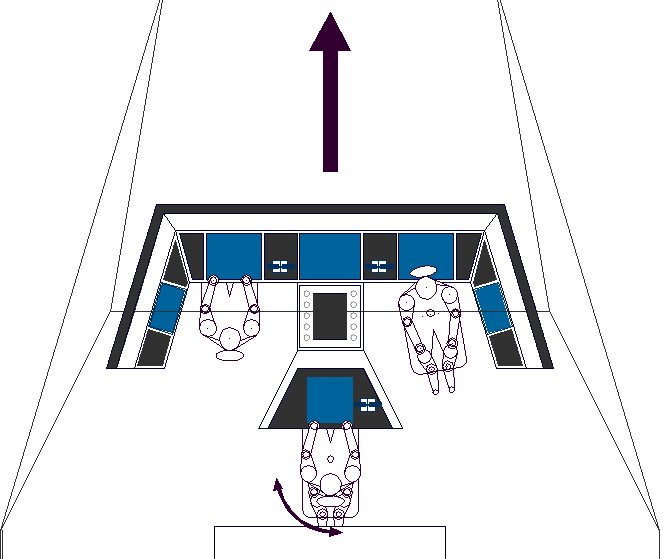 HELM PLAN VIEW - Spacious forward helm position, showing seating positions for three crew and a state of the art instrument console arrangement with digital displays. Behind the third (central) seat is a chart table that doubles for other general duties, since charts are largely irrelevant on a ship with autonomous navigation capabilities and electronic instruments. All of the electrically adjustable seats swivel for ease of access.