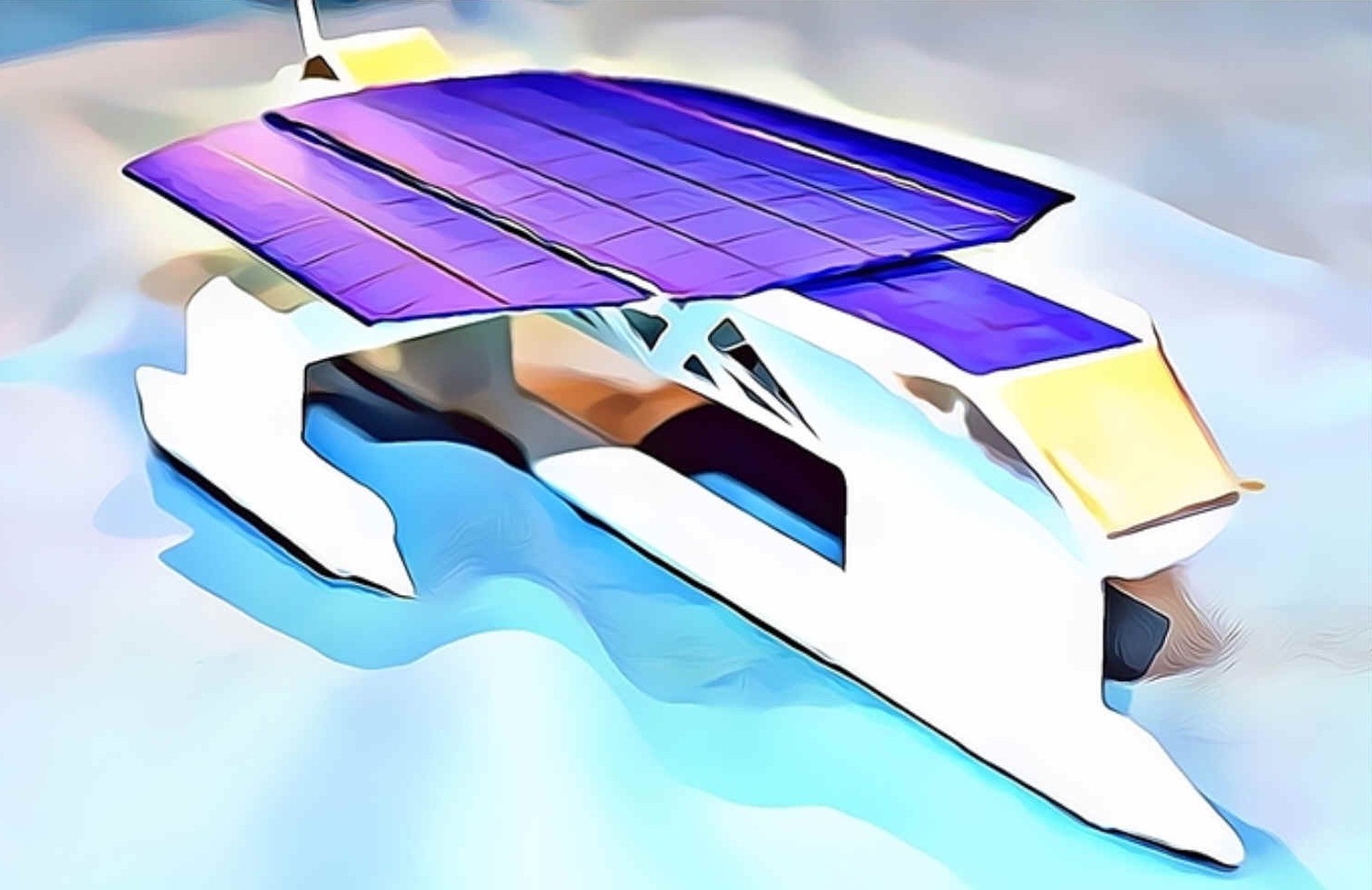 It all started with this tiny model, made of paper and cardboard. It floated perfectly, with the central hull just submerged for low drag running, and the outriggers just skimming the surface, to provide stability.
In the years that followed the swing wing system and wind turbine boom were developed on a land vehicle. The idea is to combine a rotary sail generator with solar panels to allow faster blue water transits, allied to advanced computer navigation for green lanes.
The Elizabeth Swann is an in-progress design study, under development, in the hope of defining a technical compromise that will allow the vessel to beat the present water speed record for solar powered vessels. For this we need minimum frontal areas in and out of the water, and superior hydro and aerodynamics.
But she is more than this, she is a floating laboratory, as an experiment to either prove or disprove whether a wind turbine, allied to solar panels, can make a significant improvement in performance. With Europe engaged in their Green Deal, and with the IMO seeking 40% CO2 reductions by 2030.
The Foundation is keen to build a strong consortium in readiness for any Green Deal call, to include hydrodynamic development of the wave piercing hull, finite element stressing, wind turbine design and high performance solar panels, advanced hull metals and joining, batteries, communications, robotics, navigation, propulsion and hydraulics.
As of Sept 2020, there is appears to be no call 100% on point, but we hope that may change as more calls are published. It's hard enough getting funding when the brief is spot on, when vague and only just touches on the subject, it's an automatic rejection. Hence, it is worth waiting!

The Elizabeth Swann is seen here with the thinner central hull, that runs just under the waves (Small Waterplane Area Triple Hull - SWATH). This option is more expensive to build because of the computer trim controls, with less load carrying capability. The front cabin is also a helm. The helm at the rear is an open cockpit for fine weather sailing.

Same view as above, only as a line drawing, with just the solar wings blocked in in blue. The solar panels are supported on a lightweight space-frame, so keeping the mass of the vessel down.
The current record holder, 'MS Tūranor Planet Solar' was a heavy catamaran weighing in at 85 tonnes. She had four motors, two for cruising (7.5 knots) and 2 x 60kW units to give a top speed of 14 knots (26 km/h; 16 mph). PlanetSolar has a 31 meter hull, 35 meters with the rear solar flap extended. Her Beam is 15 m (23 m with wings extended) The side wings on PlanetSolar were pulled out on rollers manually, using sailing winches.

The Elizabeth Swann with wave piercing hull option. This has more load carrying capacity and is cheaper to design and build, but is potentially less efficient in terms of energy required to propel the boat.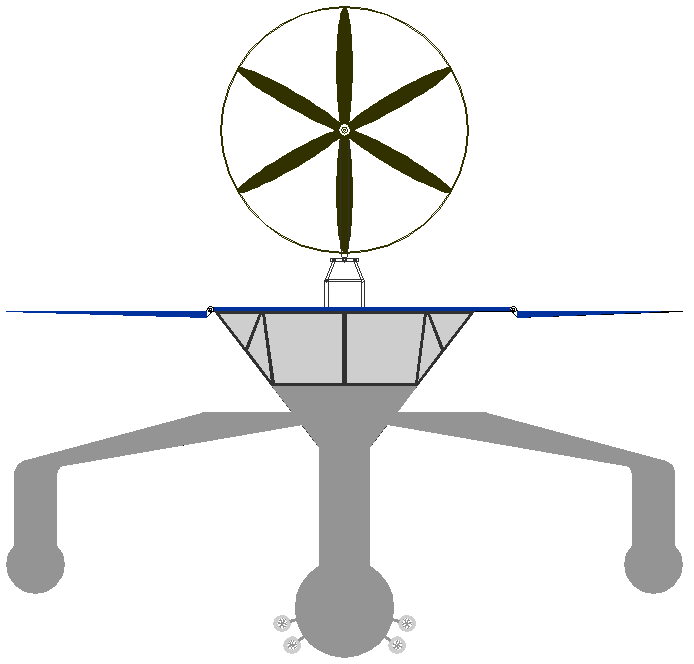 MINIMUM FRONTAL AREA - End view with the Swann coming toward the viewer, mast lowered, but the turbine is not furled. The vertical axis turbine can be tilted until the axis is horizontal. This reduces wind-age in storms and prevents the turbine from generating. The low frontal areas in and out of the water, in relation to solar wing and wind turbine area, provide a higher propulsive ratio, so increasing theoretical speed.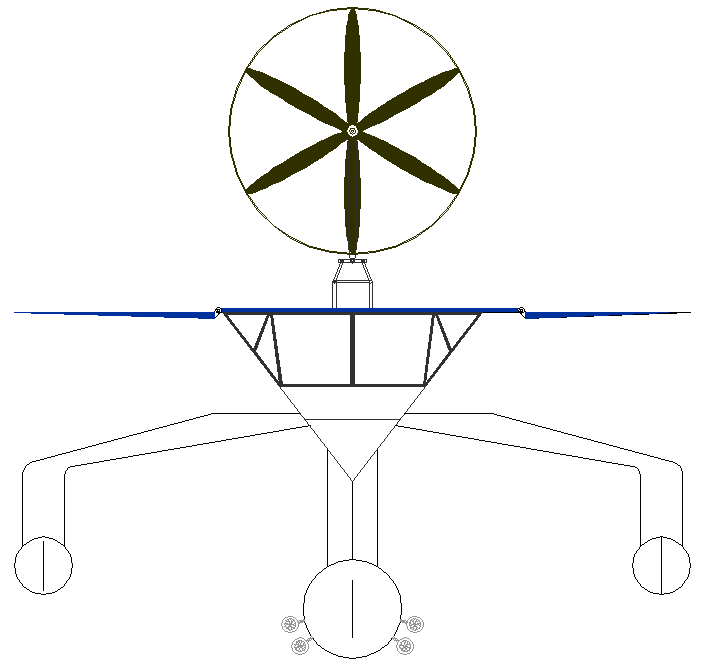 Same view as above, only as a line drawing. The swing-wings are a high stress item requiring careful design, and aircraft quality manufacturing.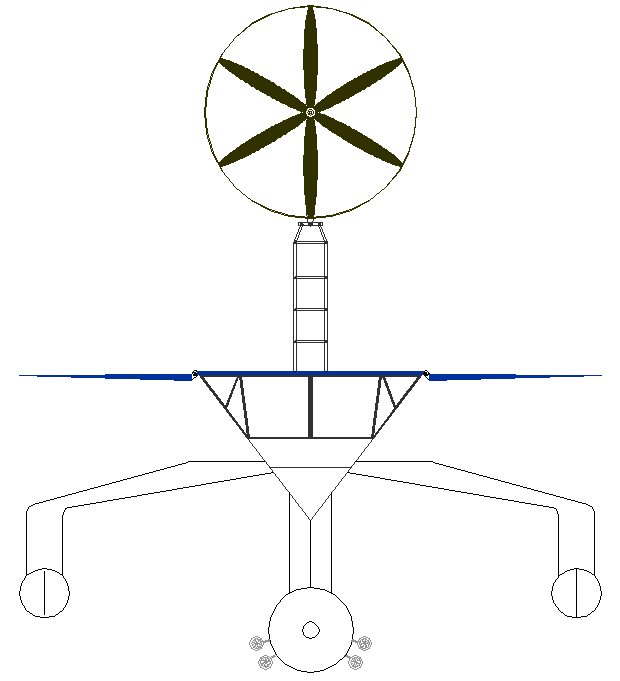 The same line drawing with the mast raised and the solar wings in the horizontal position.
The Elizabeth Swann is a Climate Change Challenger, she is a leading edge design with many innovative features designed to increase our knowledge and mastery of the sea.
Join us if you will for a voyage into the nautical unknown where the Queen of the Seas is a zero carbon vessel that harvests the energy it needs for transit from nature. She needs no diesel to travel from waypoint to waypoint, and no crew to hoist the mast or control the solar panels.
That is our dream and ambition.
DRAFT SPECIFICATIONS
Material: 5083 marine alloy
Hull length: 43 meters
Hull width: 16.6 meters, to sponson outers
Central hull diameter: 2m x 40m = 31 m3 (in semi submerged mode) or
2.46m (for wave piercing hull) subject to tank tests
Theoretical displacement: 30,000 kilograms (target)
Type of hull: Trimaran (semi-submerged central hull) or (wave piercing)
Cruising speed: 8-10 knots (using only renewable energy)
Desired max. speed: 15-18 knots
Autonomy level: Fully energy autonomous
Energy harvesting capacity: 70kW in bright sunshine
Crew: sleeps four in the rear cabin.
Navigation: Fully autonomous (COLREGS compliant) when switched to autopilot
Please use our A-Z INDEX to navigate this site