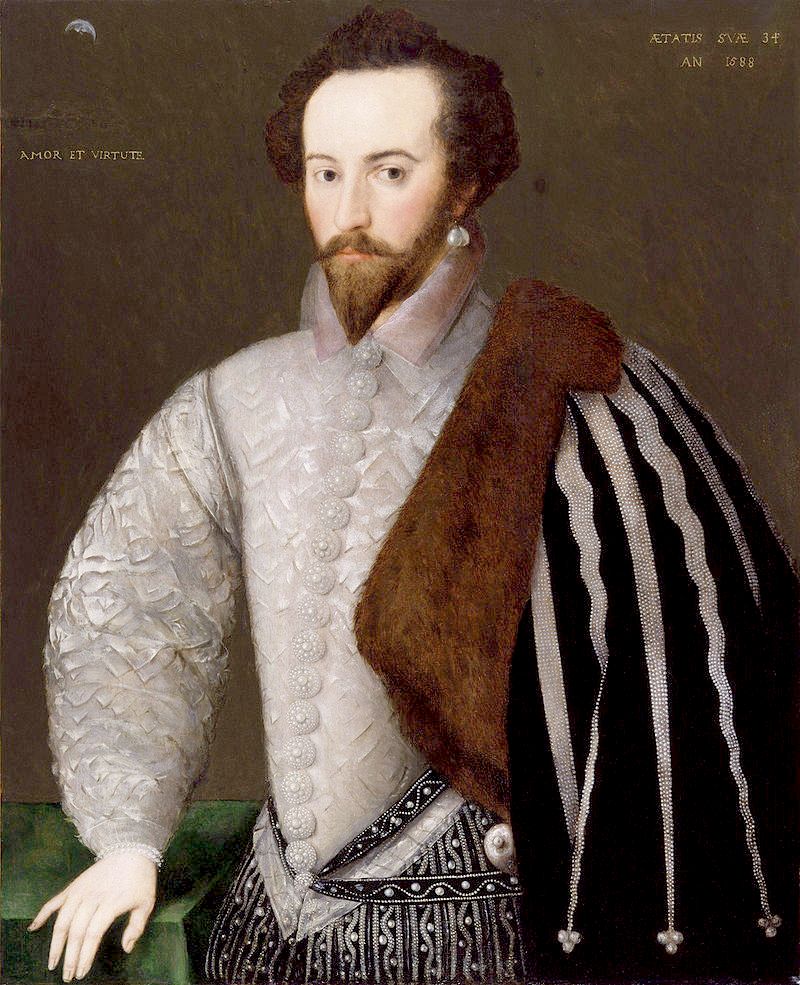 Sir Walter Raleigh
Sir Walter Raleigh (c. 1552 [or 1554] – 29 October 1618) was a privateer, known by the Spanish as a Sea Dogs. They were pirates between 1560 and 1605. During this time they had explicit permission from Queen Elizabeth (Good Queen Bess), known as a Letter of Marque, which allowed privateers to engage in acts of piracy against the Spanish and other colonial powers the English were at war with at the time.
Raleigh, also spelled Ralegh, was an English landed gentleman, writer, poet, soldier, politician, courtier, spy and explorer. He was a cousin of Sir Richard Grenville and younger half-brother of Sir Humphrey Gilbert. He is also well known for popularising tobacco in England. Raleigh was one of the most notable figures of the Elizabethan era.

Raleigh was born to a Protestant family in Devon, the son of Walter Raleigh and Catherine Champernowne. Little is known of his early life, though in his late teens he spent some time in France taking part in the religious civil wars. In his 20s he took part in the suppression of rebellion in Ireland participating in the Siege of Smerwick. Later, he became a landlord of property stolen from the native Irish.
He rose rapidly in the favour of Queen Elizabeth I and was knighted in 1585. Raleigh was instrumental in the English colonisation of North America and was granted a royal patent to explore Virginia, paving the way for future English settlements. In 1591, he secretly married Elizabeth Throckmorton, one of the Queen's ladies-in-waiting, without the Queen's permission, for which he and his wife were sent to the Tower of London. After his release, they retired to his estate at Sherborne, Dorset.

In 1594, Raleigh heard of a "City of Gold" in South America and sailed to find it, publishing an exaggerated account of his experiences in a book that contributed to the legend of "El Dorado". After Queen Elizabeth died in 1603, Raleigh was again imprisoned in the Tower, this time for being involved in the Main Plot against King James I, who was not favourably disposed towards him. In 1616, he was released to lead a second expedition in search of El Dorado. During the expedition, men led by his top commander ransacked a Spanish outpost, in violation of both the terms of his pardon and the 1604 peace treaty with Spain. Raleigh returned to England, and to appease the Spanish, he was arrested and then executed in 1618, betrayed by the Crown as no more than a political pawn despite services rendered.
Please use our A-Z INDEX to navigate this site