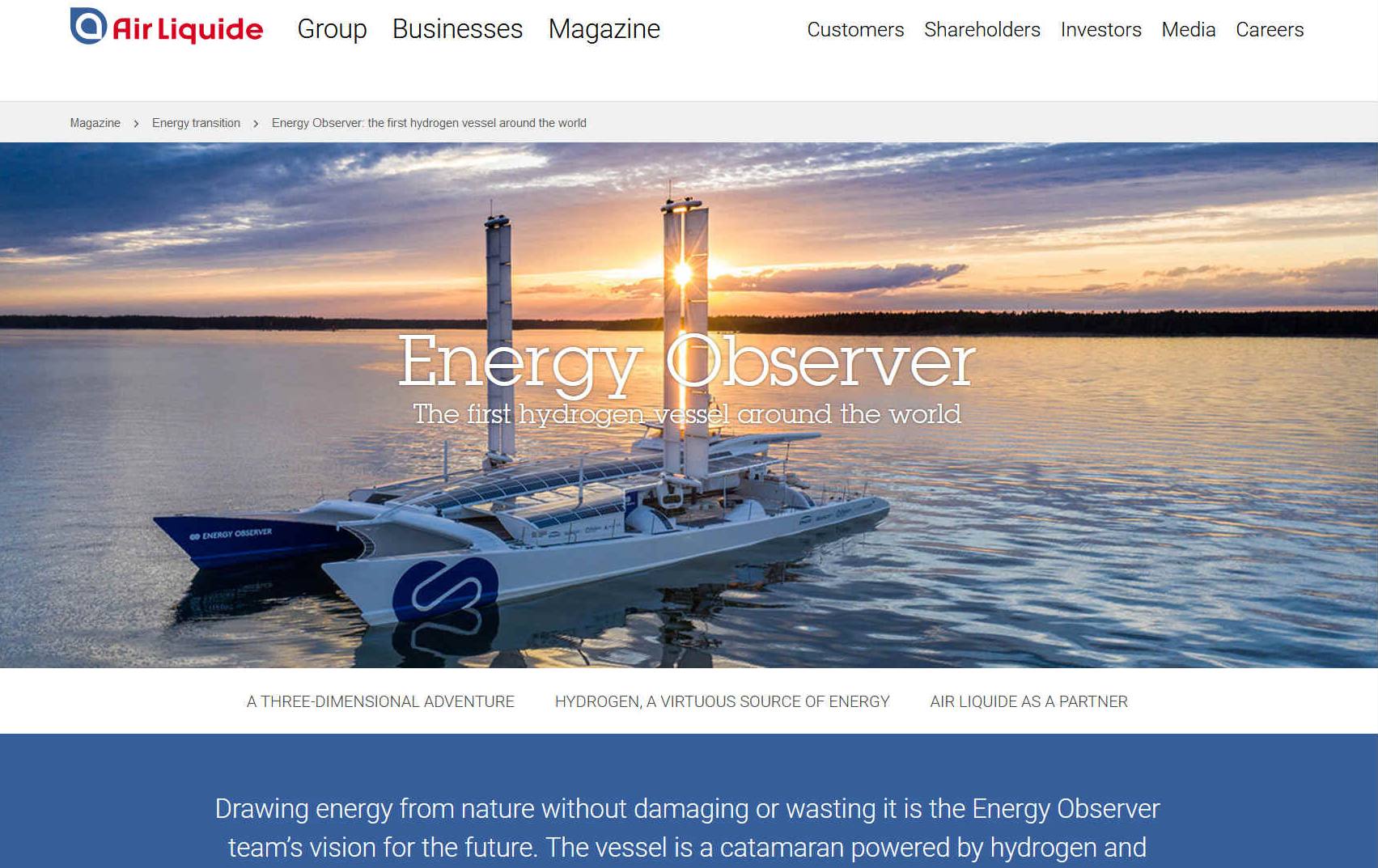 INNOVATIVE - She may not be the fastest solar/hydrogen catamaran in the world, but the Energy Observer team are developing technology that is providing solid results on which they are developing ideas (and products: REXH2) that are inspirational to others, who might learn from the expeditions and the challenges the technicians are overcoming - as systems are upgraded, and lessons shared. Like the PlanetSolar, this is a truly excellent technology demonstration project.
THE FIRST HYDROGEN VESSEL AROUND THE WORLD

Drawing energy from nature without damaging or wasting it is the Energy Observer team's vision for the future. The vessel is a catamaran powered by hydrogen and renewable energies. Air Liquide, which has been involved in the development of hydrogen energy, particularly for mobility, for over 20 years, is supporting this scientific and technological project showcasing the role of hydrogen in the energy transition.


A human, scientific and technological adventure

Energy Observer, a project initiated by Captain Victorien Erussard and the explorer Jérôme Delafosse, is embarking on a trip around the world lasting seven years (from 2017 to 2023) and visiting 50 countries, with 101 ports of call along the way. Its big challenge is to power the vessel entirely using a mix of clean and renewable energies that can produce decarbonized hydrogen directly on board.

The mission of Energy Observer is threefold:
- Test, proof, and optimize the onboard technologies under extreme conditions for subsequent application on land
- Search for sustainable solutions where they are found and take part in their deployment
- Demonstrate to key audiences - the public, local governments, and businesses - that the energy transition is possible
Hydrogen, a virtuous source of energy

The defining feature of Energy Observer, a genuine floating laboratory, is that it operates with a mix of renewable energies: wind, solar and hydrogen produced from seawater. The following technologies can be found on board:
- A wind turbine thruster, the Oceanwings®
- Bifacial thermoformed and conformable solar panels for a surface area of over 140 m2
- A full hydrogen production line
Thanks to these energy sources, seawater is transformed into hydrogen for the first time.
The two floats of the catamaran serve as technical rooms and integrate the entire hydrogen production line. An onboard system allows seawater to be collected, desalinated and deionized. Once purified, the water molecules are decomposed to obtain hydrogen. Lastly, a fuel cell transforms the molecules into electricity and heat as needed. This process generates neither greenhouse gases nor particulate matter.

The efficiency and performance of this complete hydrogen chain in a potentially hostile marine environment will validate its application and development for other large-scale applications, maritime as well as on land, mobile as well as stationary.


ENERGY STORAGE

Energy Observer chose complementary storage systems: short-term storage in a set of Li-Ion batteries, and eight hydrogen tanks for long-term storage. These tanks, with a capacity of 332 liters can store a total of 62 kg of hydrogen, which provides the same energy as 230 liters of fuel. The global net energy stored is 1 MWh. The engineers initially planned to place this bulky storage in the hulls of the catamaran, but they finally decided to distribute the tanks in external well decks on each wing. This ensures the tanks are in a watertight environment, protected from sea spray, prevents confinement, and facilitates handling for maintenance. It did, however, require complex calculations for the weight distribution and the tank support design.
| | | |
| --- | --- | --- |
| 7 years - around the world | 50 - countries | 101 - planned ports of call |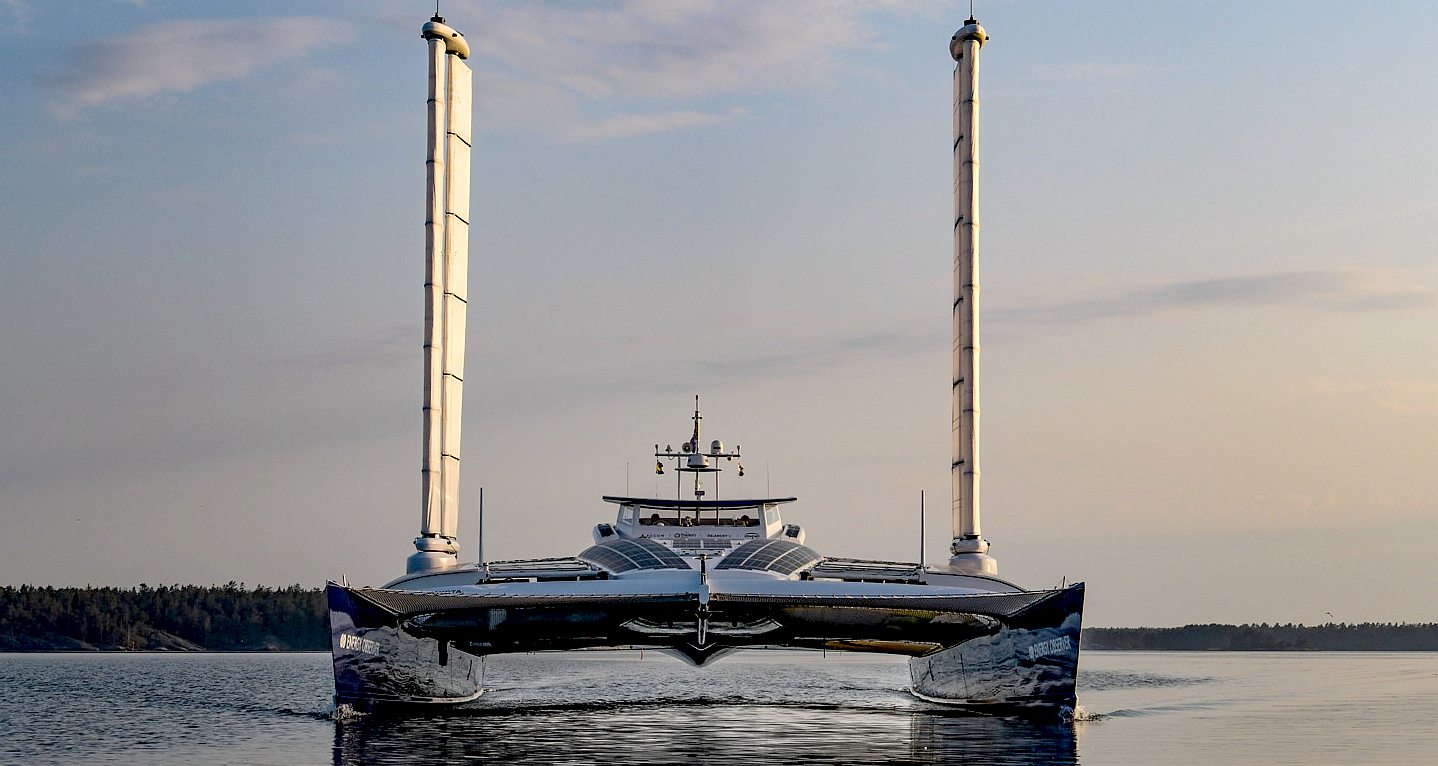 FICTION - A fictionally souped up version of the Energy Observer features in 'Kulo-Luna,' the story of a giant humpback whale that fights against whalers in a future world where ocean plastic has made fish so toxic, that whaling has become both legal and necessary to feed starving fishing nations. Of course, we ardently hope, such a scenario is never allowed to develop.
SUN WIND HYDROPOWER
When launched in April 2017, the Observer claimed to be (was) the first vessel in the world to both generate and be powered by hydrogen. She was developed in collaboration with engineers from the CEA-LITEN.

The boat produced and stores hydrogen using desalinated seawater thanks to an energy mix involving: 3 types of solar panels spreading over a surface (originally) of 130 square meters (21 kW peak), 2 vertical axis wind turbines (2 x 1 kW), 1 traction kite and 2 reversible electric motors (2x41 kW) of hydrogenation, 1 lithium battery (106 kWh), 1 desalinator, 1 electrolyser, 1 compressor, 1 fuel cell (22 kW), and 62 kg of hydrogen. The complete hydrogen system weighs 2100 kilos.
These specifications have since been changed along with lengthening of the hulls. Recently, 36.8m² of solar panel area have been added to the existing 165m² for 5.6Kw of additional power and a total surface area of 202m². As a result, the maximum power will be 34kWp (they have almost doubled the power since 2017). The Observer has a power to weight ratio of 1.14 kW/ton, 0.09kW more than PlanetSolar's 1.05kW/ton.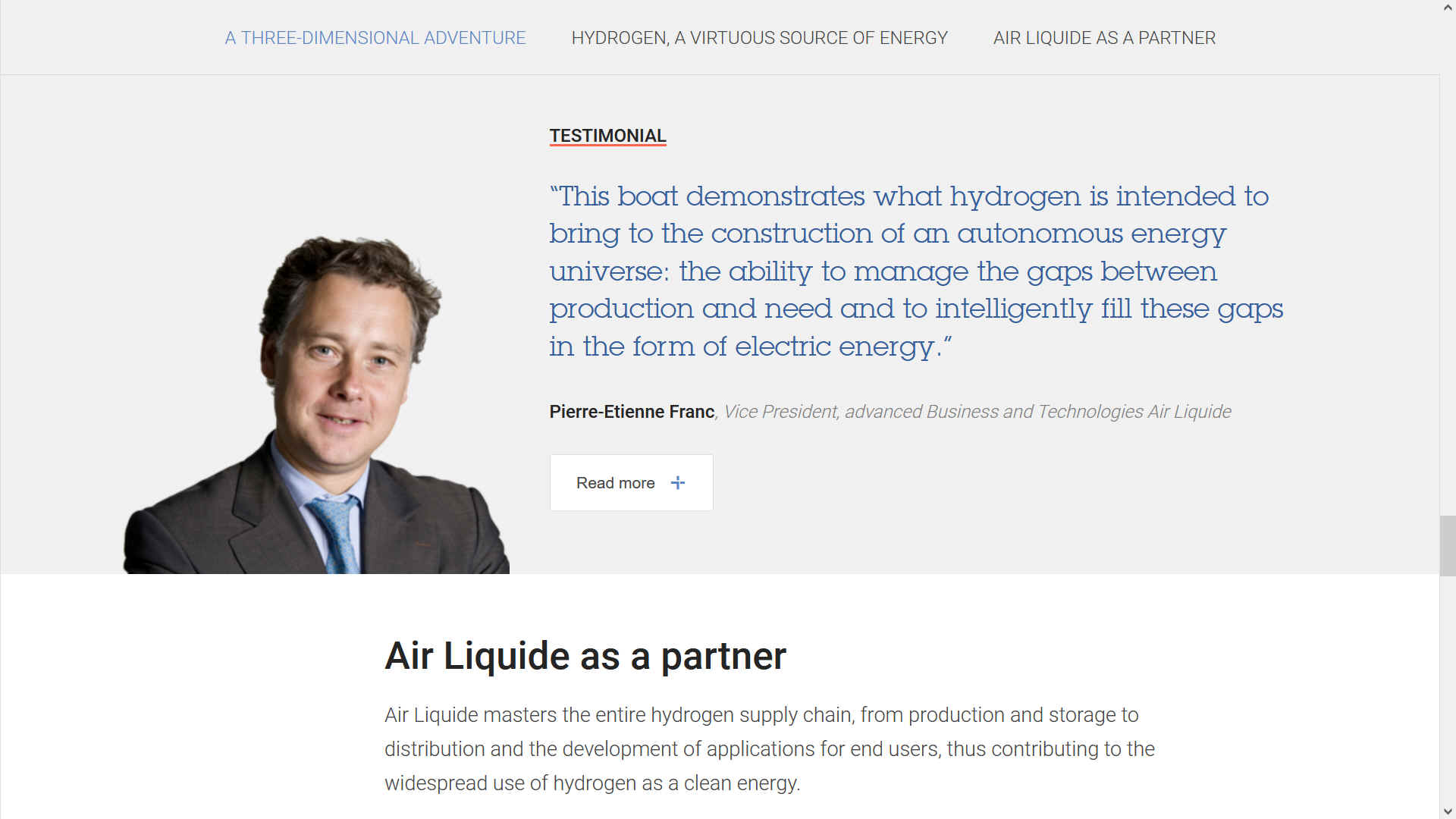 PIERRE-ETIENNE FRANC - TESTIMONIAL

"This boat demonstrates what hydrogen is intended to bring to the construction of an autonomous energy universe: the ability to manage the gaps between production and need and to intelligently fill these gaps in the form of electric energy."

Quote: Pierre-Etienne Franc, Vice President, advanced Business and Technologies Air Liquide

Energy Observer combines all of the key technologies needed to transition to a hydrogen energy system: electrolysis, which breaks up water molecules; a fuel cell, which generates energy in the form of electricity and heat; and all storage solutions.


AIR LIQUIDE AS A PARTNER

Air Liquide masters the entire hydrogen supply chain, from production and storage to distribution and the development of applications for end users, thus contributing to the widespread use of hydrogen as a clean energy.

With its Blue Hydrogen program, Air Liquide is gradually shifting toward the decarbonized production of hydrogen and has made a commitment to produce at least 50% of the hydrogen necessary for these applications through carbon-free processes by 2020, by combining the use of renewable energies, water electrolysis, and biogas reforming; and the use of technologies for the capture and upgrading of carbon emitted during the process of producing hydrogen from natural gas.

Support for Energy Observer also illustrates the Group's desire to contribute to a more sustainable world. From an article published on November 14, 2017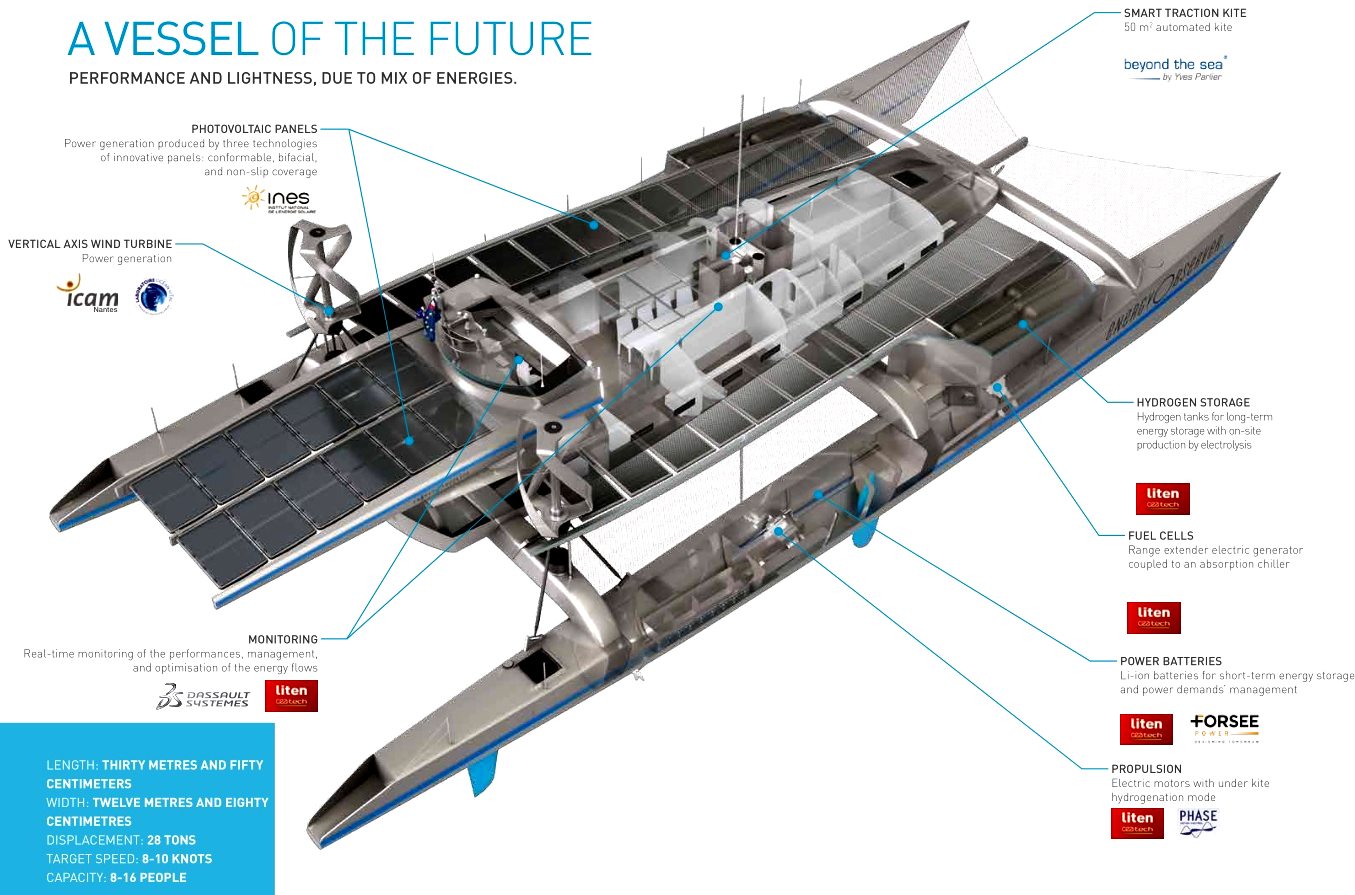 ABOUT AIR LIQUIDE

Air Liquide is a world leader in gases, technologies and services for Industry and Health, Air Liquide is present in 78 countries with approximately 64,500 employees and serves more than 3.8 million customers and patients. Oxygen, nitrogen and hydrogen are essential small molecules for life, matter and energy. They embody Air Liquide's scientific territory and have been at the core of the company's activities since its creation in 1902.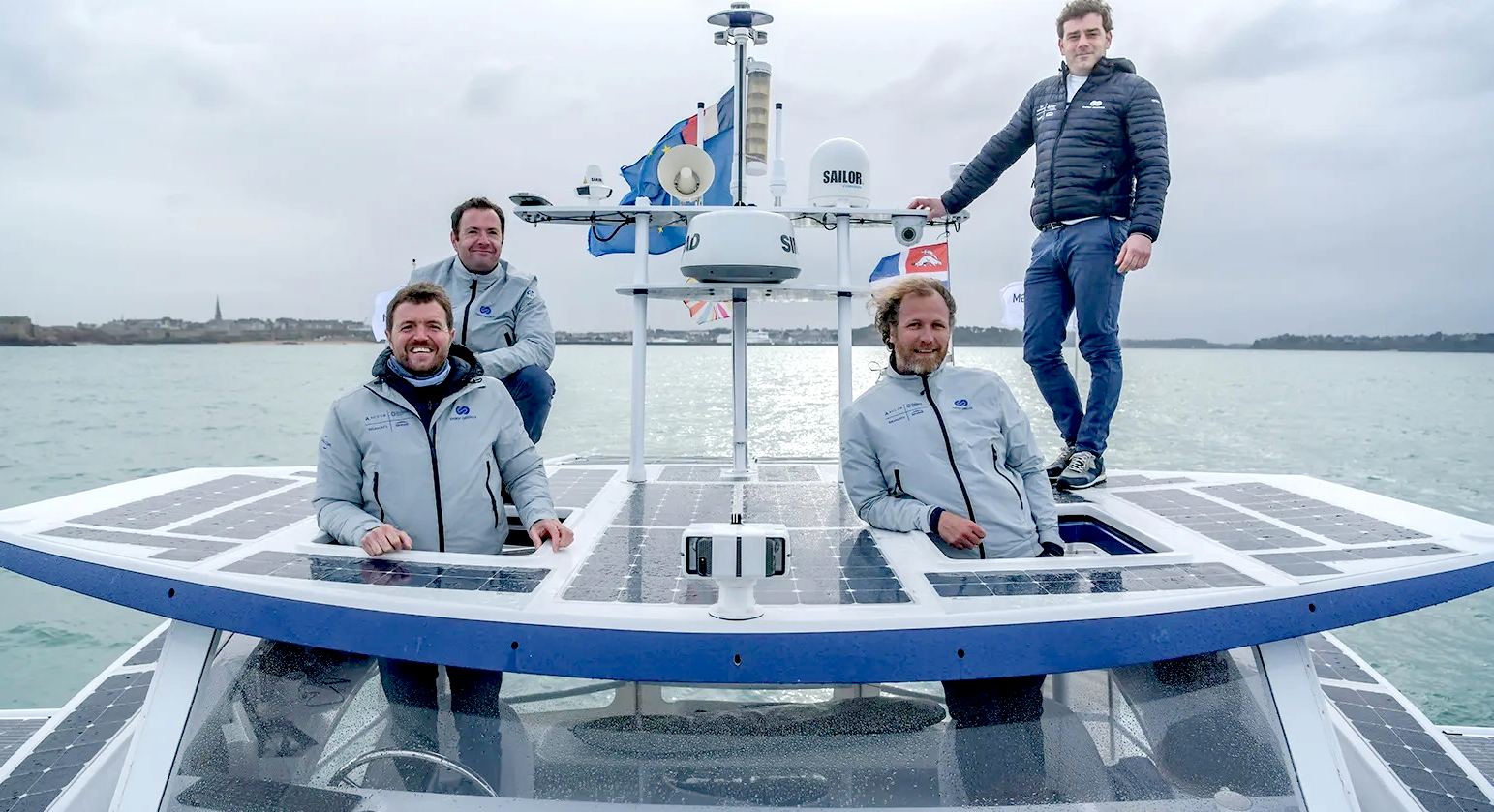 Victorien Erussard, offshore racer and merchant naval officer, leads the expedition, along with Jérôme Delafosse, professional diver and producer of wildlife documentaries. French entrepreneur, Victorien Erussard, has sailed everything from Hobie cats and Formula 18s to competing in the Route du Rhum and Transat Jacques Vabre.
ENERGY OBSERVER BACKGROUND
Energy Observer is a former race boat that has been reconditioned and extended more than once: Built in Canada in 1983 by naval architect Nigel Irens, under the supervision of sailor Mike Birch. The 'maxi-multihull' marked the evolution of its successors. Baptised Formule TAG, presumably after the Swiss watch company, it was the first racing sailboat to break the symbolic 500 miles limit in 24 hours in 1984.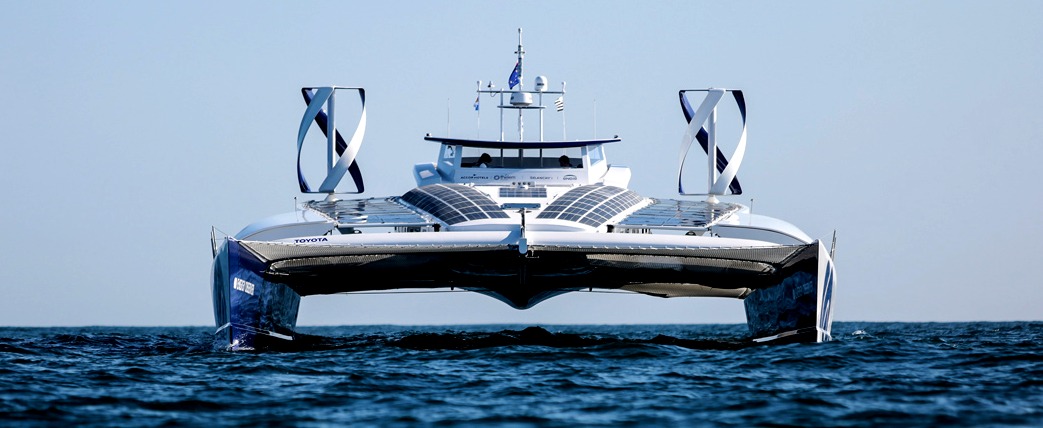 CONTACTS
Air Liquide (siege social)
75 quai d'Orsay
75321 Paris cedex 07
+33 1 40 62 55 55

Air Liquide Industrial
152, avenue Aristide Briand
CS 80010
92227 Bagneux Cedex

Mobile: 09 70 25 00 00

Campus Innovation Paris
1, chemin de la porte des Loges
78350 Les Loges-en-Josas

+33 1 39 07 62 62

Ait Liquide UK Limited
Station Road, Coleshill
Birmingham, B46 1JY
+44 1675 46424

Air Liquide Espana S.A.
Paseo de Castellana, 79
28046 Madrid
+34 915 029 300
https://www.airliquide.com/
https://www.airliquide.com/magazine/energy-observer-first-hydrogen-vessel-around-world
https://www.energy-observer.org/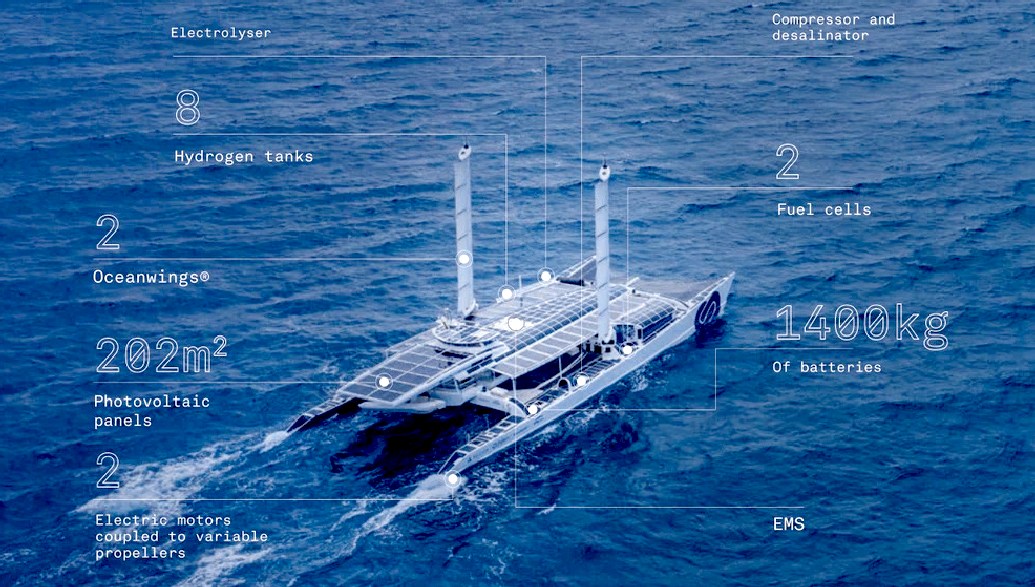 GREEN HYDROGEN - The REXH2® fuel cell - compressor – inverter set, installed back in 2019, boasts a maximum power output of 60 kW (though it is operated at around 50% of its potential to optimize its output).
The slender bows of Formule TAG, remain the identifying feature of this famous ocean racer, but a great deal has changed during the boat's many guises. The boat has been lengthened four times and now displays the following dimensions:
- Length 30,5 metres (100ft)
- Width 12,80 metres
- Weight 30 metric tons
- Speed 8-10 knots