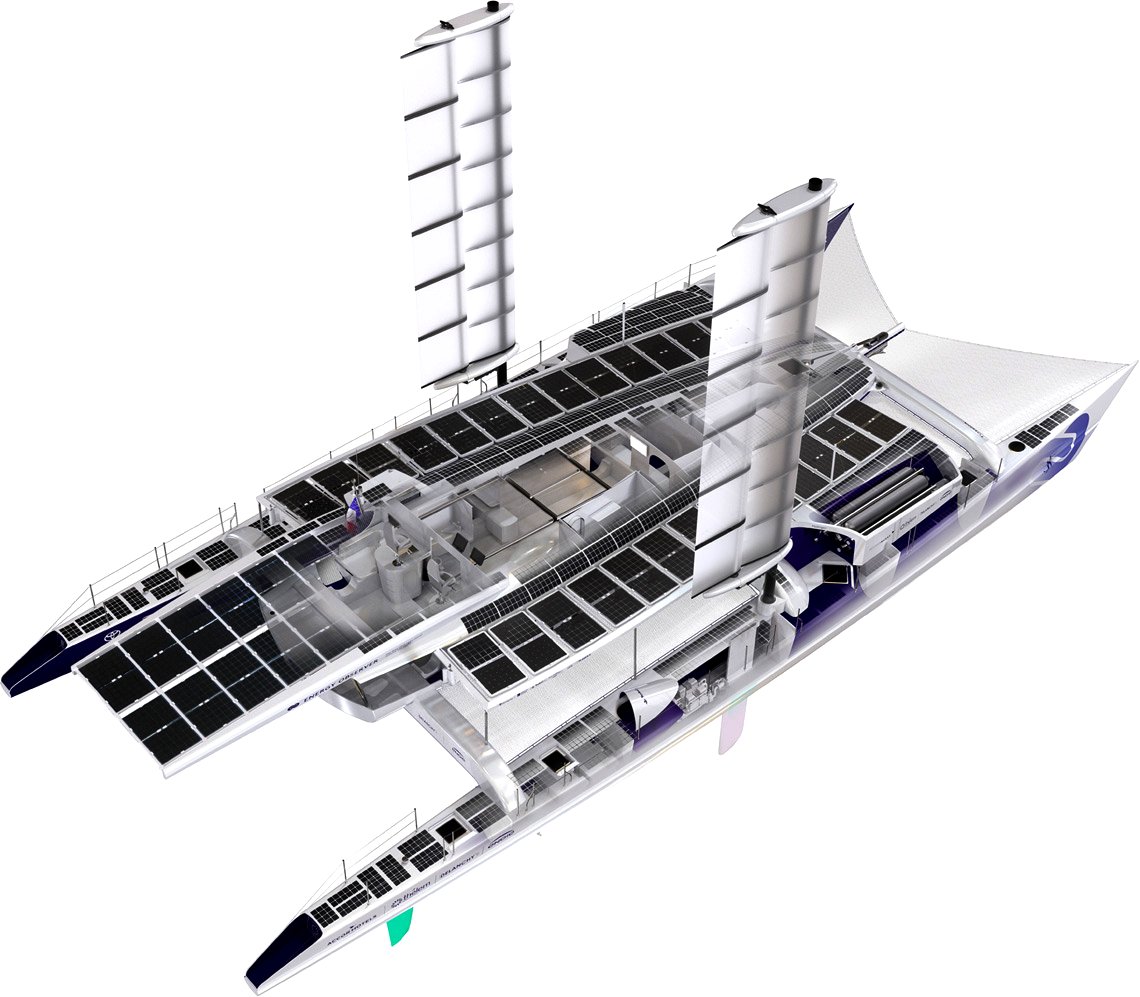 GREEN HYDROGEN - A hydrolyzer and fuel cell energy storage combination. In 2017, the first hydrogen-fueled "marine" fuel cell was installed in France on board Energy Observer, for a series of stopovers, in France, then in Europe, thus leading our autonomous ship to the Arctic Circle in 2019. During this trip, Energy Observer was equipped with a fuel cell, developing a power of 30kW, designed in collaboration with the CEA. Although it is still on board and has fulfilled its role wonderfully during these first couple of years, the energy needs of the ship kept increasing as new technologies were installed to be tested and as the navigation periods extended.
2020, October 5th - The REXH2 is a modular maritime hydrogen power solution developed around Toyota's fuel cell technology. It has been succesfully tested in real open sea conditions aboard the Energy Observer boat for over more than 7,000 nautical miles including trans-Atlantic crossings. The hydrogen-electric hybrid technology in the REXH2 makes silent maritime and river mobility without emissions of CO2 or fine particles possible.

Last week, Energy Observer Developments presented this REXH2 in the HYNOVA 40, a 12m boat from HYNOVA Yachts, which can be used as a day-boat or a super-yacht tender. While the Energy Observer boat's main propulsion comes from electricity directly generated from sun and wind, the HYNOVA Yacht is a battery electric boat, supplemented with the Hydrogen Range Extender with the Toyota fuel cell at its core. With a capacity of 12 passengers, it is the first pleasure boat equipped with fuel cell technology and brings zero emissions, hydrogen-electric hybrid technology to the wider maritime industry.

The Toyota fuel cell module inside the REXH2 delivers up to 60 kW rated net power and is based on the existing fuel cell technology from the Toyota Mirai. The R&D carried out by the EODev and Toyota teams has made it possible to perfectly adapt the technology to the challenging conditions of the marine environment.

"We welcome the opportunity to further expand the testing of our hydrogen technology to another maritime application. Following the integration of our Fuel Cell module in the Energy Observer boat, we have further adjusted the module to fit in the EODev Hydrogen Range Extender. Together with the EODev team, we can demonstrate that zero emissions and zero noise technologies for different types of mobility and power applications are already possible today. Making the different applications available is a great opportunity to decarbonise energy usage already today and contribute to the development of the hydrogen society." Quote: Thiebault Paquet, Director of the Fuel Cell Business Unit at Toyota Motor Europe.


With this kind of project, Toyota is enhancing a wider business strategy around their fuel cell technology which has the flexibility to be adapted for a variety of uses. Together with the supply of fuel cell modules, the Fuel Cell Business Unit at Toyota Motor Europe provides technical support and expertise to guarantee the optimal use of the module.

Toyota is integrating its fuel cell technology into a wide variety of applications including buses, trucks, generators and boats.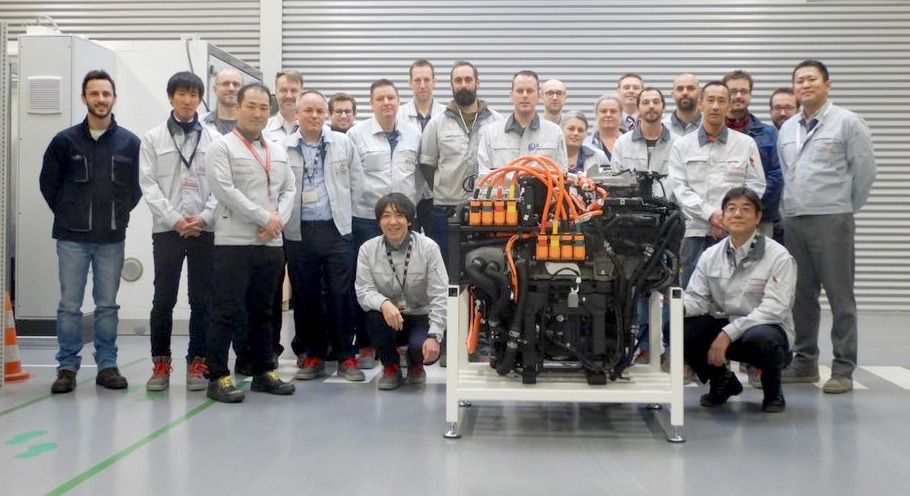 EODev REXH2 SPECIFICATIONS:
Power from 70 kW to 1 MW
Guaranteed lifetime 15 000 hours
Output voltage ± 600 V DC
Full power can be maintained for several hours
No clogging
No moving parts
Stackable
Integrated H2 safety management
Compact : 100 x 100 x 100cm
Integration: Complete turnkey system
Mass 400Kg
Power Management System included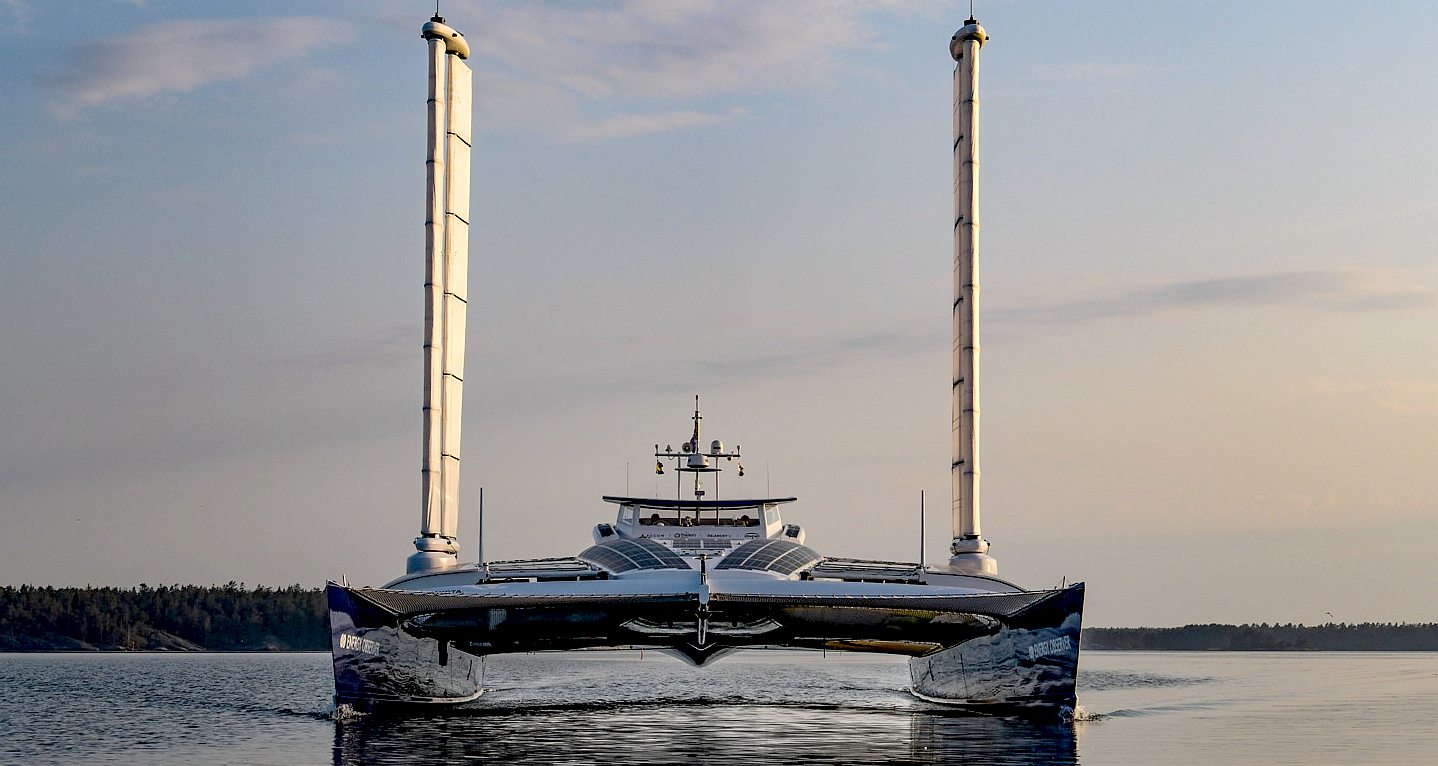 FICTION - A version of the Energy Observer features in 'Kulo-Luna,' the story of a giant humpback whale that fights against whalers of a future world where ocean plastic has made fish so toxic, that whaling has become legal again to feed starving fishing nations.
SUN & WIND POWER
When launched in April 2017, the Observer claimed to be the first vessel in the world to both generate and be powered by hydrogen. She was developed in collaboration with engineers from the CEA-LITEN.

The boat produced and stores hydrogen using desalinated seawater thanks to an energy mix as originally installes: 3 types of solar panels spreading over a surface (originally) of 130 square meters (21 kW peak), 2 vertical axis wind turbines (2 x 1 kW), 1 traction kite and 2 reversible electric motors (2x41 kW) of hydrogenation, 1 lithium battery (106 kWh), 1 desalinator, 1 electrolyser, 1 compressor, 1 fuel cell (22 kW), and 62 kg of hydrogen. The complete hydrogen system weighs 2100 kilos.
These specifications have since been changed along with lengthening of the hulls. Recently, 36.8m² of solar panel area have been added to the existing 165m² for 5.6Kw of additional power and a total surface area of 202m². As a result, the maximum power will be 34kWp (they have almost doubled the power since 2017). The Observer does not have sun tracking as with the Elizabeth Swann, hence there is room for improvement. The Observer has a power to weight ratio of 1.14 kW/ton. More than PlanetSolar's 1.05kW/ton.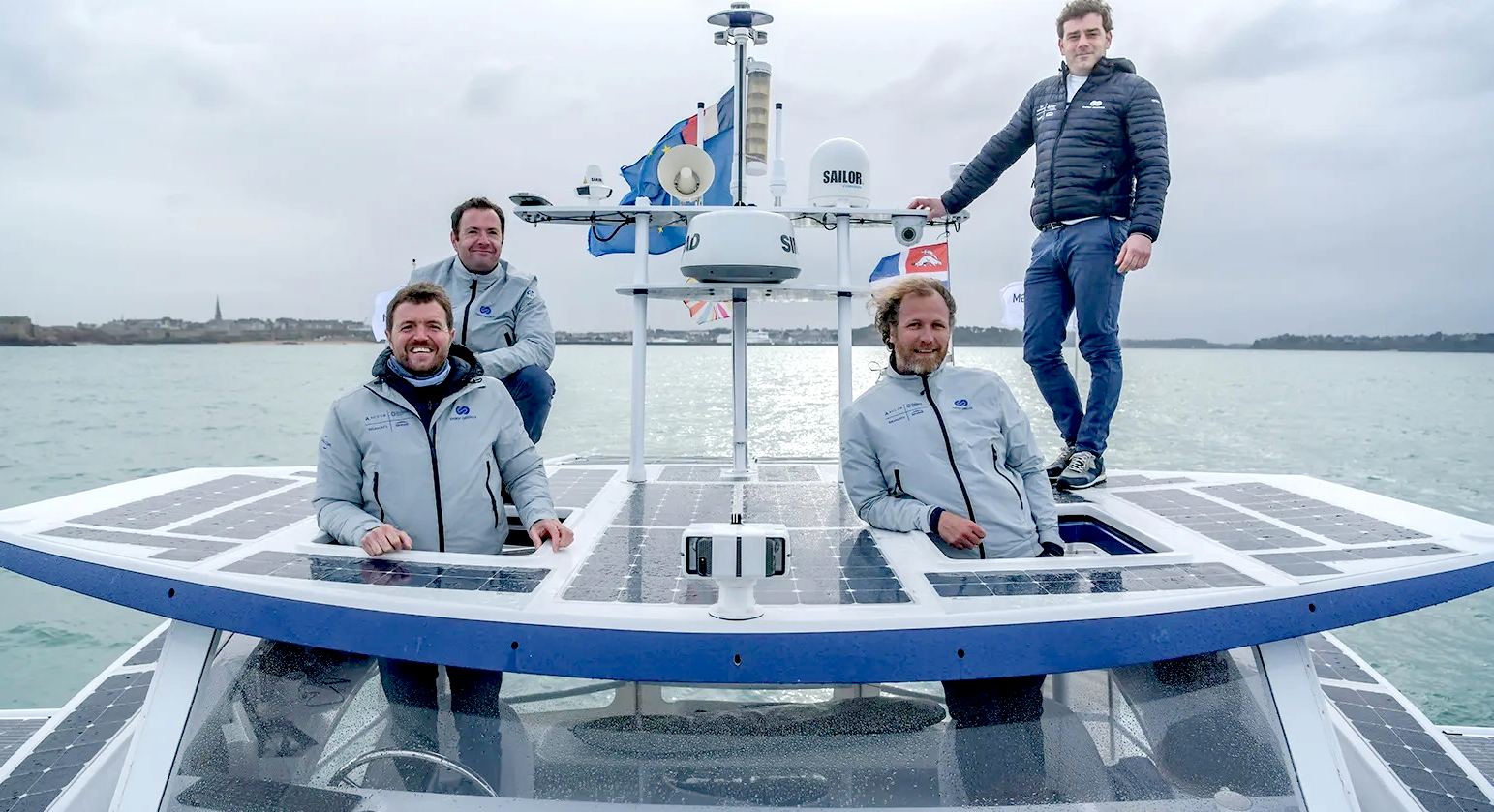 Victorien Erussard, offshore racer and merchant naval officer, will lead the expedition, along with Jérôme Delafosse, professional diver and producer of wildlife documentaries. By their side, a team of over 30 people, architects, designers, and engineers, spreading from Saint-Malo to Paris to Grenoble, have been working since 2015 on refurbishing the catamaran.
The boat has been lengthened four times and now displays the following dimensions:

Length 30,5 metres (100ft)
Width 12,80 metres
Weight 30 metric tons
Speed 8-10 knots
TOYOTA BRUSSELS, 3 FEBRUARY 2020
Toyota has been involved in the Energy Observer project from the start, because of hydrogen being at the very heart of this amazing journey. During a six-year odyssey, which started in 2017, the Energy Observer team is navigating the first energy-autonomous hydrogen boat around the globe. The electrically propelled vessel of the future operates by using a mix of renewable energies and a system that produces carbon-free hydrogen from seawater.

In line with Toyota's Environmental Challenge 2050, the Energy Observer demonstrates and shares solutions to champion an ecological and energy transition, supporting tomorrow's energy networks to make them efficient and applicable on a large scale. As the first French ambassador of the Sustainable Development Goals (SDGs), Energy Observer is detecting and promoting positive initiatives and sustainable solutions to design tomorrow's future, and to prove that a cleaner world is possible.

For the next leg in the journey, Energy Observer and Toyota have worked closely together to introduce Toyota's leading fuel cell technology in the boat. Toyota Technical Center Europe has especially developed this fuel cell system, using components first introduced in the Toyota Mirai and fitted it into a compact module suitable for marine applications. It will deliver more power and efficiency, but also high reliability to cross the Atlantic and Pacific Ocean this year.

The R&D team in Europe managed within 7 months the design and component production, followed by the build and installation of the compact fuel cell module. This successfully demonstrates the adaptability of the Toyota fuel cell technology to a variety of applications. At the end of last year, the fuel cell module was tested in the boat in the shipyard. Currently, the final full power testing is being done at sea before the Energy Observer sails off for their 2020 Tour mid-February.

"We are very proud to embark the Toyota Fuel Cell System on our oceans passages, and test it in the roughest conditions. After three years and nearly 20 000 nautical miles of development, the Energy Observer energy supply and storage system is now very reliable and we look forward to the next step of the project : Get a reliable and affordable system available for our maritime community. We believe that the Toyota Fuel Cell System is the perfect component for this, industrially produced, efficient and safe. Being an ambassador for the SDGs, our mission is to promote clean energy solutions and we share with Toyota the same vision for a hydrogen society." Quote: Victorien Erussard, founder and captain of Energy Observer
The Toyota Fuel Cell System has proven its benefits already for many years in the Mirai, but more recently also in other applications such as buses and trucks. Using it for maritime transportation is again another step closer to the development of the hydrogen society. Toyota believes that hydrogen is the catalyst for energy decarbonisation and the technology acceptance can accelerate with the Toyota Fuel Cell System modular solution, which can be considered for a multitude of applications.
"We are pleased to be able to further demonstrate the versatility of the Toyota Fuel Cell System. Our European R&D team has worked hard with the team of the Energy Observer to create and install this module in the existing boat. This project shows that the Toyota Fuel Cell technology can be used in any environment and can be spread throughout many business opportunities. It is always inspiring to work with people who aim for the same goals and this project supports even more our vision for a hydrogen society."
Quote: Dr Johan van Zyl, President and CEO of Toyota Motor Europe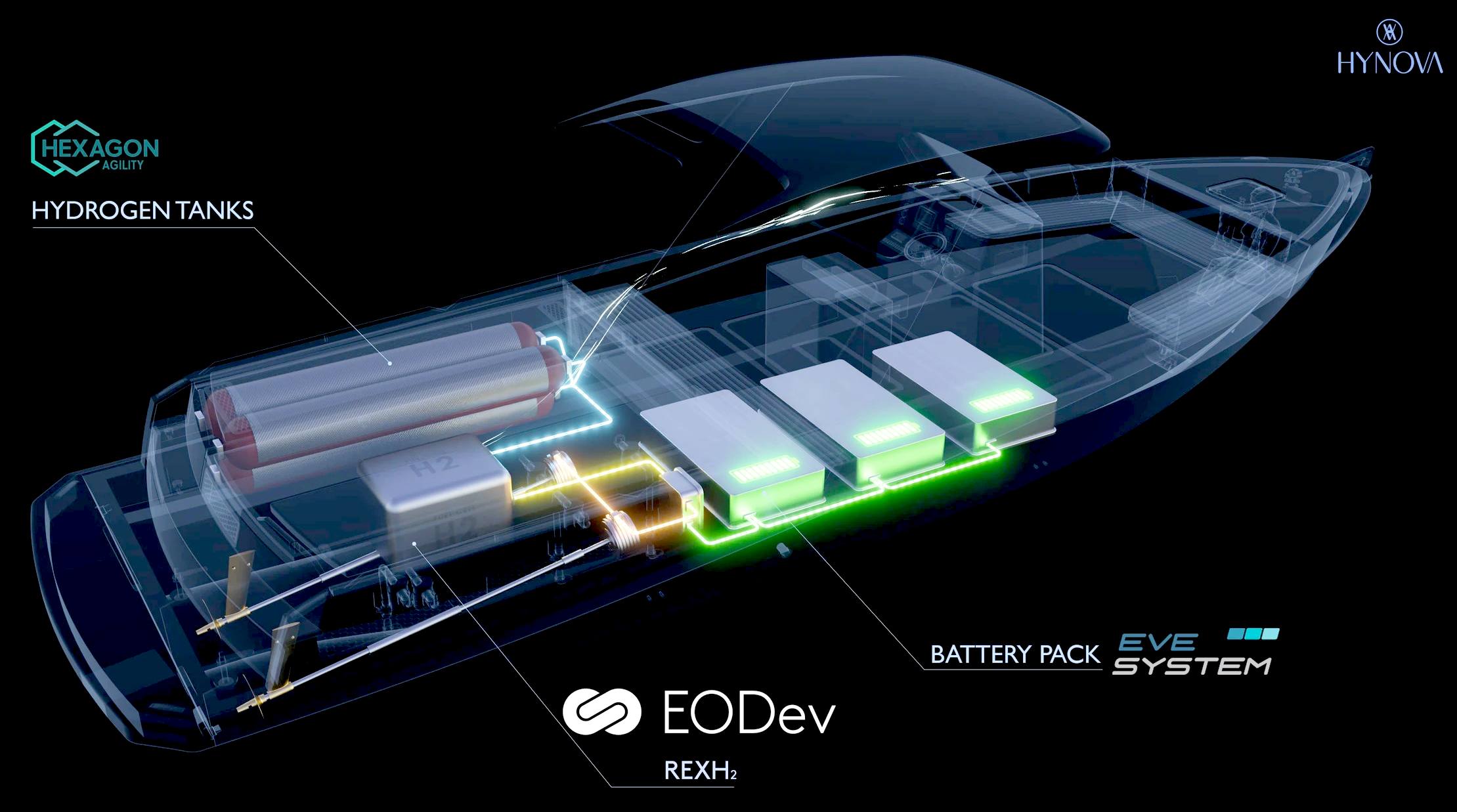 HYNOVA, NEW ERA - Electro-hydrogen hybridization is at the heart of the propulsion system of The New Era by HYNOVA Yachts, the first day-boat equipped with a REXH2® running on hydrogen and currently in approval phase. This is the brainchild of Frédéric Ménière, President of EVE System, Chloé Zaied, Managing Director of HYNOVA Yachts, and Romain Jallon, Director of Operations at EODev.
CONTACTS
EODev

business@eo.dev
media@eo.dev
admin@eo.dev
contact@eo.dev
https://www.eo-dev.com/


TOYOTA
Jean-Yves Jault - Director, Corporate & Online Communication
jean.yves.jault@toyota-europe.com
+32 2 745 29 97

Paul Greaves - Manager, Corporate & Online Communicaton
Paul.Greaves@toyota-europe.com
+32 2 745 2345

Carol Coolsaet - Corporate & Online Communication
Carol.Coolsaet@toyota-europe.com
+32 2 745 29 60

An Dua - Corporate & Online Communication
An.Dua@toyota-europe.com
+32 2 745 24 71

Kaori Hasegawa - Corporate & Online Communication
Kaori.Hasegawa@toyota-europe.com
+32 2 745 3525

Danny F. Chen - Senior Specialist, Toyota Product Communication
danny.chen@toyota-europe.com
+32 2 745 23 76
ENERGY OBSERVER
Vincent Caumes - Press Relations
media@energy-observer.org
+33 (0)6 08 51 42 53
Joséphine Guinard - Press agent
media@energy-observer.org
+33 (0)7 86 43 79 91
For questions related to the Odyssey: contact@energy-observer.org
For questions related to the Innovations: contact.eodev@energy-observer.org
https://www.energy-observer.org/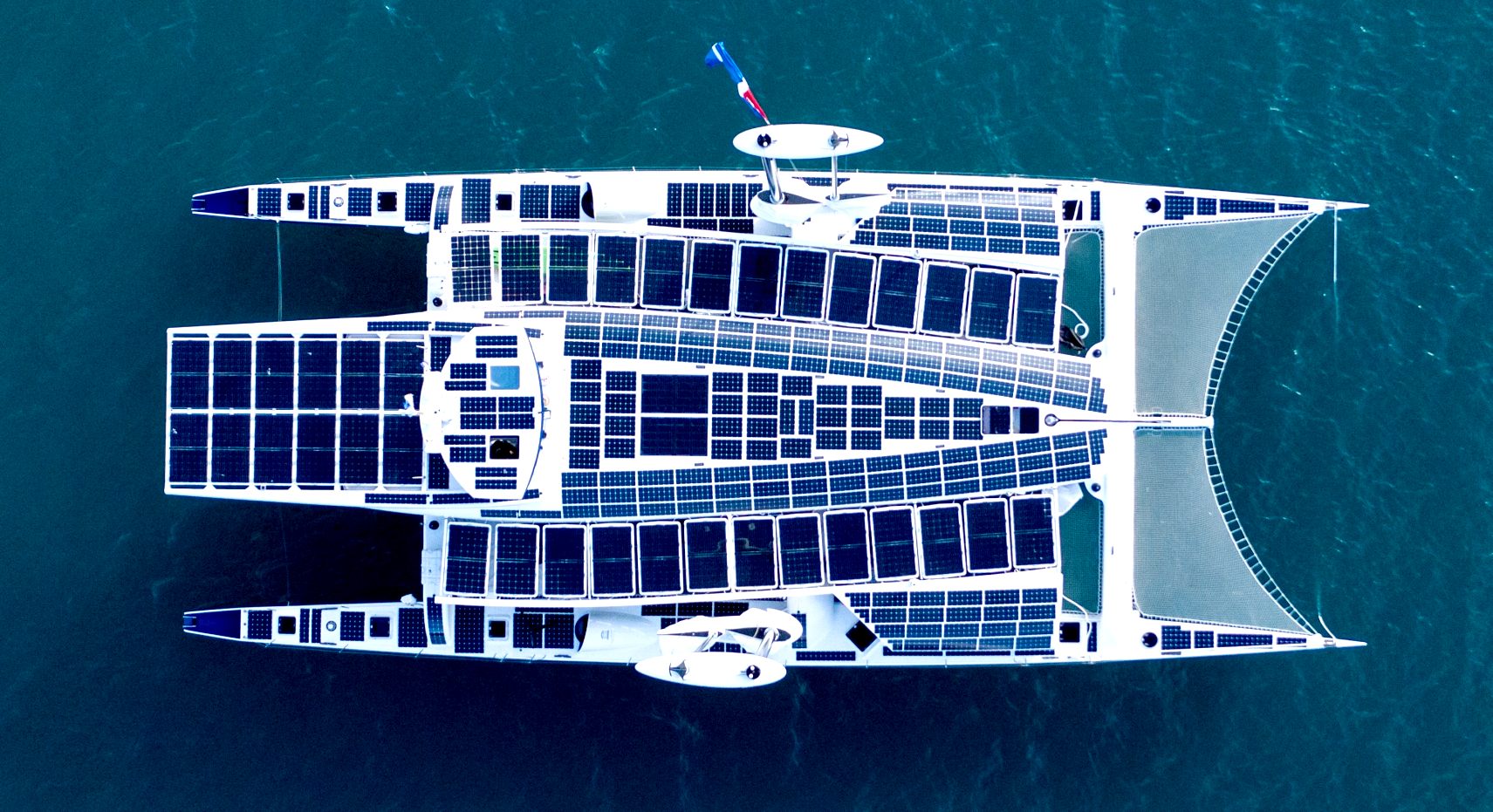 ENERGY OBSERVER'S LATEST ADVANCES & UPGRADES
The transition from a 30kW battery to the new 80kW fuel cell (60kW continuous) has not only doubled the capacities of the vessel, it has increased them exponentially. Indeed, it is important to understand that a REXH2 is, like the Toyota Mirai, designed to operate in conjunction with one or more batteries. Although it is theoretically possible to ensure the propulsion of a small boat, having a simple and recurrent user profile, with the electricity supplied by a single fuel cell, it is more pragmatic to couple it with batteries which will serve both as an energy reserve (storage) and as an energy source for the propulsion and the hotel load.

The benefits, compared to an "all-electric" scheme, is to reduce the need for a large number of batteries, whose sustainability and recycling possibilities are questionable, while allowing a substantial weight gain for more or less the same volume. It is also a cheaper solution in terms of acquisition price / buying price and operational costs In addition, up to 10 REXH2 can be combined so as to bring the power of the system from 80 to 800kW. Finally, the hydrogen fueling it can be completely "green", when resulting from water electrolysis, whereas a battery is usually recharged via "the grid", whose energy is not always of virtuous origin.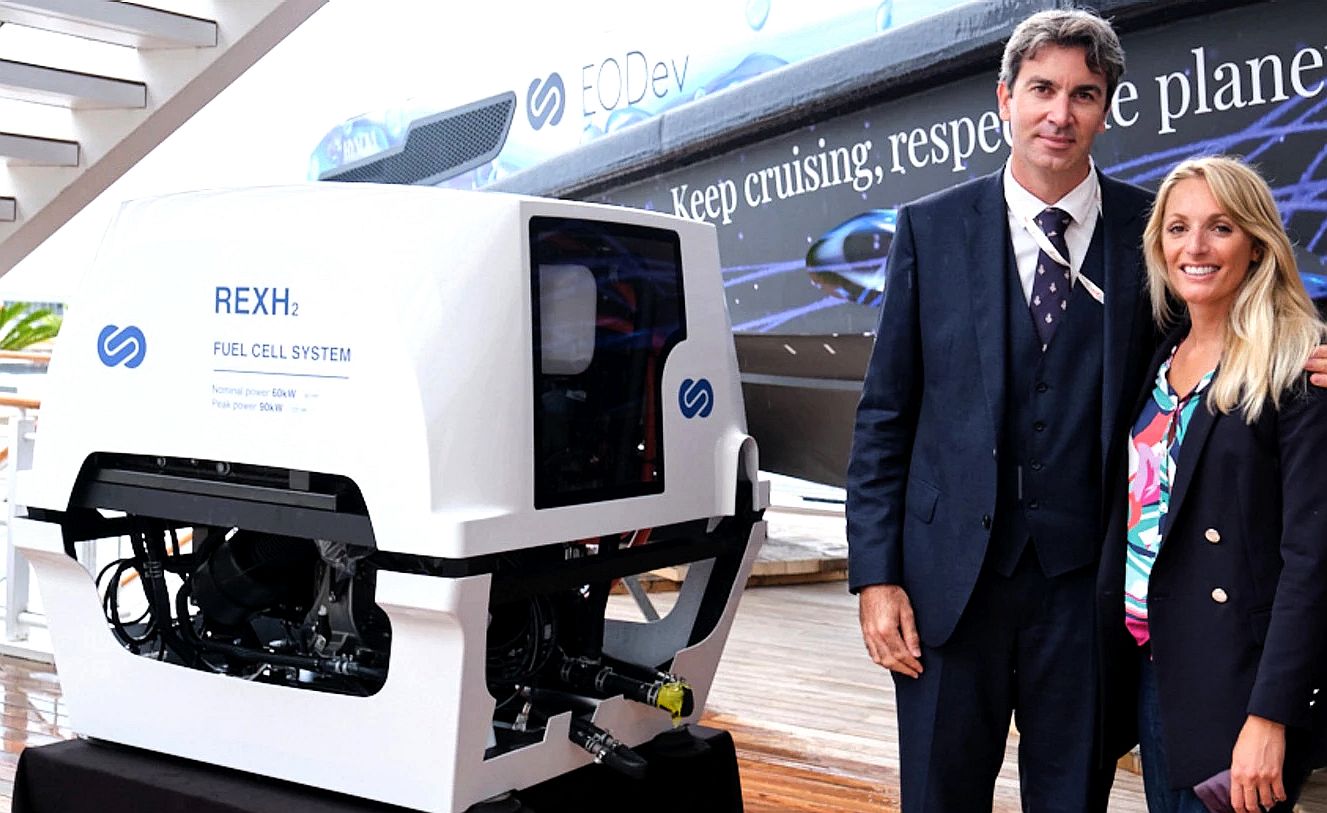 In their view, the REXH2, in electric hybridization, or even in diesel-hydrogen-electric hybridization, appears today as the option most likely to reduce as much as possible CO2 and fine particle emissions on board ships, looking to the future improvement of green hydrogen production and storage capacities, when it may finally be possible to run fleets of ships on hydrogen to meet all of the on-board energy needs.

After spending many months on Toyota's test bench in Belgium, in its test version, the first REXH2 was finally installed on board Energy Observer, where is was tested again and again over the winter to ensure its reliability as well as its performance in a demanding marine environment, subject to many changing weather patterns, waves, swell and roll.
GREEN HYDROGEN - Electro-hydrogen hybridization is at the heart of the propulsion system of The New Era by HYNOVA Yachts, the first dayboat equipped with a REXH2® running on hydrogen and currently in approval phase. We spoke with Frédéric Ménière, President of EVE System, Chloé Zaied, Managing Director of HYNOVA Yachts, and Romain Jallon, Director of Operations at EODev, to explain how electro-hydrogen hybridization is ideal for decarbonized maritime mobility.
Where the ocean is a roller coaster, a fuel cell is a sensitive organ, which must be protected from any external dust and harmful particles. In February 2020 the REXH2 was ready to be implemented for its first transatlantic crossing, but was unfortunately delayed a few times as a result of capricious weather conditions across the Atlantic.

The bet was all the more daring as the adventure was attempted with a new fuel cell, rather than simply relying on the capacities of the previous one, which would not have been enough to guarantee the autonomy required for such a crossing anyway, especially as the Pacific crossing is also looming in the distance.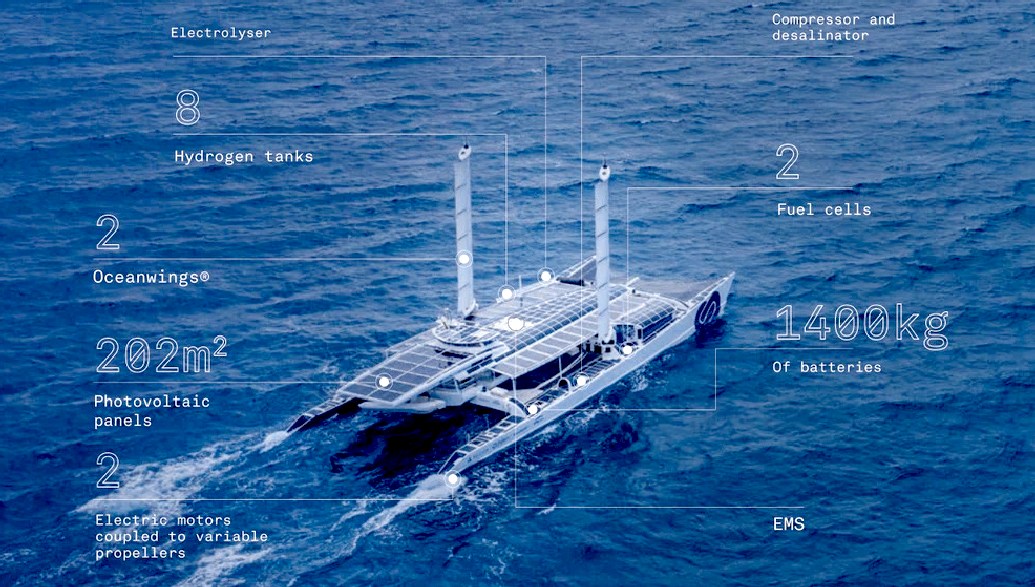 GREEN HYDROGEN - The REXH2® fuel cell - compressor – inverter set, installed back in 2019, boasts a maximum power output of 60 kW (though it is operated at around 50% of its potential to optimize its output).