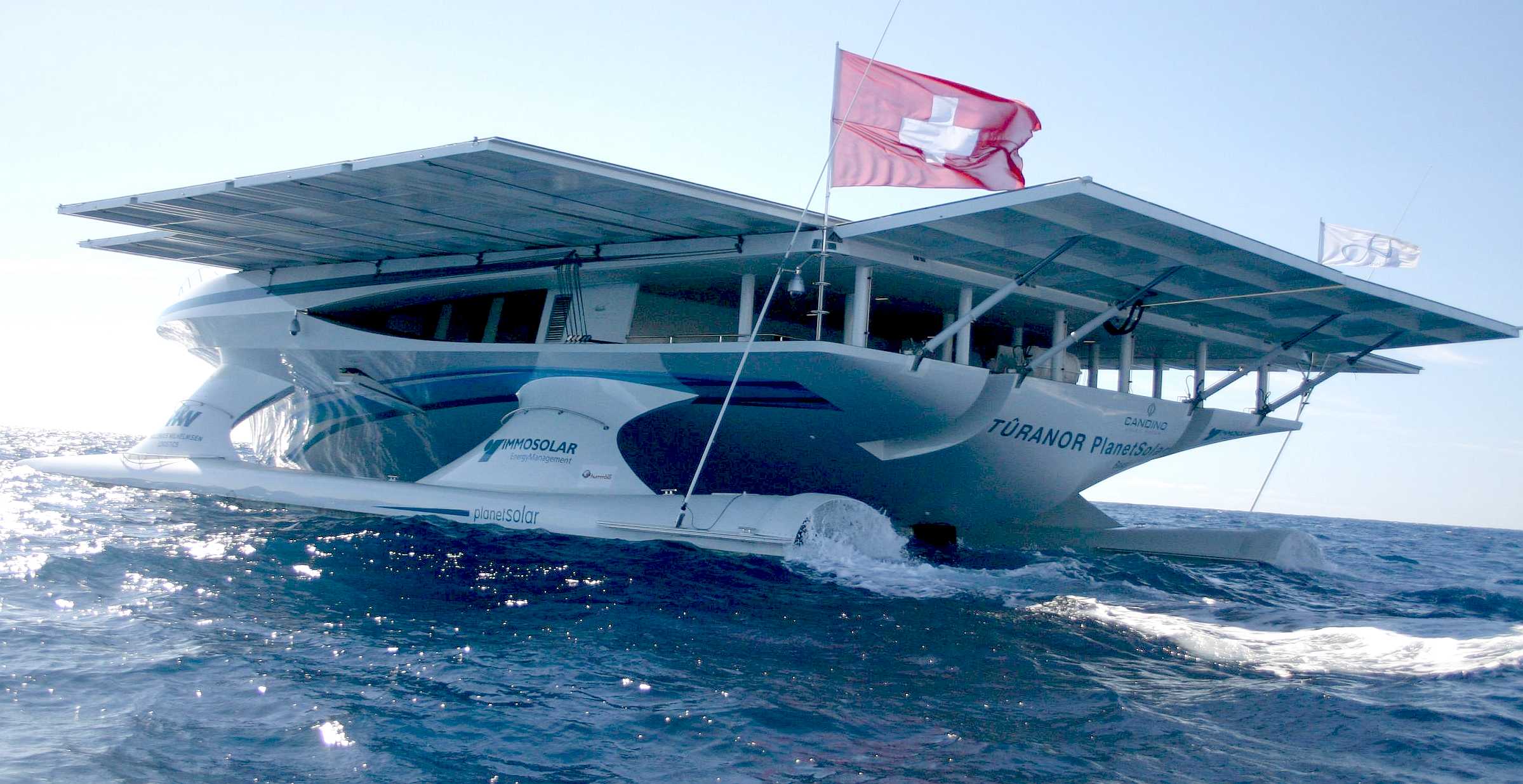 PlanetSolar heading out into uncharted technical waters. The theory was in place, but nobody knew if this solar powered boat could make it. But they did it flying the Swiss flag!
Raising the finance for this project could prove to be more of a challenge than physically building and sailing the fastest solar ship in the world.
IS THIS OPPORTUNITY TAX DEDUCTIBLE?
One of the first things to consider is that in the right circumstances, business sponsorship, or advertising, can be 100% tax deductible. I.e. an allowable expense in corporation tax calculations, prior to paying tax on profits in most countries around the world. In addition, such investment qualifies as R&D, where there may be tax breaks in your country.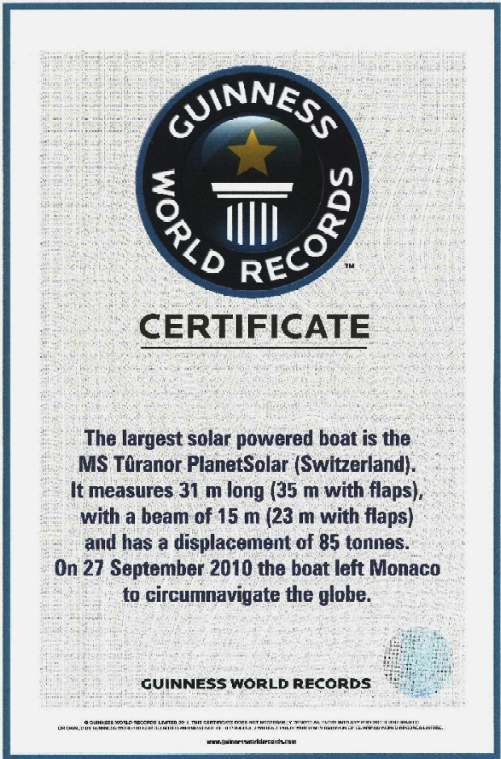 Guinness Book of World Records, certificate for the world's largest solar powered boat @ 31 meters long x 15 meters wide and 85 tonnes. When constructed the Elizabeth Swann will be 44 meters long x 16.6 meters wide, making her the new record holder as the world's largest solar powered boat.
MISSION IMPOSSIBLE
This page outlines our present thinking as to the financial route to raising the world record for zero (solar) powered, electrically propelled ocean class waterborne vessels - to, in the words of Sir John Harvey Jones: "...make it happen."
Just like Mission Impossible, this (marketing) page and others like it used to attract consortium members and suppliers, will be removed once the 'Group' and targets are agreed. We aim to present this important scientific project in such a way as to make it more fun to non-scientists and even attractive to communication groups, such as film companies. Not an easy task as you may imagine. How do you make engineering ocean science more interesting?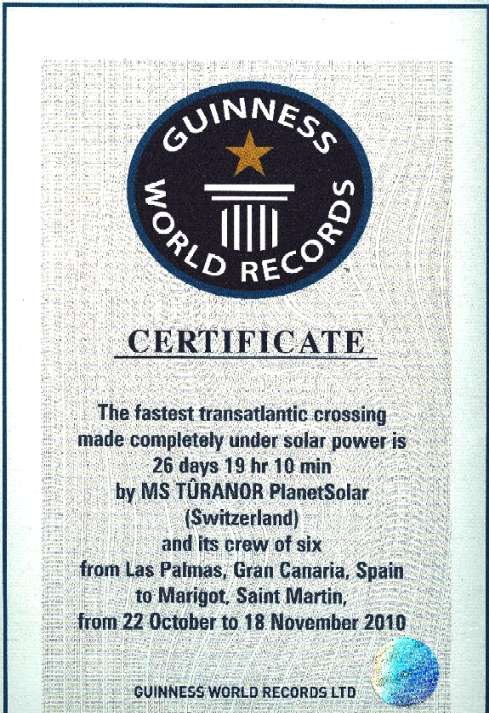 Guinness Book of World Records - certificate for transatlantic crossing 18 November 2010. This will be one of the key records to beat during our experimental runs. This record, impressive as achievements go, is long overdue for improvement.
THE OFFER
What is on offer, is the chance to be part of the team that gets into the record books, to help raise the bar for zero carbon shipping, so working to reduce climate change and pollution from marine diesel exhausts that go to cause acid oceans.
These objectives meet with most responsible corporate agendas, and also the United Nations', IMO's, targets for 2030 and beyond. So far, so good. But we still need to give something in return, to help corporate philanthropists to justify expenditure at board level, where they are accountable to their investors.
Fortunately, the hull of the Elizabeth Swann, underside of her solar wings, and the potential for better than average media coverage, mean that contributors might benefit in ways that conventional PR alone, cannot provide. It's a case of show not tell. Or, not talking about doing it; just doing it.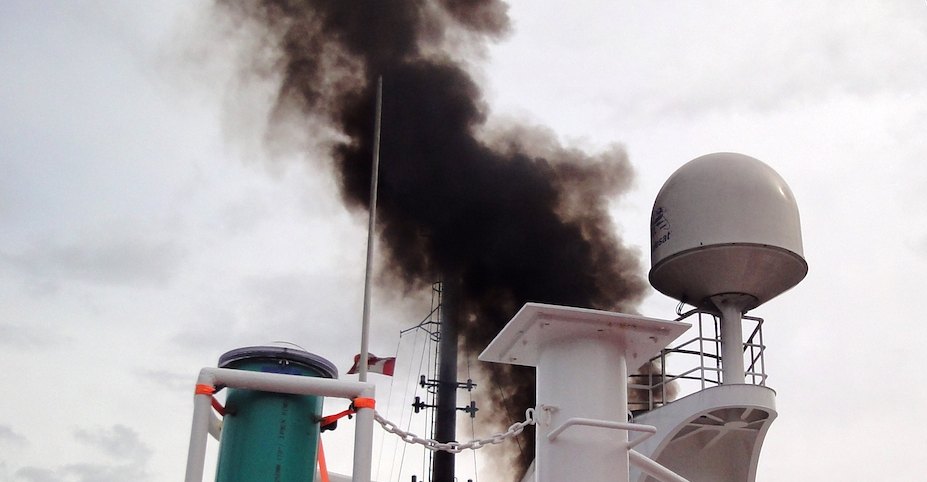 The Cleaner Ocean Foundation works to help protect the "seven seas" from the effects of anthropogenic atmospheric pollution like this ship that is belching diesel fumes like there is no tomorrow. We'd like to preserve tomorrow for our children. You can help us to make this scene a thing of the past.
We are presently developing a formula to make this project an attractive proposition - and as safe a bet as it is possible to make it for investors who will effectively become project partners.
For example, funding contributions would be staged, with forward tranches for (next) work packages at the completion of each phase. Space available on the hull might be in direct proportion to contributions, or might include naming rights. At the moment we think hull area allocation may work best.
The budget would be agreed up-front. It depends on the generosity of our partners, as to the records that may be attempted and the follow on events that might be attended.

The available hull area in practical terms is around 116m2 on each side, as shown above. Given that the yacht is likely to be between 44-54 meters (140-175ft) in length and a space age design, the Swann is sure to receive a decent amount of media attention. A consortium of 6 funding partners would enjoy relatively spacious logo placement. By way of example (only) if the project were to be $12m that would be $2m each, or around $52k per square meter.
Compared to other advertising mediums, this project is thought to offer an attractive Return On Investment (ROI). What flags would you like to see on this vessel?
FUNDING ESTIMATES
| | |
| --- | --- |
| MATERIALS | * = Quote awaited $ = Estimated |
| - | - |
| Adhesives & Sealants | * |
| Composites supplies | * |
| Electrical cables and connectors | * |
| Fixings | * |
| Glass | * |
| Metals, aluminium, stainless steel | * |
| Welding plant hire and consumables | $ 20,000 |
| PARTS & EQUIPMENT | |
| Automated test & measurement equipment | * |
| Batteries | * |
| Bearings | * |
| Boat fittings, anchors, windlass, interior | * |
| Hydraulics, motors, rams, pipes | $ 14,000 |
| Computers and parts | * |
| Electric propulsion thrusters | * |
| Navigation equipment + fitting | $ 350,000 |
| Solar panels | * |
| Water sampling sensors | * |
| Weather monitoring equipment | * |
| Wind generator(s) | * |
| SERVICES | |
| Boat building construction in alloy and composites | * |
| CFD computational fluid dynamics | * |
| Digital cyber security solutions | * |
| Docking, unmanned at ports | * |
| Hull design and stressing | * |
| Insurance underwriting | * |
| Project Management | $ 50,000 yr x 3 years |
| Satellite communications (mobile) | * |
| Skilled manpower, wiring, mechanics | * |
| Solar wing construction in composites | * |
| Solar wing design | * |
| Water pollution monitoring equipment | * |
| Wind turbine mast design | $ 60,000 |
| EVENTS & DATA GATHERING | |
| Launch and shakedown trials | * |
| English Channel sprints | * |
| Autonomous docking | * |
| Atlantic 1st circuit - wind and solar, with trades | * |
| Atlantic 2nd circuit - solar panels only | * |
| Atlantic against the trade winds | * |
| Geospatial data analysis | * |
PLEASE NOTE - We do not need all of the above items to be valued. Simply enough to be able to complete the core of the project - where ordinarily much of that listed may be available off the shelf. This is just a guide as to the potential cost of the project, to enable investors to gauge PR and scientific community returns. The project will not go live in April 2021, until we are sufficiently funded to get under way. The major cost will be yacht construction. Once we have the core figures, we will be able to divide the total between contributors (at the moment based on visible hull area). Hull space will be allocated according to percentage of project cost, by simple area division, or please feel free to offer alternatives.
THE RETURNS ON YOUR INVESTMENT
Taking the Atlantic (solar) record would be a phenomenal achievement. But other events are possible, to include attending boat shows, etc., or even as a working exhibition for Conferences of the Parties (by way of an example).
The Indian and Pacific oceans could be separate events, or could (eventually) form part of a Circumnavigation attempt.
We would need a contingency fund to close off the accounts with an audit, etc., as a wrap to successful expedition(s), such as not to put the Foundation at risk - but then the Foundation is a not for profit organization. Meaning that operating overheads are as low as they might be for an SME.
Current project estimates, may be quoted on the high side in pot-warming correspondence, but in reality, the cost will be what it (actually) costs - agreed up front with contributors - as to the media opportunities built into the project, to enable investment justification.
The project will not proceed until a budget level of spend is agreed between the partners.
The current solar powered record holder is the Tūranor PlanetSolar, seen below. This project generated significant media attention at each port of call from 2011, to 2013.
The Elizabeth Swann is designed to be a faster vessel, meaning less time in transit, and a race against the clock, to keep interest high. She is also a bigger vessel, meaning entry in the Guinness and other record books, such as the UIM.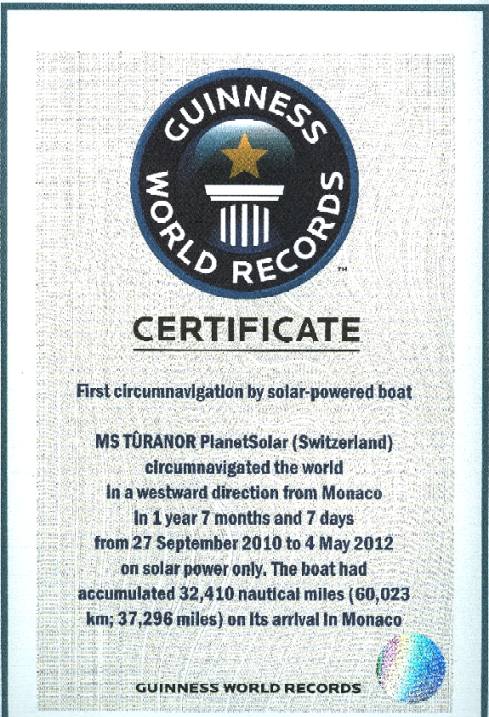 Guinness Book of World Records - certificate for the first circumnavigation completed on 4th May 2012 by a solar powered boat, starting and ending in Monaco.
Consortium partners (by way of sponsorship, advertising, or other agreements as to affiliation) will qualify for shares in any spin-off (trading) company flowing from the Elizabeth Swann project. This might be particularly relevant to COLREGs compliance issues, commercial (autonomous) shipping and fleet operators looking to convert existing vessels to reduce emissions, or for incorporation in new builds.
CARBON CREDITS
It is unclear if supporting this project qualifies as carbon offsetting in terms of the Kyoto Protocol. Clarification is being sought from the UNFCCC based on the premise that bunker fuelled ships use so much fuel per nautical mile as to equate to a reported 17% of world CO2 production by 2050 if not checked, whereas, solar/wind powered vessels are zero emissions. We suspect that such R&D is not supported by the UN's IMO as we write (21-02-2021).
BUNKER FUELLED SHIPPING Vs SOLAR & WIND
The cost of operating diesel ships is determined by the nautical miles (NM) per ton of bunker fuel, multiplied by the CO2 produced per NM traveled. That figure is in turn multiplied by the distance the vessel is likely to travel during its operational lifetime, taking 1.2 million NM as a baseline figure.
Ships that run on energy from nature come into their own when calculating the emission of CO2 per nautical mile, which is of course zero, once the cost of the solar panels and wind turbines has been offset, with an allowance for the cost of producing the giant internal combustion engines.
Zero multiplied by 1.2 million nautical miles = zero. 1.2 million miles being an estimate of distance over a 10 year operational period. But then solar panels are rated @ 20 year lifetime, with some tail off in performance as they get older. Wind turbines also have a long lifetime of service.
WHY ARE WE DOING THIS?
Because we can, and because we can, we must give it a chance.