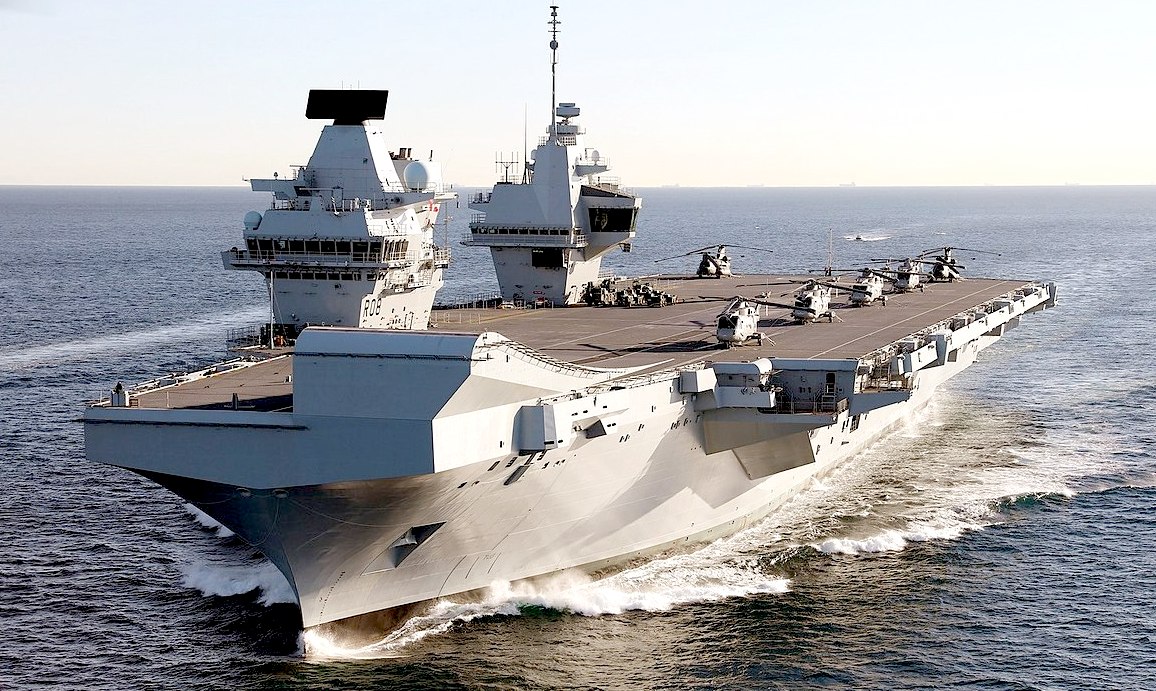 BATTLESHIP - Built mainly to keep MOD subcontractors in the lap of luxury at the expense of the British taxpayer and in spite of rising National Debt, the Queen Elizabeth class aircraft carrier is viewed by many conservationists as a monument to climate stupidity and kleptocratic warmongers, and of course denial of nuclear weapon illegality. The IMO was no less guilty of ostrich policy abandonment until COP 21.
The International Maritime Organization (IMO) estimated that Carbon dioxide emissions from shipping were equal to 2.2% of the global human-made emissions in 2012 and expects them to rise between 50 to 250 percent by 2050 if no action is taken. A study by the European Parliament echoed such sentiments, but differed on the percentage, making it 17%, with aviation's 23% taking that to 40%. Wow!
Airmail is great, but we can wait now we have email, Zoom and Teams, marine deliveries are essential, perishables and other essential supplies cannot wait.
PHYSICS.ORG DECEMBER 2018

Cargo ships are emitting boatloads of carbon, and nobody wants to take the blame

Maritime shipping transports 90 percent of the goods traded around the world by volume. Moving large amounts of goods such as oil, computers, blue jeans and wheat across oceans drives the global economy, making it cheaper and easier to buy almost anything.

But hauling goods around by sea requires roughly 300 million tons of very dirty fuel, producing nearly 3 percent of the world's carbon dioxide emissions, giving the international maritime shipping industry roughly the same carbon footprint as Germany.

At summits like the COP24 meeting held in Poland in December of 2018 and in agreements such as COP21 one struck in Paris in 2015, national governments have largely ignored the carbon dioxide emissions from international shipping entering the atmosphere.

This is a real problem because if no country is held responsible for emissions, no government will try to reduce them. We believe as scholars of global environmental cooperation that one way forward is to make international maritime shipping emissions the responsibility of specific countries with the goal of increasing pressure to encourage emission reductions.

A globalized industry

In international climate change negotiations, countries are in charge of reducing their own greenhouse gas emissions. Carbon dioxide emissions from international shipping could be added to this responsibility. Figuring out whose emissions they are, however, is no easy task.

Perhaps no industry is as globalized as maritime shipping. The ships themselves have international webs of owners, operators and registrations. They carry goods sourced in multiple places as they traverse the high seas, stopping in many countries.

A single ship might be connected to dozens of companies. It can be built by one company, owned by a group of other companies, and operated by a group of yet more companies. It may carry cargo for many hundreds of businesses destined for many ports run by different companies, be crewed by an outsourced staffing firm, and insured by another company.

The United Nations Conference on Trade and Development expects trade to continue to grow in the coming decades. The International Maritime Organization, the international body that regulates shipping, predicts that as trade grows, carbon dioxide emissions from international shipping could increase by as much as 250 percent by 2050.

To date, that organization has done little to address climate change even though it did announce in April 2018 that it aims to halve emissions from shipping by 2050 rather than letting them soar unchecked. Maersk, the world's largest shipping company, announced several months later that it aims to reduce its emissions to zero by 2050.

This is great news, but neither the IMO nor Maersk have provided any detailed information about how these goals will be achieved. Both support more research into fuel-efficient technologies for shipping, but the IMO itself admits that this is not going to be enough.

So far, no country has taken ownership of any emissions from international shipping. Only emissions from domestic shipping, such as cargo hauled across Lake Michigan, are counted.

The first electric vessels are only now beginning to be made. These ships would most likely have much smaller carbon footprints than those in use today, but they can now only travel short distances before having to charge their batteries again. The technology does not yet exist for long maritime voyages for large vessels.

Not mine

There are several ways that emissions from international shipping could be allocated to specific countries. In 1996, the countries that had ratified the United Nations Framework Convention on Climate Change – the first global treaty on climate change – identified eight options to get this done. Over two decades later, there has been no progress with any of them.

The eight options include allocating carbon dioxide emissions to countries based on where the fuel ships use is sold, where ships are registered, or the origins or destinations of the ships. Each option would lead to radically different emissions responsibilities for individual countries, making it even harder for everyone to reach consensus.

We believe that a critical first step no matter what approach prevails would be to create a comprehensive and open database of international shipping routes and maritime emissions. That would establish a shared baseline for quantifying and allocating carbon dioxide emissions to countries.

Given all that is at stake in a warming world, it is high time that countries stop ignoring a big chunk of the human produced carbon dioxide entering the atmosphere. To avoid dangerous climatic changes, it must be all hands on deck.

by Henrik Selin And Rebecca Cowing, The Conversation

ZERO RADIATION & ZERO CARBON: The Elizabeth Swann shown above, is a zero emissions vessel, using only solar and wind power for propulsion. She could have a boosted performance with hydrogen batteries as a hybrid, to provide high speed transits as a ferry, though 10 knots constant is achievable in theory using only renewables. Something we hope to be able to prove in not too long.
TRANSPORT & ENVIRONMENT NOV 23 2015

Shipping could be responsible for 17% of global CO2 emissions in 2050 if left unregulated, according to a new scientific study. Any agreement at the Paris Climate Summit must therefore send a clear signal to the International Maritime Organization (IMO) that CO2 reduction targets and measures for shipping are needed to help keep warming below dangerous levels, according to NGOs Seas At Risk, Transport & Environment (T&E) and the Marine Conservation Society.

Emissions from shipping, along with aviation, are the elephant in the COP21 negotiations room, the groups said in a dossier presented to delegates arriving for the IMO's 2015 Assembly in London today.
Almost 40% of all CO2 emissions in 2050 will be caused by shipping and aviation if left unregulated, the study published by the European Parliament found. However the IMO, the UN body tasked with tackling the climate impacts of shipping, has so far failed to grasp the nettle on shipping's growing contribution to greenhouse gas (GHG) emissions [1], while the proposal for emissions cuts from industry – as represented by the International Chamber of Shipping - would fall short of what shipping needs to do to help meet the 2°C warming target limit by some 121%.

The European Parliament's study took into account the IMO's own research which found that shipping GHG emissions are up 70% since 1990 and are projected to grow by up to a further 250% by 2050 [2]. Shipping currently accounts for nearly 3% of global CO2 emissions – higher than those of Canada, Brazil, Indonesia, Mexico, France or the United Kingdom. All these countries have now pledged domestic emissions cuts ahead of next month's talks but the IMO's Secretary General thinks differently having recently claimed publicly that "…measures aimed at reducing shipping's overall contribution of CO2 emissions… must be avoided" [3].

Without inclusion of ship GHG emissions in the Paris agreement and significant additional action to reduce emissions, shipping will consume a growing proportion of the 2 degree carbon budget and ultimately make it all but impossible to meet climate stabilisation targets.

Seas At Risk and T&E are members of the Clean Shipping Coalition [4], which has Observer status at the IMO. They are calling urgently on the IMO Assembly delegates to set a major course correction. Countries participating in the Paris Climate Change Conference (COP21) need to agree that the IMO should set targets and agree emissions re­duction measures that are consistent with shipping making a fair and pro­portionate contribution to keeping warming below 1.5/2 degrees.

Sotiris Raptis, shipping policy officer at T&E, said: "Now we know that, left unregulated, ships and airplanes could be responsible for almost 40% of global emissions in 2050 if other sectors decarbonise. Any deal in Paris must lead to an emissions reduction target and measures for shipping and aviation, otherwise the efforts of all other sectors of the global economy to meet the 2 degree target could be derailed."

John Maggs, policy advisor at Seas At Risk and President of the Clean Shipping Coalition said: "Paris should be the moment when the world sets itself on a course that avoids dangerous climate change. To achieve this all will have to play their part; there is no room for shirking responsibility or special pleading, least of all from an industry like shipping that has so much untapped potential to reduce emissions and move to a low carbon business model."

Eoin Bannon
Media Manager
+32 (0)487 717296
eoin.bannon@transportenvironment.org

CLEAN SHIPPING COALITION.ORG 30 SEPT 2015

Statement by the Clean Shipping Coalition in response to recent statement by the Secretary General of the IMO on the subject of shipping and climate change

Mr Koji Sekimizu illustrates very well in his statement why the International Maritime Organisation has so far failed to grasp the nettle over ship GHG emissions and why its future role must be guided by an agreement in Paris. His insistence that shipping and its emissions will grow with world trade and that emission reductions are only possible at a ship level, echo the views of a complacent industry. It suggests that the IMO, left to its own devices, would be unable to show the sort of leadership that the industry needs if it is to prepare for the future and play a proper role in tackling climate change.

Paris is not a dispute between UN organisations. It is about all countries and economic sectors taking action to ensure a temperature increase is limited to 1.5/2 degrees. The draft Paris text maintains the IMO's authority, but states that it must use this authority to introduce measures to ensure that when trade grows, emissions do not grow with it. We know it is technically possible; now the IMO must make it politically possible.

The references to the EEDI are misleading and another illustration of why the IMO needs careful guidance. With industry involvement, the IMO chose a baseline for the EEDI from a period of historically low ship design efficiency, thereby guaranteeing that ships built today don't have to be much better than those built in the 1980s.

Making big claims about reductions in emissions during a period of recession also looks like bad faith. Those reductions are, for the most part, the result of slow steaming, which is a result of over-capacity in the fleet. When demand catches up with the supply of ships there is nothing to stop ships returning to their design speeds and emissions ballooning.

By dismissing any measures that might have an impact on the volume of shipping, the Secretary General is saying that putting a price on shipping's carbon emissions can never play a role in controlling its emissions. With that statement he puts the shipping sector lagging behind even the oil industry that has issued a call for a global carbon price. With the three largest trading blocs, and some of the largest shipping registries, now having agreed to absolute emission reductions, the so-called 'servant of world trade' is now also behind even its own customers.

The IMO also needs wise leadership, free from the overweening influence of industry and Flags of Convenience. The outgoing Secretary-General's statement compounds his support for the IMO's rebuff last May of the call by the Marshall Islands, the world's third largest ship registry, and other vulnerable Pacific Island countries for the establishment of a global ship GHG emissions reduction target. By speaking out in this way, the head of the IMO has, on the eve of his departure from the post, taken a political position against a proposal that was supported by a large and important part of the IMO membership. The need for Paris to act is greater than ever.

For the Clean Shipping Coalition: John Maggs - President


THE GUARDIAN FEB 2008 - True scale of shipping CO2 emissions revealed
Leaked UN report says pollution three times higher than previously thought.

The true scale of climate change emissions from shipping is almost three times higher than previously believed, according to a leaked UN study seen by the Guardian.

It calculates that annual emissions from the world's merchant fleet have already reached 1.12bn tonnes of CO2, or nearly 4.5% of all global emissions of the main greenhouse gas.

The report suggests that shipping emissions - which are not taken into account by European targets for cutting global warming - will become one of the largest single sources of manmade CO2 after cars, housing, agriculture and industry. By comparison, the aviation industry, which has been under heavy pressure to clean up, is responsible for about 650m tonnes of CO2 emissions a year, just over half that from shipping.

Until now, the UN's Intergovernmental Panel on Climate Change has estimated shipping emissions to be a maximum 400m tonnes, but the new draft report by a group of international scientists is a more sophisticated measure, using data collected from the oil and shipping industries for the International Maritime Organisation, the UN agency tasked with monitoring pollution from ships. It not only shows emissions are much worse than feared, but warns CO2 emissions are set to rise by a further 30% by 2020.

Contacted about the contents of the report, Dr Rajendra Pachauri, chair of the IPCC, said: "This is a clear failure of the system. The shipping industry has so far escaped publicity. It has been left out of the climate change discussion. I hope [shipping emissions] will be included in the next UN agreement. It would be a cop-out if it was not. It tells me that we have been ineffective at tackling climate change so far."

The figure is highly embarrassing for the four governments, including Britain, that paid for the report. Governments and the EU have consistently played down the climate impact of shipping, saying it is less than 2% of global emissions and failing to include shipping emissions in their national estimates for CO2 emissions.

Pressure is now expected to increase on shipowners to switch to better fuels and on the EU to include shipping in its emission trading scheme. Last month aviation was provisionally included following intense pressure - but shipping escaped.

Previous attempts by the industry to calculate levels of carbon emissions were largely based on the quantity of low grade fuel bought by shipowners. The latest UN figures are considered more accurate because they are based on the known engine size of the world's ships, as well as the time they spend at sea and the amount of low grade fuel sold to shipowners.

The UN report also reveals that other pollutants from shipping are rising even faster than CO2 emissions. Sulphur and soot emissions, which give rise to lung cancers, acid rain and respiratory problems are expected to rise more than 30% over the next 12 years.

The health implications of shipping emissions are most acute for Britain and other countries bordering the English Channel, one of the world's busiest shipping lanes. A recent peer-reviewed study of shipping emissions found world shipping led directly to 60,000 deaths a year.

Peter Swift, managing director of Intertanko, the grouping of the world's largest tanker operators which provided data for the report, said the industry was taking steps to cut emissions. "World trade and ship numbers have seen a steady increase, but in parallel there have been economies of scale with larger, more efficient ships. Individual ships have steadily been reducing their fuel consumption for the last 20 years. One litre of fuel on a modern very large crude carrier moves one tonne of cargo more than 2,800km; this is more than twice as far as 20 years ago."

Caroline Lucas, Green MEP for south-east England, said: "These new figures highlight the shocking complacency of governments which have completely ignored shipping emissions. It is essential that our own government's new climate change bill includes both shipping and aviation emissions and measures are urgently brought forward at EU level."

A spokesman for the Department for Environment, Food and Rural Affairs said the government would support the development of a global emissions trading scheme through the IMO, and was also "investigating the feasibility of including maritime emissions" in the EU's trading scheme. He said the shipping industry must take its "share of responsibility" for tackling climate change.
LINKS & REFERENCE
[1] http://www.cleanshipping.org/imo-left-to-its-own-devices-has-failed-to-tackle-shippings-ghg-emissions/

[2] International Maritime Organisation, Reduction of GHG emissions from ships – Third IMO GHG Study 2014, (July 2014)
http://www.imo.org (Original link reference no longer working)

[3] www.imo.org/en/MediaCentre/HotTopics/GHG/Documents/Shipping%20and%20climate%20change.pdf

[4] The Clean Shipping Coalition (CSC) is a global international environmental organisation that focuses on shipping issues. It has eight member organisations and is an observer at the IMO. http://www.cleanshipping.org/about/
https://phys.org/news/2018-12-cargo-ships-emitting-boatloads-carbon.html
https://www.theguardian.com/environment/2008/feb/13/climatechange.pollution
https://www.transportenvironment.org/press/shipping-emissions-17-global-co2-making-it-elephant-climate-negotiations-room
Please use our A-Z INDEX to navigate this site