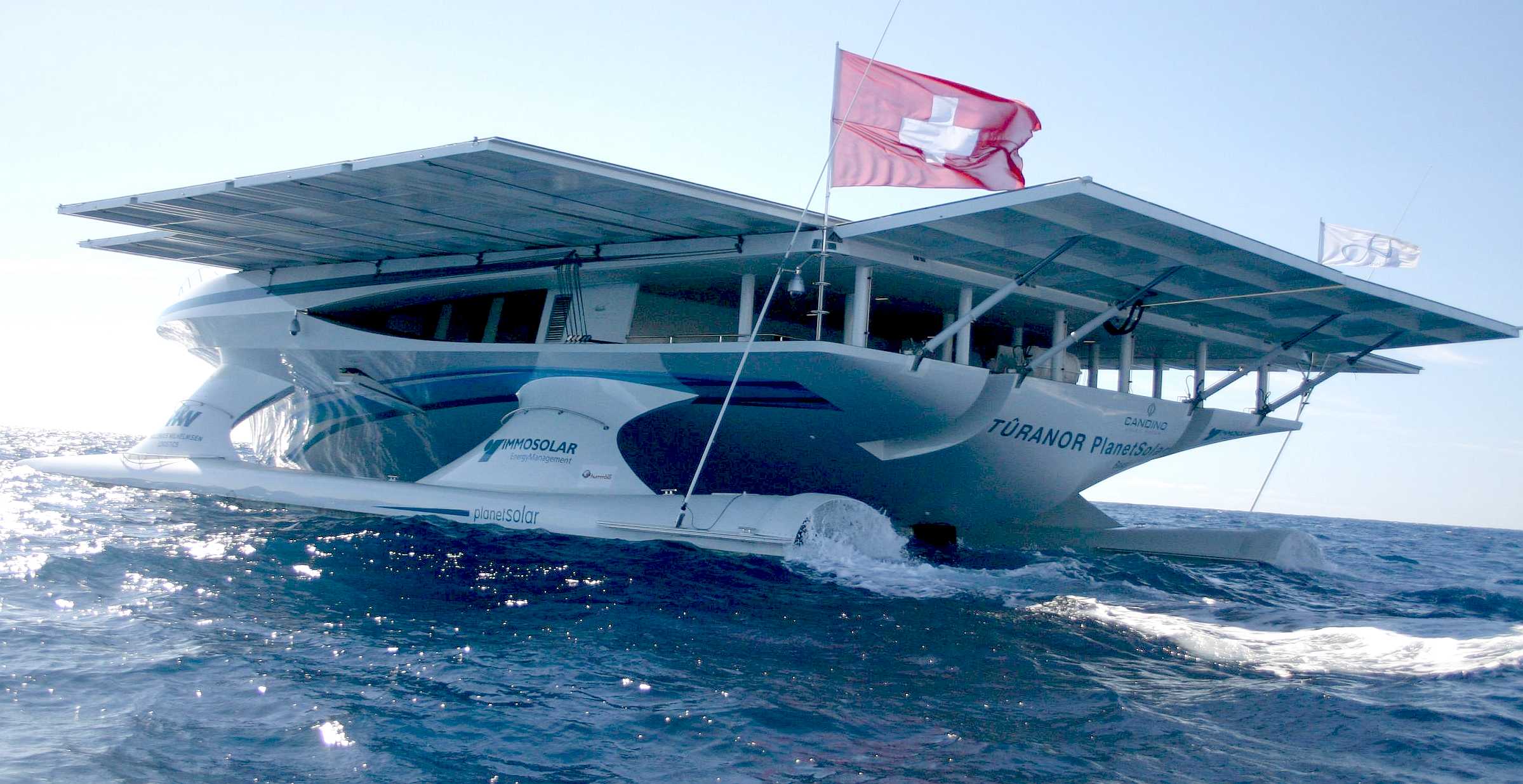 PlanetSolar heading out into uncharted technical waters. The theory was in place, but nobody knew if this solar powered boat could make it. But they did!
The solar panel area on this ship was increased with solar panels on rollers, pulled out by the crew using winches. The Elizabeth Swann uses robotics and hydraulics to move solar wings that automatically track the sun, and fold away in storm conditions.
The design development, build, launch and shakedown stages of the Elizabeth Swann project will proceed in a logical fashion, divided into containable packages of work for convenience, efficiency and transparency.
Please note that this is an early draft, not a final version of the proposed WPs. The Business Plan and packages of work are being developed on this website live and subject to change by the project management team. This is because of recently introduced technology add-ons that we would like to incorporate for added value by way of an enhanced Return On Investment (ROI) for Consortium Partners.
PROJECT WORK PACKAGES - HIGH PERFORMANCE SOLAR & WIND POWERED WATER SPEED RECORD VESSEL:


WP1. PROJECT MANAGEMENT

Coordination of technical and build (suppliers) and project as defined below.

WP2. PLATFORM DESIGN
To design a test-bed platform of a suitable size (44-54m yacht) that may support blue water trials for the purpose of demonstrating that electric trans: Atlantic, Indian and Pacific Ocean commercial shipping might be autonomously solar and wind powered with a suitable reserve battery storage capacity.
WP3. PLATFORM BUILD

Construction of the test-bed platform (44-54m vessel) at full scale.
WP4. GIS, GEOSPATIAL AI INCORPORATION

Design of the onboard and/or uplink hardware and programming software to be able to interface with other robotics (AI) systems to generate data sets as to geographical location and performance, as Geospatial raw data.
WP5. SATELLITE CYBER SECURITY, CLOUD, IoT
Incorporation of low-latency encryption and anti-hacking software to prevent hijacking of the autonomous asset and data acquired, with automatic reporting to the authorities.

WP6. SHAKEDOWN TRIALS IN THE ENGLISH CHANNEL

Launch of the test-bed platform for a series of shakedown cruises to test all systems + at high speed dash across the English Channel.

WP7. DATA HARVESTING DURING HIGH SPEED RUNS/RECORD ATTEMPTS

Analysis of collected data and use in un-assimilated form to define the best routes during multiple Atlantic ocean runs - traveling South along the trades, and returning on a Northerly course utilising the trade winds. The same to be repeated with and without wind turbines, and running the vessel in the opposite direction.

WP8. PERFORMANCE PREDICTION FROM ASSIMILATED ANALYZED DATA

Assimilation and analysis of harvested data by way of a development tool for the forward design of solar and wind powered commercial shipping, utilizing the trades.

WP9. DATA DISSEMINATION

Dissemination of the results obtained from the project, to include where practical, zero carbon shipping (awareness) events.

WP10. CASTING OFF & UNMANNED DOCKING

Unmanned departure and autonomous docking in ports.
WP11. ONBOARD/OFFBOARD VESSEL SECURITY, MEDIA INTERACTIVITY
Development of a remotely operated drone system for monitoring of ship functions and close to events, including potential security risks: "Guardian Angel."
WP12. AUTONOMOUS CIRCUMNAVIGATION
Optionally, and as a finale, where the investment Consortium may decide to demonstrate the possibilities of such technology, the asset may be sent on various missions to circumnavigate the globe, testing out the AI functions as it progresses from waypoint destination to robotic media appointments. This proposal is for solar and wind, with battery and 42kg of hydrogen reserve storage at very low pressure.
WP13. LEGAL & LOBBYING COLREGS COMPLIANCE
As part of an ongoing strategy to tackle climate change, improve the efficiency of shipping, proving the capability, defining reasonable equipment levels and where appropriate, entering into and negotiating with the proper authorities, for recognition of autonomous water craft as being compliant with COLREGs. Or, in the alternative, suggesting and lobbying for minor amendments to the 1972 rules (as amended) such as to make the operation of unmanned commercial water craft legal in the eyes of the IMO. In July 2021, the first Lloyds Register certificate was issued for unmanned vessels. IBM's Mayflower looks set to create additional precedent in 2021, despite an early glitch.
WP14. HYDROGEN ZERO EMISSION RANGE EXTENDING
Developing a medium pressure (1825psi) integral hydrogen tank storage system to allow operational ranges to exceed 3,500 nautical miles, with an emphasis on the economical mass storage of H2 for eventual up-scaling to allow ferry and cargo vessel operation with zero emissions.
WP15. LIQUID HYDROGEN HIGH PERFORMANCE SOLAR HYBRID
Develop cryogenic fuel tanks as a replacement to that in WP14., to carry sufficient liquid hydrogen to circumnavigate the globe at an average speed of 12.5 knots.
WP16. BUNKERING OF HYDROGEN DURING TRIALS
Development of a dockside bunkering system to provide hydrogen in gaseous and liquid form, such that refuelling of the trimaran's fuel tanks might be purged as necessary, and replenished in a reasonable time.
PROJECT WORK PACKAGES - PILOT SOLAR & WIND POWERED SELECTIVE FILTRATION MACHINE
Where there are platform parallels between the proposed Elizabeth Swann blue water, experimental high speed vessel and the SeaVax selective filtration machine, the Work Packages should be treated as separate to any previously published SeaVax WPs in relation to Horizon 2020 calls.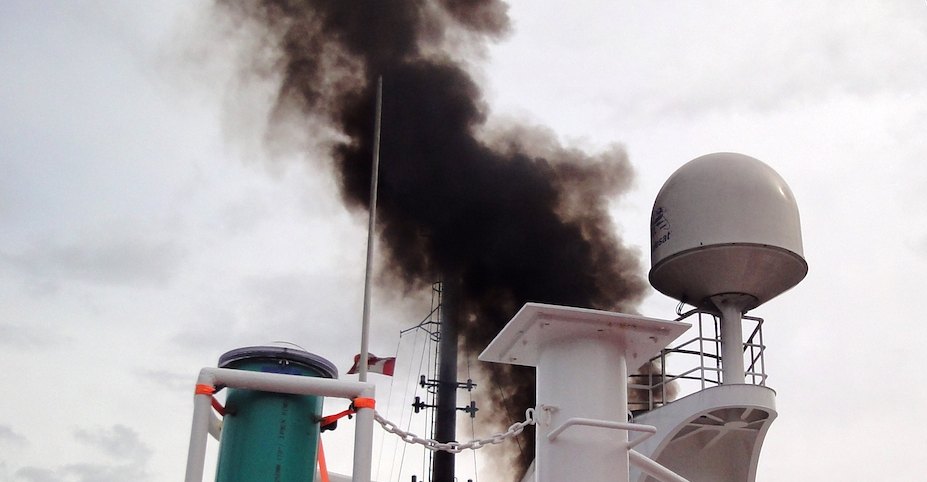 The Cleaner Ocean Foundation works to help protect the "seven seas" from the effects of anthropogenic atmospheric pollution like this ship that is belching diesel fumes like there is no tomorrow. We'd like to preserve tomorrow for our children. You can help us to make this scene a thing of the past.
WHY ARE WE DOING THIS?
Because we can, and because we can, we must.