WP16. BUNKERING OF HYDROGEN DURING TRIALS
Work Package 16 is the development of a dockside bunkering system to provide hydrogen in gaseous and/or liquid form, such that refuelling of the, Elizabeth Swann, trimaran's fuel tanks (in either mode) might be purged as necessary, and replenished in a reasonable time.
Project cost is a major consideration here. If hydrogen bunkering was ordinarily available at marinas, docks and ports, this would not present undue problems, but where no such services exist, we are put in the position where we have to blaze the technology trail a little, adapting what services are available for industrial and medical supplies, and then asking the experts to tailor special deliveries for our purposes. Fortunately, there are dedicated experts in the field leading the way, as per the media articles reviewed below and elsewhere on this and other cited websites.
The first surprise was that hydrogen supplied as a pressurised gas from the dockside to our vessel would be more expensive, than liquid hydrogen, that we transfer (effectively pump) into the ship's tanks. That is at the moment. In time to come green hydrogen might compete with diesel prices. Couplings to enable transfers are used in the automotive world, and there are specially insulated valve-nozzles and even vacuum isolated hoses.
BACKGROUND
The real enemy to progress of hydrogen ZEWT's is the total lack of bunkering at ports and harbours. Where potential solutions exist in concept for road transport (one such example being SmartNet) there is as yet no universal infrastructure concept for ports. That said, we may not need one, where ports are typically different in layout, bunkering designs can be - and will most likely have to be custom adapted. Some ports and small harbors (in particular) lack modern access roads, such as the spaghetti snarl-up in Newhaven, Sussex. These marine facilities evolved over time, adapting to new techniques as best they may, rather than being laid out for efficiency.
Organizations like the EU's Fuel Cell and Hydrogen Joint Undertaking (FCH-JU) are seeking to rectify with projects to increase green hydrogen production, but as yet without any plan of action for a delivery mechanism to ports and harbours, without which, one can hardly expect fleet operators to place orders for H2 ships.
Likewise, the Hydrogen Economy heralds the age of LH2 trading between those fortunate nations with vast expanses of desert or windy coastlines, to supply those without such topographical assets, with the renewable oil substitute. It is a kind of role reversal, where geological oil deposits will become redundant over time as the fuel to underpin sustainable economies. Japan has been quick to recognize the trend and negotiate for supplies, with Australia as the reciprocal, looking to capitalize on their deserts.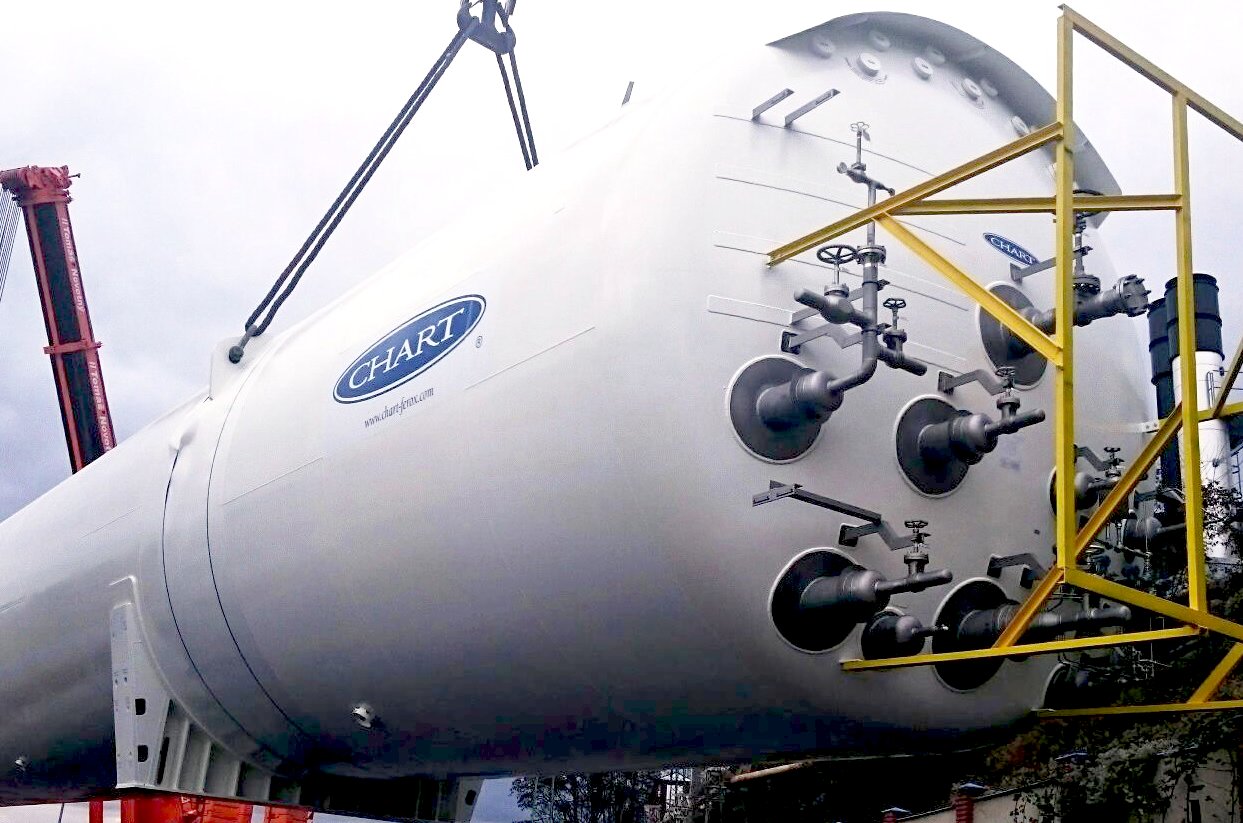 FUEL TANKS - Liquefied hydrogen has a temperature of -253 °C and is one of the coldest cryogenic gases there is, which places system components and materials under extreme stresses. Once liquefied, hydrogen is reduced to 1/800th of its volume compared to that of its gas phase, facilitating a more-efficient distribution. But it needs fuel tanks four times the size of those for petrol. In Europe, the FCH-JU, is working hard to promote green hydrogen regeneration from renewable energy, via industrial scale electrolyzers. This is mainly for cars and trucks, but hydrogen could be a fuel for ships, provided that the infrastructure is developed.

With all eyes focused on the COP26 climate agenda conference later this year there will be many companies pitching their wares and opinions on how to drastically reduce the carbon footprint of the shipping sector.

A company with their eyes firmly fixed on the zero emissions ball is 'Unitrove,' in Leicester, UK, a specialist in clean energy provision, now ready to showcase what they term 'ground breaking liquid hydrogen technology,' at the Glasgow event in November 2021, with the world's first liquid hydrogen bunkering facility for fuelling zero-emission ships.

Liquid Hydrogen is notoriously difficult to store, with problems such as boil-off and the need to vent excess gas. NASA Cryogenics Test Laboratory solved the problems with a combination of two technologies combining a specially developed thermal insulation system with a heat exchanger eliminating boil-off. Brilliant.

Liquid hydrogen, LH₂, has been used for decades as the propulsion fuel of choice for launching rockets and satellites into space. But is only now being seriously explored for commercial heavy-duty mobility applications.

International shipping accounts for around one billion tonnes of global carbon dioxide (CO2) emissions and contributes to around 400,000 premature deaths and 14 million cases of childhood asthma every year due to fine particulate matter (PM2.5), sulphur oxides (SOₓ), and nitrogen oxides (NOₓ) that arise from ship smokestacks, according to US research.

The CEO of Unitrove, Steven Lua, is quoted as saying: his ambition is to enable clean, affordable, reliable, and sustainable fuelling options for ships at every port in the world. He has joined a growing band of industry figures who believe liquid hydrogen will play a vital role, especially for larger ocean going vessels. He says liquid hydrogen as a commercial fuel has been relatively unexplored as an option, but that it had great potential for many uses, including plugging the gap where electric and compressed hydrogen cannot reach:

"The global maritime sector is one of the most polluting in the world. It's estimated that just a handful of the worst-polluting mega ships on our oceans today produce more pollution than all the world's cars put together. That's a staggering statistic, and one we simply cannot ignore if we stand any chance of achieving the net zero target set by the Government.

"It's easy for people to forget about the issues that the sector brings because it's not in the public eye and it requires international collaboration to solve. When the IMO 2020 regulations came into force, most ship operators did the bare minimum necessary. Liquid hydrogen has long been used to safely and successfully send rockets into space. The technology is mature, but the markets for its use are not.

"We already see very early signs of light-duty vessels being battery-driven or powered by compressed gaseous hydrogen, but liquid hydrogen will allow us to serve the heavier portion of the shipping fleet where we hope to have a much larger impact. We are also exploring options including ammonia, liquid organic hydrogen carriers, and solid hydrogen in the form of sodium borohydride. However, we understand that priority is currently being given to the development of international standards and regulations for pure hydrogen, and this could play a significant factor in the long run.

"We believe that hydrogen will be recognised as a global commodity that will be traded in the same way that natural gas is today. The bunker fuel market is worth an estimated $120 billion, so there is a huge opportunity not only in environmental and social terms, but also financially. The average lifespan of a large ship is anywhere between 20 to 40 years, meaning any ship procured today could potentially still be operating well beyond 2050. And there's currently no drive for clean-fuel ships because there's no clean-fuel bunkering infrastructure, it's practically non-existent.

"Without zero-emission fuelling infrastructure, there will be no drive for zero-emission ships. In terms of infrastructure, there's nothing significant in place today, and we are here to change that. Our liquid hydrogen bunkering facility being unveiled at COP26 will be a real flag in the sand."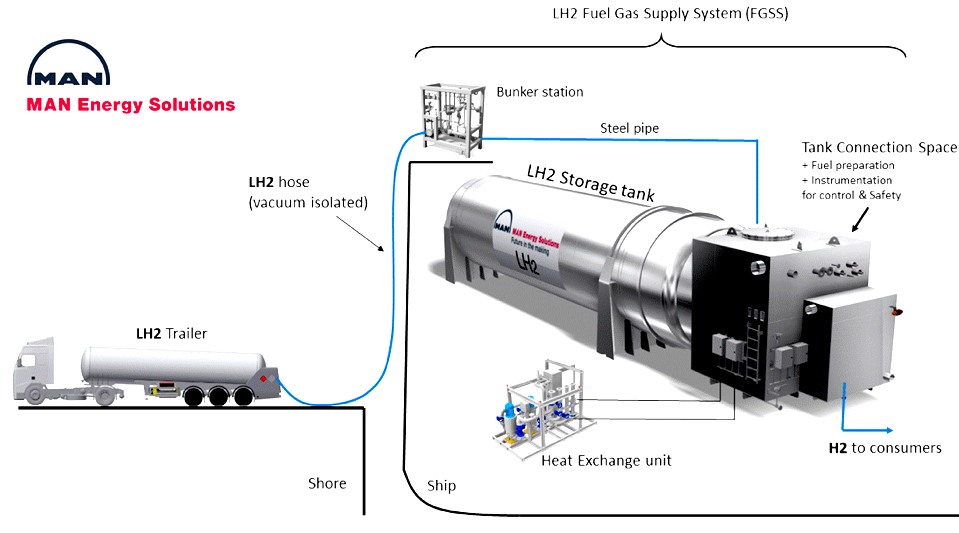 MAN ENERGY SOLUTIONS - This system relies upon LH2 trailers, to supply portside bunker stations. With trucks going electric, and robotrucks on the horizon, regular deliveries by road could work. Though, we favour on site production at larger harbours. At the moment there are no H2 ships to service, meaning that dockside services would be operating at a loss and need to be subsidized to kickstart the industry. It's a chicken and egg situation, just the same as for FCEVs.

AMSTERDAM PORT AUTHORITY 3 MARCH 2021 - H2GATE, TRANSHIPMENT 1M TONS GREEN H2
Port of Amsterdam, Evos, Electriq Global, Hydrogenious and Hysilabs have joined forces to investigate the technical and commercial feasibility of importing and storing hydrogen on an industrial scale. This initiative is dubbed H2Gate. The parties are jointly working on a blueprint for an import, storage, distribution and trading hub, consisting of facilities with a total throughput capacity of 1 million tonnes of hydrogen per year.

Good starting position

The five parties expect hydrogen to play a central role in the transition to a sustainable energy system. This transition is necessary if we are to meet the European target of becoming climate-neutral by 2050.

The Amsterdam port area is well positioned to play an important role in this transition. For decades, the port has been a leading international hub for the trade in energy products. There are many initiatives underway in the region to develop a green hydrogen cluster, including production facilities. The H2Gate partners share the vision that alongside local production of hydrogen, imports are needed to meet future demand in Europe.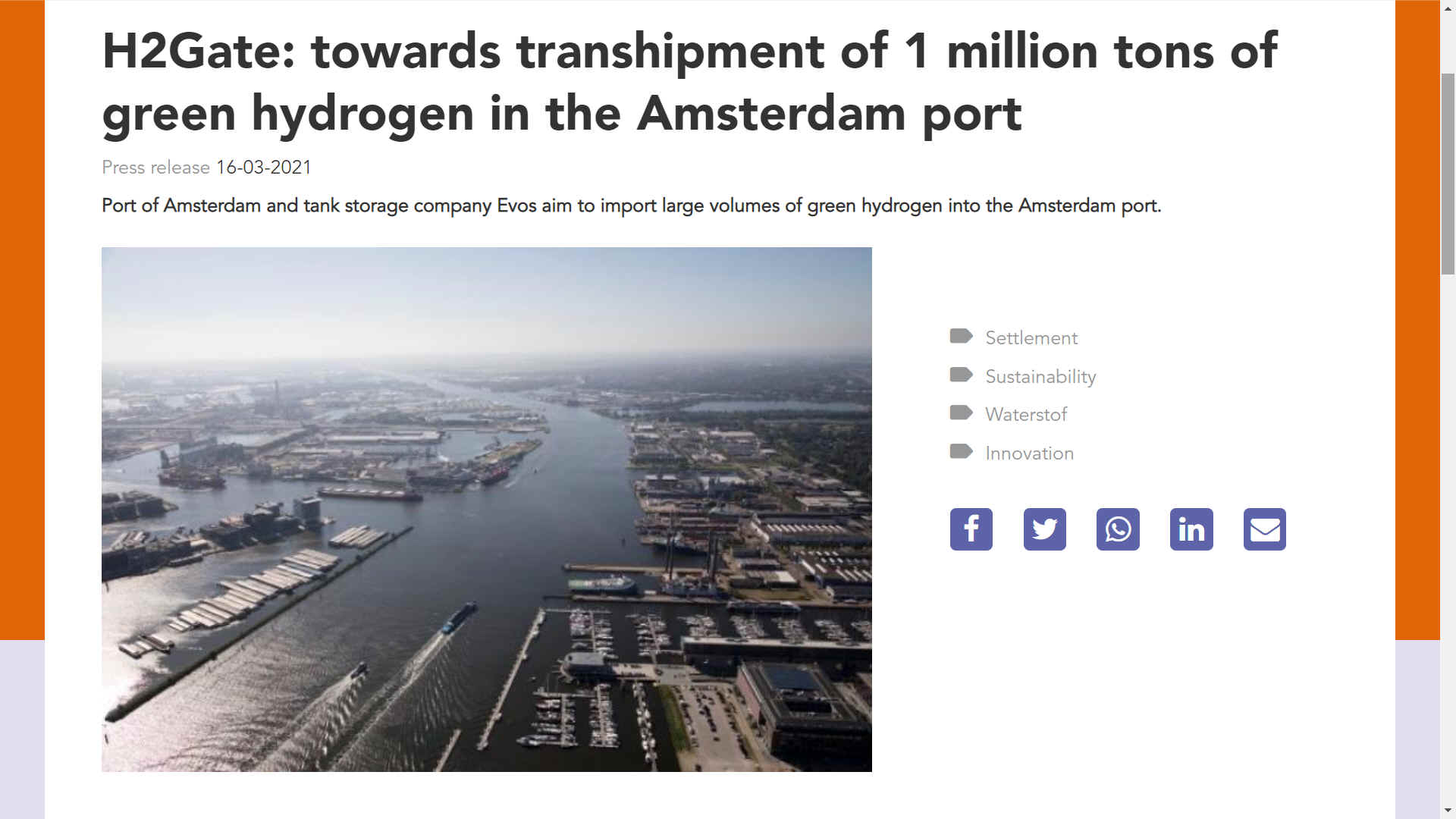 Building an international supply chain

Moving to overcome the challenges with transporting and storing compressed and cooled hydrogen, the H2Gate project is exploring several hydrogen carrier technologies in parallel, also to determine potential energetic and operational synergies between them. Subsequent studies into design and realization, including pilots, are conceivable.

As such the H2Gate project is an important step towards the realization of an international supply chain for hydrogen on a commercial scale. Depending on the availability of green hydrogen worldwide and the growth of demand in Europe, such supply chains are expected to scale up towards the end of this decade.

According to Ramon Ernst, Managing Director of Evos Amsterdam, 'This project fits perfectly with our ambition to develop infrastructure solutions for a carbon-free energy future. The expertise of Evos lies in the storage and handling of large quantities of energy products and we would like to expand our portfolio with new clean forms. We are pleased to be able to work with capable and motivated partners towards a shared vision.'

Eduard de Visser, Head of Strategy and Innovation at Port of Amsterdam, shares this view, 'As the Port of Amsterdam, we want to be at the forefront of the energy transition. Our established position as a formidable, international energy hub means we have the infrastructure, the partners and the knowledge and experience to be a catalyst for new, sustainable energy products. We are proud to work with Evos and other partners on H2Gate. It shows how innovative and enterprising the Amsterdam port is.'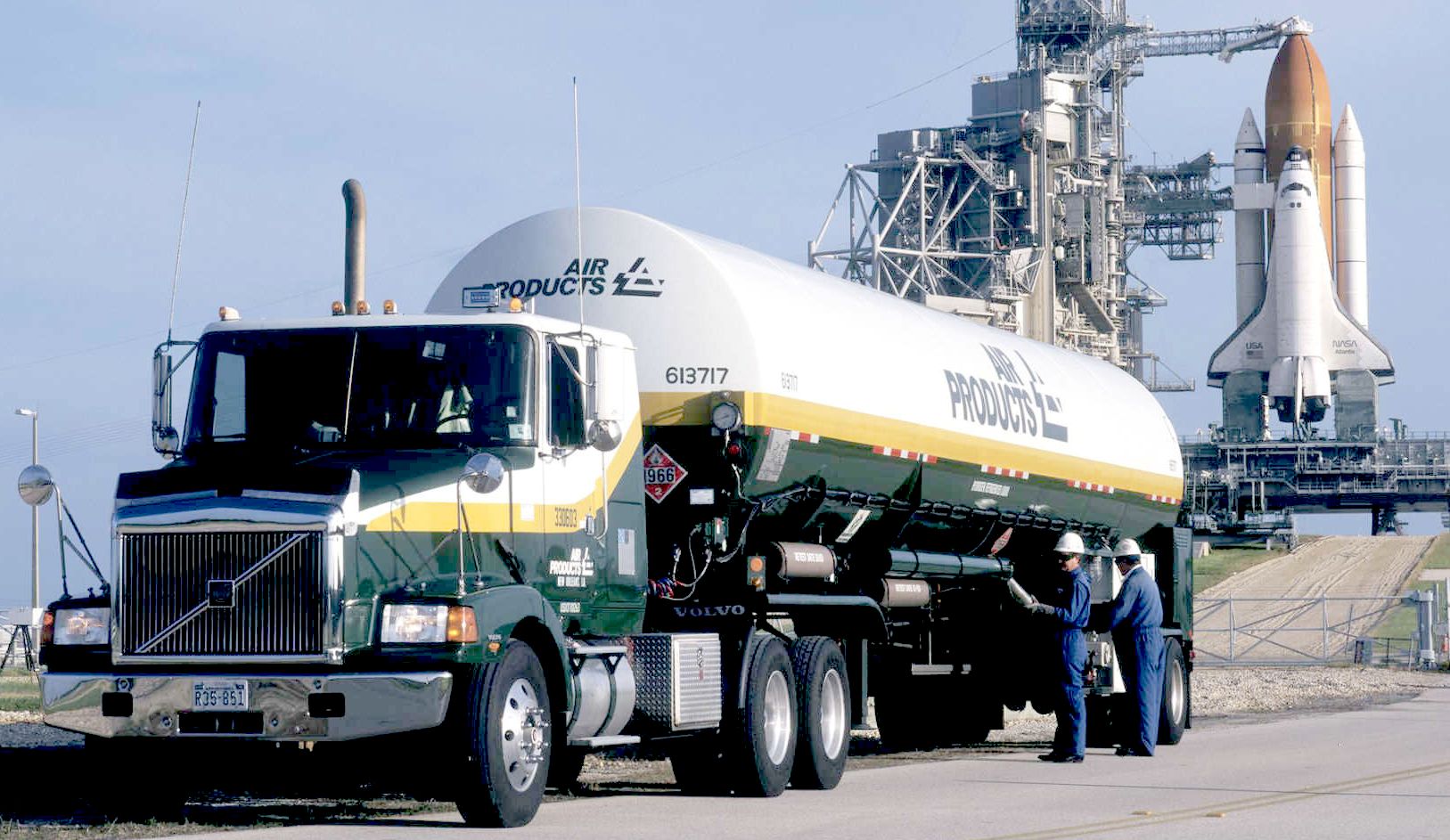 TRUCKING INFRASTRUCTURE - Bunkering for ships began with coal, then heavy diesel oil. With the pollution scare, Liquid Natural Gas was partially introduced as a cleaner alternative. But with the IMO ramping up clean air targets for 2035 and 2050, there is now a mad rush to develop alternative fuels to keep international trade alive.

SEATRADE MARITIME NEWS 2 FEB 2021 - HAMBURG AMBITIONS TO BE GREEN H2 HUB

In January 2021 Hamburg announced that Vattenfall, Shell, Mitsubishi Heavy Industries (MHI) and municipal heat supplier Warme Hamburg had signed a Letter of Intent to develop a 100MW electrolyser to produce green hydrogen in the port area.

Michael Westhagemann, Senator for Economic Affairs, Free and Hanseatic City of Hamburg told an SMM Digital open stream that one of the reasons for developing a green hydrogen hub in the port would be to meet climate targets

"We believe we can do it with green hydrogen, we have the industrial sector, the mobility sector, and we believe have very strong position in our harbour," he said.

Westhagemann noted that today the port was started to see LNG powered vessels calling and in future ships might use green hydrogen. "For the port that means you need the right infrastructure, you need the gas network."

Moderator, Heinrich Klingenberg, hydrogen expert, Hamburg Invest, said there were hydrogen powered ferries operating in the harbour and on inland waterways freight vessel operating between Berlin and Hamburg.

On the landside in the port there are some 15,000 trucks and 200 trains arriving daily which also have the possibility of using green hydrogen.

"In Hamburg we start a couple of years of ago with our hydrogen buses – we have enough experience on this side," he said.

The city is also looking at a hydrogen import terminal in the port of Hamburg and Westhagemann cited the example of Kobe, Japan. In December 2020 Kawasaki Heavy Industries completed its Kobe LH2 Terminal, the world's first liquefied hydrogen receiving terminal.

An import terminal would require specialised hydrogen carrier vessels to bring the cargo from other countries. "We look to other countries that can produce for us green hydrogen and then we bring it to Hamburg," he said. These could include locations in Africa and Morocco that could produce green hydrogen to be imported into Germany.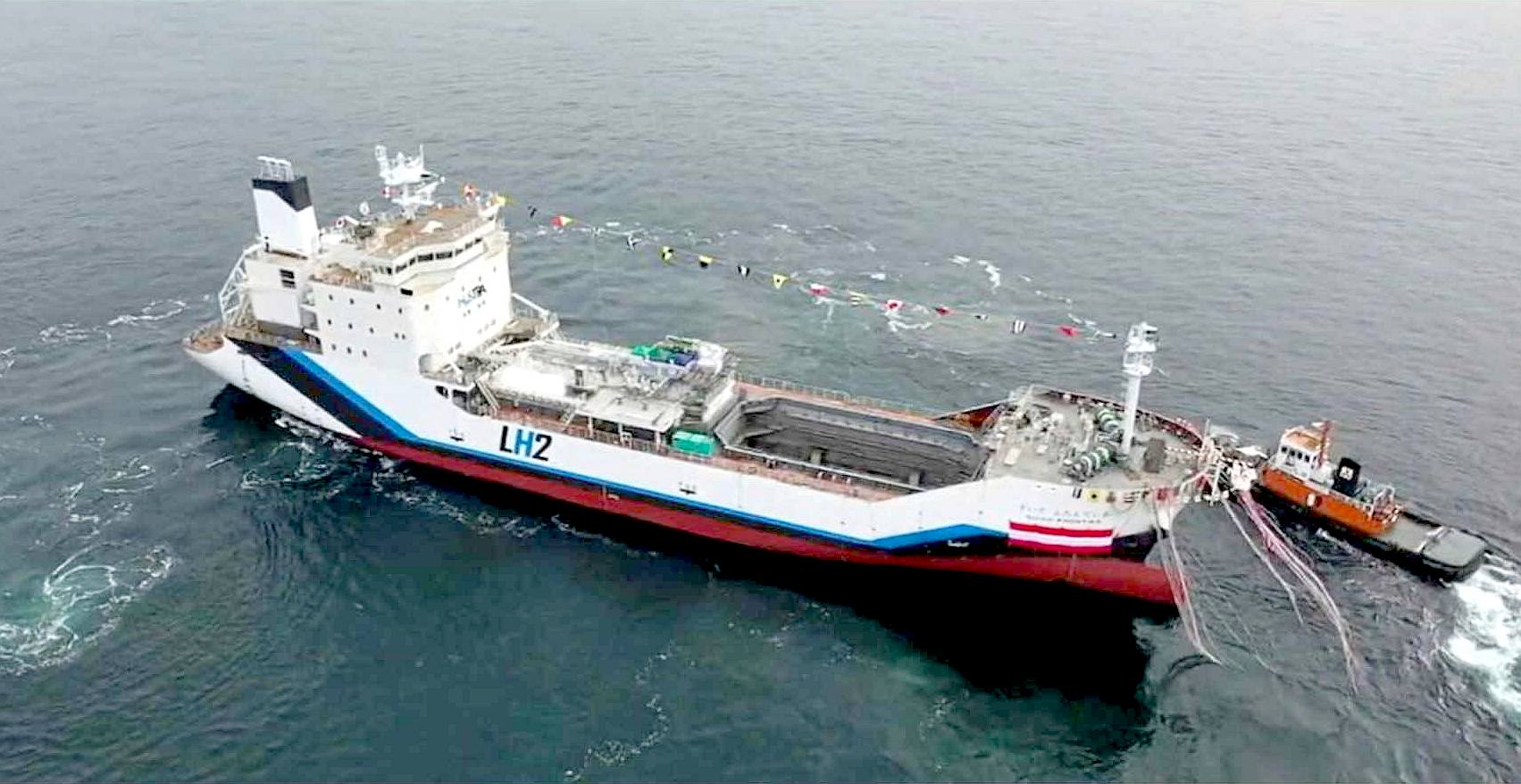 DECEMBER 2019 - JAPAN LAUNCH WORLD'S FIRST LH2 CARRIER: The world's first liquefied hydrogen carrier, built to ship large quantities cryogenically frozen H2 internationally, was launched by Kawasaki Heavy Industries (KHI).
The partners in the HySTRA project are KHI, oil giant Shell, Tokyo-based utility J-Power, gas company Iwatani, trader Marubeni, and JXTG Nippon Oil & Energy Corporation, with support coming from Japanese R&D body Nedo (New Energy and Industrial Technology Development Organization).

The Suiso Frontier ('suiso' means 'hydrogen' in Japanese) will play a key role in the Shell-backed HySTRA demonstration project (CO2-free Hydrogen Energy Supply-Chain Technology Research Association), which will see large quantities of H2 produced from brown coal in Australia and then shipped 9,000km to the city of Kobe in Japan.

The vessel's vacuum-insulated hydrogen storage tank — which is currently being constructed by Harima Works and is planned to be installed by late 2020 — will be able to transport 1,250 square metres of liquefied hydrogen (LH2) at temperatures of minus 253°C. The liquefaction process reduces the volume of hydrogen gas by a factor of 800, without very expensive high pressure cylinders.

The technology is similar to that of liquefied natural gas (LNG) carriers, with KHI building the first Asian LNG vessel in 1981.

Hydrogen is a clean-burning gas that can be used for energy storage, heat, transport and industrial processes, and is increasingly being seen as having a major role in the decarbonisation of the energy sector.

But hydrogen does not occur in its pure form in nature, so it has to be extracted from hydrogen-rich substances. To date, due to favorable economics, it has mainly been produced from natural gas or coal — processes that emit nine to 12 tonnes of carbon dioxide for every tonne of H2 produced.

To be considered a clean fuel, the hydrogen must be produced via electrolysis (splitting water molecules into hydrogen and oxygen with an electric current) using renewable energy — creating so-called "green hydrogen"; or via fossil fuels with the CO2 captured and stored — known as "blue hydrogen" — although current commercialized processes are said to be unable to capture more than 95% of the emitted carbon.

The HySTRA project will see low-calorie, moisture-rich brown coal "gasified" — by mixing it with oxygen and steam under high pressures — at an under-construction facility in the Latrobe Valley, Victoria state, southeast Australia. This process creates a synthetic gas consisting mainly of carbon monoxide (CO) and hydrogen, which are then separated. The two compounds in this "syngas" are then separated by a membrane, with the hydrogen captured and stored and the CO released into the air, where it naturally combines with oxygen atoms to become carbon dioxide. (The bulk of this carbon could be captured and stored, but the project does not currently aim to do so, despite the "CO2-free" in its name.)

The hydrogen gas will then be transported in trucks to the nearby port of Hastings, where it will be liquefied and loaded onto the Suiso Frontier, before being shipped to an under-construction unloading terminal in Kobe.

As Japan has little available land for onshore wind and solar farms, the country is planning to develop a "hydrogen economy", with huge volumes of clean H2 imported.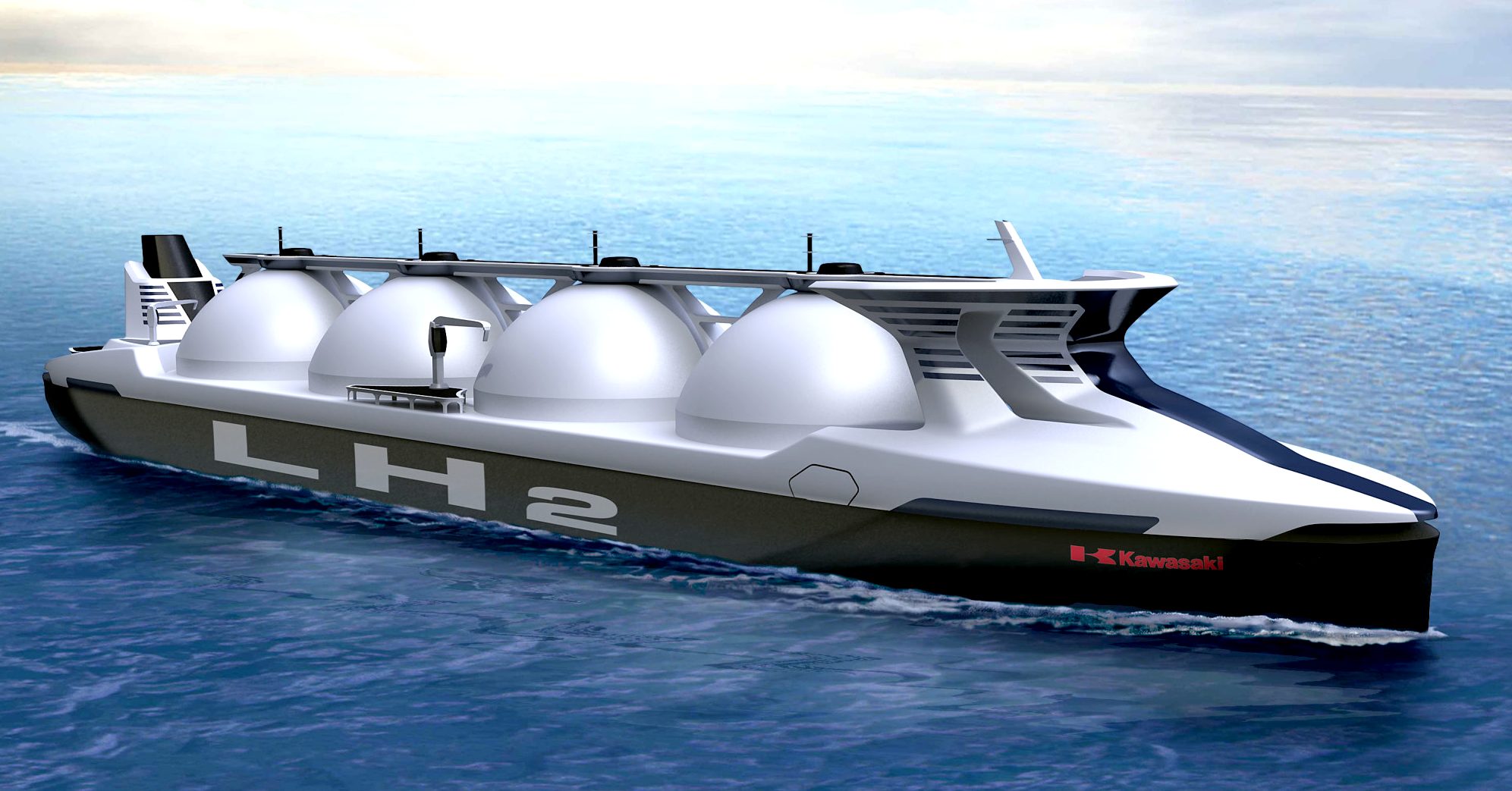 HYDROGEN SHIPS - Ships like that proposed for bulk deliveries of fuel to Japan from Norway, could help provide a temporary solution. Japan is unusual in being unable to generate its own green hydrogen in sufficient quantities. Thus needing to import most of their energy requirements. In this case looking ahead to a time when fossil fuel vehicles are no more.



ZERO BUNKERING AT PORTS: HYDROGEN CHALLENGE
At present, there are no facilities to fill ships with liquid hydrogen at docksides. For industry, LH2 is transported by liquid semi-trailers with a capacity of 12,000 to 17,000 gallons.
The proposed 'Jules Verne' World Hydrogen World Challenge, lists eighteen ports, not one of which is hydrogen ready (as we write). Where bunkering offers a speed advantage, the Elizabeth Swann would need to fill up with fuel at 2 or 3 locations, where hydrogen refueling facilities would need to be provided for the event.
There would be nothing stopping those ports from retaining such facilities in anticipation of regular shipping, except the cost or running them where very few customers exist. Hence, dual purpose stations might encompass filling for hydrogen cars and trucks, to provide an income stream until boats and ships are customers.
| | | | | |
| --- | --- | --- | --- | --- |
| LEG | NAUTICAL MILES | BUNKERING | WAYPOINT | SUNSHINE DAYS |
| - | - | - | - | - |
| | - | - | - | - |
| - | - | FILL UP | | 00.00 |
| 1 | 729 | - | | 1.90 |
| 2 | 3,154 | - | | 8.21 |
| 3 | 1,182 | 1 | | 3.00 |
| 4 | 970 | - | | 2.45 |
| 5 | 3,640 | - | | 9.48 |
| 6 | 1,423 | - | | 3.71 |
| 7 | 410 | - | | 1.07 |
| 8 | 1,886 | 1 | | 4.91 |
| 9 | 340 | - | | 0.88 |
| 10 | 724 | - | | 1.89 |
| 11 | 1,572 | - | | 4.09 |
| 12 | 1,881 | - | | 4.90 |
| 13 | 2,109 | 1 | | 5.49 |
| 14 | 698 | - | | 1.82 |
| 15 | 670 | - | | 1.75 |
| 16 | 1,111 | - | | 2.89 |
| 17 | 170 | - | | 0.44 |
| 18 | 940 | | | 2.45 |
| - | - | - | - | - |
| - | 23,609 | - | RUNTIME DAYS @ 12.5kts | 78.70 |
| - | - | (ADD 3 DAYS) | RUNTIME DAYS @ 13kts | 75.67 |
| - | - | - | - | - |
| - | - | (ADD 4 DAYS) | 14 KNOTS AVE INC | 70.26 |
| - | - | - | AT 15 KNOTS AVE | 65.58 |
| - | - | - | AT 16 KNOTS AVE | 61.48 |