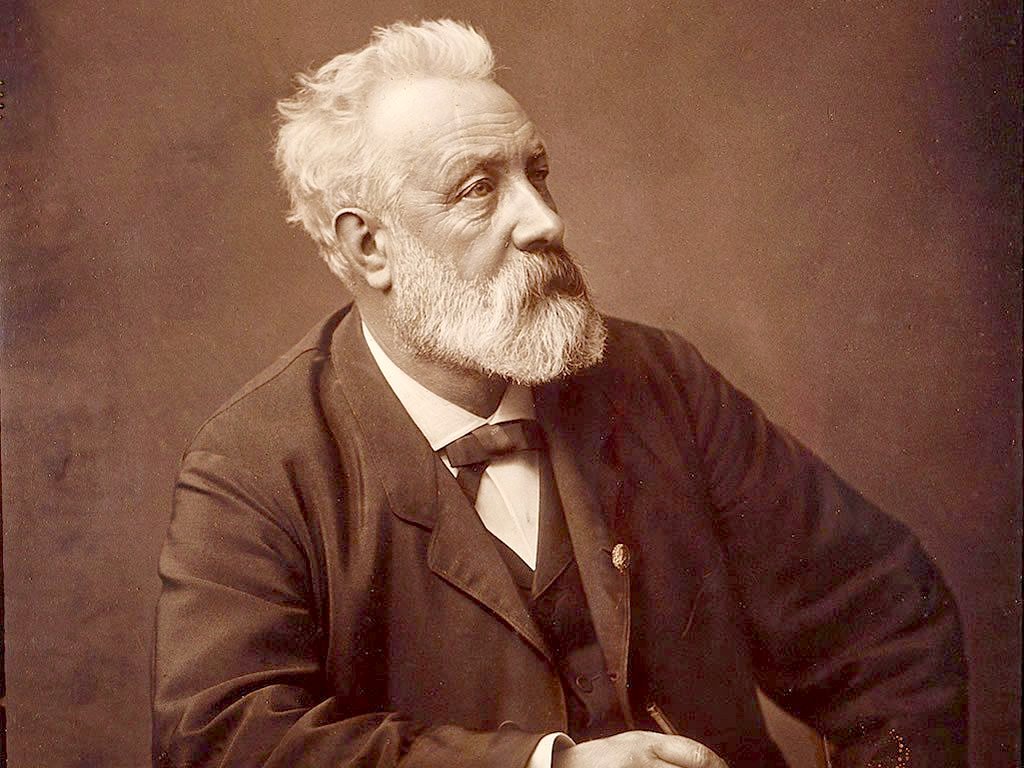 VISIONARY - What a wonderful imagination the famous French writer had. He was also a practical mariner, gaining much of his material from his travels, much like Herman Melville, for his Moby Dick extravaganza. We feel sure that Jules Verne would have loved to see the world today and marvel at our progress, and perhaps, the Elizabeth Swann, especially the prospect of proving his prediction correct on the 150th anniversary of the 1874 publication: The Mysterious Island.
It was Jules Verne's 'Philleas Fogg' who suggested that it might be possible to travel 'Around The World In 80 Days.' But what about in a Zero Emission yacht? The wager is for considerably more than £20,000 pounds. More like £20 million in today's currency. Then in 1874, the author predicted water as a fuel in its constituent parts, in The Mysterious Island. If we were able to mount a hydrogen powered challenge by 2024, it would be on the 150th anniversary of that publication.
THE FIRST LIQUID H2 POWERED SHIP AROUND THE WORLD: JULES VERNE HYDROGEN CHALLENGE
Interestingly, with the advent of more efficient drives and new hull technology, it is feasible that a suitably modified hybrid of the 'Elizabeth Swann' might circumnavigate the world on one fill up (contained in two or more tanks) of liquid hydrogen, first proposed on this website in July 2021. Even so, that would not give us the speed needed to sail around the world in 80 days. We'd need to assistance from the solar panels as well, with green lane routing via the latest computer navigation and onboard AI.
One potential snag it that even with thermally insulated containers it is difficult to keep such a low temperature fuel intact, where the hydrogen will gradually (boil off) leak away - typically at a rate of 1% per day. That means after one hundred days of storage, you'll have empty tanks, without taking precautions, unless the boil off rate is less than the rate of use, and/or fresh cryogenic LH2 is available to replenish any losses. It's a bit like battery self-discharge, only more severe. An oversimplification perhaps, but something to bear in mind. There are heat exchange systems that recover the boil-off and cool to feed back to the tank, but whether any such system could be compact enough for a small ship, is the subject of research. The applicable regulations, and starting point for Approval in Principle (AiP) is assessment for compliance with the International Code for the Construction and Equipment of Ships Carrying Liquefied Gases in Bulk (IGC Code) SOLAS chapter VII and IMO's Interim Recommendations for Carriage of Liquefied Hydrogen in Bulk (IRCLHB).
In addition, the hull displacement could creep up from 40 to 80 tonnes if we want a trip non-stop (or at least without bunkering). The only way to contain the hull weight increase, to under 60 tonnes, is to include a bunker stop or three. If you would like to see diagrams of the necessary hull revisions for either of these solutions, or if you would like to know what the (budget) event costs entail for either scenario, please contact us. The event is under development and may be tailored for partner benefit.
LOGISTICS
Bunker pit-stops increases the logistics challenges, and tests the ability of producers to provide hydrogen fuel at various locations of the proposed route. What hope for commercial shipping if that cannot be organized. Fear not, it is not that it cannot be arranged, it rests on the premise that the will to make it happen endures.
Before reading on, please also note that although liquid hydrogen offers staggering range potential, a more practical everyday solution for working vessels, might be the 1,825 psi (125bar) system we favour for smaller workboats, ferries and the like. But that such medium pressure cylinders do not yet exist. Whereas, trailer-tainers as used on trucks for delivering cryogenic LH2, are available as stock items, that with little modification, pose a containable and equitable solution.
Service stations for hydrogen cars have been developed and are increasing in number. A parallel hydrogen fueling technology, that may spill over to the marine world. Such facilities are seen to be necessary for heavy trucks, where batteries (alone) cannot deliver the range for hauling goods.
The real enemy to progress is the almost total lack of hydrogen bunkering at ports and harbours, simply because this is a developing market, triggered by the IMO's new clean air laws. Take heart, there are solutions on the horizon.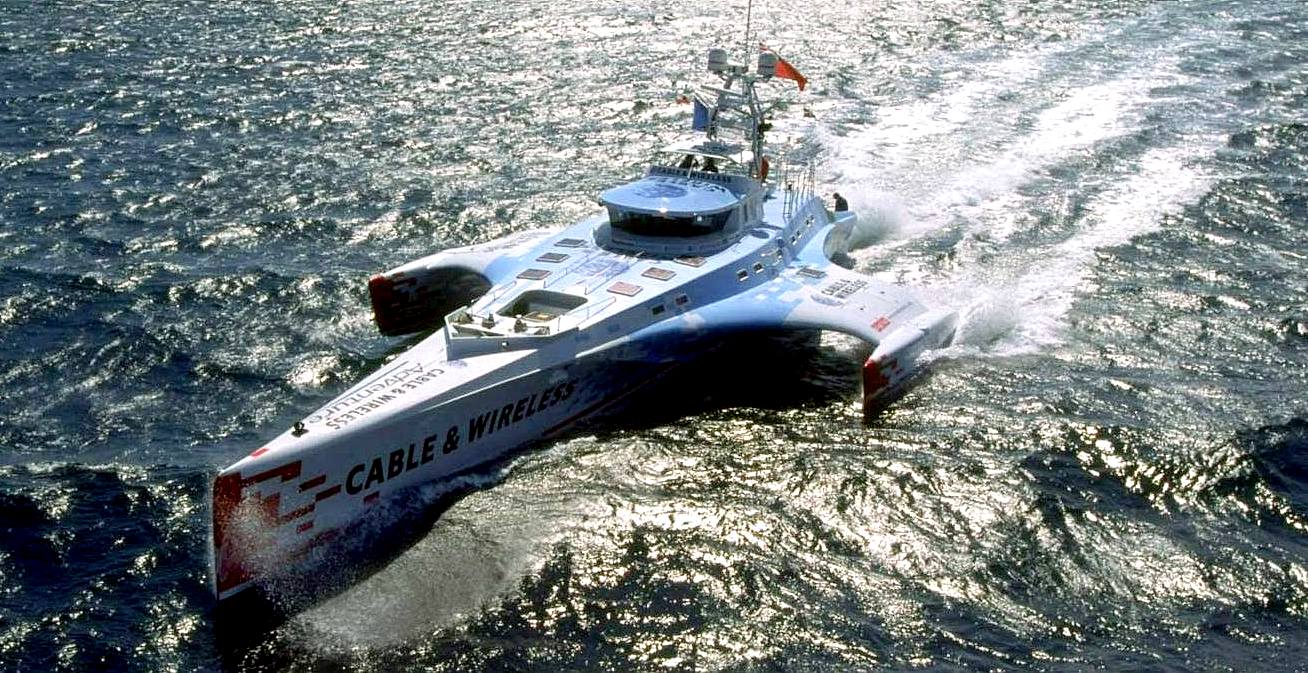 CABLE & WIRELESS ADVENTURER (CWA) ENERGY CONVERSION - One litre of diesel fuel (auto) has an energy content of approximately 38 MJ – which approximates to 10 kWh (ballpark figure), but the efficiency of conversion into kinetic energy is only about 30% - better than petrol which is typically 25% depending on the design. Hence, one litre of diesel will give up about 3.3kWh (30% of the 10 kWh) – the remainder of the energy goes out of the exhaust pipe, mainly as hot gas. The CWA used 363,825 kWh of diesel energy for her circumnavigation, roughly twice that of the Swann (using 2 cryo tanks), with her super-efficient electric hydro-jets, that have no gearbox or propshaft losses - because drive is direct. Both vessels have similar displacements, but the Swann is 8m longer: 43m compared to 35m for CWA, giving her a Speed/Length/Ratio advantage. The adventurer had two 370kW (500hp) diesels, and a range of 3,500nm. Traveling at 16.5 knots would have soaked up a lot more energy from wave and friction drag. From the figures, it appears CWA's engines could have been considerably smaller, but better to have more in the bag if outright speed is a design consideration. All in all, a superb achievement for Nigel Irens and the CWA team, both in design and execution of the project. They would have won their wager at the Reform Club - had there been one.
FUEL TANK SIZING
At an average speed of around 10.2 knots, the Elizabeth Swann could navigate the world in under 100 days.
A practical example of such expeditions is the diesel powered trimaran, 'Cable & Wireless Adventurer.' The ship managed a record breaking circumnavigation in 74 days in 1998, departing from Gibraltar on 19th April 1998 the vessel returned on the 3rd July having covered 24,500 nautical miles (28,200 miles) in 74 days 20 hours. Of those 74 days the trimaran spent some 62 days at sea. [Note conflicting reports as to distance] The average speed is then 16.5 knots and the average fuel consumption about 1 mpg (4.5 litres/nm [14.85kW]) for her 41 ton displacement. Meaning the 'Adventurer' used 110,250 liters on the voyage. Hence, with a fuel tank capacity of 16,000 litres, the ground breaking Irens' design would have needed to make bunkering stops to fill up 7 times.
The Swann does not need to stop to refill with liquid hydrogen, if we want to go that route. Though could do if we want a lighter vessel, with trucked in LH2, and formula one style fueling stops at suitable locations.
As we write there are no regular (installed) dockside bunkering facilities for hydrogen craft. The technology is in its infancy. We may then assist such services in showing what may be achieved. Fortunately, there are possible solutions as transportable technology. This is a logistics dare, as much as a navigation challenge.
| | | | | |
| --- | --- | --- | --- | --- |
| LEG | NAUTICAL MILES | BUNKERING | WAYPOINT | SUNSHINE DAYS |
| - | - | - | - | - |
| | - | - | - | - |
| - | - | FILL UP | | 00.00 |
| 1 | 729 | - | | 1.90 |
| 2 | 3,154 | - | | 8.21 |
| 3 | 1,182 | 1 | | 3.00 |
| 4 | 970 | - | | 2.45 |
| 5 | 3,640 | - | | 9.48 |
| 6 | 1,423 | - | | 3.71 |
| 7 | 410 | - | | 1.07 |
| 8 | 1,886 | 1 | | 4.91 |
| 9 | 340 | - | | 0.88 |
| 10 | 724 | - | | 1.89 |
| 11 | 1,572 | - | | 4.09 |
| 12 | 1,881 | - | | 4.90 |
| 13 | 2,109 | 1 | | 5.49 |
| 14 | 698 | - | | 1.82 |
| 15 | 670 | - | | 1.75 |
| 16 | 1,111 | - | | 2.89 |
| 17 | 170 | - | | 0.44 |
| 18 | 940 | | | 3.01 |
| - | - | - | - | - |
| - | 23,609 | - | RUNTIME DAYS @ 12.5kts | 78.70 |
| - | - | (ADD 3 DAYS) | RUNTIME DAYS @ 13kts | 75.67 |
| - | - | - | - | - |
| - | - | (ADD 4 DAYS) | 14 KNOTS AVE INC | 70.26 |
| - | - | - | AT 15 KNOTS AVE | 65.58 |
| - | - | - | AT 16 KNOTS AVE | 61.48 |
BUNKER HULL V2 DRAFT LAYOUT - Dependent on the mass of the LH2 tank, this general arrangement is proposed. The Swann is a greyhound, one-off special for experimental research, rather than a class of vessel. The weight of the vessel increases by around 25 tonnes, even with lightweight materials. Eventually, a platform like this could be a low volume tanker, or an inter-island ferry, with scale up potential.
COUPLING - A special insulated valve-connector is used to transfer cryogenic liquids from silos to tankers, and tankers to fuel tanks. Transfer rates depend on the volume in liters and the flow rates. By way of example, at 500 liters per minute, the tanks of the Swann would take around two hours to fill up, and may involve two or more portable tanker loads. Operators need to wear insulated gloves and the flexible delivery hose is vacuum insulated.

GOFA - A liquid hydrogen tank-tainer, also known as a liquid hydrogen tank container, is a specialized type of container designed to carry cryogenic liquid hydrogen (LH2) by way of standard intermodal equipment. The tank is typically held within a box-shaped frame the same size and shape as a container. Other delivery systems involve truck-trailer containers, such as those using inner and outer casings of alloy with wool, foam or vacuum insulation options and various pressure stages. GOFA is part of the Chart Industries Group, with over 7,000 employees worldwide and approximately $1.5 billion in annual sales. They are market leading manufacturers of tank vehicles, such as semi-trailers, containers. They offer designs for all European countries and regions. We'd need two of these units, and maybe a bit more as a reserve.
ENERGY REQUIRED
The target speed for any attempt by a zero emission vessel will be around 12.5 - 13 knots. It's a tall order. Pushing known technology to the limit. But it could be done, provided that the journey is unbroken by un-necessary stops. Presenting a provisioning challenge - if manned.
To accomplish this feat, we'd need around 135,000kWh of boost energy, for which we'd need to carry 57,204 litres of liquid hydrogen fuel weighing some 4,005kg, not including the weight of the tanks. We'd get around 48,000kWh from solar/wind, to give us a total of 183,000kWh. A figure that can be increased, if need be.
The hydrogen would be converted to electricity via fuel cells at around 50% efficiency. The H2L capacity would be stored in two insulated tanks of around 28.5 cubic meters each. Hence, about the same hull space for the proposed Atlantic record, using hydrogen gas tanks pressurised to 1,825psi. We have space for a third cryo-tank if deemed prudent, to give us 202,500 + 48,000 = 250,500kWh. Or, 130kW (175hp) running power.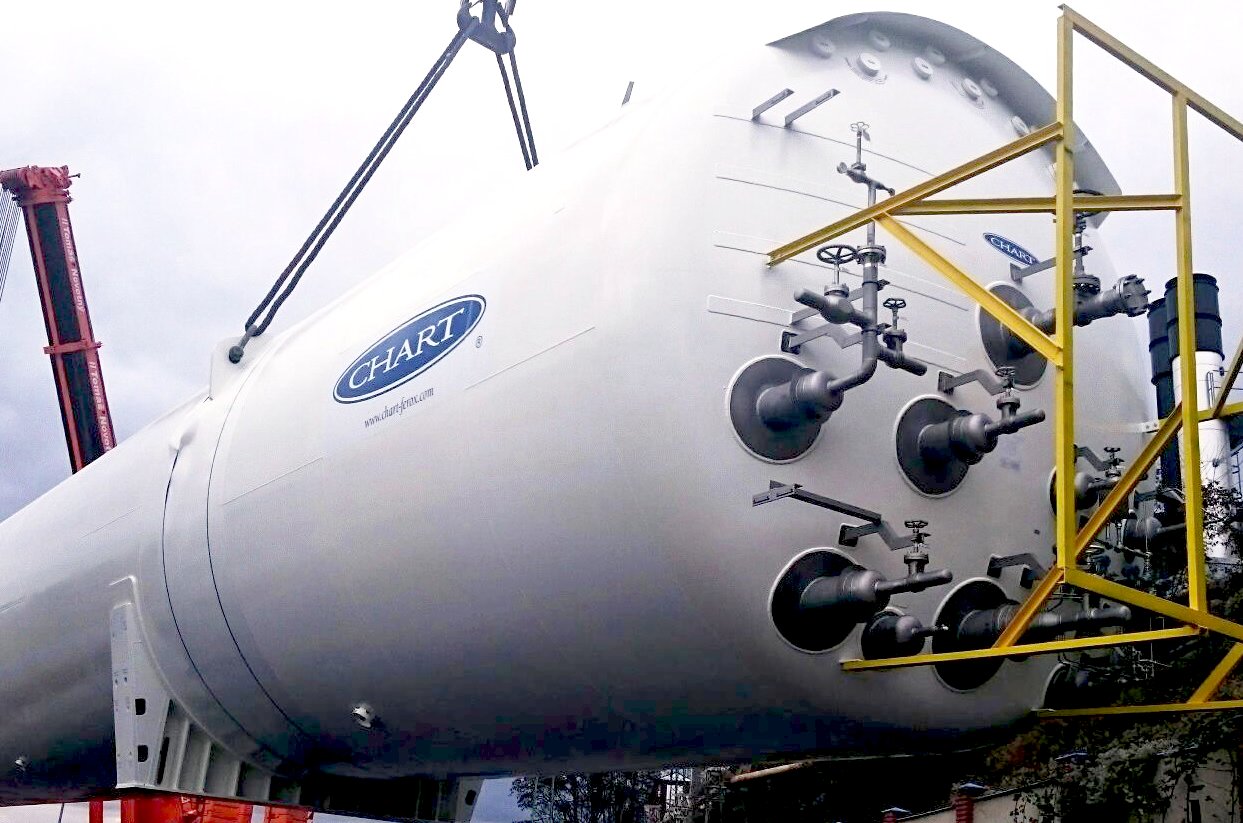 FUEL TANKS - Liquefied hydrogen has a temperature of -253 °C and is one of the coldest cryogenic gases there is, which places system components and materials under extreme stresses. Once liquefied, hydrogen is reduced to 1/800th of its volume compared to that of its gas phase, facilitating a more-efficient distribution. But it needs fuel tanks four times the size of those for petrol. In Europe, the FCH-JU, is working hard to promote green hydrogen regeneration from renewable energy, via industrial scale electrolyzers. This is mainly for cars and trucks, but hydrogen could be a fuel for ships, provided that the infrastructure is developed. Meantime, battery electric ferries are being built and even sails are making a comeback. In the US, President Bush started the hydrogen ball rolling with $billions of dollars of funding. Even so, progress has been slow.
Liquid hydrogen requires cryogenic storage technology with special thermally insulated containers, as an inner and outer cylinder, and requires special handling common to all sub-zero fuels. This is similar to, but more severe than liquid oxygen handling.
The EU's call for proposals under their exclusive ZEWT partnership: Zero Emission Waterborne Transport, underscores the difficulties in taking alternative fuel theory from the drawing board, out onto the water.
Due largely to the use of liquid hydrogen fuel for space rockets, good low-mass liquid hydrogen tanks have been developed.
Liquid hydrogen offers twice the energy carrying capacity per litre, but wastes a lot of energy to produce. The best way of transporting hydrogen in terms of energy density is liquid hydrogen, achieving more than 2.3 kWh/litre. Hence, the containment tanks for 2,700kg of hydrogen, might just be possible. Save for the boil off issue.
The drawback of hydrogen liquefaction is the amount of energy involved. This is partly due to the very low temperatures required to condense into its liquid state (about -253°C).

State of the art hydrogen liquefaction technology has a power consumption of 12 kWh/kg. This is equivalent to 36% of the useable energy contained in 1 kg of hydrogen. This may not be the most efficient use of energy, but because of the vast generating capacity of offshore wind turbines, it is sustainable by way of a circular (hydrogen) economy based on renewables.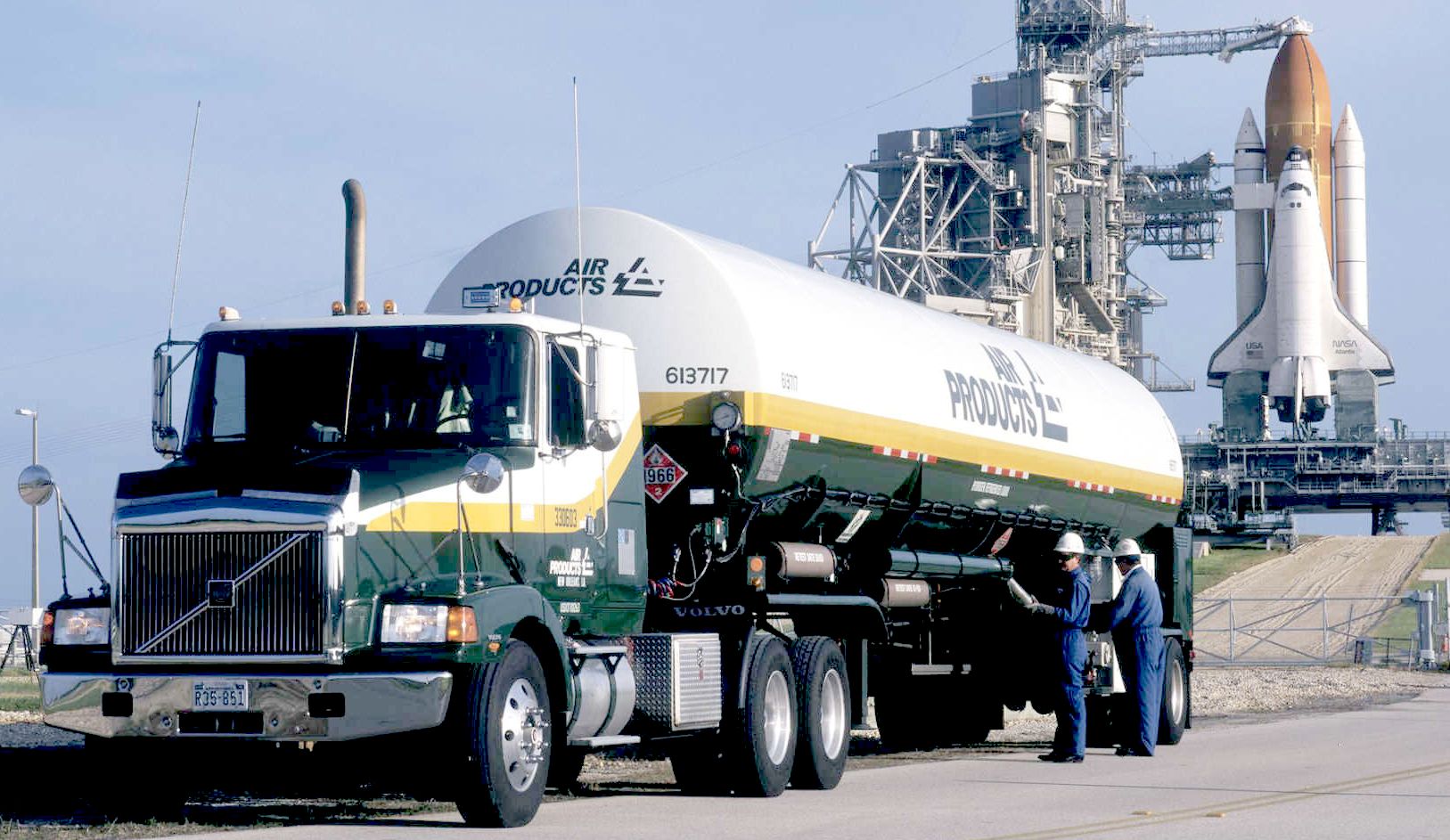 INFRASTRUCTURE - Bunkering for ships began with coal, then heavy diesel oil. With the pollution scare, Liquid Natural Gas was partially introduced as a cleaner alternative. But with the IMO ramping up clean air targets for 2035 and 2050, there is now a mad rush to develop alternative fuels to keep international trade alive. Even ammonia is being considered. NASA, is a special case. They have trucks to deliver liquid hydrogen to massive cryogenic silos, to keep their space programme alive.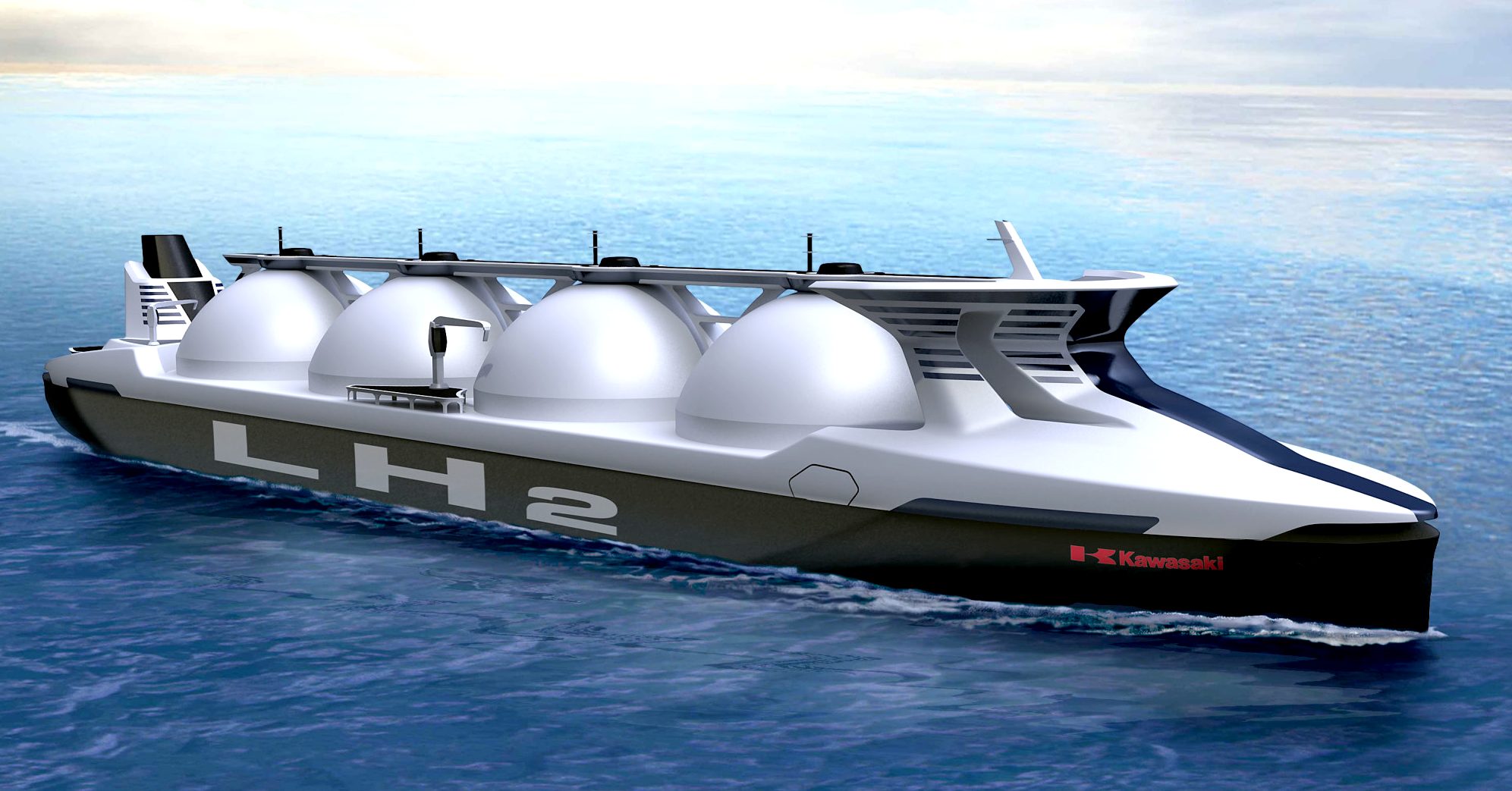 JAPAN'S DEVELOPING HYDROGEN ECONOMY - Japan is thinking of importing Norwegian liquid hydrogen. This would be by annual shipments of around 225,000 tonnes of hydrogen - sufficient to power three million cars. For Norway to generate all of this by electrolysis would require some 14 TWh of energy a year, equivalent to 10 – 12 per cent of the country's electricity production.



ZERO BUNKERING AT PORTS
At present, there are no facilities to fill ships with liquid hydrogen at docksides. For industry, LH2 is transported by liquid semi-trailers with a capacity of 12,000 to 17,000 gallons. Stationary tanks are filled from these tankers. Tankers are basically of the same design as the stationary tanks but in addition must meet the requirements of the Department of Transportation.