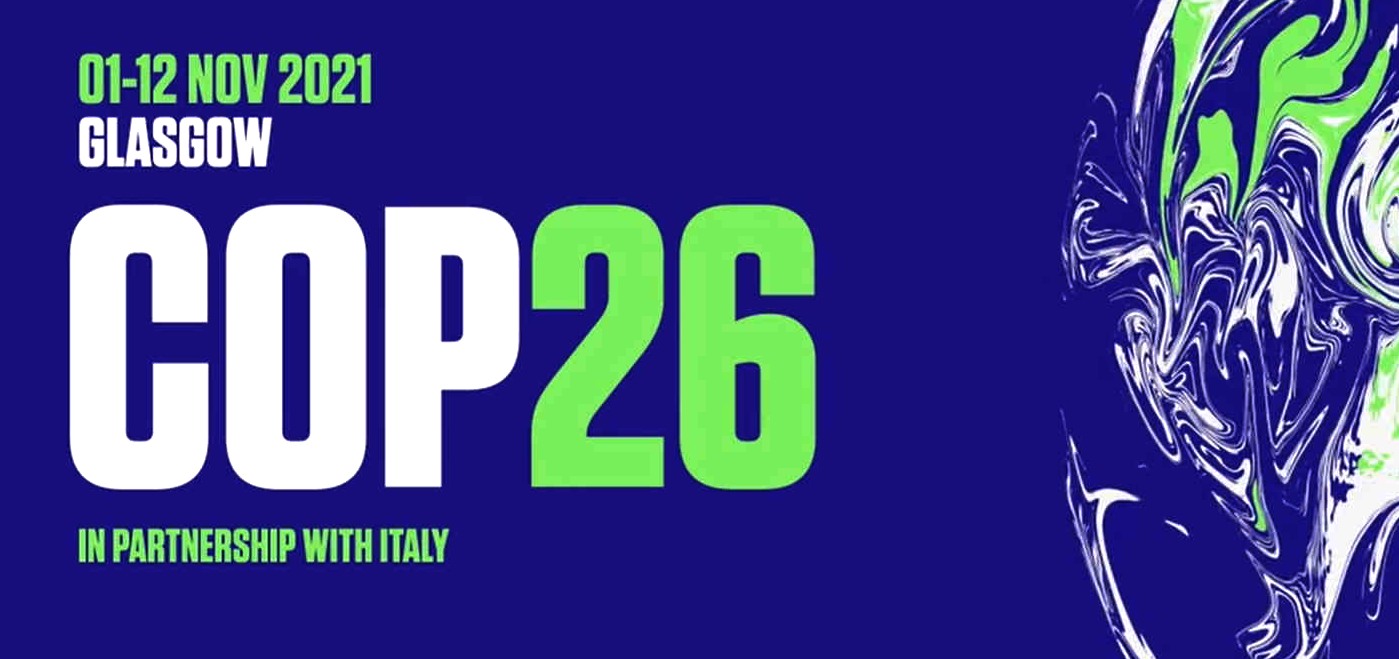 CARBON OFFSET - The COP26 boss has said that the entire conference will be "carbon offset" and ministers will work with dedicated companies to make up for the thousands of miles they will fly to get there. Mr Sharma, and all UK officials' travel will be balanced out so it does not harm the planet.
This could see donations to ocean clean-up efforts, tree planting, funding for new innovation projects or training farmers to work in an eco-friendly way.
Six years ago, countries were asked to make changes to keep global warming "well below" 2C - and to try to aim for 1.5C.

COP stands for "Conference of the Parties", and the one in Glasgow was the 26th annual summit. Ahead of it, 200 countries were asked for their plans to cut emissions by 2030.

The goal is to keep cutting emissions until they reach net zero by mid-century.

The independent Climate Change Committee estimates costs could reach an eye-watering £1.4trillion, and officials still have yet to lay out their plans for how it will be done. Typically, this is because politicians have to allow existing players to recover and re-invest. Though, if not driven with binding targets, there is no incentive to change. Thus, policy makers have to toughen up, to be cruel to be kind.
Energy and environment ministers from the Group of 20 rich nations failed to agree on the wording of key climate change commitments in their final communique, Italy's Ecological Transition Minister Roberto Cingolani said on Friday 23rd July 2021.

The G20 meeting was supposed to have been a decisive step ahead of United Nations climate talks, known as COP 26, which took place in Glasgow in November 2021. But it was a bust.

The failure to agree common language ahead of that gathering is seen as a setback to hopes of securing a meaningful accord in Scotland.
One major advance, was getting coal on the agenda at last. We simply must rid ourselves of this damaging conversion of locked up carbon, to carcinogens and greenhouse gas production.


NOT LEGALLY BINDING

The agreements in principle are not legally binding - hence some players will say they agree, but will actually hope that other countries will carry their expansion plans - but know they will be judged on their actions. Hence, we will keep our fingers crossed for good faith to surface across the board.

EMISSIONS

It was agreed countries will meet next year to pledge further cuts to emissions of carbon dioxide (CO2) - a greenhouse gas which causes climate change.

This is to try to keep temperature rises within 1.5C - which scientists say is required to prevent a "climate catastrophe". Current pledges, if met, will only limit global warming to about 2.4C.

COAL

For the first time at a COP conference, there was an explicit plan to reduce use of coal - which is responsible for 40% of annual CO2 emissions.

However, countries only agreed a weaker commitment to "phase down" rather than "phase out" coal after a late intervention by China and India.

PM: Climate deal sounds death knell for coal power
Evasive words and coal compromise, but deal shows progress

DEVELOPING COUNTRIES

The agreement pledged to significantly increase money to help poor countries cope with the effects of climate change and make the switch to clean energy.

There's also the prospect of a trillion dollar a year fund from 2025 - after a previous pledge for richer countries to provide $100bn (£72bn) a year by 2020 was missed.

While some observers say the COP26 agreement represented the "start of a breakthrough", some African and Latin American countries felt not enough progress was made.

Why hasn't climate pledge to poor countries been met?

FOSSIL FUEL SUBSIDIES

World leaders agreed to phase-out subsidies that artificially lower the price of coal, oil, or natural gas.

However, no firm dates have been set.

How much is still spent supporting oil, coal and gas? A lot, whereas not so much on underpinning renewables.

US-CHINA AGREEMENT

The world's biggest CO2 emitters, the US and China, pledged to cooperate more over the next decade in areas including methane emissions and the switch to clean energy.

China has previously been reluctant to tackle domestic coal emissions - so this was seen as recognising the need for urgent action.

TREES

Leaders from more than 100 countries - with about 85% of the world's forests - promised to stop deforestation by 2030.

This is seen as vital, as tress absorb vast amounts of CO2.

Similar initiatives haven't stopped deforestation, but this one's better funded. However, it's unclear how the pledge will be policed.

METHANE

A scheme to cut 30% of methane emissions by 2030 was agreed by more than 100 countries.

Methane is currently responsible for a third of human-generated warming.

The big emitters China, Russia and India haven't joined - but it's hoped they will later.

FUNDING THE CHANGES

Financial organisations controlling $130tn agreed to back "clean" technology, such as renewable energy, and direct finance away from fossil fuel-burning industries.

The initiative is an attempt to involve private companies in meeting net zero targets.

However, some environmental organisations have said without a greater commitment to ending support for fossil-fuels, this could be little more than a PR exercise.

COP26 was the moment countries revisited climate pledges made made under the 2015 Paris Agreement.

Next year's COP27 summit is in Egypt.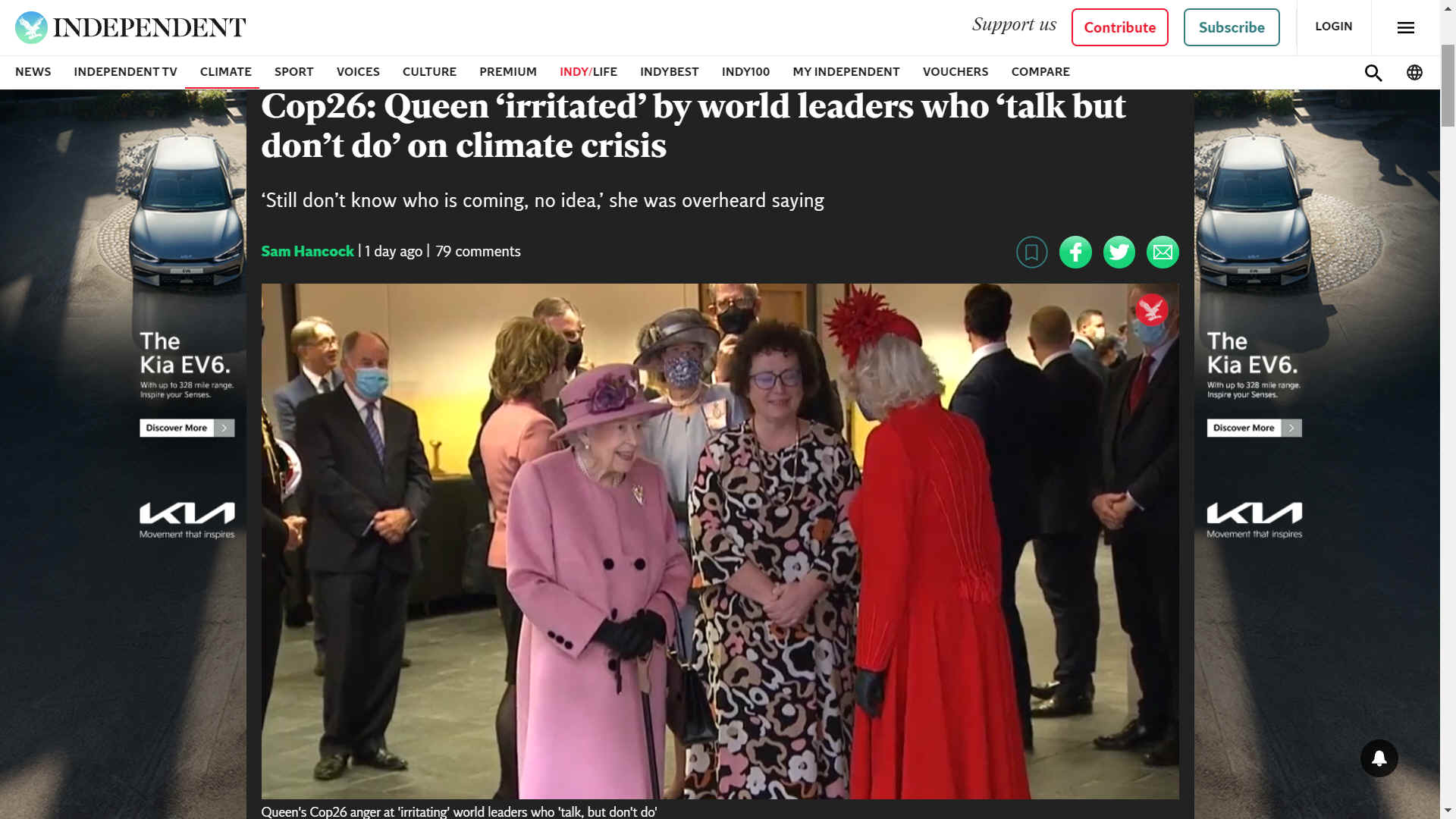 ALL TALK NO ACTION - Pressed as to whether he thought the Queen was talking about the UK's Government, Grant Shapps (UK transport minister) replied: "Well she specifically referred to who was coming, actually, so I don't think it was intended in that sense, but nonetheless, she made the comments not intending it to be overheard." Or did she? We'd not be surprised if her level of exasperation, at the lack of action at home as well as overseas, spilled out a little. For sure, there has been very little action in the UK on EV infrastructure. As policy leadership goes, the UK is behind the curve with details as to how to get the job done. How about big tax breaks and grants for green hydrogen service stations! Greta Thunberg is right about blah, blah, blah, but in a transitional period we need excellent leadership based on an achievable vision, with realistic targets.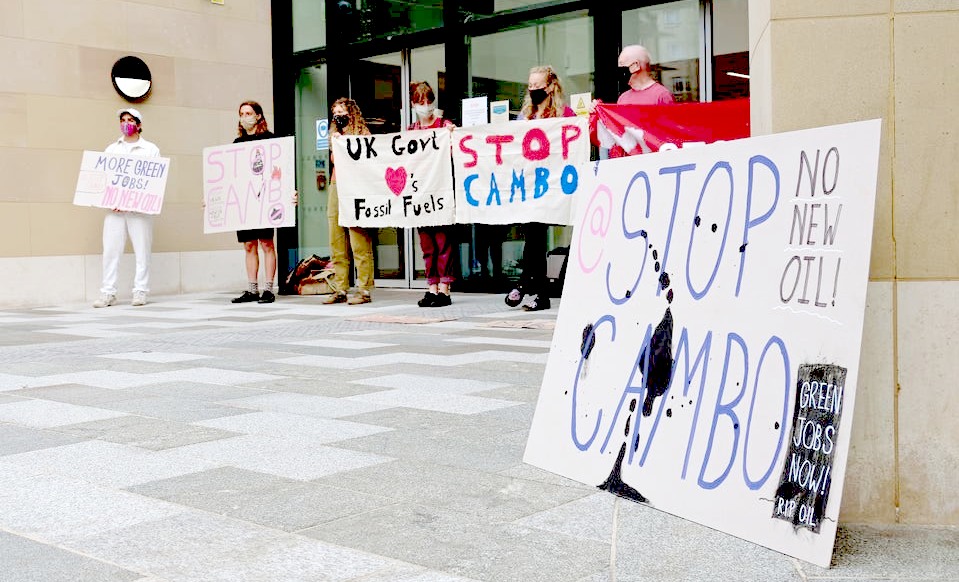 CONSERVATIVE CONUNDRUM - Greenpeace has threatened to take the Conservative government to court if it approves drilling at a new oil field in Scotland. Despite hosting this year's Cop26 climate conference, ministers are considering green-lighting the gas and oil project at Cambo, a North Atlantic site west of Shetland. No matter how you cut it, if this application gets the go ahead, how will the UK be able to hold its head up high when seeking to persuade India and China to stop burning coal. The journey to clean air is unlikely to be smooth, with Brits rightly fearing they will be hammered with massive bills to pay for it all, since the country is already in serious debt from years of inequitable policies.

"Commitments made today lack substance and ambition. It is now up to G20 heads of state and government to discard this document at the October leaders' summit," said online activist network Avaaz.

Negotiations with China, Russia and India proved especially tough where China and India had declined to sign two contested points, one of which was phasing out coal power, which most countries wanted to achieve by 2025 but some said would be impossible for them.

The other point concerned the wording surrounding a 1.5-2 degree Celsius limit on global temperature increases that was set by the 2015 Paris Agreement.
Expectations are high, and rightly so. After all, to quote Sir David Attenborough, this is our "last chance" to tackle climate change and its effect on weather, oceans, biodiversity, and ultimately our way of life.

This year we've seen (again) first-hand the effects of extreme weather, from heatwaves and wildfires sweeping North America, to floods and heavy rain devastating parts of Europe and cities in China.
COP26: JULY 22 - PRESIDENT ALOK SHARMA - CHAIR

The Pacific-UK High Level Climate Dialogue brought together Pacific Islands Leaders with the COP26 President Designate in an important milestone ahead of COP26 in Glasgow this November. This event, delivered in collaboration with Wilton Park and One CROP (Pacific Islands Forum Secretariat, Secretariat of the Pacific Regional Environment Programme and the Pacific Community), built on previous engagement with the region on climate change, and provided a unique opportunity for Pacific Island Leaders and the COP President to engage in open and frank discussion ahead of COP26.

Leaders from Fiji, the Federated States of Micronesia, Palau, Tuvalu, Niue, the Republic of the Marshall Islands, Ministers from Nauru, Cook Islands, Solomon Islands and Vanuatu, the CEO of the Ministry of Foreign Affairs of Samoa, youth leader Gladys Habu, the Secretary General of the Pacific Island Forum, Directors General from the Pacific Regional Environment Programme, the Pacific Community and the Forum Fisheries Agency attended the event.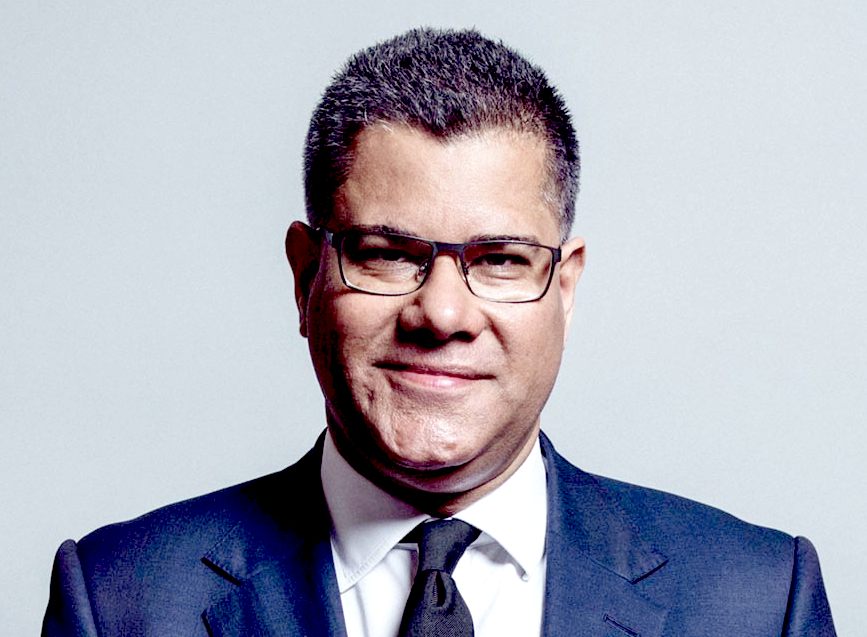 BRITISH MP - Mr Sharma, 53, has seen the "tragic" effects of the rise in greenhouse gas emissions and says: "Look around the world and you can see the impacts of climate change.

"I've just returned from the Carribean. Barbuda was hit by Hurricane Irma in 2017, and it literally feels like it came through a week ago, it's as fresh as that. "The buildings aren't fixed, the roofs are still blown off buildings." But is there really anything Britain, which creates just one per cent of global emissions, can do about it, when China and other nations are still burning coal?
Alok Sharma is a British politician, serving as the Secretary of State for Business, Energy and Industrial Strategy from February 2020 in Boris Johnson's cabinet.
He was also appointed President of the United Nations Conference of the Parties, COP26, to be held in Glasgow, Scotland between 9-20th November 2020, but that was placed on hold - the delays in negotiations adding to climate misery and carbon footprints. Mr Sharma replaced Claire Perry as climate summit chief in a surprising move by PM Boris Johnson.
Alok was previously the Secretary of State for International Development from July 2019 to February 2020. He was elected in 2010 as the Conservative Member of Parliament for Reading West.
Leaders agreed with the COP26 President that the world needs to step up its emissions targets and its actions to keep the 1.5 temperature limit alive, noting that we have now reached levels of carbon dioxide in the atmosphere that we have not seen for 3 million years. Leaders talked about the need for greater action sooner, commenting that flattening the curve on temperature warming by the middle of the century would be too late, that emissions must peak by 2025. Early peaking is necessary not only to protect climate vulnerable Pacific SIDS but also larger, more resilient countries who will also experience greater severity and frequency of heat domes, wildfires, floods and storms and therefore need to take action to close the mitigation gap. High emitters, especially G20, must commit to higher mitigation targets now, and COP26 must set the path for peaking emissions by 2025. Finance and access to finance are lagging behind the needs of countries.

Participants highlighted the importance of including super pollutants, such as methane, black carbon and HFCs, in reduction targets. Rapid reduction of these powerful GHGs could make a significant difference to the achievability of the 1.5° target.
ACTS OF GOD - JULY 2021 - Floods in London, Belgium and Germany cause huge damage to property, with temperatures soaring. Despite this, one crisis now circulating is the "global water crisis". That, in combination with the global warming crisis, of course is leading to mass crop failures, thirst and later mass starvation in hundreds of millions, unless we act now. The German states of Rhineland-Palatinate and North Rhine-Westphalia were worst hit, but the Netherlands is also badly affected. Is the good Lord trying to tell us something?
COP 25 2019
Back in 2019, many key issues remained without unanimous resolution. In light of this, as well as the ever-increasing threat of global warming, COP26 is considered to be an event of particular urgency, and one that experts hope will signify an acceleration of proactive global efforts to combat climate change. Over 190 world leaders are expected to attend the conference in Glasgow, where they will be joined by government representatives, businesses, non-profit organisations and citizens for 12 days of climate talks. Amongst the discussion points of the summit, there are some fundamental goals that the UK will strive to achieve. These include:

- securing global Net Zero emissions by the middle of the century and continuing to strive towards limiting global warming to a maximum of 1.5 degrees above pre-industrial levels;
- the deployment of adaptation measures to protect vulnerable communities and natural habitats from the impacts of climate change;
- the mobilisation of financial aid by developed countries to achieve global Net Zero; and
- acceleration of collaborations between governments, business and society in order to achieve ambitious climate goals.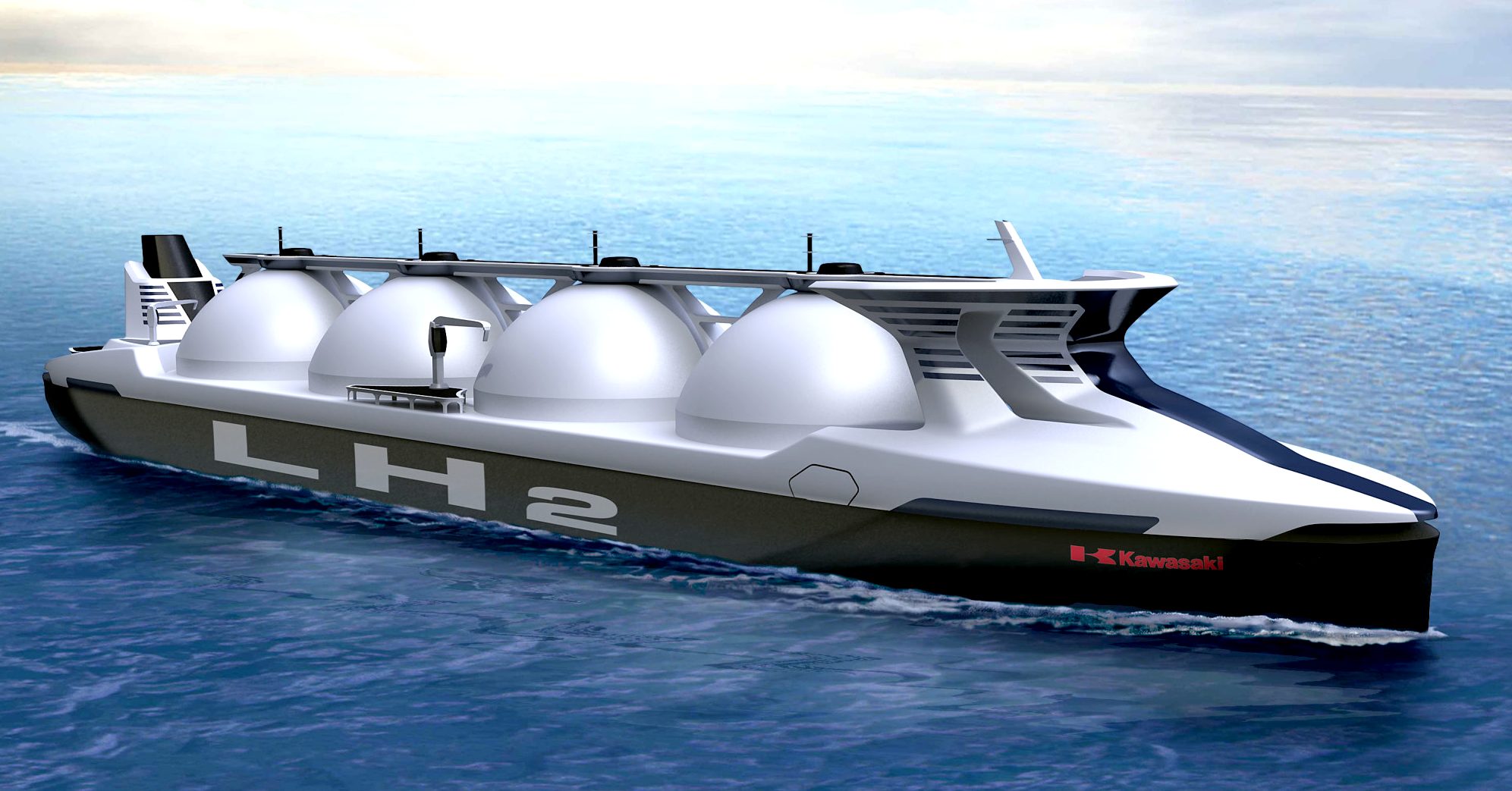 JAPAN'S DEVELOPING HYDROGEN ECONOMY - Japan has bee exploring the possibility of importing Norwegian energy in the form of liquid hydrogen. These would be annual shipments of around 225,000 tonnes of hydrogen, which would be sufficient to power three million cars. For Norway to generate all this by electrolysis would require some 14 TWh of energy a year, equivalent to 10 – 12 per cent of the country's electricity production. We can expect to see more trading, where the oil fields and offshore rigs no longer govern economies, but solar and wind farms in remote locations come to fruition to save the day.
1995 COP 1, BERLIN, GERMANY
1996 COP 2, GENEVA, SWITZERLAND
1997 COP 3, KYOTO, JAPAN
1998 COP 4, BUENOS AIRES, ARGENTINA
1999 COP 5, BONN, GERMANY
2000:COP 6, THE HAGUE, NETHERLANDS
2001 COP 7, MARRAKECH, MOROCCO
2002 COP 8, NEW DELHI, INDIA
2003 COP 9, MILAN, ITALY
2004 COP 10, BUENOS AIRES, ARGENTINA
2005 COP 11/CMP 1, MONTREAL, CANADA
2006 COP 12/CMP 2, NAIROBI, KENYA
2007 COP 13/CMP 3, BALI, INDONESIA
2008 COP 14/CMP 4, POZNAN, POLAND
2009 COP 15/CMP 5, COPENHAGEN, DENMARK
2010 COP 16/CMP 6, CANCUN, MEXICO
2011 COP 17/CMP 7, DURBAN, SOUTH AFRICA
2012 COP 18/CMP 8, DOHA, QATAR
2013 COP 19/CMP 9, WARSAW, POLAND
2014 COP 20/CMP 10, LIMA, PERU
2015 COP 21/CMP 11, Paris, France
2016 COP 22/CMP 12/CMA 1, Marrakech, Morocco
2017 COP 23/CMP 13/CMA 2, Bonn, Germany
2018 COP 24/CMP 14/CMA 3, Katowice, Poland
2019 COP 25/CMP 15/CMA 4 Spain
2020 - Postponed - A year without any progress, that the planet can ill afford
2021 COP 26 Glasgow, Scotland 1st-12th November