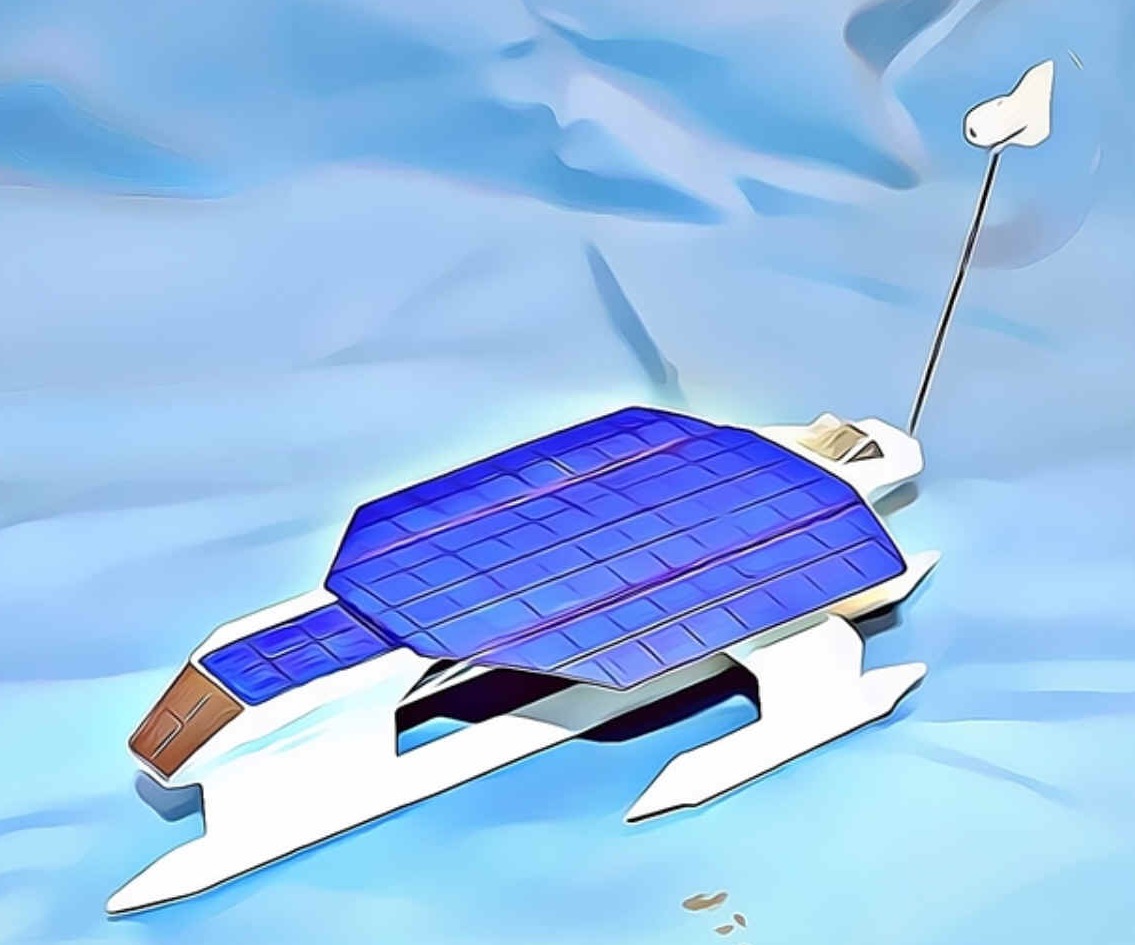 Early development model @ 1:200 scale illustrating the vast solar array, as compared to her small frontal area. She measures in at 200 millimeters, so, 40 meters in length. Whereas, we are looking at between 44 -54 meters for the real deal.
Without pioneers technology would stand still. We'd not have air travel for sure, if not for a brave few pushing forward the frontiers amid a hail of skeptics. Pioneers such as the Wright brothers, Bleriot and Lindbergh confounded the world.
Before Wilbur and Orville, the press were saying flight was impossible, and before that Dr Samuel Johnson (famous for his dictionary) slapped down Dr James Boswell's predictions of high-speed stagecoach travel, saying: "Fie, sir – twenty miles in one hour upon a coach? No man could rush so fast through the air and continue to draw breath!".
Naysayers firmly in mind, the Cleaner Ocean Foundation consider it may be useful to anyone curious as to just how rapid a cross-channel transit might be using only energy from nature, to plan a potential route (or two) for the Elizabeth Swan, such that if deemed a sporting challenge and the opportunity presents to dispel negativism as to the potential for future marine transport, that we have plans in place to demonstrate the technology in action - and a consortium of able experts to put such thoughts into action. We are thus forming an able group and actively seeking development partners in Europe and funding partners internationally.
If we can set a new solar powered water speed record across the channel at the same time, that would be a welcome bonus, all the while adding to our knowledge of wind powered hybrids working in concert with photovoltaic panels - as to what is possible for the passenger vehicles of the future - to add a little sparkle - to the engineering drudge, as an acorn grows to an oak, leading to bigger things.
CAD DIAGRAM: The Elizabeth Swann is shown here with a wave piercing hull. She is of trimaran configuration with active outrigger hulls (or sponsons) that allow the vessel to trim for very efficient running. She has solar wings that fold for storms and track the sun, and a wind turbine on a mast, that can be raised and lowered and furled in high winds. For a record attempt we need a sunny day and high winds.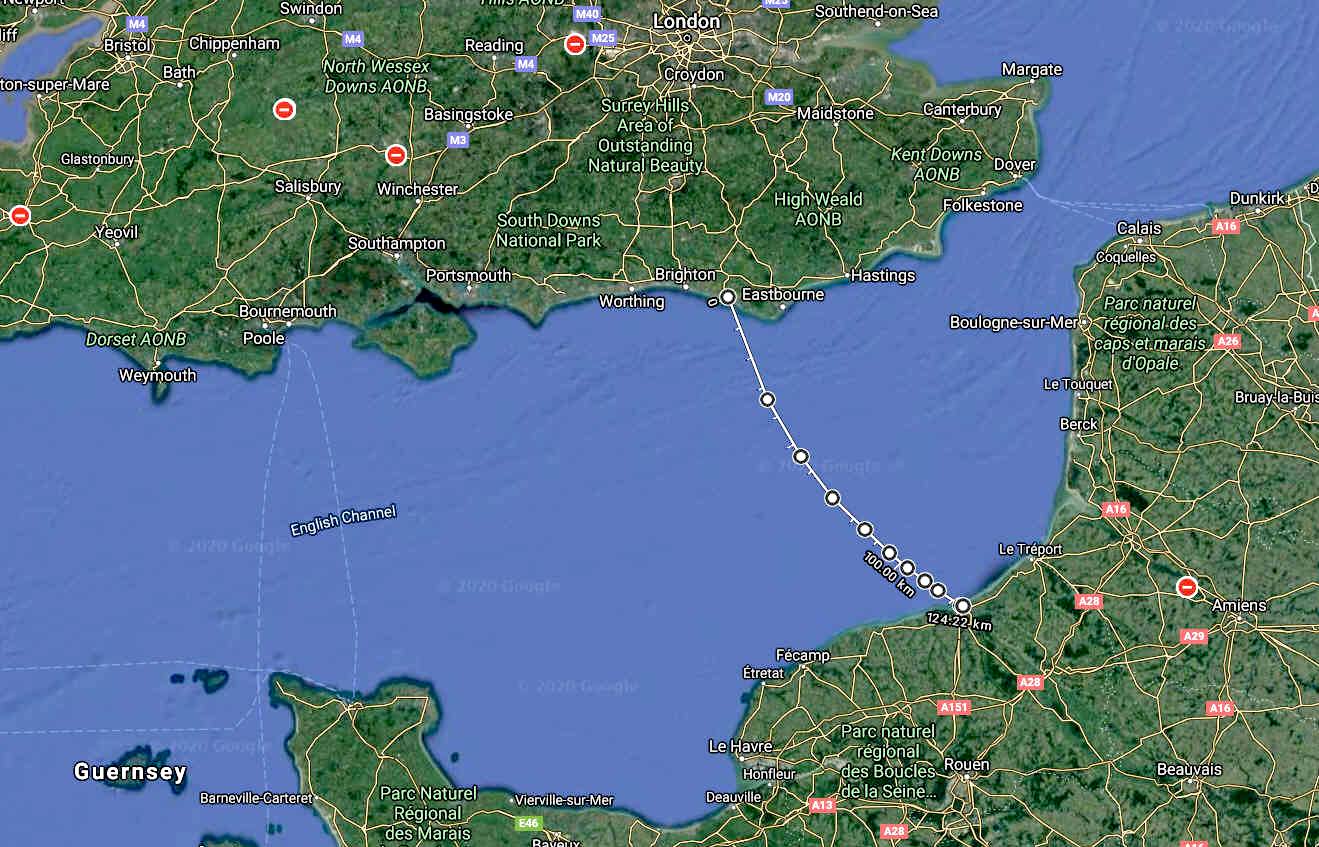 PROPOSED ROUTE 1 - Newhaven to Dieppe is a distance of approximately 125 kilometers, ideal for setting a record between GPS points of 100km. A shorter run from Dover to Calais might not give the Swann a chance to show her mettle, though it may be an interesting comparison to Bleriot's achievement. We are considering other routes, some designed to offer good media coverage of events - crucially to interest enabling funding partners.
PIONEERS - This is a much longer route than Louis Bleriot used when he crossed the English Channel in 1909 from Calais to Dover. His flight took just over 30 minutes to cover the 24-mile distance. The Bleriot XI shares similar design qualities to the Elizabeth Swann, in being simple and light, including the cross bracing of the triangular tubed spaceframe that joins the front and rear cabins. Passenger variations would feature a box-girder design to allow generous seating.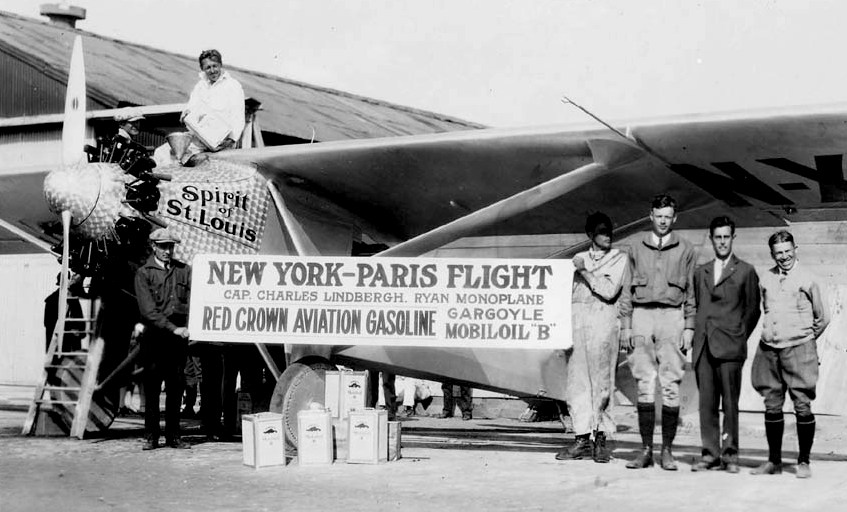 SPIRIT OF ST. LOUIS - An even bigger challenge beckoned in the Atlantic. Between May 20-21 1927, Charles Lindbergh completed the first non-stop flight across the Pond, from Long Island, New York, to Le Bourget, near Paris. His flight was sponsored by a group of businessmen in St. Louis, Missouri.
HUGHES DUWAL - The 9th and 10th July 2015 saw another milestone with Hughes Duwal crossing the Channel in his electric aircraft, Colomban Cri Cri E-Cristaline, followed by the Airbus electric a day later - confirming the English waterway as a place where a little journey turns into something big. Duwal beat Airbus to the punch, but may not get into the record books officially because of a technicality over permission to take off. The fact is that as a privateer, he managed this feat as an individual, not a corporation, and on a low budget. Hats off for that! AIRBUS - The E-Fan is powered by lithium-ion batteries, which enabled the plane to cover the 74 kilometres [46 miles] between Lydd, England, and Calais in France in 36 minutes. Flown by test pilot Didier Esteyne, the elegant electric aircraft weighs around 600 kilogrammes and travelled at a maximum altitude of 1,000 metres. The objective is to work their way up to zero emission air travel, so hats off for that!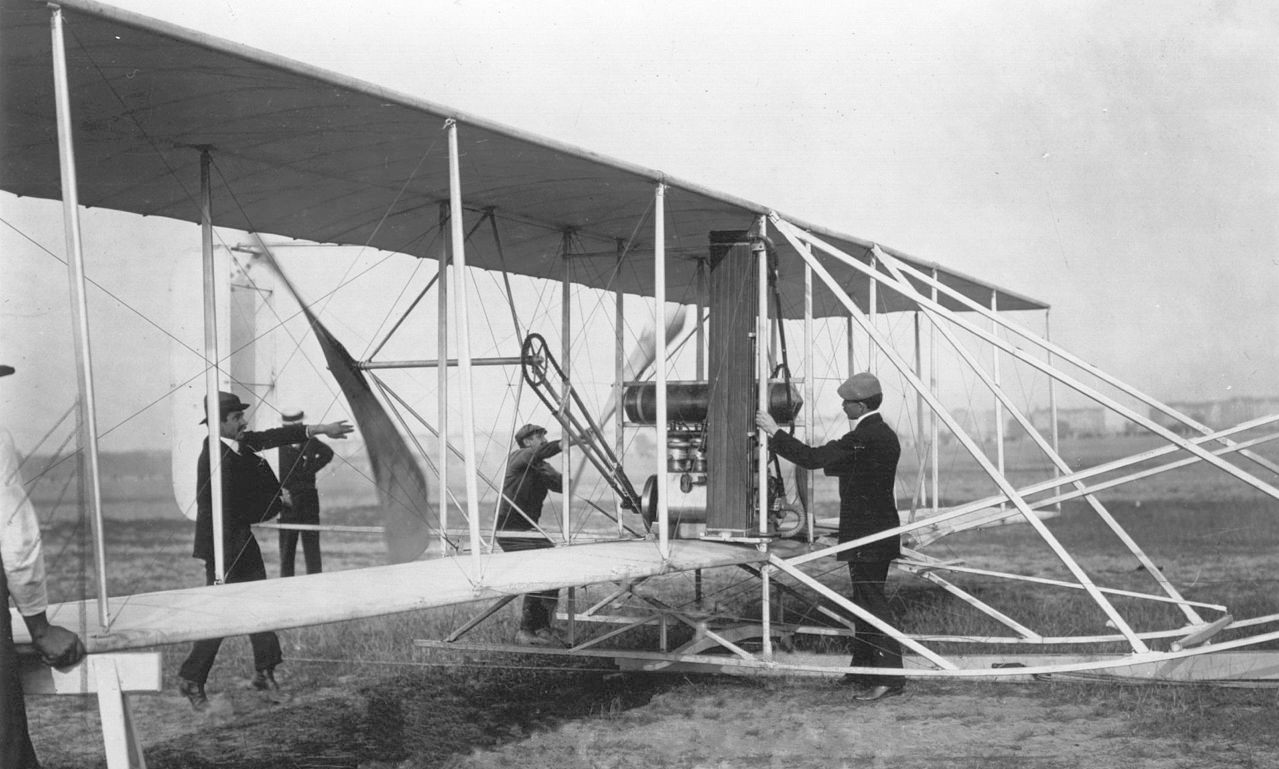 Wilbur and Orville Wright proved all the skeptics wrong with their Flyer I in 1903 at Kitty Hawk, North Carolina, USA.
The English Channel is one of the busiest waterways in the world. The speed and time for crossing depends on where and when you make such journey. The English Channel, is a finger of the Atlantic Ocean that separates Great Britain from Northern France, is less than 19 nautical miles wide between Dover and Calais. Locals call this route the fast channel crossing. If you're traveling from Continental Europe to the UK, take note that some cross-channel options by ferry could be faster and cheaper.

Travelers have a good choice of options for crossing La Manche (French). Depending upon the departure point, taking a ferry can also be a more comfortable, more eco-friendly and more convenient choice than flying to the UK from France, Belgium, Northern Spain and, since 2018, the Netherlands as well.

The Channel has traffic on both the UK - Europe and North Sea - Atlantic routes, and is the world's busiest seaway, with over 500 ships per day. Following an accident in January 1971 and a series of disastrous collisions with wreckage in February, the Dover TSS, the world's first radar-controlled traffic separation scheme, was set up by the International Maritime Organization. The scheme mandates that vessels travelling north must use the French side, travelling south the English side. There is a separation zone between the two lanes.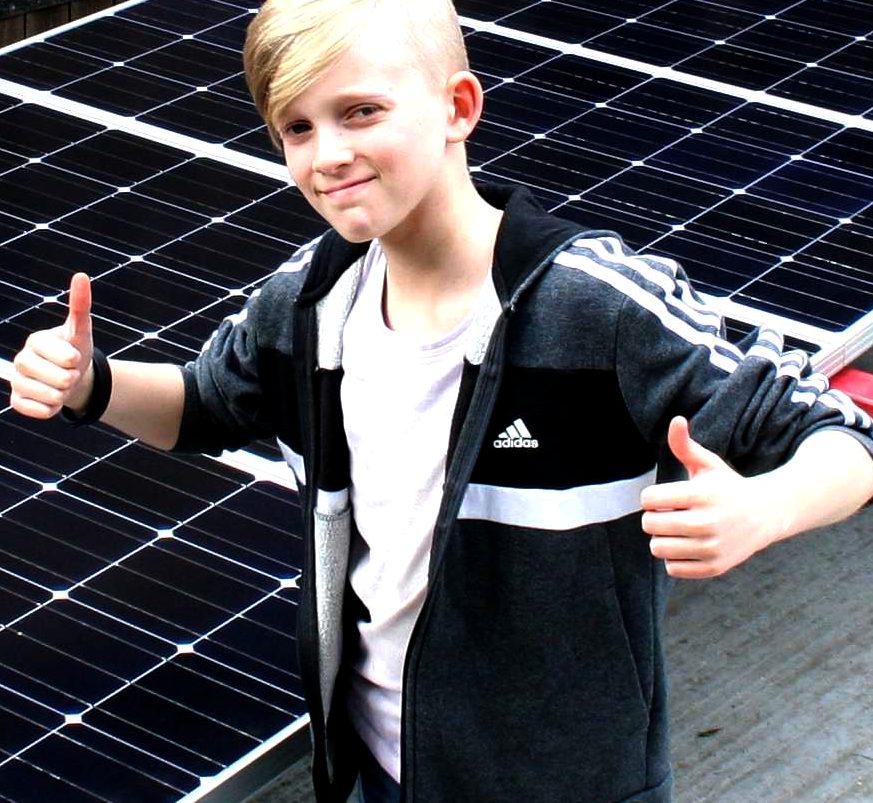 RYAN DUSART: Could be the youngest person to cross the channel on a solar powered boat during a speed record attempt - as a passenger. He is an advocate of zero emission transport. At the moment he is at school in Eastbourne learning about the world we live in. In his spare time he enjoys building things at his workshop in Herstmonceux, Sussex. A record attempt could be from anywhere on the south coast of England, to the north coast of France.
FASTEST CROSSINGS A - Z
AMPHIBIOUS - The fastest crossing of the English Channel by amphibious vehicle is 1 hour 14 mins 20 sec and was achieved by Professor Hans Georg Näder (Germany) and Captain Henry Hawkins (UK) who 'drove' the Tonic between Dover, UK, and Calais, France, on 1 July 2008. All records listed on our website are current and up-to-date.

HOVERCRAFT - The fastest scheduled crossing of the Channel by hovercraft was achieved by the "Princess Anne" MCH SR-N4 MkIII hovercraft on 14 September 1995, when it completed the Dover-Calais run in 22 minutes for the 10 a.m. service.

KAYAK - The fastest crossing of the English Channel by a single canoe/kayak is 2 hr 28 min by Paul Wycherley (UK) between Dover Harbour, Dover, UK and Cap Griz Nez, France, on 2 October 2011 Paul started about 100 yards out from Dover Harbour Beach and arrived at Cap Griz in France - Paul did not leave his kayak but crossed the line which the Channel crossing association were happy with. A loud horn was sounded at the start and finish. Paul Wycherley was an Olympic hopeful for London 2012.
PEDALS - Paul Tucker (UK) pedalled across the English Channel from a point near Cap Gris-Nez, France, to Folkestone, Kent, UK, in 7 hr 6 min on 21 May 2002. His 3.7 m (12 ft) boat Escapade was powered by a propeller turned by pedals. The record attempt was in aid of the Royal British Legion. The crossing above was the return leg of a double crossing (he also holds the record for fastest double crossing).

SWIM - The fastest swim of the English Channel, and the fastest swim of the England-France route, is 7 hr 25 min, achieved by Yvetta Hlavacova (Czech Republic) from Shakespeare Beach, England to Cap Gris Nez, France on 5 August 2006.
BY BOAT
Date
Crossing
Participant(s)
Notes
-
-
-
-
March 1816
The French paddle steamer

Élise

(ex Scottish-built Margery or Margory) was the first steamer to cross the Channel.
9 May 1816
Paddle steamer

Defiance, Captain William Wager, was the first steamer to cross the Channel to Holland
10 June 1821
Paddle steamer

Rob Roy, first passenger ferry to cross channel
The steamer was purchased subsequently by the French postal administration and renamed

Henri IV.
June 1843
First ferry connection through Folkestone-Boulogne
Commanding officer

Captain Hayward
25 July 1959
Hovercraft crossing (Calais to Dover, 2 hours 3 minutes)
SR-N1
Sir Christopher Cockerell

was on board
1960s
First crossing by

water ski.
Youngest known water-skier to cross the Channel was John Clements aged 10, from the Varne Boat Club on 22 August 1974 who made the crossing from Littlestone to Boulogne and back without falling.
22 August 1972
First solo hovercraft crossing (same route as SR-N1; 2 hours 20 minutes)
Nigel Beale (UK)
1974
Coracle

(13 and a half hours)
Bernard Thomas (UK)
As part of a publicity stunt, the journey was undertaken to demonstrate how the Bull Boats of the Mandan Indians of North Dakota could have been copied from Welsh coracles introduced by Prince Madog in the 12th century.
14 September 1995
Fastest crossing by

hovercraft, 22 minutes by

Princess Anne
MCH SR-N4 MkIII
Craft was designed as a ferry
1997
First vessel to complete a

solar-powered

crossing using

photovoltaic cells
SB

Collinda
—
14 June 2004
New record time for crossing in amphibious vehicle (the

Gibbs Aquada, three-seater open-top

sports car)
Richard Branson

(UK)
Completed crossing in 1 hour 40 minutes 6 seconds – previous record was 6 hours.
26 July 2006
New record time for crossing in

hydrofoil

car (the

Rinspeed Splash, two-seater open-top

sports car)
Frank M. Rinderknecht (Switzerland)
Completed crossing in 3 hours 14 minutes
25 September 2006
First crossing on a towed inflatable object (not a powered

inflatable boat)
Stephen Preston (UK)
Completed crossing in 180 min
July 2007
BBC

Top Gear

presenters "drive" to France in amphibious cars
Jeremy Clarkson,

Richard Hammond,

James May

(UK)
Completed the crossing in a 1996

Nissan D21

pick-up (the "Nissank"), fitted with a Honda outboard engine.
20 August 2011
First Crossing by

Sea Scooters
A four-man relay team from Scarborough, North Yorkshire, headed by Heath Samples, crossed from Shakespeare Beach to Wissant.
It took 12 hours 26 minutes 39 seconds and set a new Guinness World Record.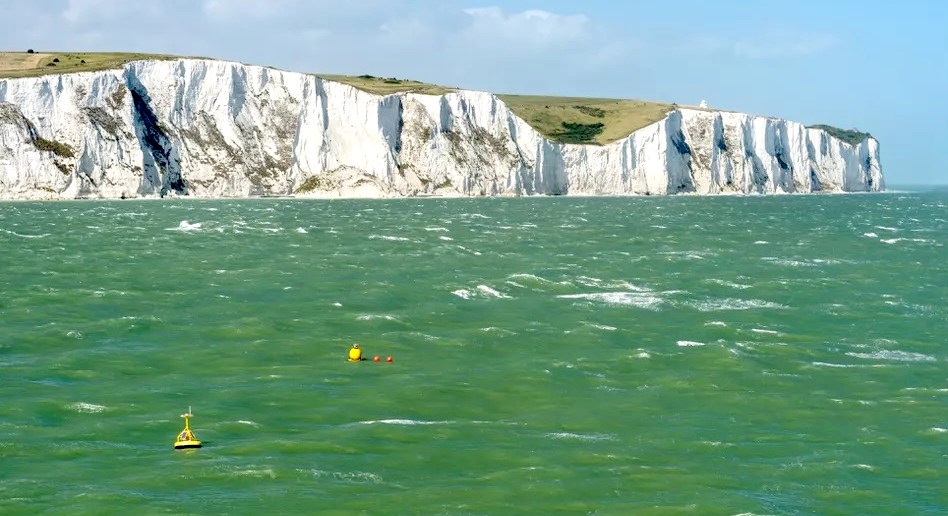 The English Channel looking at the Seven Sisters toward Beachy Head.
CROSS CHANNEL FERRY OPERATORS & ISLAND SERVICES
DFDS -
Please use our A-Z INDEX to navigate this site