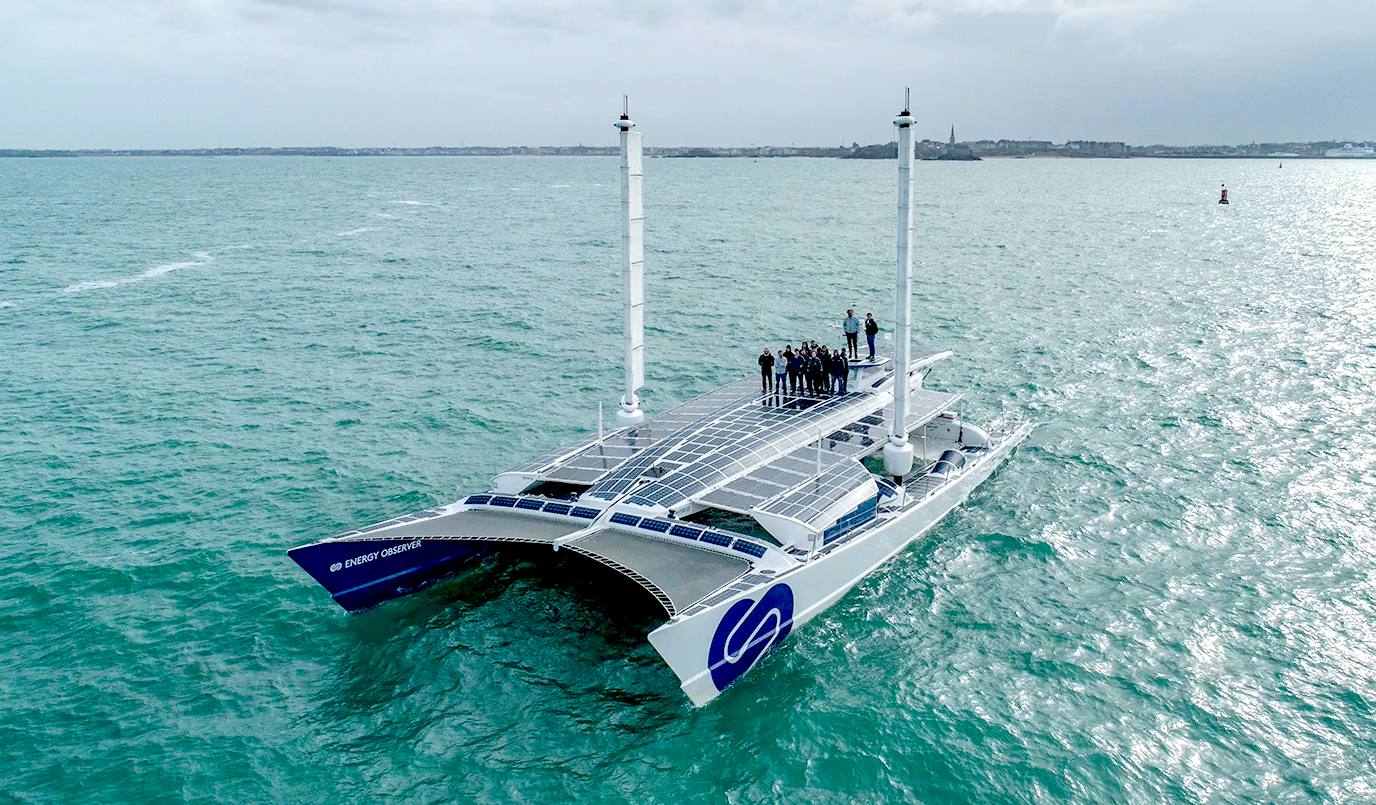 ENERGY OBSERVER CIRCUMNAVIGATION - The first serious blue water semi-hydrogen and solar powered boat, is a converted catamaran that is on a seven year quest to circumnavigate the world, visiting many ports along the way to demonstrate clean technology in action.
| | | |
| --- | --- | --- |
| DAY/MONTH/YEAR | PUBLICATION | DESCRIPTION |
| - | - | - |
| | Air Liquide news | First around the world on hydrogen |
| | Toyota Newsroom | Toyota's fuel cell module brings hydrogen to the maritime industry |
| | Forbes | A hydrogen powered boat is sailing the world, does it make sense? |
| | Air Liquide press release | Steps up partnership as main supporter for 4 years |
Extraordinary projects that break the boundaries of science, increase our knowledge and the achievement of man, do not attract backing from official sources that work on incremental research using established academia. Fortunately, there are a very few philanthropists who have backed the unusual on the basis of solid commercial decisions, but nonetheless well intentioned, where conventional advertising is a safer bet, such as sporting competitions and racing.
Projects such as the Energy Observer, provide general interest news articles in the media, that attract readers and increase or retain circulation, also providing tangible returns to organizer's, in getting brands noticed by those with an interest in environmental and technological achievement.
There is a fascination on the part of the reading public, for robotic transport of all kinds, such as robotaxis, robotrucks and unmanned shipping, much as solar powered car racing kept us riveted to news feeds 20 years ago, but like missions to Mars, have lost their page turning potential. Hydrogen, on the other hand, is one of the new page turners, as the growing list of media articles underscores.

LINKS, CONTACTS & REFERENCE
https://en.media.airliquide.com/news/air-liquide-becomes-main-partner-of-energy-observer-f395-56033.html