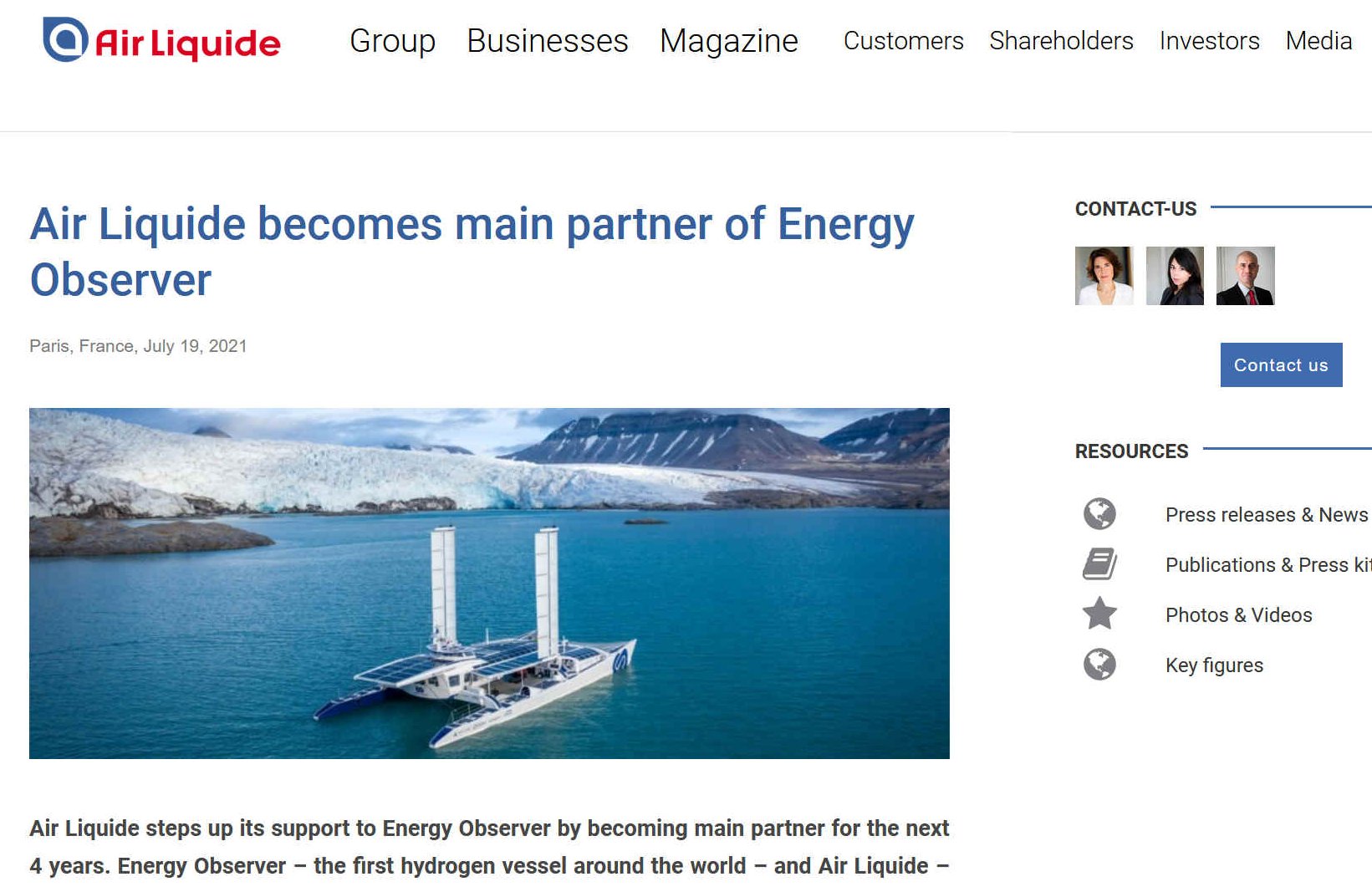 INNOVATIVE - She may not break any speed records, but the is not the point. The Energy Observer team are developing technology that is providing solid results on which they are developing ideas (and products: REXH2) that are inspirational to others. The expeditions are demonstrating and educating a growing audience as climate chaos is grabbing headlines all over the world. Like PlanetSolar in 2012 and for many years thereafter, this is a truly excellent venture, in a vessel that looks amazing.
AIR LIQUIDE BECOMES MAIN PARTNER FOR 4 YEARS - 7 JULY 2021

Air Liquide steps up its support to Energy Observer by becoming the main partner for the next 4 years. Energy Observer – the first hydrogen vessel around the world – and Air Liquide – a pioneer in the international development of the hydrogen sector – have been working together since the launch of this laboratory ship which aims to demonstrate the key role of hydrogen in the energy transition. This new stage in their collaboration, featuring a technological support component, is fully in line with the sustainable development objectives of the Air Liquide Group, including its commitments to renewable hydrogen in particular.

As the first ship autonomous in energy, and a French ambassador for the Sustainable Development Goals, Energy Observer explores concrete solutions and develops technologies to accelerate ecological transition. Since its launch in April 2017 in Saint-Malo, and even before its departure for a zero-emission world tour, Air Liquide has been supporting this scientific and technological project by becoming an official supporter.

Hydrogen is the cornerstone of the Energy Observer energy chain. Indeed, the key characteristic of Energy Observer is its energy mix, including three sources of renewable energies as well as a complete hydrogen production chain on board the ship using sea water electrolysis. The green hydrogen produced can store a large amount of energy, and does not release any CO2 or fine-particle emissions. Its use, combined with short-term battery storage, has enabled the ship to sail fully autonomously for 4 years over 75,000 km in extreme conditions, through the Mediterranean, then the Arctic and the Atlantic, and now the Pacific.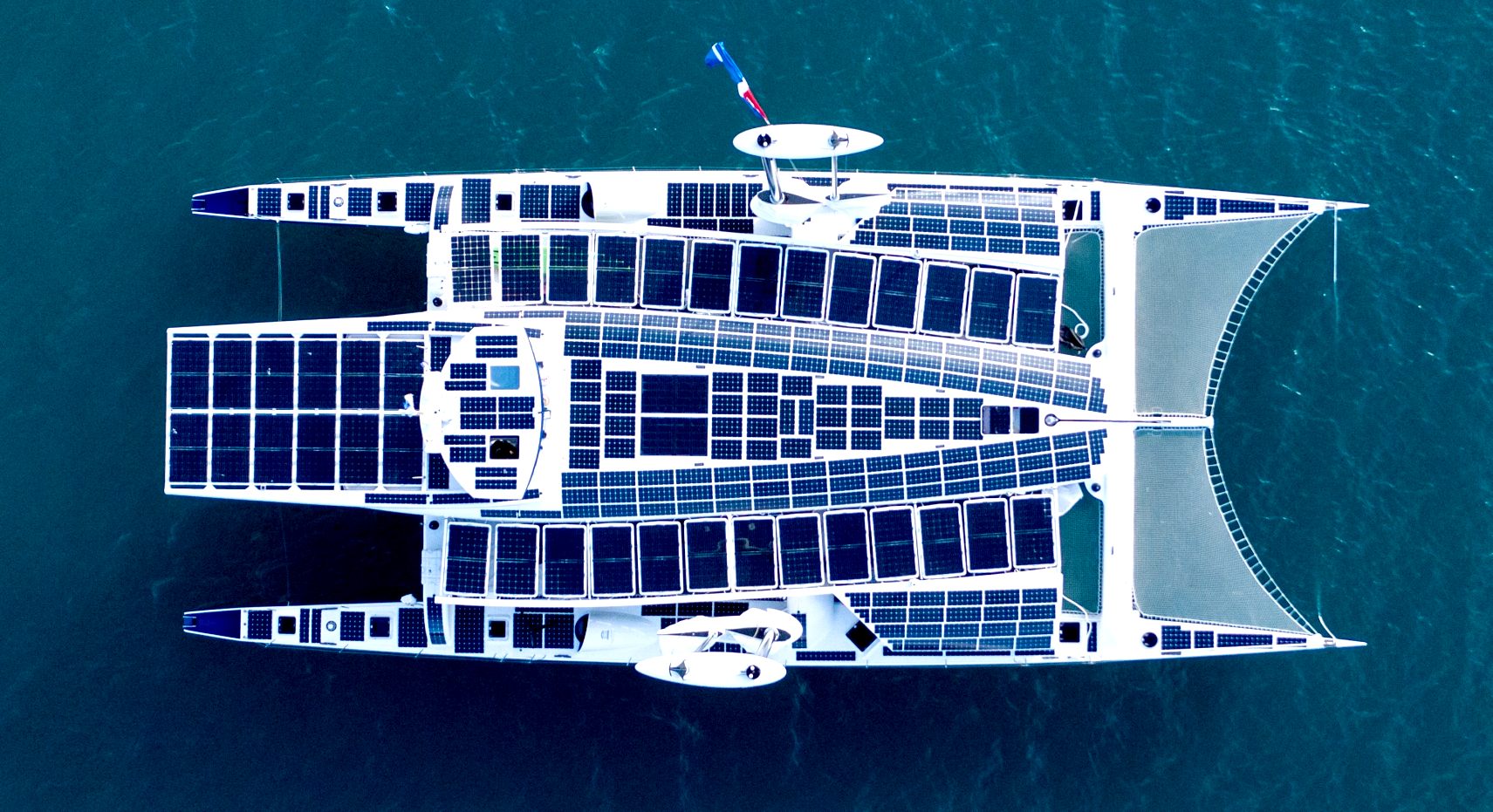 SOLAR POWER - 202 square meters of solar panels, generates the electrical energy for almost all the boats functions, save for the furling sails that give around 5% of the propulsion to drive the vessel.
Energy Observer is now in a new phase of its development in which, via its subsidiary EODev (Energy Observer Developments), it provides the various maritime and port communities, but also on land applications with innovative, sustainable, reliable and accessible energy solutions, such as GEH₂ – the hydrogen power generator used during the event the "Paris de l'hydrogène" organized by Energy Observer. This zero-emission hydrogen power generator has made it possible to light up the Eiffel Tower for the very first time using certified renewable hydrogen, supplied by Air Liquide. A shared ambition and obvious synergies have naturally led Air Liquide to strengthen its commitment to the project for the next 4 years, as main partner.

This new stage will take the form of support to the Energy Observer Foundation to enable L'Odyssée to continue its mission to raise awareness and educate, but also through skills sponsorship. For example, Air Liquide employees, who have developed unique expertise across the entire hydrogen value chain, may be called upon to collaborate on Research & Development projects conducted in the form of a partnership. This approach is in line with the Group's sustainable development objectives, and specifically with its commitments to accelerate the development of renewable hydrogen.

Matthieu Giard, Vice President, member of the Executive Committee, supervising Hydrogen activities, is quoted as saying:

Air Liquide is proud to continue to support this scientific and human adventure, and to strengthen this partnership as the Energy Observer continues to evolve. Through the collaboration of our teams with Energy Observer's, and the testing of hydrogen technologies in extreme environments, we will be able to accelerate the development of hydrogen-based solutions and their large-scale applications, in particular in the maritime sector. It is by acting now, as we prepare for the future and develop new models of sustainable mobility, that we will be able to have a positive impact on tomorrow's society.

Victorien Erussard, Chairman of Energy Observer, is quoted as saying:

Air Liquide has a unique expertise and experience in hydrogen. Since the beginning, the Energy Observer has always been able to count on the guidance of its researchers and engineers at key moments in the technological development of the project. Today, we want to go even further, to develop real breakthrough innovations with even more diversified applications and we are very happy to strengthen our partnership with the Group. Its ambitions, its investments in low-carbon hydrogen and in storage technologies are examples of progress that show that the hydrogen society is "on the move", and that French companies are among the leading players. Air Liquide's know-how combined with the innovations developed and tested by Energy Observer are essential in order to be able to offer concrete solutions on a large scale to fight global warming and prepare a better world for future generations.

MORE ON ENERGY OBSERVER
The Energy Observer project was born in 2013 from the commitment of Victorien Erussard, a master mariner. Aware that it is now vital to commit to the planet, he gathered around him a complementary team of sailors, scientists, engineers and reporters to create the first self-sufficient vessel capable of drawing its energy from nature whilst also preserving it.

The dream became a reality 4 years later, when the Energy Observer vessel was launched for the first time. Developed from a legendary multiple award-winning catamaran, Energy Observer is a laboratory for ecological transition designed to push back the limits of zero-emission technologies. Hydrogen, solar, wind and water power, all the solutions are experimented with, tested and optimised here with a view to making clean energies a practical reality that is accessible to all.

Criss-crossing the oceans in a bid to get out and meet those who are coming up with sustainable solutions for the planet every day, Energy Observer has become a movement, a round the world Odyssey, where every stopover is an opportunity to learn, to understand and to share the different energies.

Energy Observer has received the High Patronage of Mr. Emmanuel Macron, President of the French Republic. French ambassador for the UN's sustainable development goals, supported by the Ministry for Ecological Transition, UNESCO, the European Union, Irena and Ademe.
The two floats of the catamaran serve as technical rooms and integrate the entire hydrogen production line. An onboard system allows seawater to be collected, desalinated and deionized. Once purified, the water molecules are decomposed to obtain hydrogen. Lastly, a fuel cell transforms the molecules into electricity and heat as needed. This process generates neither greenhouse gases nor particulate matter.

The efficiency and performance of this complete hydrogen chain in a potentially hostile marine environment will validate its application and development for other large-scale applications, maritime as well as on land, mobile as well as stationary.


| | | |
| --- | --- | --- |
| 7 years - around the world | 50 - countries | 101 - planned ports of call |

ENERGY STORAGE

Energy Observer chose complementary storage systems: short-term storage in a set of Li-Ion batteries, and eight hydrogen tanks for long-term storage. These tanks, with a capacity of 332 liters can store a total of 62 kg of hydrogen. The global net energy stored is 1 MWh. The engineers initially planned to place this bulky storage in the hulls of the catamaran, but they finally decided to distribute the tanks in external well decks on each wing.
One day we hope that hydrogen bunkering will be available at every port, marina and harbour, such that commercial cargo and cruise liners might ply the waves cleanly.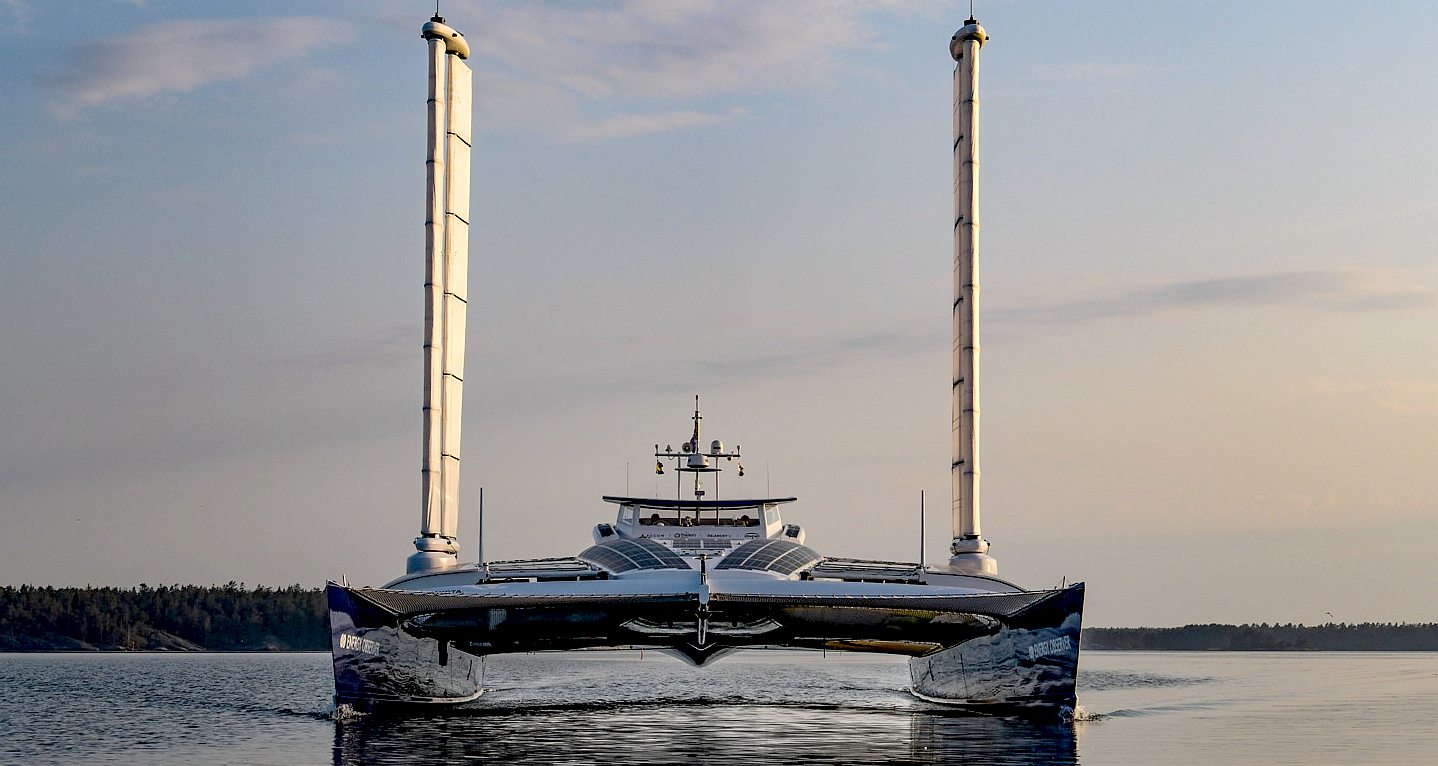 FICTION - A fictionally 'souped-up' version of the Energy Observer features in 'Kulo-Luna,' the story of a giant humpback whale that fights against whalers in a future world where ocean plastic has made fish so toxic, that whaling has become both legal and necessary to feed starving fishing nations. Of course, we ardently hope, such a scenario is never allowed to develop.
SUN, WIND & HYDROPOWER
When launched in April 2017, the Observer claimed to became the first vessel in the world to both generate onboard, and be powered by stored hydrogen.

The boat produces and stores hydrogen using desalinated seawater thanks to an energy mix involving: 3 types of solar panels spreading over a surface area of 202m². As a result, the maximum power will be 34kWp (they have almost doubled the power since 2017). She also has 2 reversible electric motors (2x41 kW) of hydrogenation, 1 lithium battery (106 kWh), 1 desalinator, 1 electrolyser, 1 compressor, 1 fuel cell (22 kW), and 62 kg of hydrogen storage capacity in type IV composite cylinders. The complete hydrogen system weighs 2100 kilos.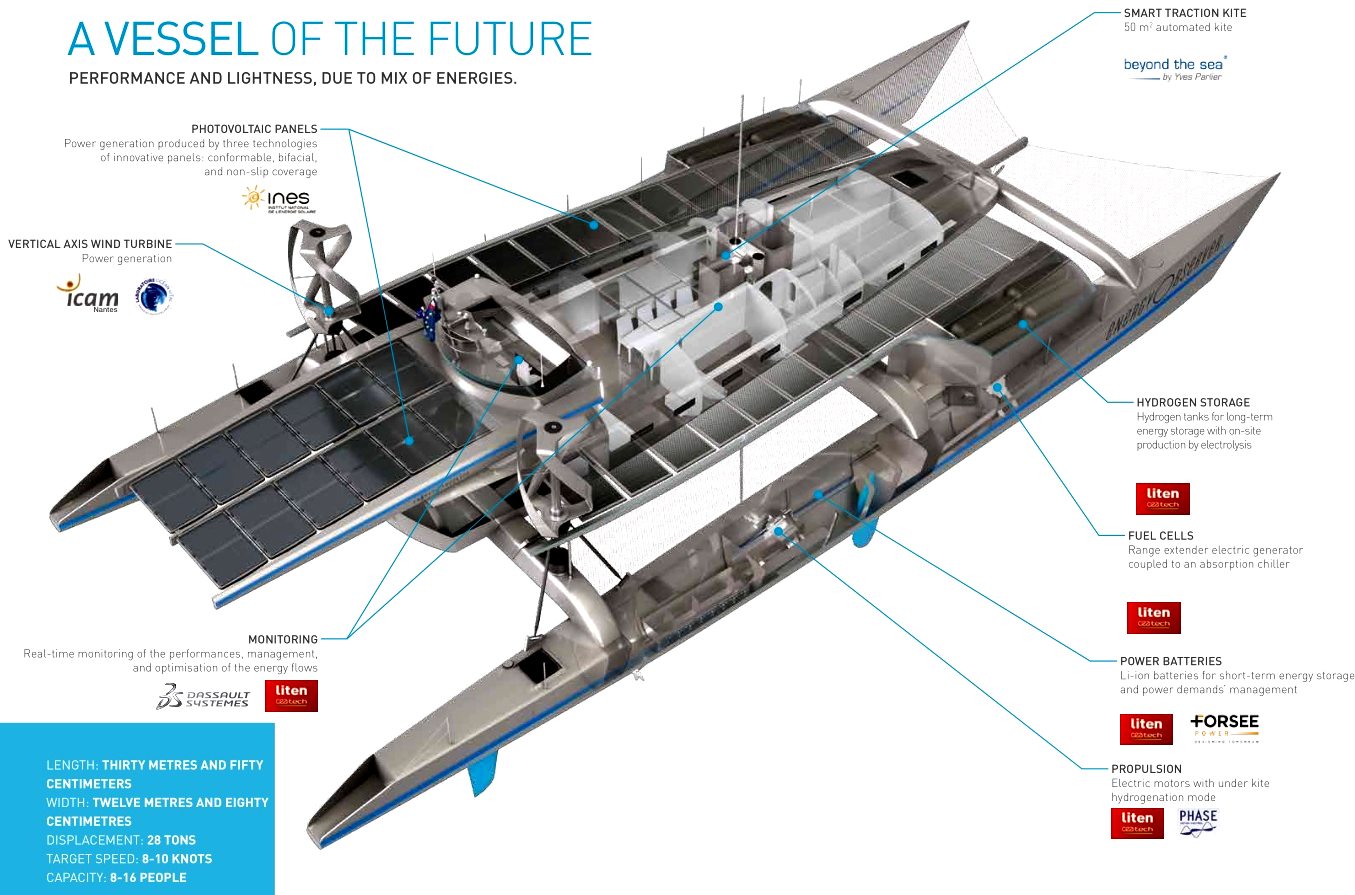 ABOUT AIR LIQUIDE

Air Liquide is a world leader in gas technologies and services for Medical and Industry. Air Liquide operates in 78 countries with approximately 64,500 employees and serves more than 3.8 million customers and patients. Air Liquide came into being in 1902. They fully support the 2015 Paris agreement,. Air Liquide's commitments address the urgency of climate change and energy transition, targeting carbon neutrality by 2050.
As a pioneer in hydrogen, the Group is convinced that hydrogen is a cornerstone of the energy transition. In the past 50 years, the Group has developed unique expertise enabling it to master the entire supply chain, from production and storage to distribution, contributing to the widespread use of hydrogen as a clean energy carrier for a wide range of applications such as industrial usages and clean mobility. Air Liquide is committed to reaching several goals, investing approximately 8 billion Euros in the low-carbon hydrogen full value chain by 2035, and a total of 3 GW electrolysis capacity by 2030.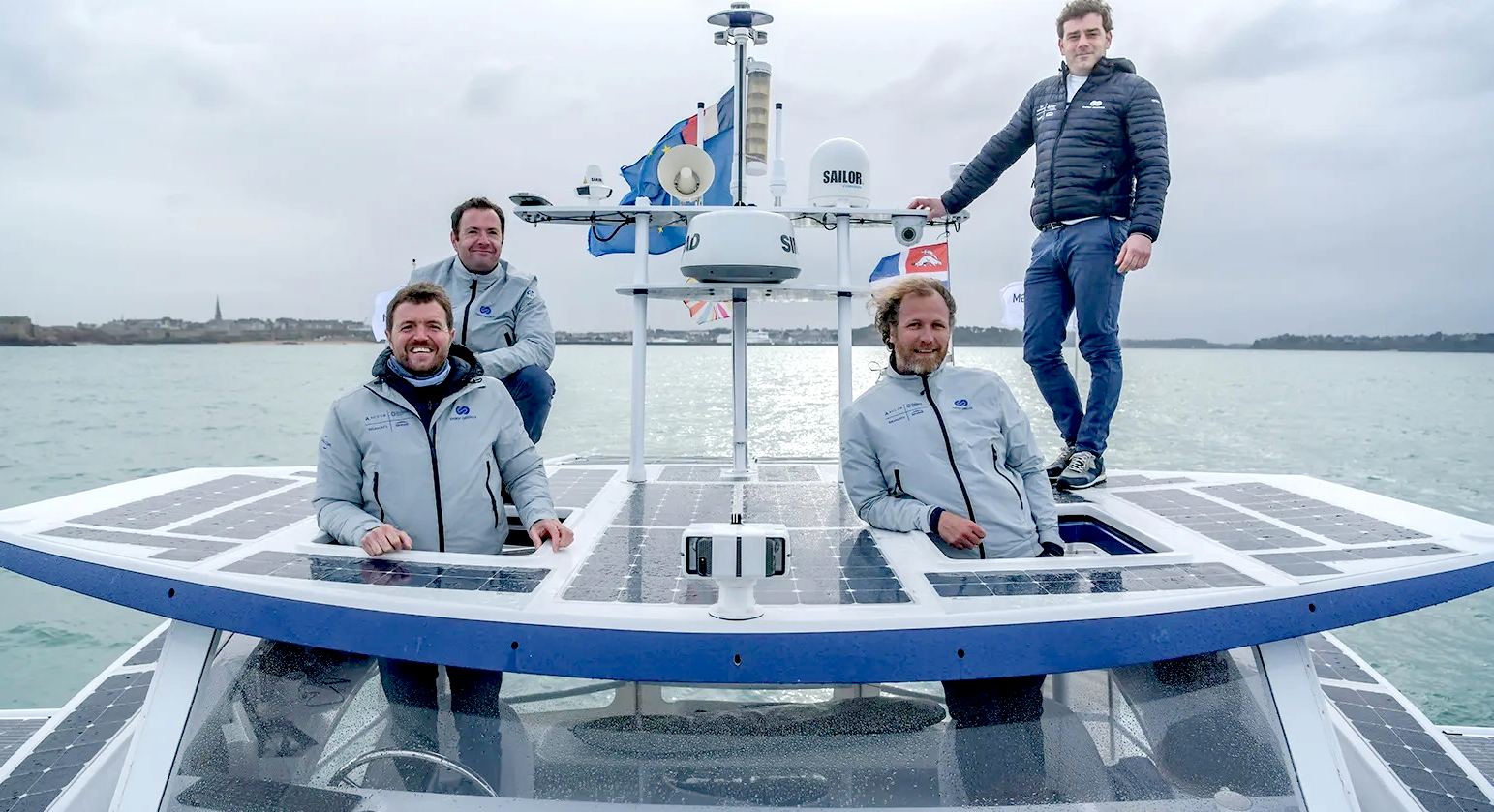 Victorien Erussard, offshore racer and merchant naval officer, leads the expedition, along with Jérôme Delafosse, professional diver and producer of wildlife documentaries. French entrepreneur, Victorien Erussard, has sailed everything from Hobie cats and Formula 18s to competing in the Route du Rhum and Transat Jacques Vabre.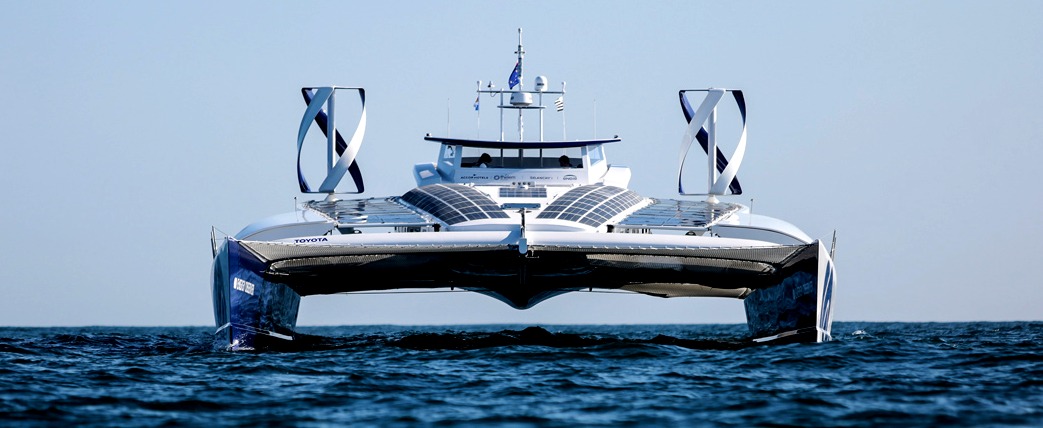 CONTACT AIR LIQUIDE & ENERGY OBSERVER
Contact - RIVACOM for Energy Observer - media@energy-observer.org
Air Liquide (siege social)
75 quai d'Orsay
75321 Paris cedex 07
+33 1 40 62 55 55

Air Liquide Industrial
152, avenue Aristide Briand
CS 80010
92227 Bagneux Cedex

Mobile: 09 70 25 00 00

Campus Innovation Paris
1, chemin de la porte des Loges
78350 Les Loges-en-Josas

+33 1 39 07 62 62

Ait Liquide UK Limited
Station Road, Coleshill
Birmingham, B46 1JY
+44 1675 46424

Air Liquide Espana S.A.
Paseo de Castellana, 79
28046 Madrid
+34 915 029 300
https://www.airliquide.com/
https://en.media.airliquide.com/news/air-liquide-becomes-main-partner-of-energy-observer-f395-56033.html
https://www.airliquide.com/magazine/energy-observer-first-hydrogen-vessel-around-world
https://www.energy-observer.org/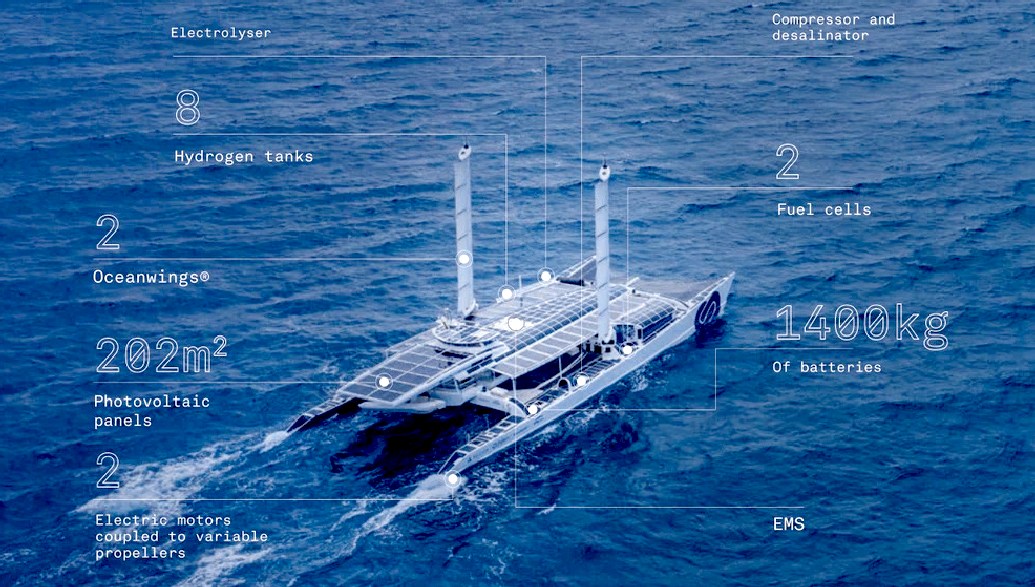 GREEN HYDROGEN - The REXH2® fuel cell - compressor – inverter set, installed back in 2019, boasts a maximum power output of 60 kW (though it is operated at around 50% of its potential to optimize its output).