Javier Bardem as Armando Salazar
The key players of the Pirates of the Caribbean film series are Johhny Depp as Captain Jack Sparrow, Elizabeth Swann (Keira Knightley) and Geoffrey Rush as Captain Hector Barbossa, with Orlando Bloom as Will Turner.
The Pirates of the Caribbean stories follow the adventures of Captain Jack Sparrow (Johnny Depp), Will Turner (Orlando Bloom) and Elizabeth Swann (Keira Knightley) on a quest for treasure, the fountain of youth with Joshamee Gibbs (Kevin McNally), and restitution from various curses relating to gold and silver coins, all the while evading the British Royal Navy, and Commodore James Norrington (Jack Davenport), ending with Carina Smyth (daughter of Hector Barbossa, Kaya Scodelario) and Henry Turner (son of Will and Elizabeth, Brenton Thwaites) taking a shine to each other against (Javier Bardem) Armando Salazar, who is seeking revenge.
Pirates of the Caribbean was produced by Jerry Bruckheimer with directors Gore Verbinski, Rob Marshall, Joachim Rønning, and Espen Sandberg. The series was primarily written by Ted Elliott and Terry Rossio.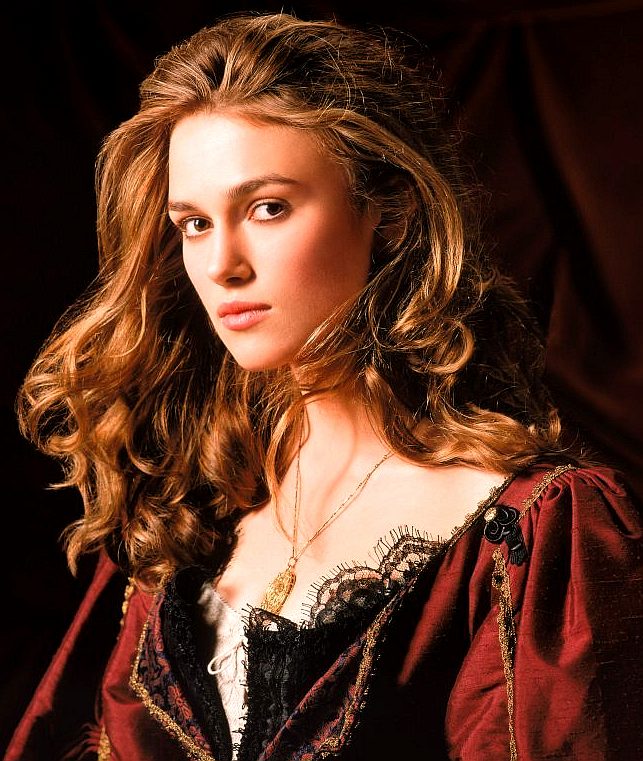 Kiera Knightly as Miss Elizabeth Swann in an absolutely stunning outfit
Please use our A-Z INDEX to navigate this site