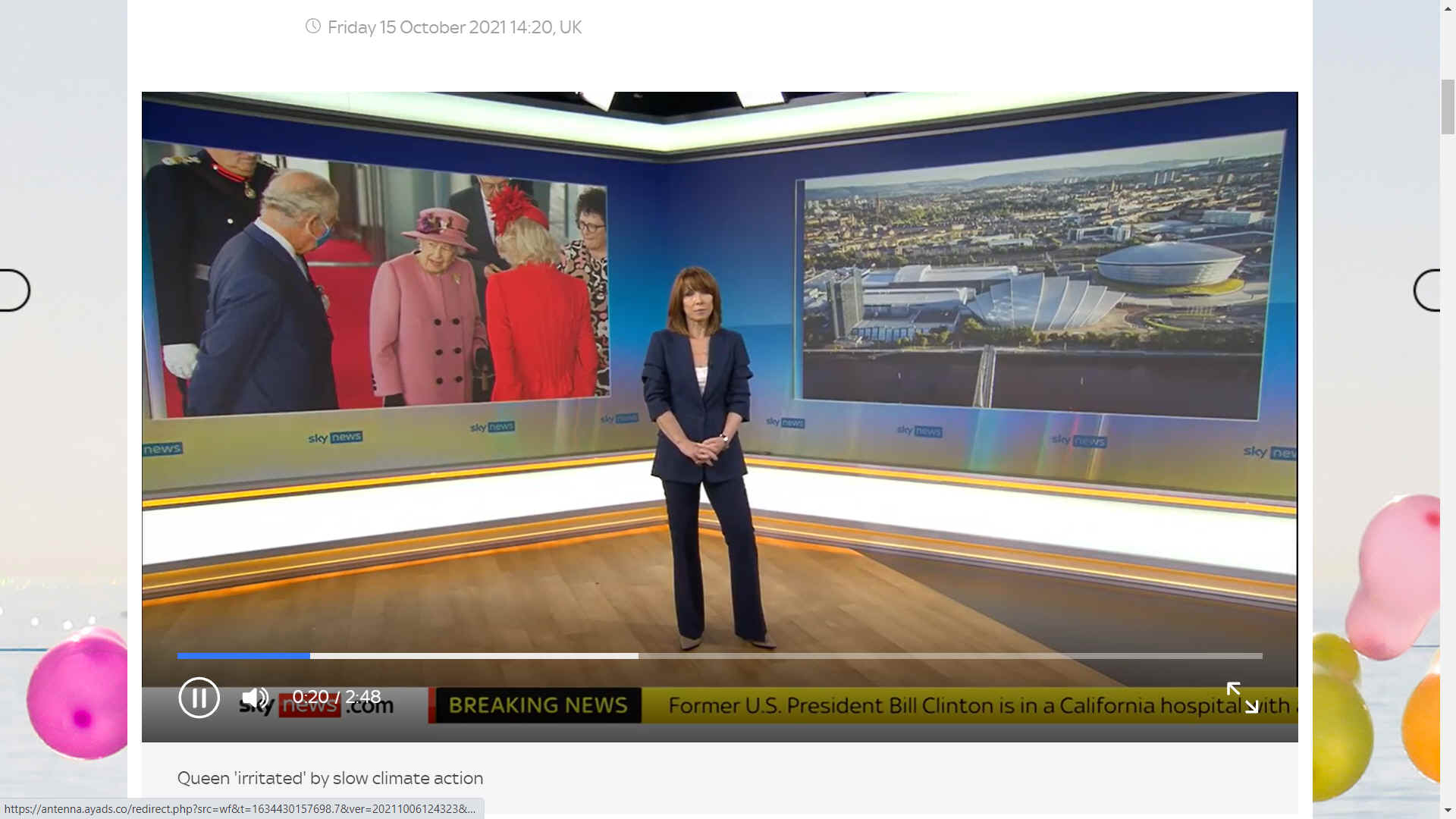 The Queen should be free to vent a little anger at what is now becoming clear from their actions (speak louder than words), that some world leaders do not appear all that bothered by climate change, if it means tightening their belts. If that is the case, then it must be that they are more concerned with milking planet earth right to the bitter end.
COP 26 - OCTOBER 2021 - THE INDEPENDENT
Queen's anger at 'irritating' world leaders who 'talk but don't do.'

Queen Elizabeth was overheard expressing annoyance at world leaders for failing to commit to attending the upcoming Cop-26 climate conference as she attended the opening of the Welsh Senedd in Cardiff.

In conversation with her daughter-in-law, the Duchess of Cornwall, and Elin Jones, presiding officer of the Senedd, the monarch said she was "irritated" by people who "talk but don't do".

The 95-year-old's remarks were picked up on the event's live stream.

Referring to Cop26, which she is due to attend alongside Princes Charles and William, the Queen said: "Extraordinary isn't it. I've been hearing all about Cop, still don't know who is coming, no idea."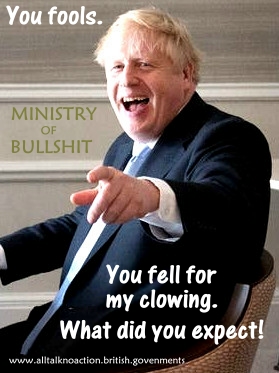 WHAT A JOHNSON - One of the potential problems for the UK, is the lack of action on the part of the Prime Minister, Boris Johnson, who is widely known as the Clown of Europe at the moment, with his executive house building boom (no affordable homes) and expenditure on Trident nuclear submarines. Now capped off with petrol shortages and electricity price rises - even though the country is rich in windy areas, to be able to generate enough green energy to supply the whole nation. Even China is onto this. There is a marked lack of action, perceived as all talk, echoed in his latest speech making. Strangely, the UK enacted some ground breaking environmental statute, under Theresa May's government, such as the Automated and Electric Vehicle Act 2018, and amendments to the Climate Change Act 2008, setting targets for 2050, even though that may be too late, it is still ahead of other nations such as Argentina, China, Russia, Brazil, India and even Australian coal guzzlers - who may not have such policies aimed at cooling the temperature of the planet. No wonder so many billionaires are obsessed by space travel. If the state of a nation can be measured by their roads, we are in for a bumpy ride. There are no incentives for electrolyzer, green hydrogen production, where such policy might conflict with party supporters investments in fossil fuels. Imagine giving 100% tax breaks to green hydrogen companies, for 10 years, review-able. Sir Jim Ratcliffe, of Ineos fame, might then be investing in the UK, rather than Europe.
This appears to be exactly what Queen Elizabeth seems to be thinking, though not wanting to put worlds in her mouth. This is just the impression we gained. Especially, where the UK's longest reigning monarch had planned on attending the event in person, adding extra weight to the proceedings and the Royal Seal of Approval. We were all very proud of Her Majesty, now sadly, disappointed that our head of state has been forced to cry off on medical grounds.
"We only know about people who are not coming. It's really irritating when they talk, but they don't do," she added, using her gloved hands to gesture as she spoke.

Ms Jones replied: "Exactly. It's a time for doing – and watching your grandson [the Duke of Cambridge] on the television this morning saying there's no point going to space, we need to save the Earth."

The Queen then smiled, before saying: "Yes, I read about it."

Prince William had appeared on an episode of the BBC's Newscast podcast, criticising the current rush for space travel among some of the world's richest businessmen including Amazon founder Jeff Bezos.

"We need some of the world's greatest brains and minds fixed on trying to repair this planet, not trying to find the next place to go and live," the senior royal said.

It came as several world leaders failed to confirm if they will be heading to Glasgow for the climate change talks, which are scheduled to begin on October 31 for two weeks.

Australia's prime minister Scott Morrison, China's president Xi Jinping and Brazil's Jair Bolsonaro have all refused to clarify their position.

Vladimir Putin is currently on the list of non-attendees though it has been suggested the Russian president might send an envoy.

SHAPPS - Pressed again on whether he thought the Queen was talking about the government, Shapps replied: "Well she specifically referred to who was coming, actually, so I don't think it was intended in that sense, but nonetheless, she made the comments not intending it to be overheard."

Transport Secretary Grant Shapps told Sky News that: "comments made in private should stay private".

Speaking to Kay Burley, he added: "But we all share the desire to see progress made and we know there will be hundreds of leaders coming to Glasgow for COP."

Renowned for being possibly the most discrete woman in the world, she's spent the past 70 years as Queen making sure we know as little as possible about her personal views, especially when it comes to anything potentially sensitive or political.

But in a very animated chat with the presiding officer of the Welsh parliament and the Duchess of Cornwall you can clearly hear the Queen describe how "irritating" it is that we still don't know who is coming to COP.

There are already differences of opinion on whether it was a private conversation, but it did take place in the very public space of the Senedd, at an event that was being filmed.
The potential absentees are some of the biggest contributors to global warming, with China (in the past) using coal by the shipload from Australia to fuel an unsustainable manufacturing based economy, also pursuing military ambitions. With such an attitude, why are we still buying Chinese goods? The rest of the world is literally funding such UN abuses, so warming the planet. Odd, that any country with communism as their political bible, would not want a better world for everyone.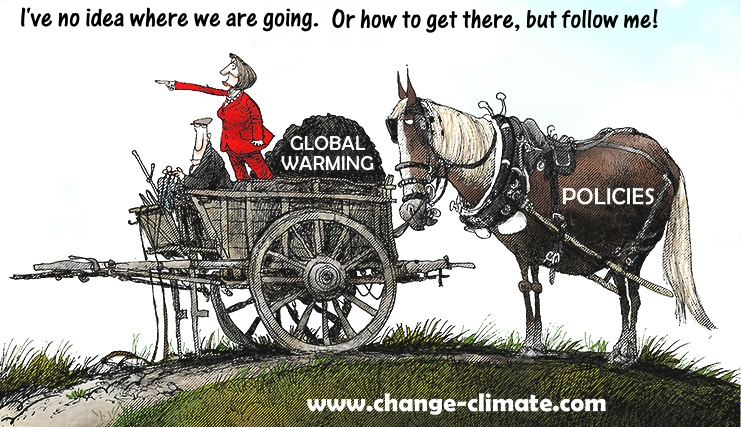 China is pulling back on coal burning a little, where sustainability is in tune with communist ideals. Though, in the western provinces, new coal plants are being built. China's coal power capacity increased by about 18 per cent between 2015 and 2019. It currently has more than 1000 GW of coal generation capacity – the largest in the world - making China the dirtiest country in the world. For that reason alone, it makes no sense to encourage trade. Goods that fuel any industrial boom based on coal, such as timber, iron, aluminium and copper ores, ought not be sold to the offending nation, by way of a braking mechanism - to reach sustainable equilibrium. Vehicles with parts made using fossil fuels, such as lithium batteries, should not be imported. Again, not to encourage the present boom in building coal fired plants.
China's energy crunch pulled in more coal and gas imports in September 2021, as buyers scrambled to ensure adequate supplies to counter a deepening power shortage ahead of peak winter demand.

Coal purchases in October rose 17% on the month to 32.9 million tons, the highest total in 2021.

Coal imports have been constrained as top supplier Indonesia prioritizes its domestic needs. Covid-restrictions in Mongolia have also affected overland shipments, and China continues to push its neighbor for more supply to ease a shortage that sent futures rocketing to yet another record on Wednesday.

Gas purchases could only nudge up 1.8% to 1.06 million tons, as sky-high prices and a shortage on international markets affected buyers' ability to secure enough shipments, although imports of the cleaner-burning fuel are still running 22% ahead of last year.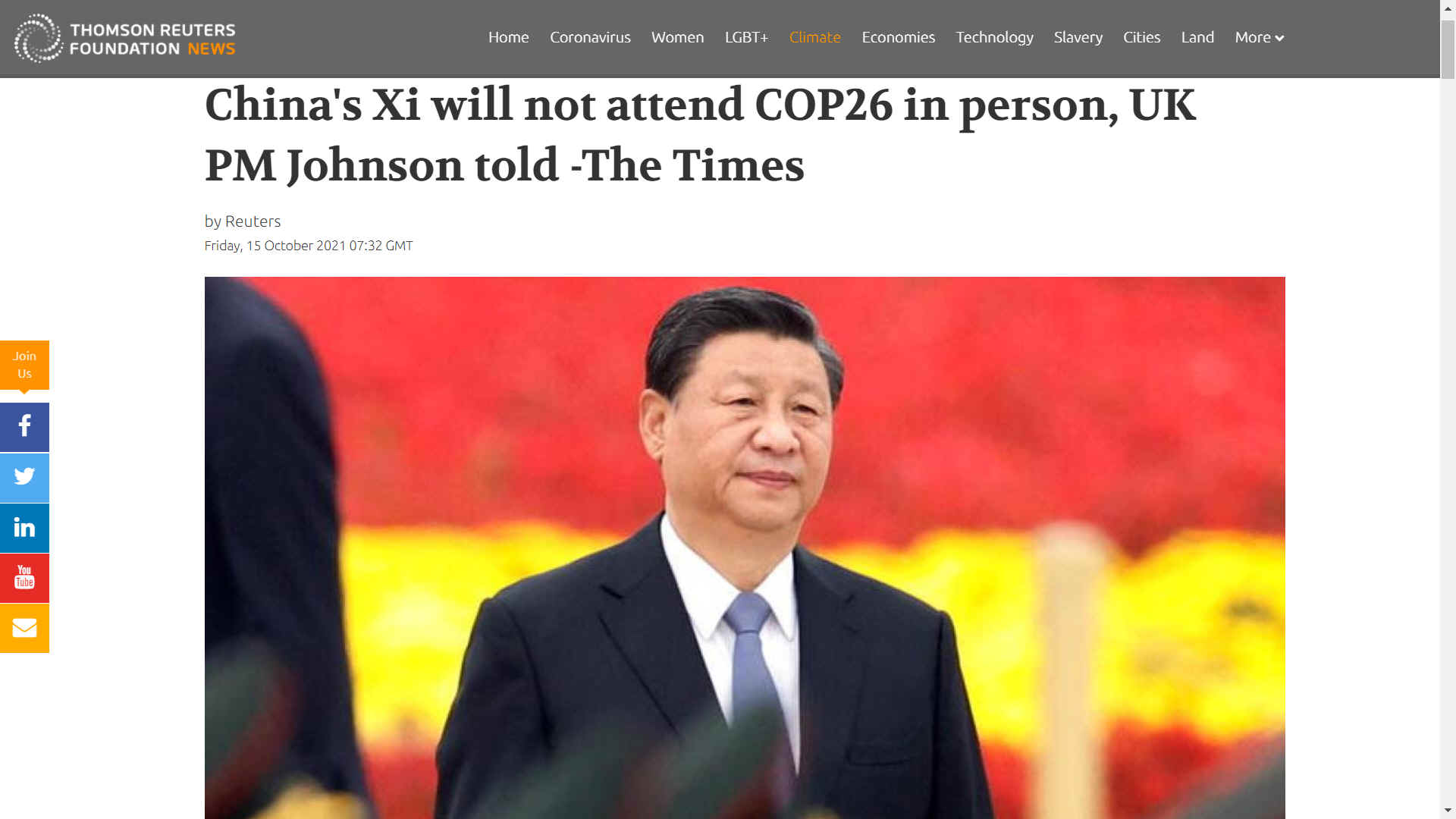 JINPING - For the sake of the planet, and in the best long-term interests of China, we hope that Xi makes the effort to equal the cuts to greenhouse gas production, that other world leaders are committing to. Social responsibility begins at home. Think global, act local. More along these lines is outlawing cryptocurrencies and immoral earnings from energy intensive bitcoin mining.
CHINA
LONDON, Oct 15 2021 (Reuters) - Chinese President Xi Jinping will not attend the COP26 climate summit in person, British Prime Minister Boris Johnson has been told, The Times newspaper reported.

Britain, which hosts the 26th United Nations Climate Change Conference of the Parties, or COP26, in Glasgow on Oct. 31-Nov 12, is seeking to get big power support for a more radical plan to tackle climate change.

"It is now pretty clear that Xi is not going to turn up and the PM has been told that," The Times quoted an unidentified British source as saying. "What we don't know is what stance the Chinese are going to take."

The Times said British organisers fear that Xi's decision to stay away could be a prelude to China refusing to set new climate change goals amid an energy crunch. [Why not super-tax goods made using electricity generated from coal]

The Chinese embassy in London could not be reached for immediate comment.

Xi, China's most powerful leader since Mao Zedong, has not left the People's Republic since the beginning of the novel coronavirus pandemic. He has joined video calls with global leaders.

China is the world's largest greenhouse gas emitter so Xi's absence from discussions - either in person or via video calls - would mark a setback for Johnson's hopes of getting world leaders to agree a significant climate deal.

Xi, 68, who has served as General Secretary of the Central Committee of the Chinese Communist Party since 2012, attended the 2015 Paris climate conference.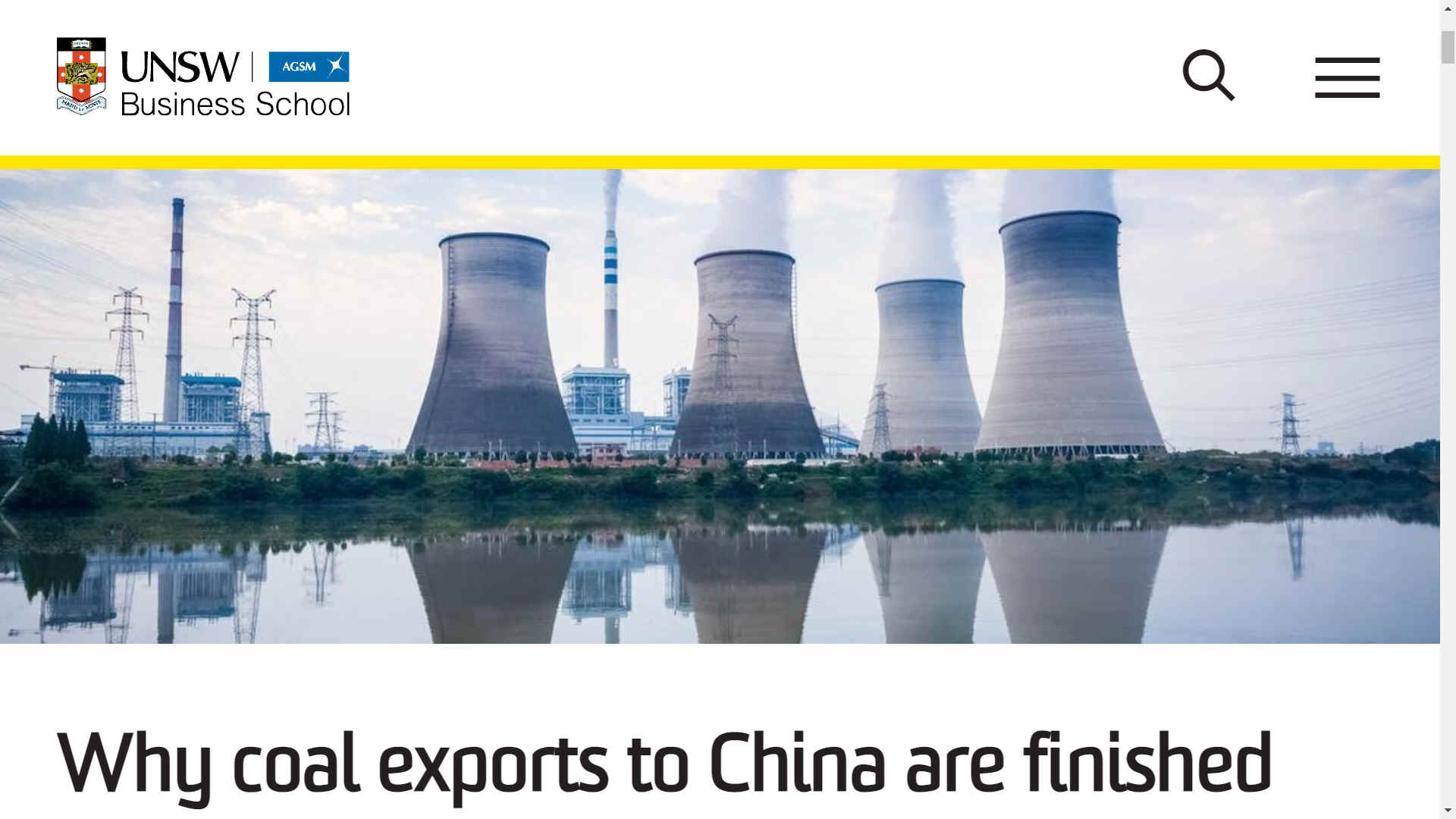 According to one study, China is moving away from burning coal for power because of sustainability concerns, and it's time Australia faced this reality and reconsidered its coal export future, says the University of Newcastle's Hao Tan, UNSW Sydney's Elizabeth Thurbon and Macquarie University's John Mathews and Sung-Young Kim

Australian coal exports to China plummeted last year. While this is due in part to recent trade tensions between Australia and China, our research suggests coal plant closures are a bigger threat to Australia's export coal in the long term.

China unofficially banned Australian coal in mid-2020. Some 70 ships carrying Australian coal have reportedly been unable to unload in China since October. This is obviously bad news for Australia's coal exporters. But even if the ban is lifted, there's no guarantee China will start buying Australian coal again – at least not in huge volumes.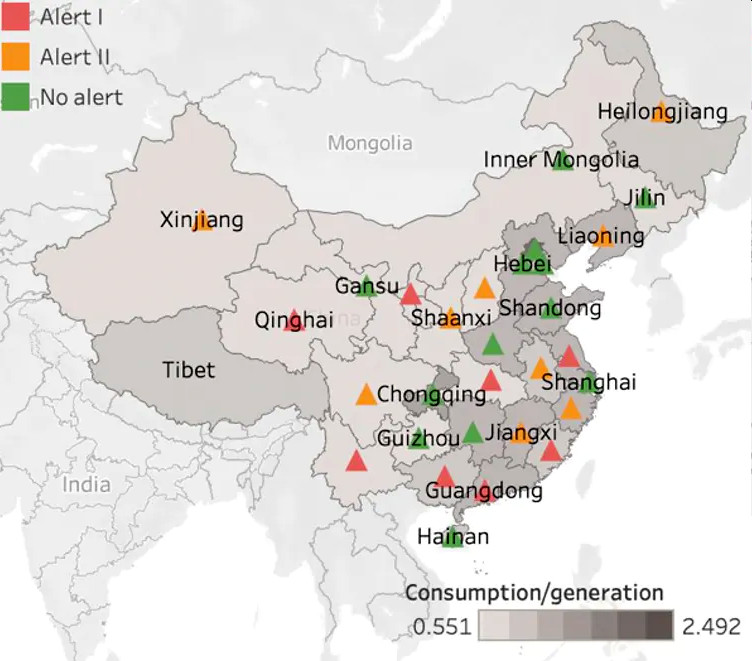 A HARD TARGET - Missing hard targets in China can have serious implications for a local official's career prospects. So in response to these alerts, several provinces have been imposing electricity usage restrictions, particularly on companies in energy-intensive industries like steel, printing, textiles, wood, chemicals, plastics and goods manufacturing. In many cases, companies were indiscriminately told to restrict production to two or three days a week – compounding the problems from generating companies shutting down power.
Several Chinese provinces experienced power blackouts in late 2020. China's state-backed media said the shortages were unrelated to the ban on Australian coal. Instead, they blamed cold weather and the recovery in industrial activity after the pandemic. We dispute this claim. While Australian coal accounts for only about 2 per cent of coal consumption in China, it helps maintain reliable supply for many power stations in China's southeast coastal provinces.

Coal mining in China mostly occurs in the western provinces. Southeast coastal provinces are largely economically advanced and no longer produce coal. Instead, power stations in those provinces import coal from overseas. This coal is cheaper than domestic coal, and often easier to access; transport bottlenecks in China often hinder the movement of domestic coal.

Experience suggests trade tensions between Australia and China will eventually ease. But in the long run, there is a more fundamental threat to Australian coal exports to China.

Data from monitoring group Global Coal Tracker shows between 2015 and 2019, China closed 291 coal-fired power generation units in power plants of 30 megawatts (MW) or larger, totalling 37 gigawatts (GW) of capacity. For context, Australia decommissioned 5.5 GW of coal-fired power generation units between 2010 and 2017, and currently has 21 GW of coal-fired power stations.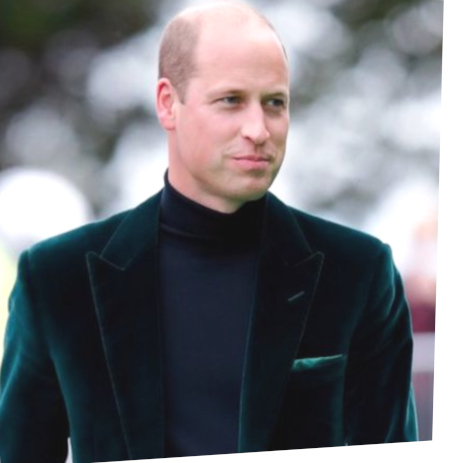 EARTHSHOT - The winners of the first ever Earthshot Prizes were announced in a ceremony in London on Sunday night, 17th October 2021. Five winners were allocated £1 million each for their initiatives to help the environment.

The awards were created by the Duke of Cambridge, who wanted to promote and reward people coming up with ways to solve the climate crisis.
The Duke and Duchess arrived at the ceremony by electric car, and were joined by other celebrities on the green carpet at Alexandra Palace.

Actress and women's rights campaigner Emma Watson attended in an outfit made from 10 second-hand dresses.

Emma, alongside the Duchess of Cambridge, actress Dame Emma Thompson and actor David Oyelowo announced the winners.

Footballers Mo Salah and Dani Alves also took part, with Mo helping deliver a key message of the ceremony and Dani as a prize judge.

YouTuber and rapper KSI, singers Ed Sheeran and Yemi Alade, and band Coldplay all performed at the ceremony, with the energy for their performances powered by 60 cyclists on bikes!

David Attenborough made a speech during the ceremony on solving the climate crisis, saying: "We don't have eternity. We need to do this now."
Please use our A-Z INDEX to navigate this site