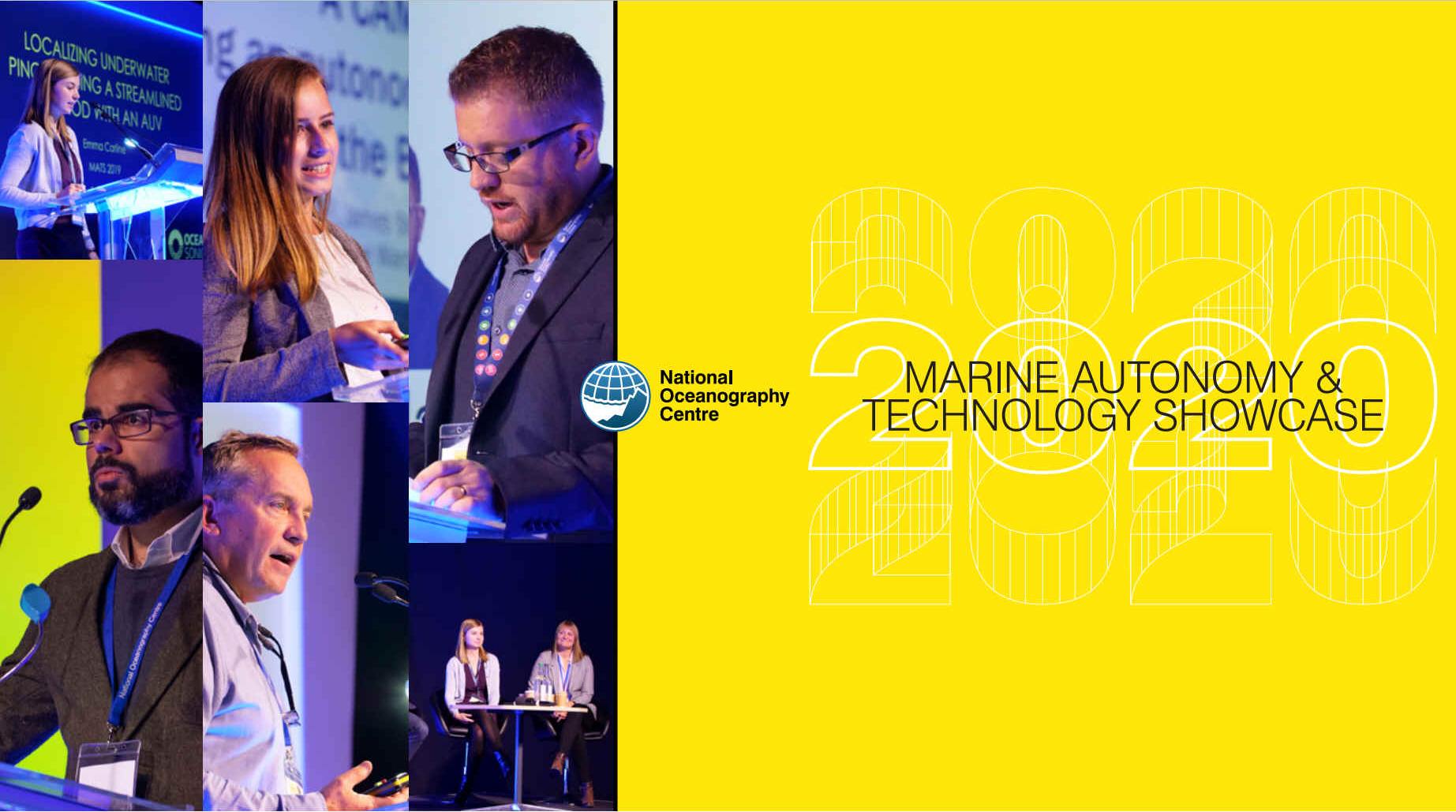 Despite Covid 19, MATS 2020 will still feature a packed three-day programme of exhibits, presentations, panel discussions and networking, offering a unique and valuable opportunity to find out about the latest developments in marine autonomous technology and how this field is set to develop in the years to come. The event also enables organisations to engage with the NOC to explore opportunities around funding, sharing ideas and getting those ideas in front of influential, high-profile users from the marine and maritime sector.

As ever, the event will welcome a broad roster of speakers from across industry, academia, and government organisations. Each day of the showcase will see leading figures from the world of marine autonomy and technology take to the virtual stage to present on innovative and disruptive technologies, as well as highlighting current developments and future priorities and challenges.

This year's keynote speakers are Leslie-Ann McGee, Assistant Director of the Consortium For Marine Robotics at Woods Hole Oceanographic Institution, and Neil Tinmouth, Chief Operating Officer at SEA-KIT International Ltd.

As the Assistant Director for the Consortium for Marine Robotics at the Woods Hole Oceanographic Institution, Leslie-Ann is responsible for developing strategic vision and leadership, managing external relations and partnerships and retaining primary responsibility for organisational and program management of CMR.
Leslie-Ann is an expert in ocean and coastal issues in both the domestic and international arena and has a diverse background working with and for state, regional, national, business and environmental entities globally. She has successfully partnered with interest groups, industry members, private non-profits and other stakeholders to form cohesive management strategies by communicating regularly with a wide variety of stakeholders with often conflicting perspectives.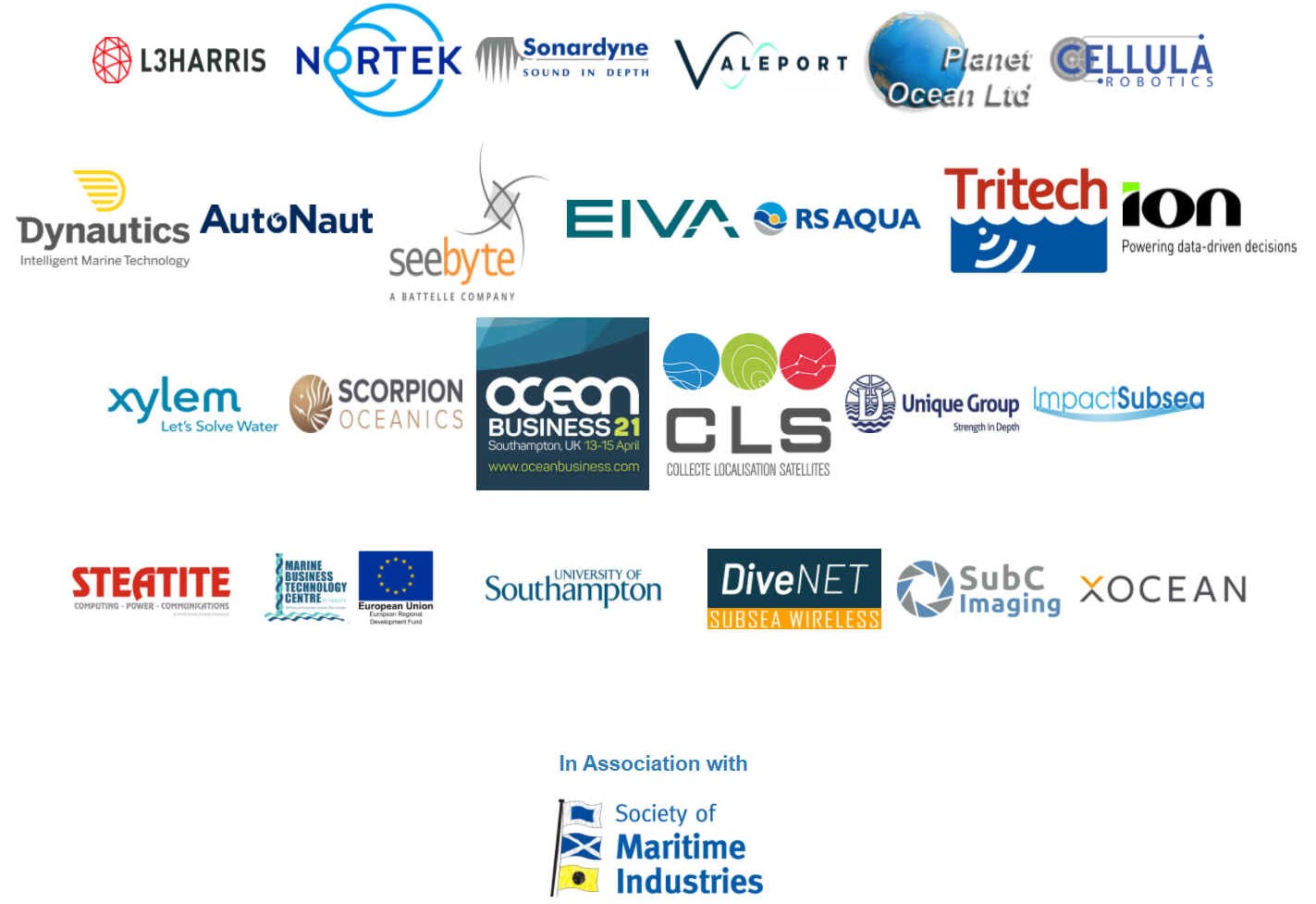 SEA-KIT International's vision is to be a world-class provider of high technology solutions to the maritime and research industries and to open new fields and classes of technology to solve the problems of the future, today. SEA-KIT International is dedicated to working with partners and peers to create a safer and more sustainable offshore working environment.
Neil Tinmouth, Chief Operating Officer, said: "We're delighted to have been invited to deliver the Industry keynote talk at this year's Marine Autonomy and Technology Showcase. The Shell Ocean Discovery XPRIZE competition provided a fantastic springboard for SEA-KIT and enabled us to showcase our ground-breaking deployment of an autonomous underwater vehicle from an unmanned surface vehicle. We are looking forward to sharing our XPRIZE story, as well as the progress and achievements that have come since, with the MATS audience."
https://noc-events.co.uk/mats-showcase-2020

AUTONOMOUS CONCEPT: The proposed 'Elizabeth Swann' is designed to be a fully energy autonomous electrically propelled yacht, also including advanced navigation for efficient route planning live, incorporating a high level of Artificial Intelligence to control the onboard robotics and relieve a crew of tedious calculations, where a human captain could not compete with the computing power of even a modest laptop. The Swann is the flagship climate change project for the Cleaner Ocean Foundation, aimed at besting the English Channel and Trans-Atlantic speed records. So raising the bar in terms of energy from nature versus reciprocating engines that use alternative fuels.
CALL FOR ABSTRACTS

The National Oceanography Centre (NOC) is calling for abstract submissions for the 2020 Marine Autonomy and Technology Showcase(MATS 2020).

Building upon the success of MATS 2019, this year's event is scheduled to take place from Tuesday 10 November to Thursday 12 November at the NOC's Southampton site.

MATS 2019 was the NOC's biggest showcase to date, with a record number of attendees, presenters and industry exhibitors, all gathered in our giant dockside marquee. MATS has grown over the last five years to become a key event in the marine technology calendar, attracting delegates from around the world. In 2019 we welcomed over 300 guests and more than 40 exhibitors for three days of insightful presentations and networking opportunities, with evening social receptions sponsored by Ocean Business 2021 and Oceanology International 2020.

This year's showcase will primarily focus on new developments and innovations, and will also look forward to where marine autonomous technology and ocean exploration is heading in the next five years.

The overarching themes of MATS 2020 are to explore the information needs of users of Marine Autonomous Systems (MAS), review the current technologies available to enable cutting-edge data gathering for MAS users and explore the methods of transforming raw data into exploitable information for the end user.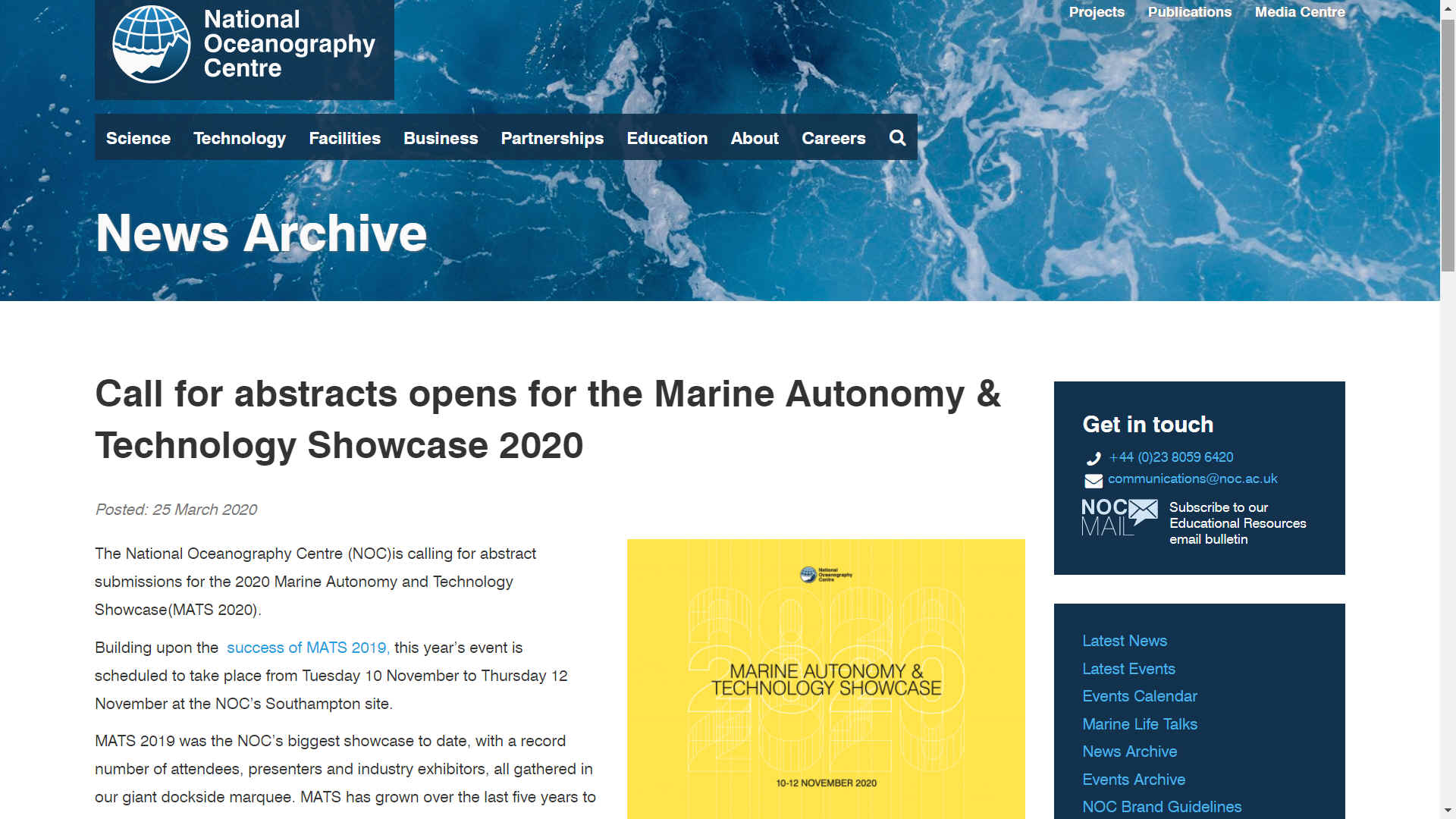 The NOC has been pioneering the development of Marine Autonomous Systems for more than 20 years, developing innovative platforms that have collected scientific data from the most challenging and hostile environments on the planet, transforming our understanding of the global ocean. Building upon this expertise, MATS 2020 will once again feature a packed programme of expert speakers, technical presentations, panel discussions, exhibitions and lively networking, offering a unique insight into current projects and the latest technology, with first-hand accounts of research and development from across the marine autonomous sector.

Aidan Thorn, Manager of the NOC's Marine Robotics Innovation Centre, said: "MATS is a great showcase for the pioneering work that the NOC and its partners are delivering in the field of marine robotics, for the benefit of UK industry and the wider science community. But more than this, the event is also a celebration of emerging and existing partnerships, and a genuine catalyst for innovation in the sector, with a consistent theme of collaboration underpinning many of the discussions."

"Marine robots now routinely operate from pole to equator and from sea surface to deep ocean, supporting an increasing range of research, policy and industry applications. MATS has become a key event in the annual calendar, providing an ideal forum for operators to exchange ideas and forge partnerships, for potential adopters to understand current capabilities, and for existing users to scope out future developments."

"Last year saw a record number of high-quality abstracts submitted and we hope to see a similar response in 2020. We'd like to encourage the marine robotics community to get involved and contribute to shaping the discussion around these transformative technologies."

Full details of this year's themes and how to submit an abstract are available on our Conference pages. The deadline for submissions was 19 July 2020.
For further information please email: ‌communications@​noc.ac.uk
Ian and Charmaine NOCevents@noc.ac.uk
Telephone: +44 (0)23 8059 6420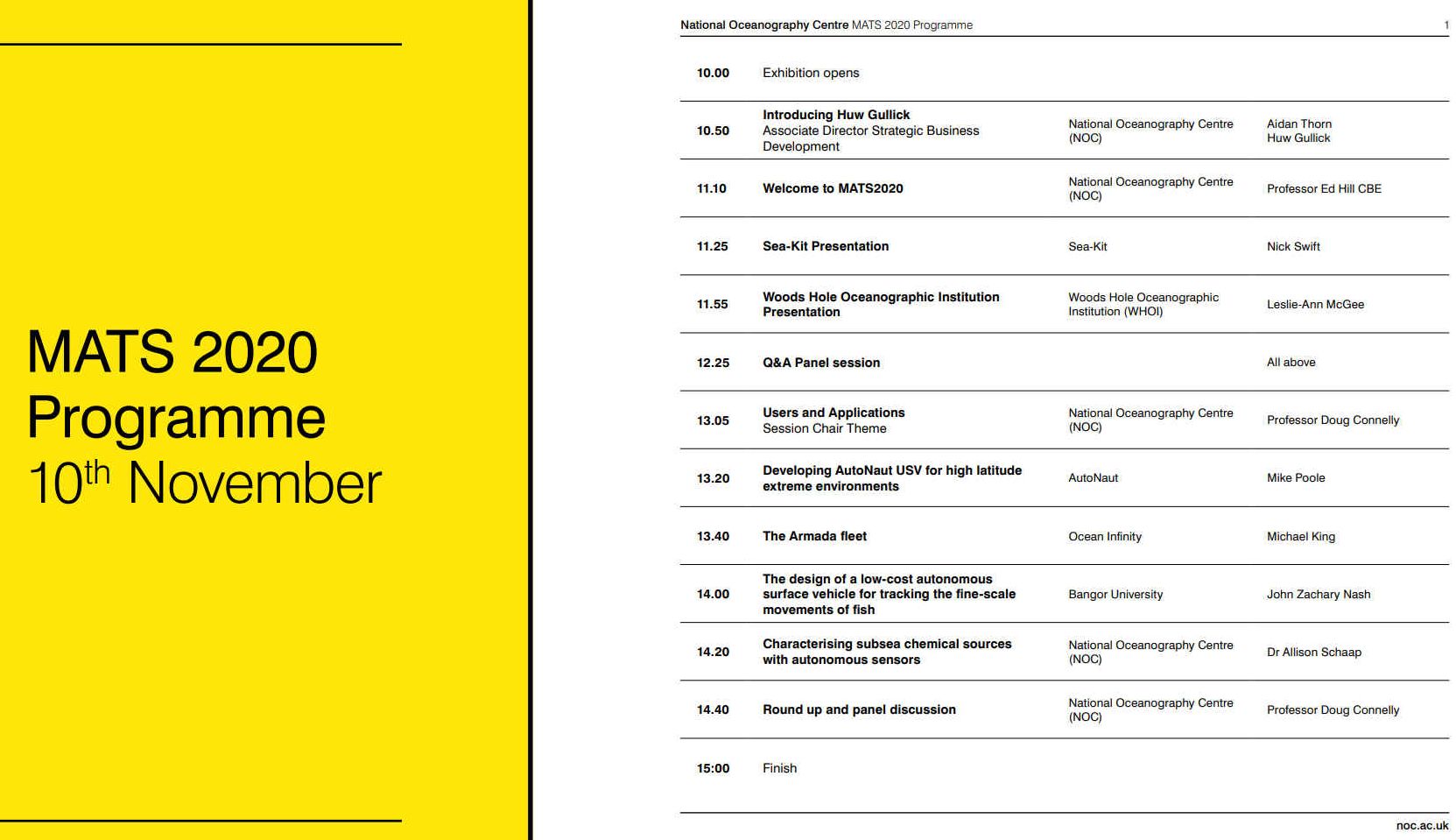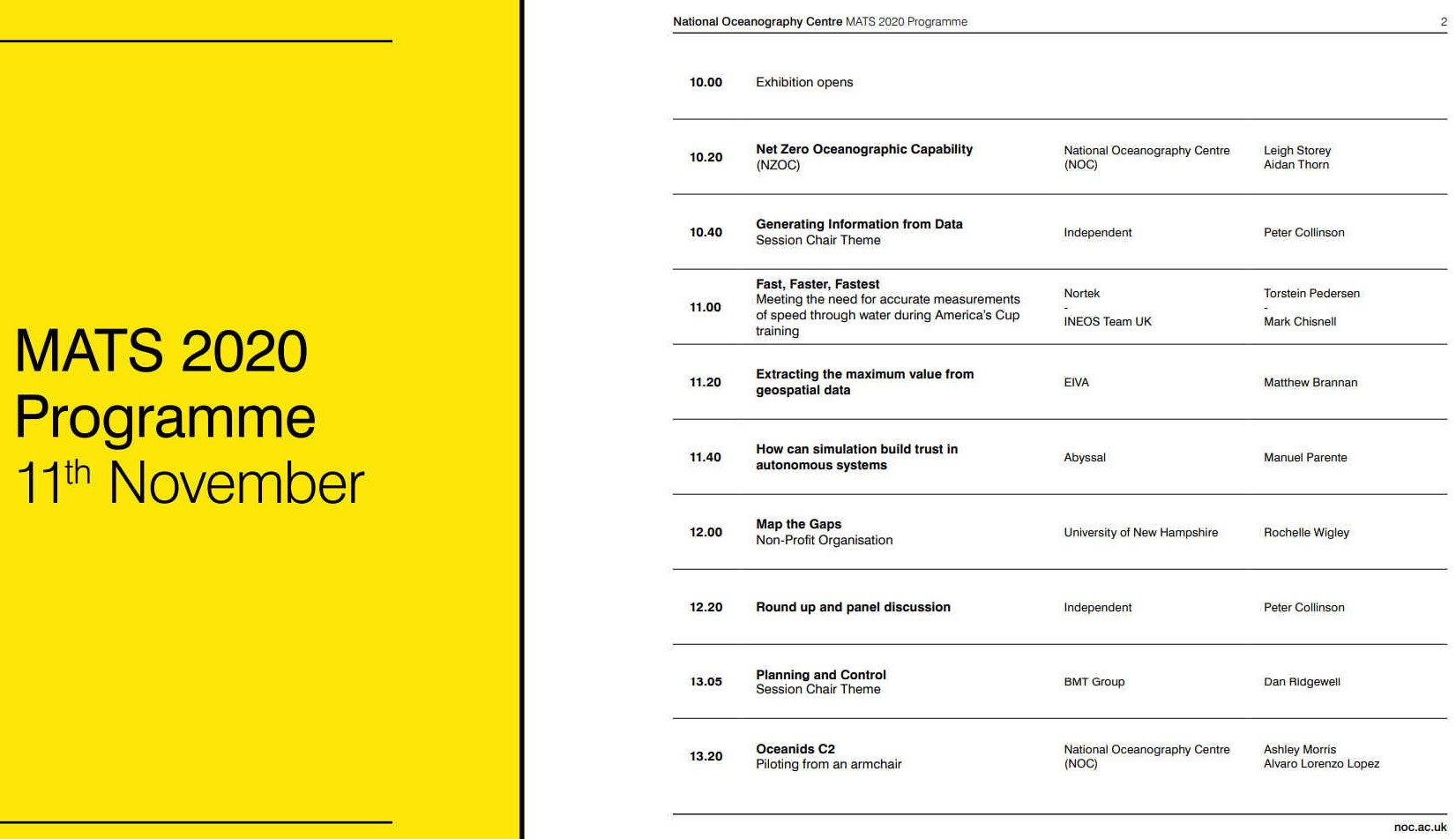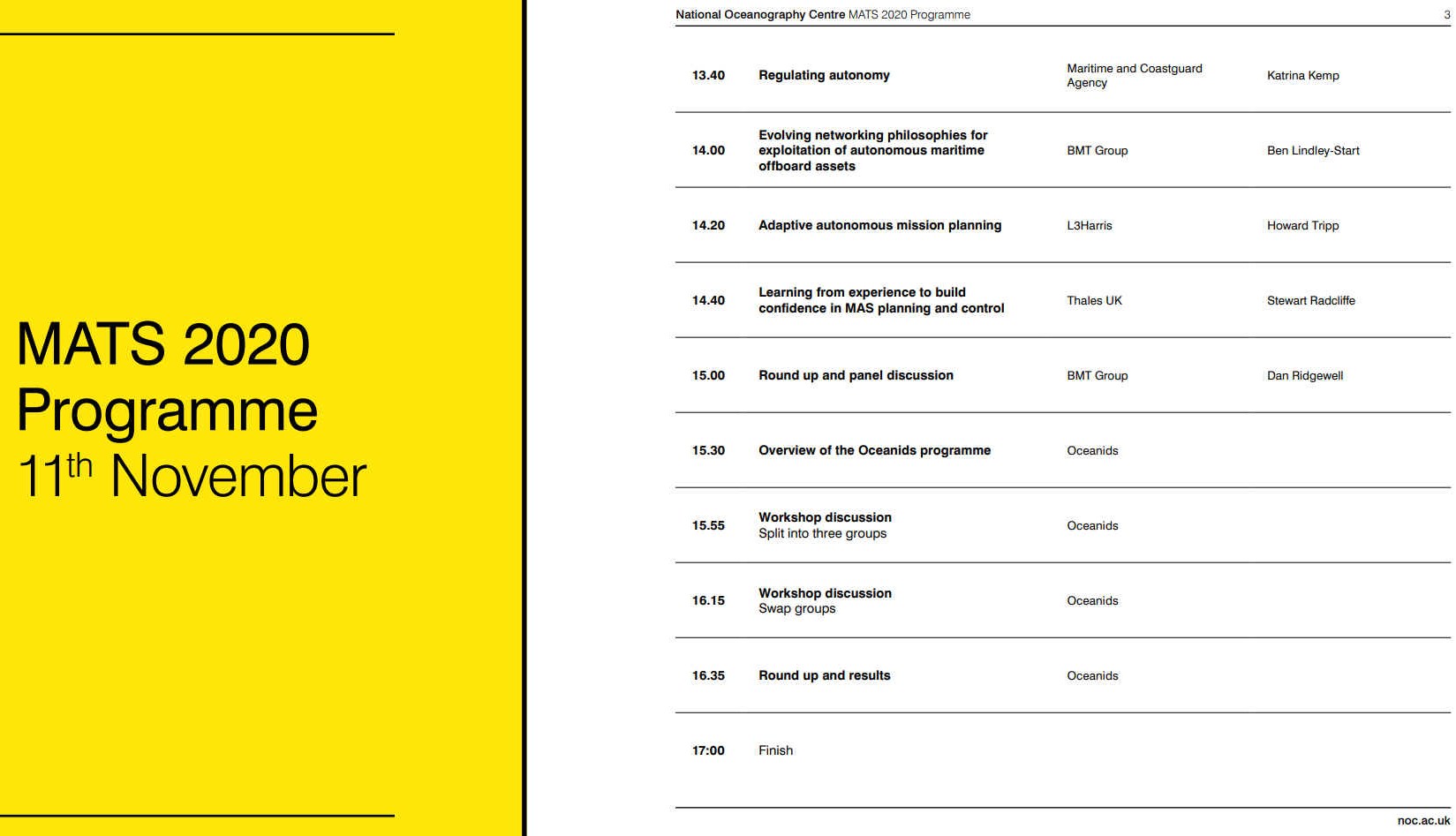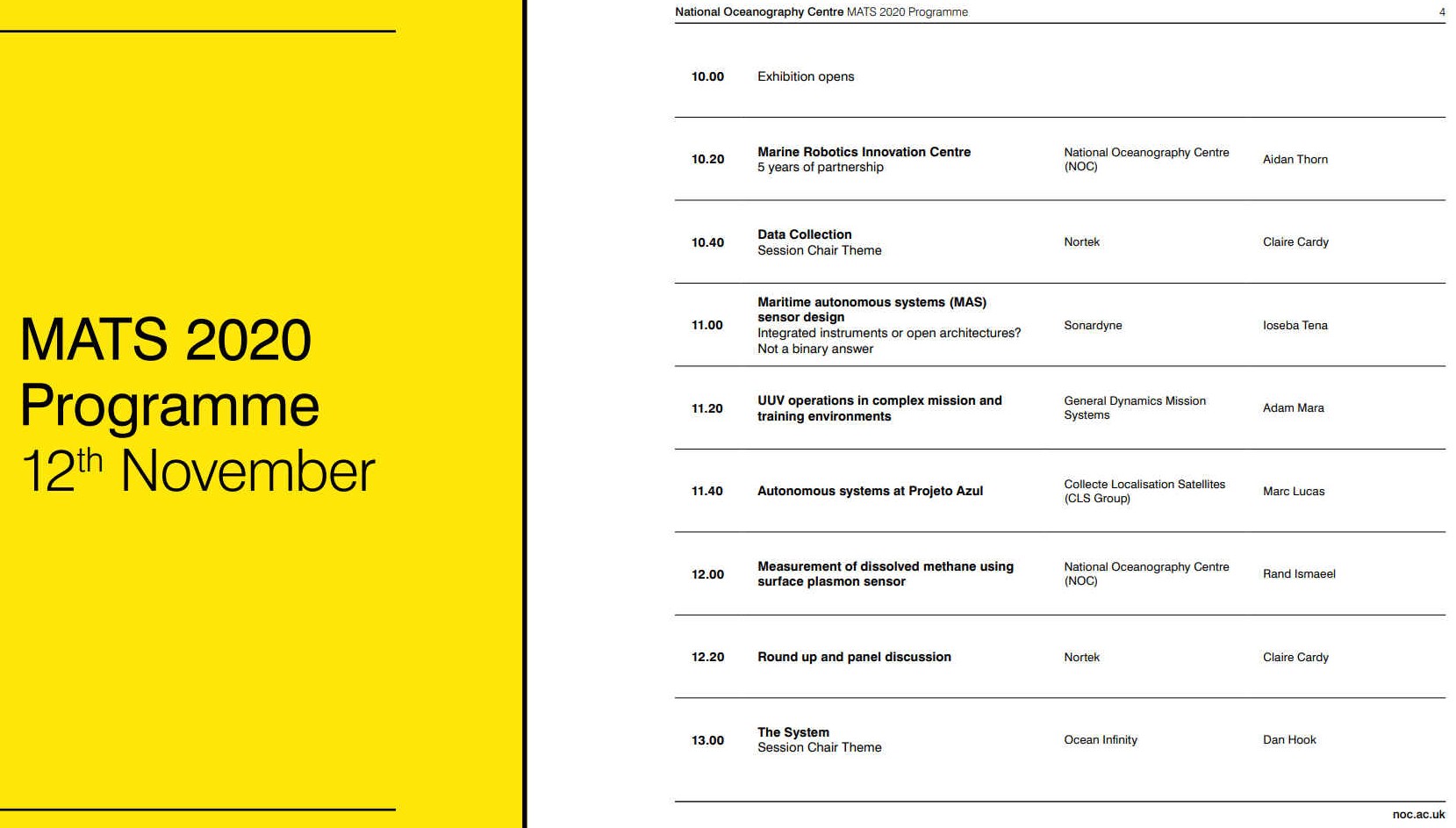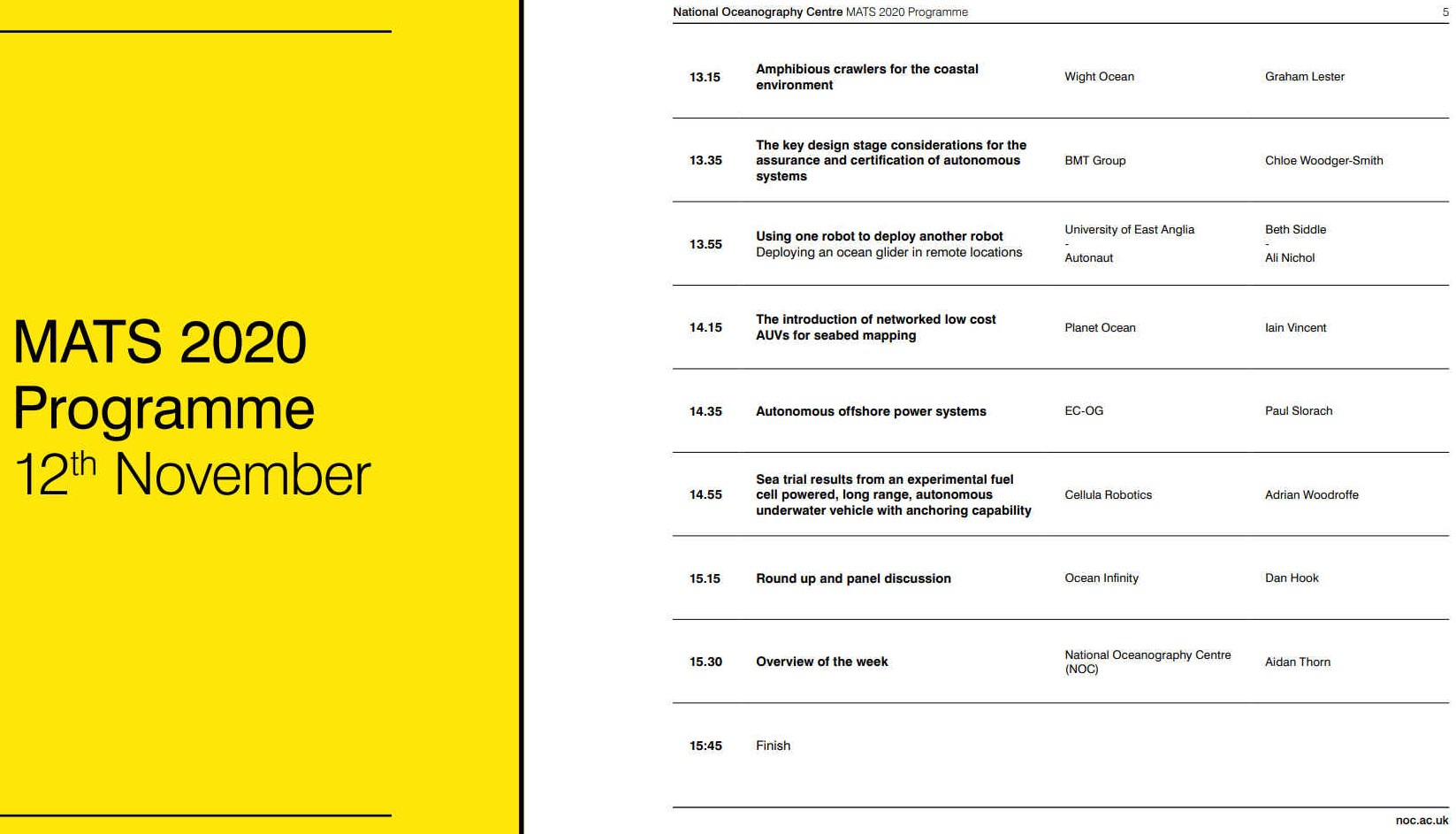 The current energy autonomous (solar powered) record holder is the Tûranor PlanetSolar, seen below.