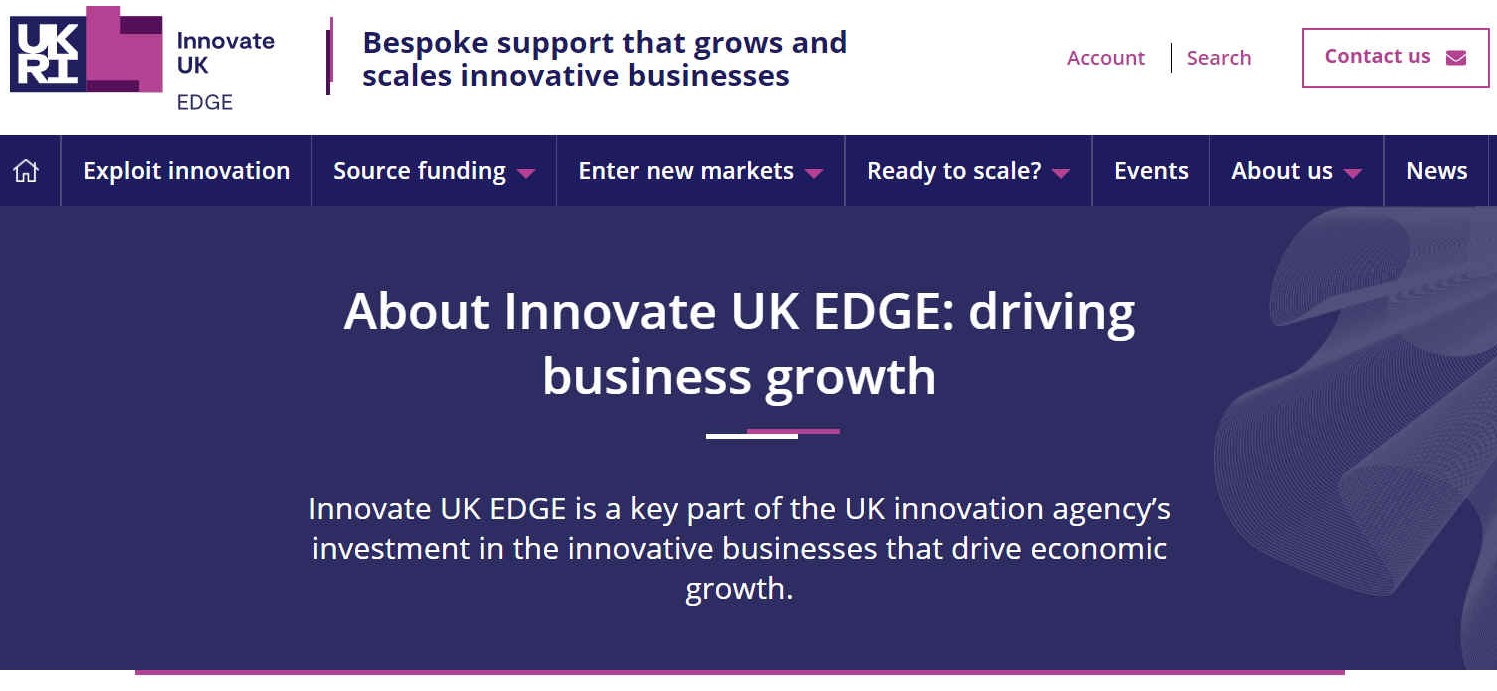 We are only interested in sustainable development such as zero emissions shipping and land transport. On this front the DfT's 2050 Clean Maritime Plan is IMO compliant. If the UK can deliver on time. This is just as tough a challenge as electrifying land transport, both strands ultimately in competition for renewable green hydrogen, from electrolyzers.



Innovate UK EDGE is a key part of the UK innovation agency's investment in the innovative businesses that drive economic growth. It complements Innovate UK project funding with intensive, specialist-led support for such ambitious businesses.

Each high-potential, innovative business in our portfolio benefits from the objective perspective of a dedicated innovation and growth specialist local to them. Our specialist considers a business in the round and, working closely with its leadership, identifies the most productive ways to accelerate its growth.


WHAT THEY OFFER:

Innovate UK EDGE brings a range of services to help ambitious, innovative SMEs scale and grow. We help businesses:

•Exploit innovation
•Enter new markets
•Source funding

EDGE specialists can draw on resources such as their programmes, events, innovation & international networks and their domain expert colleagues. For some businesses, their resources, such as investment readiness programme Pitchfest and the Global Business Innovation Programme, will also be a gateway for your organization to their bespoke, specialist-led support.

Innovate EDGE establish strong relationships based on trust that support each business through its growth journey to scale: The most outstanding scaling businesses that are disrupting their industries, capable of internationalization and achieving over 50% growth p.a. are invited to join their 'Scaleup Programme' for enhanced support.

Let them know how they can help you or please explore any of the three areas that may become the focus of our first engagement with you, below.

Note: Until December 31st 2020 the majority of Innovate UK's business growth support was delivered under the label Enterprise Europe Network (EEN).


SOURCE FUNDING TO SCALE & GROW

Attracting funding and finance ranks alongside entering new markets and exploiting innovation effectively as a key priority for fast growing, innovative businesses that ultimately want to scale. Once we have established your overall strategic priorities with you, their support in this area can take several forms.

In the first instance, EDGE can help innovative SMEs to make sense of the many funding and finance opportunities available.

They can advise on the best options from regional, national and international sources, both public and private, to support your innovation and expansion plans. And EDGE can assist you to develop your finance and funding strategy and review your applications as a critical friend.

They can also help improve your pitching prowess and investment readiness, including through the national Pitchfest investment initiative.

Here are some of the typical ways EDGE help businesses at various stages. You can contact them for a consultation about funding and finance-related support with one of their innovation and growth specialists:


1. Seed and early stage

• Introducing financial controls, financial KPIs and understanding financial management
• Developing a realistic finance strategy to achieve innovation goals and growth ambitions, embracing both grant funding and private equity finance
• Maximising the benefit available through R&D tax credits and understanding the Enterprise Investment Scheme (EIS) and patent box schemes


2. Growth stage

•Supporting you through the 2nd round equity finance process
•Securing grant funding for collaborative projects
•Improving the management of cash and working capital

3. Scale

• Leveraging the assets of the company
• Using debt finance
• Supporting you to harness innovation loan finance


FOCUS ON R&D GRANT FUNDING

Research and Development (R&D) funding is important for companies that are developing innovative products, process, services or technologies.

This type of funding is particularly important for seed and early stage companies undertaking feasibility studies, prototype development and testing.

The main sources of R&D funding come from government grants which support companies to test and de-risk ideas without the requirement for repayment.

We can support your business to identify the right R&D grant funding opportunities, including through Innovate UK and navigate your way through the application process.



CONNECT TO THE INNOVATION ECOSYSTEM

As part of the UK's innovation agency, they are a key player in the national and international innovation ecosystem. They offer that their specialists can help you to access the right resources and find you the right expertise to make growth-enhancing innovation happen. In addition to our own Sector Innovation Leads at Innovate UK, they have strong relationships with ecosystem players including:

• Catapults
• Laboratories e.g. NPL
• BSI
• KTN
• The investor community
• Intellectual Property Office
• Universities

Further, you can use their partnerships tool and be supported by one of their specialists to find academic and SME partners to co-develop innovations with, in the UK and around the world.


EXPLOITING INTELLECTUAL PROPERTY

Support to understand and protect your IP to provide a reliable platform for growth including:

• Identifying different types of IP and protection: Patents, trademarks, design rights, copyright, NDAs, etc.
• Awareness of patent, trademark and design registration search tools
• Advice on business processes to capture and review IP
• UK and international protection strategies
• Where to get appropriate professional advice
SUPPORT ONCE YOU HAVE A GRANT
If you receive an award from a UK government initiative, you will be contacted about working with an innovation and growth specialist at Innovate UK EDGE. This service forms part of their funded offer to you.

These specialists focus on growing innovative businesses and ensuring that projects contribute to their growth. Working one-to-one, they can help you to identify your best strategy and harness world-class resources to grow and achieve scale.

Innovate UK encourage you to engage with EDGE, delivered by a knowledgeable and objective specialist near you.


CLEAN MARITIME SHIPPING: STRAND 1 (feasibility studies, £25k-£1m)
SUMMARY - ELIGIBILITY - SCOPE - HOW TO APPLY - SUPPORT - COSTS

SDGs 13 CLIMATE & 14 OCEANS : The Elizabeth Swann is shown above is a zero emissions vessel, designed to use only solar and wind power for propulsion, to help nations meet their sustainability development goals (SDGs), as per the Accord de Paris in 2015.
Contact Innovate UK

If you need more information about how to apply email support@innovateuk.ukri.org or call 0300 321 4357.

Innovate UK is committed to making support for applicants accessible to everyone. If you want help to find a project partner, contact the Knowledge Transfer Network.

CLEAN MARITIME PLAN INTRODUCTION: 1 - 13
SECTION 1 - TACKLING EMISSIONS: 14 - 50
SECTION 2 - OUR APPROACH: 51 - 58
SECTION 3 - ECONOMICS: 59 - 95
SECTION 4 - INFRASTRUCTURE: 96 - 120
SECTION 5 INNOVATION: 121 - 129
SECTION 6 - REGULATION: 130 - 138
SECTION 7 - NEXT STEPS: 139 - 140
MAP - THE 2050 PLAN RECOMMENDATIONS
The Department for Transport will work with Innovate UK, part of UK Research and Innovation, to invest up to £20m for innovative clean maritime and smart shipping projects. The Secretary of State in 2018 was Chris Grayling, Minister for Marine, Nus Ghani, and Sec. of State from 2019; Grant Shapps.
In 2019 the International Maritime Organization set revised MARPOL targets, aiming to cut Nitrous, Sulfurous and Carbon emissions from dirty bunker fuels by 50% before 2050, and 100% by 2100, recognising that air pollution from shipping would increase considerably if not curbed.
Horizon Europe is the EU's €100 billion euro research and innovation programme, the European equivalent of UKRI, 35% of which is allocated to achieving climate objectives under the UN's SDG13 & SDG14 agendas, but where funding applications are extremely complicated, and SMEs inevitably fall at the admin and finance hurdles.
LINKS & REFERENCE
https://www.innovateukedge.ukri.org/
https://ktn-uk.org/opportunities/clean-maritime-demonstration-competition/
Please use our A-Z INDEX to navigate this site