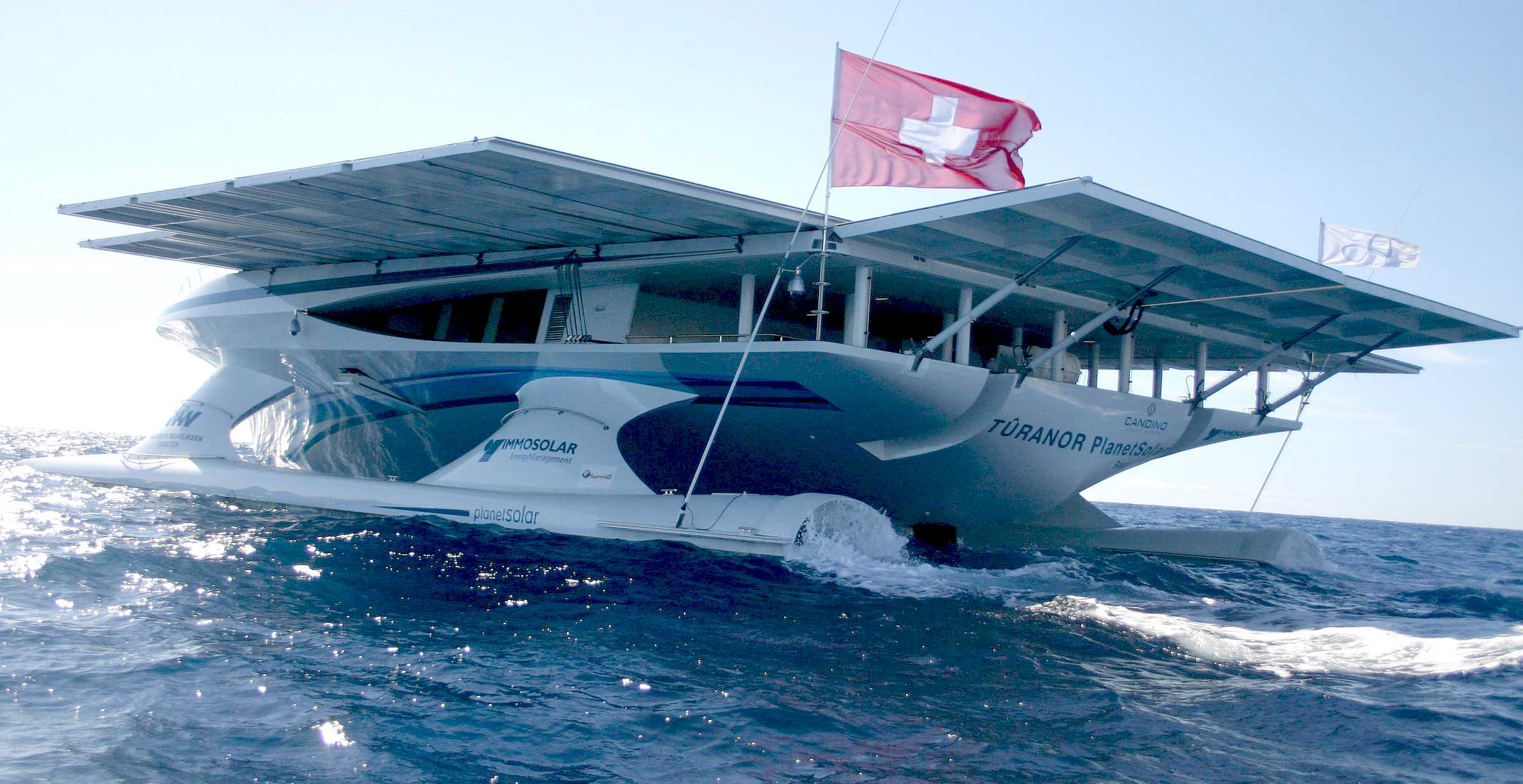 PlanetSolar is a rare animal, a zero carbon boat that contributes to zero emission objectives, but attracts no carbon credits. Similar projects with higher commercial expectations in reducing fleet emissions, also fall at the first hurdle in UN certificate terms. But projects to plant trees or change from coal to solar or wind generation pass with flying colours.

SETTING A MARKET PRICE FOR CARBON

Unchecked, energy use and hence emission levels are predicted to keep rising over time if unchecked, especially from shipping and aviation. Thus the number of companies needing to buy credits will increase, and the rules of supply and demand will push up the market price, encouraging more groups to undertake environmentally friendly activities that create carbon credits to sell.

An individual allowance, such as an Assigned amount unit (AAU) or its near-equivalent European Union Allowance (EUA), may have a different market value to an offset such as a CER. This is due to the lack of a developed secondary market for CERs, a lack of homogeneity between projects which causes difficulty in pricing, as well as questions due to the principle of supplementarity and its lifetime. Additionally, offsets generated by a carbon project under the Clean Development Mechanism are potentially limited in value because operators in the EU ETS are restricted as to what percentage of their allowance can be met through these flexible mechanisms.

Yale University economics professor William Nordhaus argues that the price of carbon needs to be high enough to motivate the changes in behavior and changes in economic production systems necessary to effectively limit emissions of greenhouse gases. On this we agree entirely.

Raising the price of carbon will achieve four goals:
- First, it will provide signals to consumers about what goods and services are high-carbon ones and should therefore be used more sparingly.
- Second, it will provide signals to producers about which inputs use more carbon (such as coal and oil) and which use less or none (such as natural gas or nuclear power), thereby inducing firms to substitute low-carbon inputs.
- Third, it will give market incentives for inventors and innovators to develop and introduce low-carbon products and processes that can replace the current generation of technologies.
- Fourth, and most important, a high carbon price will economize on the information that is required to do all three of these tasks. Through the market mechanism, a high carbon price will raise the price of products according to their carbon content. Ethical consumers today, hoping to minimize their "carbon footprint," have little chance of making an accurate calculation of the relative carbon use in, say, driving 250 miles as compared with flying 250 miles.

A harmonized carbon tax would raise the price of a good proportionately to exactly the amount of CO2 that is emitted in all the stages of production that are involved in producing that good.
If 0.01 of a ton of carbon emissions results from the wheat growing and the milling and the trucking and the baking of a loaf of bread, then a tax of $30 per ton carbon will raise the price of bread by $0.30. The "carbon footprint" is automatically calculated by the price system. Consumers would still not know how much of the price is due to carbon emissions, but they could make their decisions confident that they are paying for the social cost of their carbon footprint.

Nordhaus has suggested, based on the social cost of carbon emissions, that an optimal price of carbon is around $30(US) per ton and will need to increase with inflation.

The social cost of carbon is the additional damage caused by an additional ton of carbon emissions. ... The optimal carbon price, or optimal carbon tax, is the market price (or carbon tax) on carbon emissions that balances the incremental costs of reducing carbon emissions with the incremental benefits of reducing climate damages.
... [I]f a country wished to impose a carbon tax of $30 per ton of carbon, this would involve a tax on gasoline of about 9 cents per gallon. Similarly, the tax on coal-generated electricity would be about 1 cent per kWh, or 10 percent of the current retail price. At current levels of carbon emissions in the United States, a tax of $30 per ton of carbon would generate $50 billion of revenue per year.
HOW TO VALUE AIR POLLUTION

Carbon credits create a market for reducing greenhouse gas emissions by giving a monetary value to the cost of polluting clean air. Emissions become an internal cost of doing business and are visible on the balance sheet alongside raw materials and other liabilities or assets.
EMISSION MARKETS

For trading purposes, one allowance or CER is considered equivalent to one metric ton of CO2 emissions. These allowances can be sold privately or in the international market at the prevailing market price. These trade and settle internationally and hence allow allowances to be transferred between countries. Each international transfer is validated by the UNFCCC. Each transfer of ownership within the European Union is additionally validated by the European Commission.

Climate exchanges have been established to provide a spot market in allowances, as well as futures and options market to help discover a market price and maintain liquidity. Carbon prices are normally quoted in Euros per tonne of carbon dioxide or its equivalent (CO2e). Other greenhouse gasses can also be traded, but are quoted as standard multiples of carbon dioxide with respect to their global warming potential. These features reduce the quota's financial impact on business, while ensuring that the quotas are met at a national and international level.

FIVE EXCHANGES
Currently there are five exchanges trading in carbon allowances:
1. The European Climate Exchange,
2. NASDAQ OMX Commodities Europe,
3. PowerNext,
4. Commodity Exchange Bratislava and
5. The European Energy Exchange.
NASDAQ OMX Commodities Europe listed a contract to trade offsets generated by a CDM carbon project called Certified Emission Reductions (CERs). Many companies now engage in emissions abatement, offsetting, and sequestration programs to generate credits that can be sold on one of the exchanges. At least one private electronic market has been established in 2008: CantorCO2e.

Carbon credits at Commodity Exchange Bratislava are traded at special platform - Carbon place.

Managing emissions is one of the fastest-growing segments in financial services in the City of London with a market estimated to be worth about €30 billion in 2007.
Louis Redshaw, head of environmental markets at Barclays Capital predicts that "Carbon will be the world's biggest commodity market, and it could become the world's biggest market overall."

...
CONTACTS
...

CARBON TRADING OFFSETS
COMPLIANCE CARBON OFFSETTING
IMO MARINE ENVIRONMENT PROTECTION
KYOTO PROTOCOL
LINKS & REFERENCE

https://unfccc.int/climate-action/climate-neutral-now
https://ec.europa.eu/clima/policies/ets/registry_en