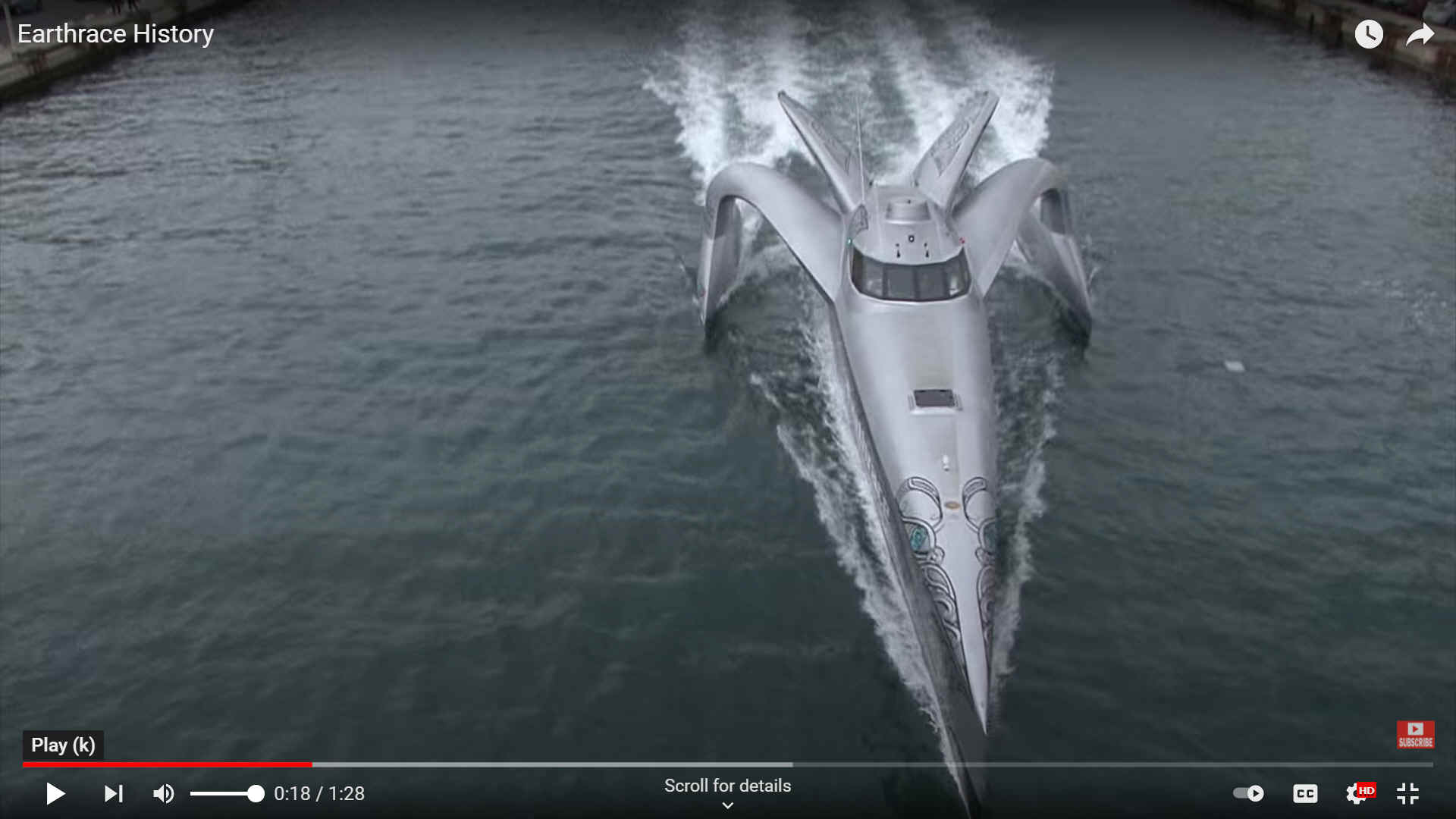 BIODIESEL RECORD - This was an amazing achievement in 2008. The Cable & Wireless 75 day record stood for 10 years, until Earthrace came along in 2008 and managed the circumnavigation on bio-diesel in 61 days - give or take a few minutes. But still the fastest round the world boats are sailing multi-hulls. The Jules Verne (sailing) Trophee is held by Francis Joyon in the IDEC Sport in 41 days, set in 2017. These are tough records to beat, and it does not happen overnight. They are the result of years of fine tuning and waiting for ideal conditions. Not to mention having a team with persistence and backing.
JULY 8TH 2008

The biodiesel-powered ocean vessel Earthrace has set a new world record for a powerboat circumnavigating the globe. It took the crew and boat 60 days, 23 hours, and 49 minutes to travel from the Vulkan Shipyard in Sagunto, Spain, on April 27 to Sagunto, Spain, on June 27.

The previous record was 74 days, 23 hours, and 53 minutes, which was set in 1998 by the United Kingdom boat Cables & Wireless Adventurer.

"We're completely stoked to have achieved something so incredible," Earthrace skipper Pete Bethune said. "Earthrace's success has proved that any form of transport, including marine, can be non-damaging to the environment as well as being high performance."

The vessel and crew were confronted by various challenges during its journey, the most challenging of which included replacing the boat's driveshaft and propeller after hitting sea debris in Palau. The crew also weathered a monsoon in the India Ocean and faced a back-log of ships waiting to transit the Panama Canal.

Bethune said alternative fuel is new and many changes lie ahead as its use is increases. "It is still early days for alternative fuel and there are issues that need to be addressed by those with the power to make change happen," he said. "I hope Earthrace and her adventure highlight to the world the importance of continuing to research and develop alternative fuel sources for global use."

Earthrace's route went from: Sagunto, Spain, to Horta, Azores, to San Juan, Puerto Rico, to Colon, Panama, to Manzanillo, Mexico, to San Diego to Maalaea, Hawaii, to Majuro, Marshall Islands, to Koror, Palau, to Singapore, to Kochi, India, to Salalah, Oman, to Port Said, Egypt, and finishing in Sagunto, Spain.

"This fantastic team of people and this astonishing boat have broken the record by a massive margin, and I feel that all the sacrifices made, especially by my family, have been worth it," Bethune is quoted as saying.

Following a visit to Portugal to meet their fuel sponsor, SGC Energia, the Earthrace team plans to embark on a tour of Europe, followed by the Caribbean and Australia. The crew expected to return to New Zealand in 2009.

SPECIFICATIONS

Hull: Wavepiercing Trimaran
Length: 24m (78ft)
Beam: 7m (23ft)
Draft: 1.3m (4ft)
Range: 3000nm (6000km)
Maximum speed: 45 knots (90km/h)*
Fuel: B100 Biodiesel (100%)
Fuel Capacity: 10,000 litres (2500 gallons)
Displacement: 10 ton
Construction: Carbon , Kevlar composites
Crew: 4
Beds: 8
Engines: 2 x 350kW (540 hp) Cummins Mercruiser
Gearboxes: ZF 305A (single speed)
Air intakes: top of wings to remain above waves while piercing
Windscreen: 17mm laminated toughened glass
On 26 June 2009, Earthrace was granted the Union International Motonautique (UIM) record for the fastest circumnavigation by a powered boat. The journey took 60 days 23 hrs 49 mins, beginning in Sagunto, Spain on 27 April 2008, finishing 27 June 2008. The crew of Earthrace consisted solely of international volunteers.
Age Restriction: Applications for this record title will only be accepted if the applicant is 16 years of age or over.
The Elizabeth Swann is setting out to attempt an under 80 day record. Eventually, JVH2 attempts might knock on the door of the diesel record set by Cable & Wireless Adventurer in 1998, but the Formula 1 of zero emission racing needs to start slow, with the disadvantage that hydrogen, and other H2 based fuels, are cutting edge technology under development, and without bunkering facilities in every port. Diesel ICE engines were a mature technology in 1998 with fuels available over the counter in every harbour.
LINKS & REFERENCE
http://www.biodieselmagazine.com/articles/2511/earthrace-sets-new-world-record
https://www.guinnessworldrecords.com/world-records/fastest-circumnavigation-by-powered-boat