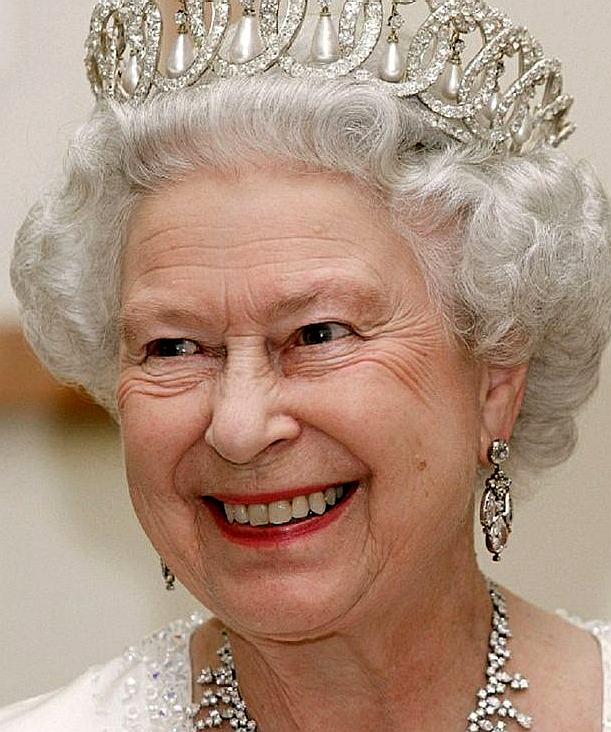 Her Majesty, Queen Elizabeth
The MS Queen Elizabeth (QE) is a cruise ship of the Vista class operated by the Cunard Line, owned by Carnival Corporation & plc. The design is modified from that of previous ships of that class, and slightly larger than Queen Victoria, at 92,000 GT, largely due to a more vertical stern. The ship is able to carry up to 2092 passengers.

The ship's name was announced by Cunard on 10 October 2007. Since the retirement of Queen Elizabeth 2 in 2008 the company has operated three vessels. The naming of the ship as Queen Elizabeth brings about a situation similar to that between 1940 and 1948, when Cunard's original Queen Elizabeth was in service at the same time as the Royal Navy battleship HMS Queen Elizabeth.

BUILD & LAUNCH

The ship was built by Fincantieri Monfalcone Shipyard, Italy at a cost of £350 million pounds or US$560 million dollars.
Following the ship's construction in Italy from 2007 to 2010, Cunard Line officially confirmed that Queen Elizabeth II would name Cunard's new ship. The ceremony was held in Southampton on 11 October 2010 before the ship set sail on her maiden voyage to the Canary Islands the following day. The Queen was also the sponsor of the now-retired Queen Elizabeth 2 in 1967 and Cunard's current flagship, Queen Mary 2, in 2004.
The ports of registry are: United Kingdom Southampton, U.K. (2010–2011) and Bermuda Hamilton, Bermuda (2011–present).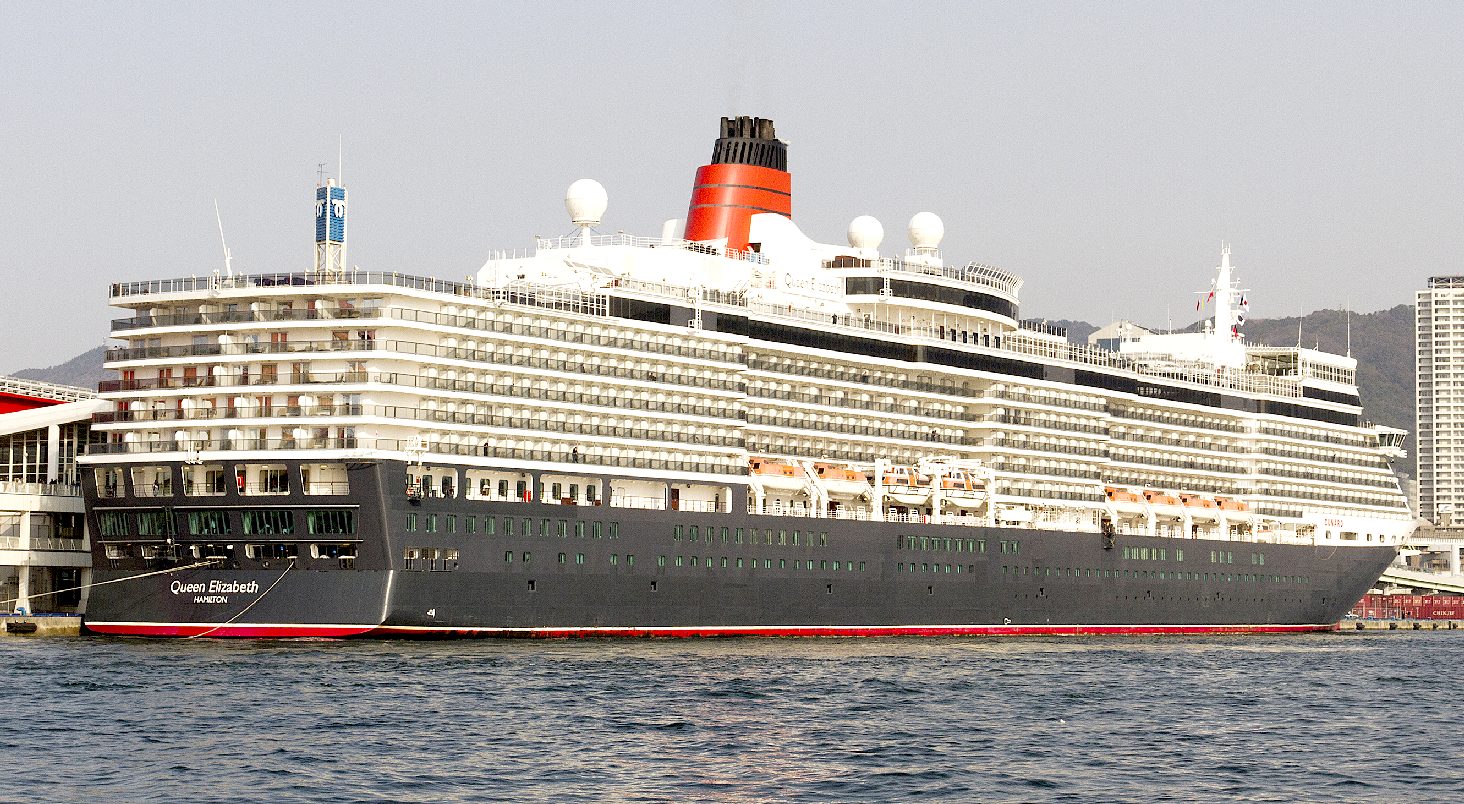 VOYAGES

The first master of Queen Elizabeth was Captain Christopher Wells. On 4 October 2010 Queen Elizabeth was formally handed over to Cunard. She sailed on her maiden voyage from Southampton on 12 October 2010, following a naming ceremony with the monarch on 11 October 2010.

At the end of October 2011 Queen Elizabeth and her fleet mates changed their registries to Hamilton, Bermuda, in order to host weddings aboard.

On 29 June 2012, the ship made her one and only visit to Ny-Ålesund, in Svalbard. The previous scheduled visit in 2011 had to be aborted due to bad weather. However, she was not scheduled to visit Svalbard in her 2013 schedule. Legislation relating to cruise ships visiting the archipelago (applicable from 2014) meant that Queen Elizabeth will never be able to visit again.

On 31 August 2013, British journalist and broadcaster Sir David Frost had been invited to give a speech by Cunard whilst travelling on board the ship but died of a heart attack.

On 13 August 2016 Queen Elizabeth made the 2,500th cruise ship call at Kiel, Germany.

On 23 May 2019, Queen Elizabeth began regular service between Vancouver, British Columbia, Canada and various destinations in Alaska, United States.

13 January 2011: Two years after the first Cunard Royal Rendezvous, RMS Queen Mary 2 met up with Queen Victoria and the then brand new Queen Elizabeth for another Royal Rendezvous in New York City. Both Queen Victoria and Queen Elizabeth made an Atlantic crossing in tandem for the event. All three Cunarders met in front of the Statue of Liberty at 6:45 pm for a Grucci fireworks display. The Empire State Building was lit up in red to mark the event.

5 June 2012: All three 'Queens' met once more, but this time in Southampton in order to celebrate the Queen's Diamond Jubilee.

15 July 2012: Both Queen Elizabeth and Queen Mary 2 visited Hamburg the first time together.

12 March 2013: Passed the former Cunard ship Queen Mary, currently a hotel in Long Beach, California, for the first time along with fireworks display.

9 May 2014: Both Queen Elizabeth and Queen Victoria led in single file, Queen Mary 2 up the Southampton channel, with both ships docking in a bow to bow formation performing a birthday salute to Queen Mary 2. Later on, all three Cunarders gather for a fireworks display in which Queen Mary 2 led both the Queen Elizabeth and Queen Victoria back down the channel.

25 May 2015: The three 'Queens' at Liverpool celebrating 175 years of the formation of the Cunard Line, which was formed and based at Liverpool. At low tide, the three ships stopped in line in middle of the River Mersey, bow to stern, turned 180 degrees in full synchronisation with each other, which was known as river dance), they then formed an arrow side by side. The Queen Mary 2 was in the centre with its bow in line with the Cunard Building at the Pier Head. The RAF Red Arrows performed a flypast in Vic formation, emitting red, white and blue smoke, over the vessels. An estimated 1.3 million people lined the river banks to witness the spectacle.

QE2 50th Anniversary Celebration: In September 2017 the ship hosted a special commemorative cruise to honour the 50th anniversary of its predecessor QE2. The Mediterranean cruise was chosen to pay tribute to QE2's role as a cruise ship. Special guests include Captain Ian McNaught, Commodore Ronald Warwick, Maritime Historian Chris Frame and QE2 Social Hostess Maureen Ryan.

Australia 2019: Queen Elizabeth began operating extended seasons in Australia in 2019.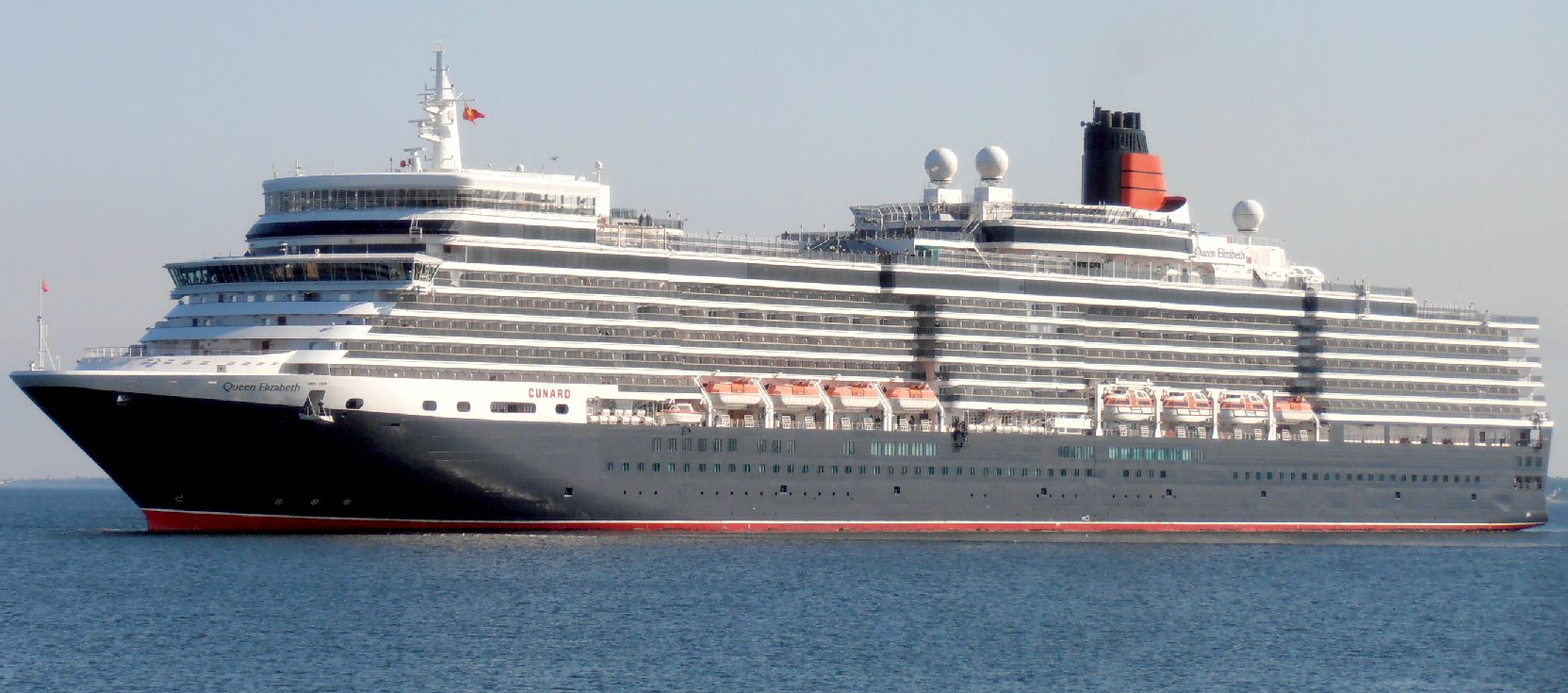 DESIGN

Exterior - Queen Elizabeth is almost identical in design to Queen Victoria, although because of the steeper stern, at her introduction into service the passenger capacity was slightly higher with up to 2,058 compared to Queen Victoria's 2,014.

Also unlike many previous Cunard Queens, Queen Elizabeth is not a true ocean liner as she does not have the heavy plating throughout the hull. However the bow was constructed with heavier plating to cope with the transatlantic run, and the ship has a high freeboard.

Interior - Although having an almost identical interior arrangement to Queen Victoria, the decor is very different. The ship is a tribute to the two previous Queen Elizabeth-named ships: the original Queen Elizabeth and Queen Elizabeth 2. She also evokes the era of the 1930s, in which Cunard's first Queen Elizabeth was launched, with many art deco interior touches. The ship also features a Britannia Club section of the main restaurant, which is a feature popular on Queen Mary 2, but not available on Queen Victoria. This service allows passengers in the Britannia staterooms to have single seating dining arrangements, without having to upgrade to the more expensive Grills classes. The sliding roof over the Winter Garden featured on Queen Victoria is replaced with a simple glass roof (the space being renamed The Garden Lounge).

SPECIFICATIONS

Class and type: Vista-class cruise ship
Tonnage: 90,901 GT
Length: 294 m (964 ft 7 in)
Beam: 32.3 m (106 ft 0 in)
Draught: 8 m (26 ft 3 in)
Decks: 16 total, 12 accessible to passengers
Installed power: 4 × MaK 12VM43C, 2 × MaK 8M43C - 64,000 kW (86,000 hp in all)
Propulsion: Diesel-electric, Two ABB Azipods (2 × 17.6 MW)
Three ABB bow thrusters (3 × 2,200 kW)
Speed: 23.7 knots (43.9 km/h; 27.3 mph)
Capacity: 2,092 passengers lower beds, 2,547 maximum passengers
OTHER VESSELS NAMED QUEEN ELIZABETH
The are a number of vessels that bear the name: "Queen Elizabeth." Their are three Cunard liners: RMS Queen Elizabeth, Queen Elizabeth 2 (QE2) and MS Queen Elizabeth (QE), a nuclear powered aircraft carrier, HMS Queen Elizabeth (RO8), HMS Queen Elizabeth dreadnought class battleship, and a solar powered Canadian canal boat. Of these in pollution terms, the canal boat is a shining star. The dirtiest is the RO8, because of the dumping of spent nuclear material in the oceans.
AMBIGUITY
There is no connection between any of the vessels listed and the Elizabeth Swann, except perhaps for the sources of inspiration.
The name 'Elizabeth' in the context of the solar powered Elizabeth Swann, comes from Miss Swann, a fictional character in the Pirates of the Caribbean series of films by Disney, though Her Majesty has been inspirational in many areas and we feel sure would find interesting as a concept.
With the International Maritime Organization making moves to cleaner ocean transport, now demanding low sulfur diesel fuels, (electric) solar and wind powered shipping could be the pinnacle of environmental achievement - if it comes to pass.
We would hope that the IMO outlaws nuclear powered ships and submarines as part of a move to world peace. We should be aiming for zero carbon and zero radiation shipping.
Please use our A-Z INDEX to navigate this site