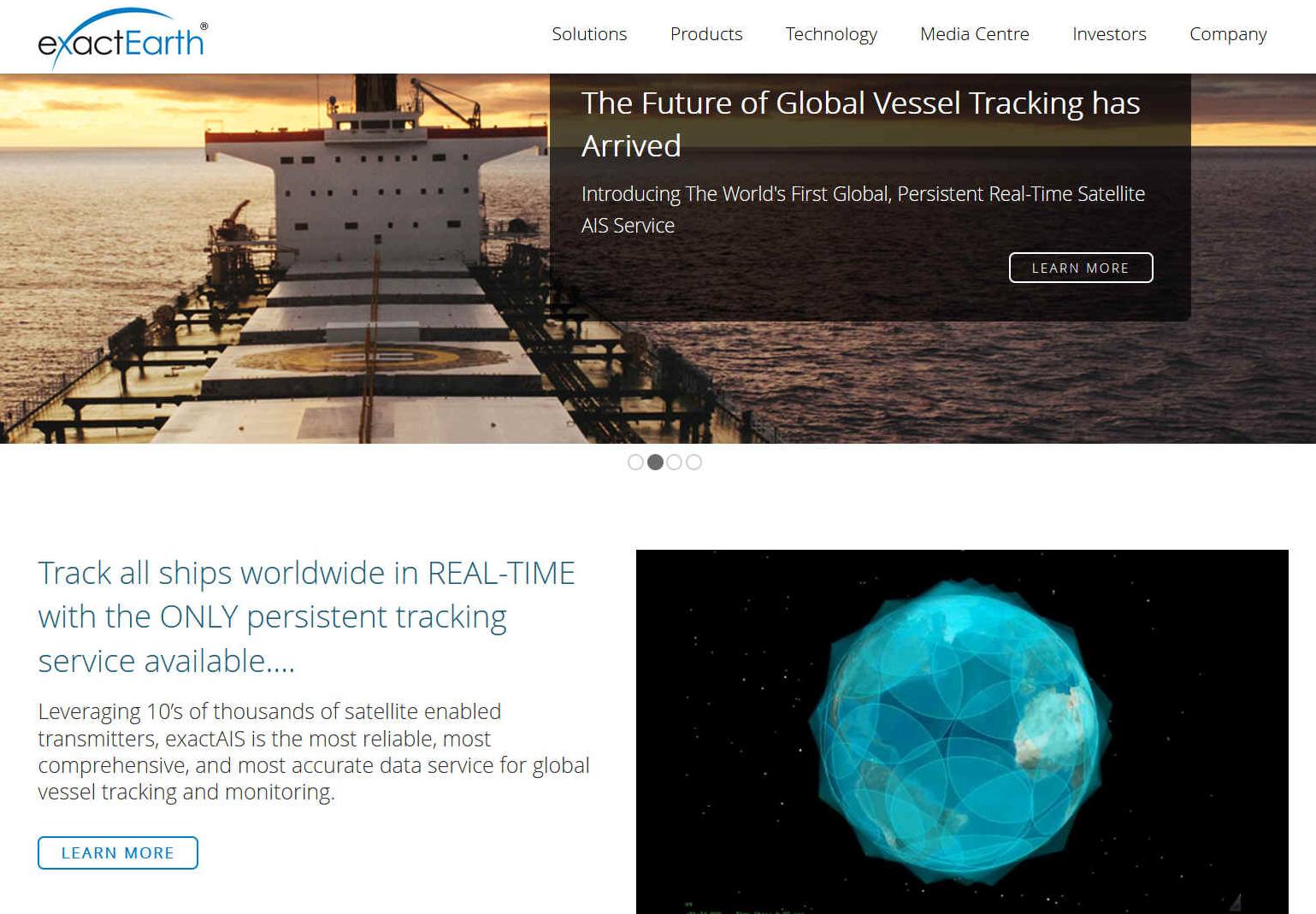 EXACT EARTH - Persistent real time tracking of other AIS equipped vessels
The exactAIS data service is a satellite based global vessel tracking service that provides unprecedented visibility into the global merchant shipping fleet.
It enhances maritime domain awareness for government authorities and commercial organizations around the world, with superior vessel detection, real-time vessel updates, and unparalleled persistent coverage captured by our exactViewTM satellite constellation.
exactAIS enables you to :

- Track over 200,000 vessels in real-time with no delays
- Act confidently based on accurate and actionable data to make better informed decisions, even in highly congested maritime traffic areas
- Complete the picture of your Area of Interest in less time than any other Satellite AIS provider with industry leading exactView Real-Time service

With over 40,000,000 AIS message updates daily, exactAIS data provides enhanced maritime domain awareness across all bodies of water.
The exactEarth flexible delivery method claims to make it easier than ever to view, track, and analyze world's shipping movements.
This leaves the non-commercial vessels that are not equipped with AIS, for the Mayflower Autonomous Ship (MAS) to deal with.
Founded in 2009, exactEarth was established for the purpose of making Satellite AIS data services available to the global maritime market. Their software leverages advanced microsatellite technology to deliver vessel monitoring solutions characterised by high performance, reliability, security, and simplicity.
90 percent of global trade is being carried by sea, such as:
- petrochemicals,
- timber,
- container cargo,
- fishing
This means the shipping traffic on any given day is staggering. Although shipping is the anchor of the global economy, this intense level of vessel traffic is sure to leave detrimental marks on the marine environment, now the subject of clean air targets by the IMO - with zero emissions on the cards for 2050.

exactEarth's software can establish automated alerting of vessels entering a Marine Protected Area (MPA) or approaching navigation hazards, so helping to prevent environmental incidents. This can also help to curb illegal fishing and detect and identify oil spills and marine pollution violations.


CONTACTS

260 Holiday Inn Drive,
Cambridge, Ontario
Canada N3C 4E8
Tel: +1 519-622-4445
Email: info@exactearth.com
LINKS & REFERENCE
https://www.exactearth.com/
https://www.shipmap.org/
https://mas400.com/
https://newsroom.ibm.com/then-and-now