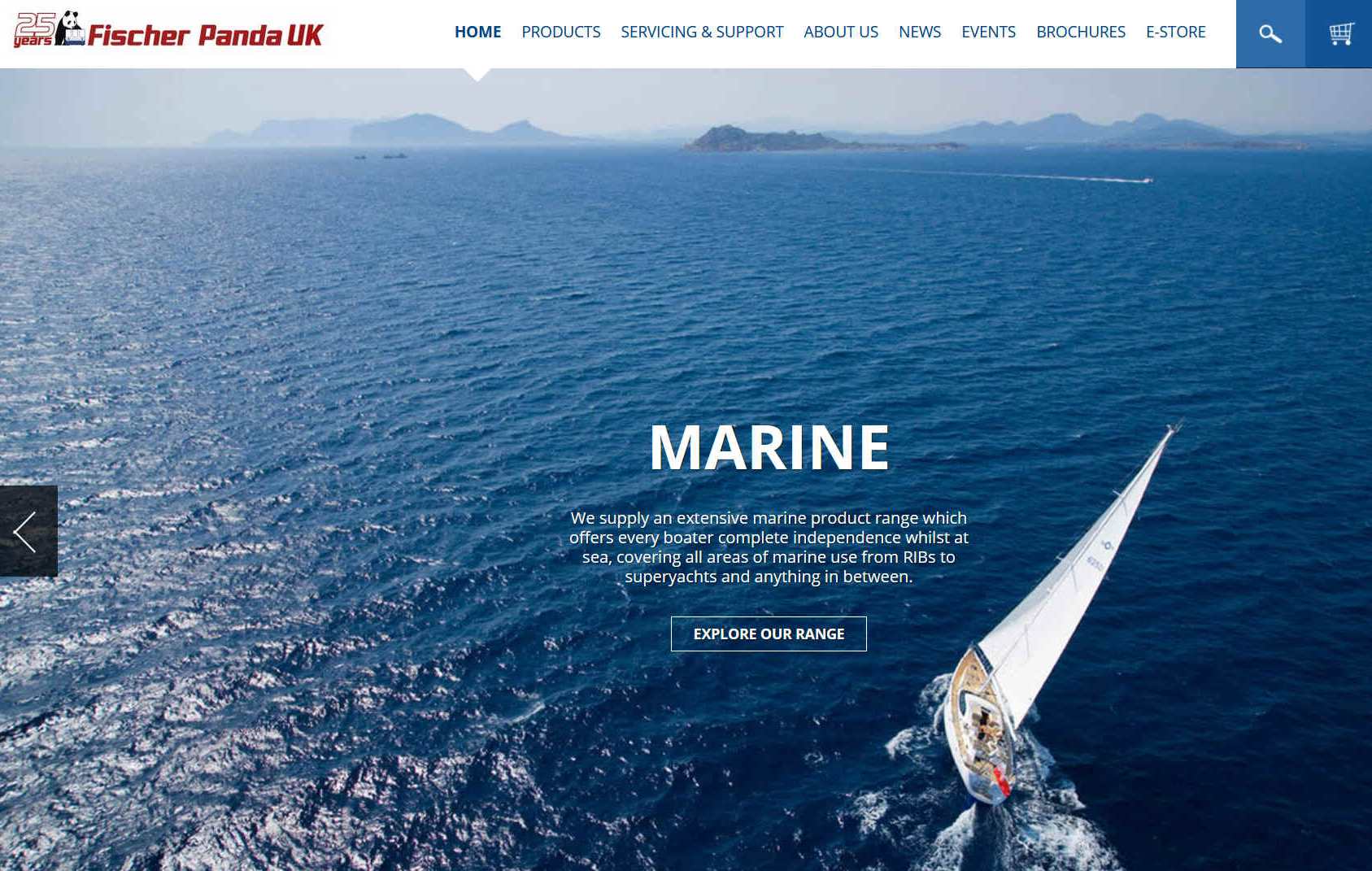 FISCHER PANDA - Will be providing the electric propulsion system
Fischer Panda UK announced a contract to supply, install and commission a complete electric propulsion system for the innovative Mayflower Autonomous Ship (MAS) project.
The installation will include motors, batteries, diesel generators and associated power and control electronics – will be crucial to ensuring the success of the unmanned Atlantic crossing, which is scheduled for September 2020.

The voyage, from Plymouth, UK to Plymouth, Massachusetts, is proposed for next year in celebration of the 400th anniversary of the voyage of the pilgrim fathers in their eponymous ship.
Equipped with advanced research sensors and IBM's latest AI, Power servers and edge technologies, the 15m trimaran is expected to make the crossing in approximately 12 days at speeds up to 20 knots – a huge leap from the original Mayflower's 60 days at 2.5 knots. Note: 10 knots is quoted as the MAS's top speed, hence diesel might play a part in the Atlantic crossing - or this could be a typo. Otherwise, the crossing might not be truly autonomous!
To achieve this, she will be powered by a 21st century fully-electric propulsion system from Fischer Panda, primarily charged by wind and solar energy which, the builders anticipate, will give unlimited range in equatorial sunshine and breeze – although Fischer Panda diesel generators will offer backup should conditions be less ideal.

MAS is a collaborative venture between several academic and commercial institutions. Leading the initiative is ProMare, a non-profit charity established to promote marine research and exploration throughout the world, and the vessel is being designed by Whiskerstay and MSubs, both companies with extensive experience developing manned and unmanned marine vehicles.
The Universities of Plymouth and Birmingham are also significantly involved, respectively developing the research pods and virtual/augmented reality systems.

When he was asked why Fischer Panda was chosen to supply the drive system, Brett Phaneuf, Managing Director of MSubs, is quoted as saying:
"We wanted to buy an end-to-end hybrid drive that was fully integrated and tested by the manufacturer and we knew would work. We've used Fischer Panda in the past for our military work and found them to be very reliable."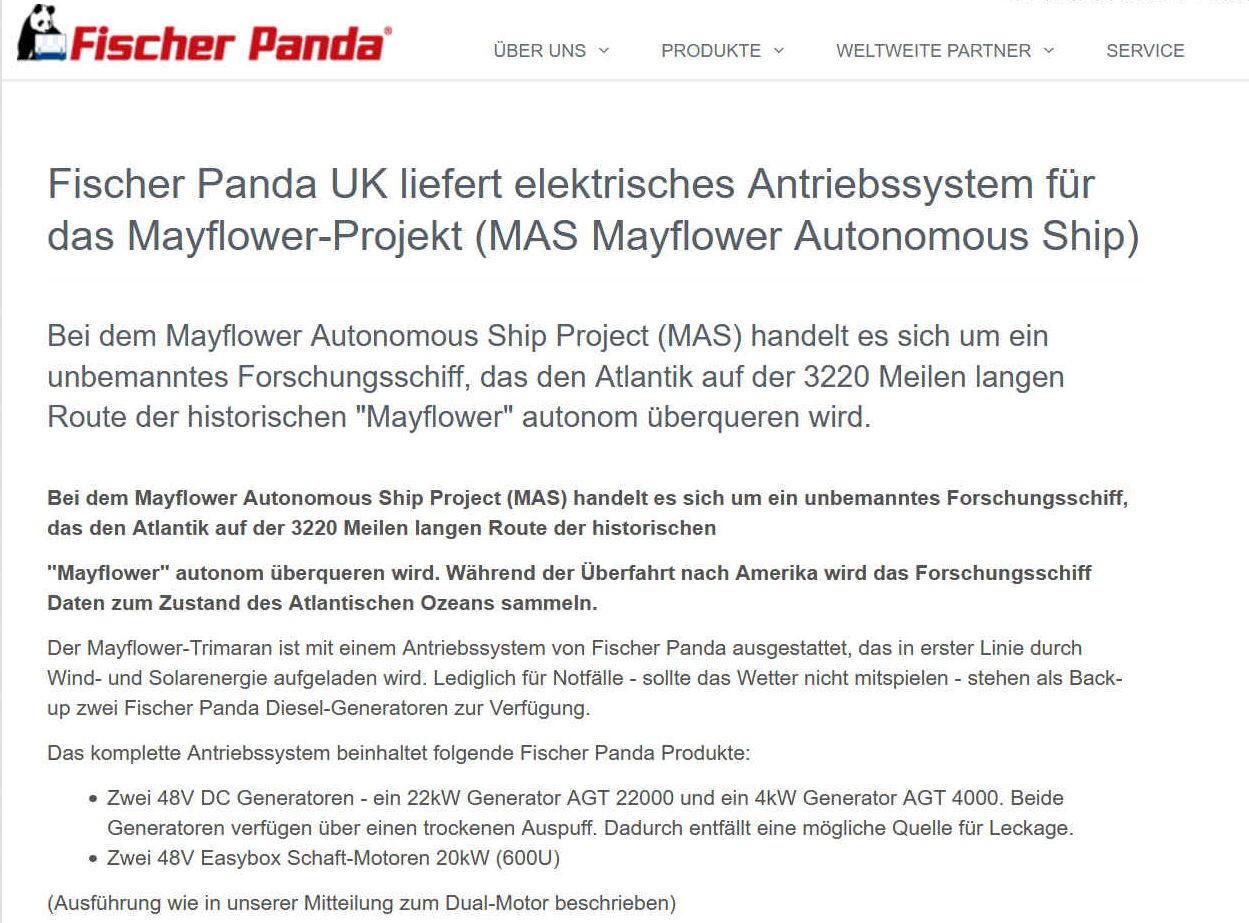 The equipment, which will be installed and commissioned by Fischer Panda UK's engineering team, will comprise:
- Two 48V DC generators – a 22kW Fischer Panda AGT 22000 and a 4kW Fischer Panda AGT 4000. Both generators are in 'PVM' format, with a dry exhaust. This removes the need for a raw water intake, a potential source of leakage or corrosion.
- Two 48V Fischer Panda 20kW 600rpm Easybox shaft motors.
- A Mastervolt Mass Combi 48/3500-50 Inverter and Charger, supported by a battery management system for control and monitoring.
- A 38.4kWh battery bank consisting of eight of the new Mastervolt MLi Ultra 5500 Lithium Ion batteries, providing 800Ah at 48V.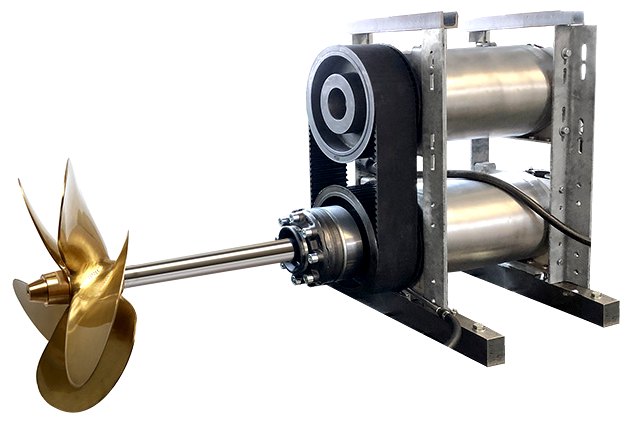 TWIN MOTORS - The Fisher-Panda design offers skippers a higher degree of redundancy and flexibility. One electric motor can be switched on or off depending on the power requirements of a vessel.

To further enhance the redundancy within the system, the motors can be powered via separate battery banks as required. This may be of interest for commercial applications.

Each electric drive motor is designed with two separate electric windings, each with its own control and throttle. The motors are connected by a toothed drive belt.

Both motors are water-cooled. They can also be cooled with seawater using a heat exchanger.

The main electrical components and the motor controller are housed within a Fischer Panda "EasyBox" unit which simplifies the installation.

Fischer Panda recommends the installation of a generator for charging the battery banks in the event that shore power is not available or solar/wind power is not sufficient for to power a vessel. The generator can also enhance the system as a range extender.


The Mayflower Autonomous Ship's solar-powered hybrid electric propulsion system comprises dual 20-kW permanent magnet motors and banks of lithium-iron-phosphate batteries, and is reported capable of getting the craft up to a claimed top speed of 10 knots (11.5 mph/18.5 km/h). Drawings show a mast 3.6m high with an area 2.7m2, made of composites.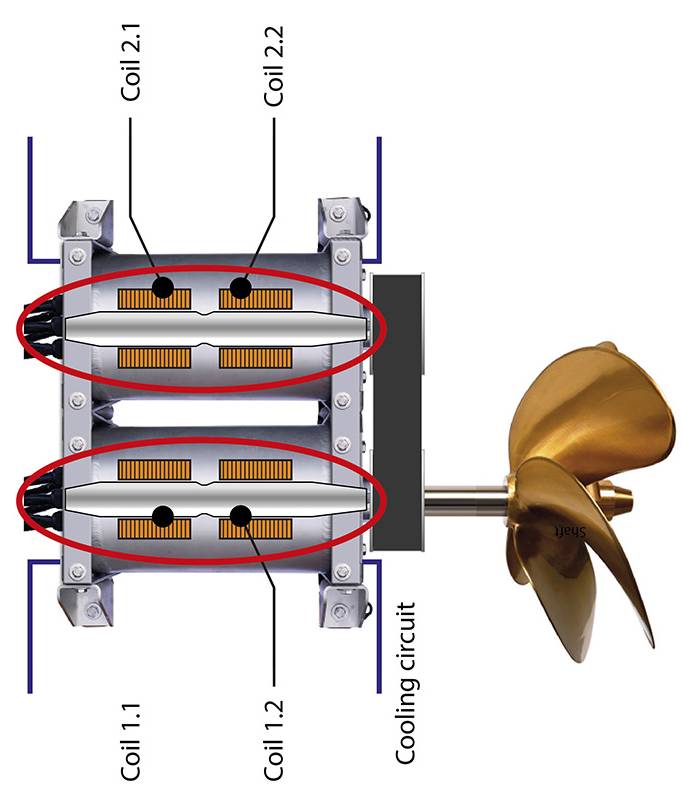 DUAL ELECTRIC MOTOR FOR MULTIPLE DRIVE OPTIONS
Where a car has a gearbox, typically ships have a fixed drive ratio, and fixed pitch propellers. This means that you have to design your engines to run at peak efficiency at the optimum operating speed. Fortunately, there are no hills to climb as with a truck on a road. But there are weather conditions to overcome, winds and currents to deal with. It is these variables that challenge low power craft, as the MAS was initially designed to be. Indeed, the Elizabeth Swann incorporates ways of running efficiently, but the designers did not like the belt idea, because of the additional friction from bearings of the second motor. It may be that they have an electric clutching system - but even so!
The Fischer Panda electric motor propelling it may not be the sexiest part of the boat, but is it important to have a reliable propulsion system if you're planning a 5,800 kilometre unmanned journey across some of planet earth's most challenging waters.

The electrically propelled (diesel-electric) autonomous ship will be powered by a double motor, one on top of he other with connecting belt .

Reliability is at the core of the Fischer Panda machine, having two individual 20kW motors set up with a belt connection – one motor attached to the propeller shaft. The prop can be powered by one motor or two as required. Each motor has two separate electric windings – and each of those has its own control and throttle. For the unpredictable waters of the Atlantic, this gives four possible running options and a higher degree of dependability, according to the designers.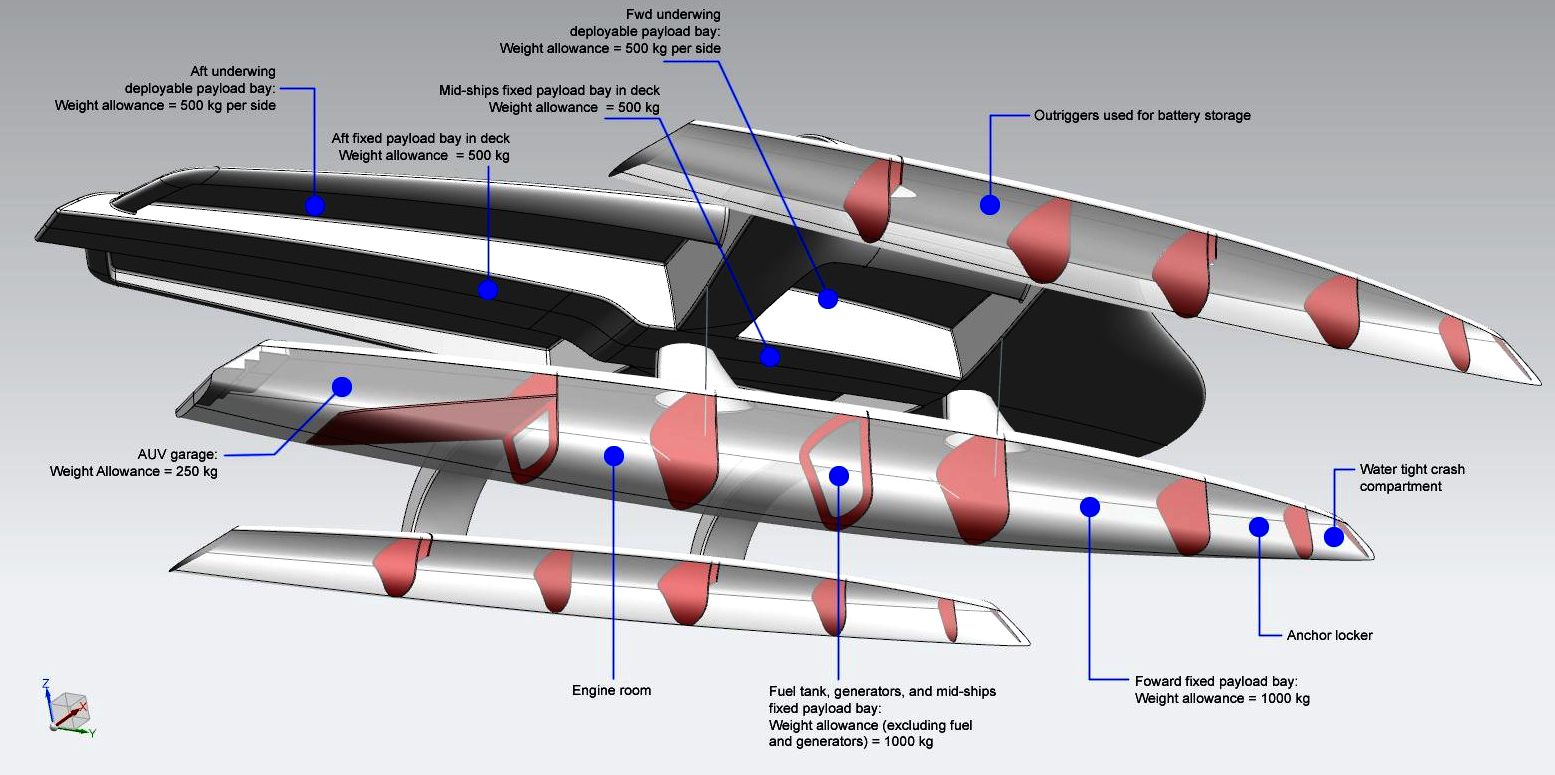 Barry Fower, Managing Director at Fischer Panda UK, is quoted as saying:
"We're delighted to be involved in this innovative venture, and for our products to be chosen to play such a vital role. We look forward to supporting the MAS team throughout the project."

MAS is designed so that sensor and control modules can be easily exchanged, allowing units developed on shore to be swapped and tested with minimal installation.
On passage, the vessel is hoped to collect significant data to assist research into ocean conditions, marine pollution, meteorology and conservation, and to refine autonomous navigation and machine learning techniques.
Brett Phaneuf is quoted as saying: "it's a research ship that is in itself a research project."

With hybrid drives, autonomous control and environmental awareness all at the leading edge of marine research at present, MAS is likely to prove a blueprint for future developments.
ProMare Project Director, Fredrik Soreide, is quoted as saying:
"This is the first of many vessels to come." "This is a seagoing vessel which can go a long distance. Most previous unmanned vessels have only been able to go short distances, so this is a big change."
The concept is unlikley to impact of the IMO's - zero emission targets for 2050, where diesel is included in the mix, but is a step forward for persistent monitoring of our plastic infested oceans, save that a 15m boat is unlikely to be able to sample a ghost fishing net. it may though identify and report such obstruction.
Fischer Panda liefert elektrisches Antriebssystem für das Mayflower-Projekt

Bei dem Mayflower Autonomous Ship Project (MAS) handelt es sich um ein unbemanntes Forschungsschiff, das den Atlantik auf der 3220 Meilen langen Route der historischen "Mayflower" autonom überqueren wird.

Bei dem Mayflower Autonomous Ship Project (MAS) handelt es sich um ein unbemanntes Forschungsschiff, das den Atlantik auf der 3220 Meilen langen Route der historischen

"Mayflower" autonom überqueren wird. Während der Überfahrt nach Amerika wird das Forschungsschiff Daten zum Zustand des Atlantischen Ozeans sammeln.

Der Mayflower-Trimaran ist mit einem Antriebssystem von Fischer Panda ausgestattet, das in erster Linie durch Wind- und Solarenergie aufgeladen wird. Lediglich für Notfälle - sollte das Wetter nicht mitspielen - stehen als Back-up zwei Fischer Panda Diesel-Generatoren zur Verfügung.

Das komplette Antriebssystem beinhaltet folgende Fischer Panda Produkte:

Zwei 48V DC Generatoren - ein 22kW Generator AGT 22000 und ein 4kW Generator AGT 4000. Beide Generatoren verfügen über einen trockenen Auspuff. Dadurch entfällt eine mögliche Quelle für Leckage.
Zwei 48V Easybox Schaft-Motoren 20kW (600U)

(Ausführung wie in unserer Mitteilung zum Dual-Motor beschrieben)

Die unbemannte Atlantiküberquerung des MAS ist für September 2020 geplant. Anlass ist der 400. Jahrestag, als die Pilgerväter mit der "Mayflower" von Plymouth, Großbritannien über den Atlantik nach Plymouth, Massachusetts segelten.

Ausgestattet mit hochentwickelten Forschungssensoren, künstlicher Intelligenz sowie Power-Servern und Edge-Technologien soll der 15 m lange Trimaran die Überfahrt voraussichtlich in etwa 12 Tagen mit Geschwindigkeiten von bis zu 20 Knoten absolvieren. Die "Mayflower" benötigte vor 400 Jahren bei einer Geschwindigkeit von 2,5 Knoten 60 Tage

MAS ist ein Gemeinschaftsprojekt zwischen mehreren akademischen und kommerziellen Institutionen. An der Spitze der Initiative steht ProMare, eine gemeinnützige Wohltätigkeitsorganisation, die gegründet wurde, um weltweit die Meeresforschung zu fördern. Das Schiff wird von Whiskerstay und MSubs entworfen, zwei Unternehmen mit viel Erfahrung in der Entwicklung bemannter und unbemannter Schiffe. Die Universitäten von Plymouth und Birmingham sind ebenfalls maßgeblich beteiligt. Sie entwickeln die Forschungskapseln und Virtual/Augmented-Reality-Systeme.

MAS ist so konzipiert, dass Sensor- und Steuermodule leicht ausgetauscht werden können, so dass an Land entwickelte Einheiten mit minimaler Installation ausgetauscht und getestet werden können. Auf der Überfahrt soll das Schiff wichtige Daten sammeln und so die Erforschung der Meeresbedingungen, der Meeresverschmutzung, der Meteorologie und des Naturschutzes unterstützen. Es gilt aber auch, die Techniken der autonomen Navigation und des maschinellen Lernens zu verfeinern.

Da Hybridantriebe, autonome Steuerung und Umweltbewusstsein derzeit in der Meeresforschung eine bedeutende Rolle einnehmen, kann der MAS Trimaran richtungsweisend für die künftige Entwicklung sein. Es handelt sich um ein seetüchtiges Schiff, das eine lange Strecke zurücklegen kann. Die meisten bisherigen unbemannten Schiffe konnten nur kurze Distanzen zurücklegen.

CONTACTS

Fischer Panda UK Ltd
17 Blackmoor Road
Ebblake Industrial Estate
Verwood, Dorset
BH31 6AX

Tel: +44 (0)1202 820840
Fax: 01202 820 688

Emails: info@fischerpanda.co.uk
support@fischerpanda.co.uk
accounts@fischerpanda.co.uk
stores@fischerpanda.co.uk
Opening Hours: Monday - Friday 8:30 - 17:00
LINKS & REFERENCE
https://www.fischerpanda.de/fischer-panda-uk-liefert-elektrisches-antriebssystem-f--r-das-mayflower-projekt--mas-mayflower-autonomous-ship-.htm
https://www.fischerpanda.co.uk/
https://www.fischerpanda.co.uk/Fischer_Panda_UK_Supplies_End-to-End_Electric_Drive_System_for_Mayflower_Autonomous_Ship_Project.html
https://mas400.com/
https://newsroom.ibm.com/then-and-now