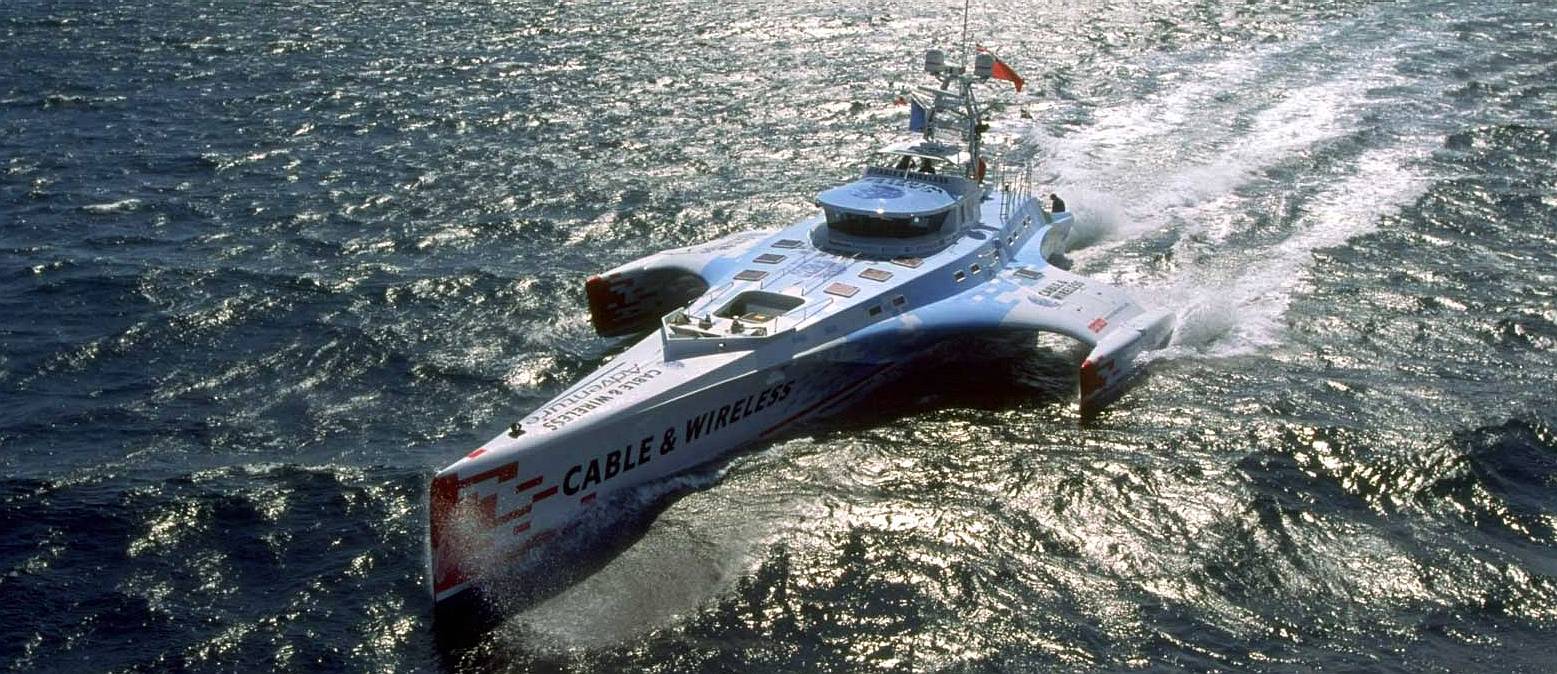 DIESEL RECORD - This was a stunning achievement in 1998. The 75 day record stood for 10 years, until Earthrace came along in 2008 and managed the circumnavigation on bio-diesel in 61 days - give or take a few minutes. But still the fastest round the world boats are sailing multi-hulls. The Jules Verne (sailing) Trophee is held by Francis Joyon in the IDEC Sport in 41 days, set in 2017. These are tough records to beat, and it does not happen overnight. They are the result of years of fine tuning and waiting for ideal conditions. Not to mention having a team with persistence and backing.
Perhaps more famous for his sailing designs, Nigel Irens, designed the Cable & Wireless Adventurer for an attempt to break the then existing circumnavigation record of 83 days, to set a new world diesel powered record. The C&WA succeeded in 1998, setting a blistering pace at 74 days, 20 hours in July 1998.
Jock Wishart was the project lead, Ian Bosworth, the captain. Cable & Wireless the backers.
Class and type: DNV Yacht R0
Builder: Vosper Thornycroft
Type: Trimaran
Displacement: 41 ton
Length: 114.5 ft (34.9 m)
Beam: 46.2 ft (14.1 m)
Draught: 4.4 ft (1.3 m)
Propulsion: 2 x 370 kW (500 hp) QSC Cummins Mercruiser
Speed: 27 knots (50.0 km/h) - (Cruising speed: 22 knots (40.7 km/h) )
Range: 3,500 nautical miles (6,482 km)
Capacity: 16,000 litres
Crew: 12 to 16
The Elizabeth Swann is setting out to attempt an under 80 day record. Eventually, JVH2 attempts might knock on the door of the bio-diesel record set by Earthrace in 2008, but the Formula 1 of zero emission racing needs to start slow, with the disadvantage that hydrogen, and other H2 based fuels, are cutting edge technology under development, and without bunkering facilities in every port. Diesel ICE engines were a mature technology in 1998 with fuels available over the counter in every harbour.