The Hales Trophy was awarded for the fastest Atlantic crossing by a passenger ship.
The trophy stands on a basis of carved green onyx, with an enameled blue ribbon encircling the middle, and decorated with models of galleons, modern ocean liners and statues of Neptune and Amphitrite, god and goddess of the sea. It is surmounted by a figure depicting speed pushing a three-stacked (funneled) ocean liner against a figure symbolizing the forces of the Atlantic ocean. Prior to 1935 and Harold Hales MP, there was no formal trophy to celebrate the speed increases of ships across the Atlantic. The trophy was crafted in solid silver, then heavy gilded, to Mr Hale's specifications, weighing around 100 pounds when complete.
In those days ocean liners burned coal, literally shoveled into huge boilers by human stokers from giant coal bunkers behind them, as you may have seen in the film Titanic. The boilers powered reciprocating steam engines and turbines, coining the phrase: bunker fuel. From coal bunkers.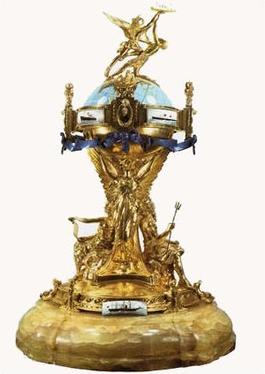 The term 'bunker fuel' now refers more commonly to heavy diesel oil, and any bulk supply of fuel for blue water transportation. Thus hydrogen, liquid hydrogen, ammonia and methanol used for ships, are bunker fuels.
The change to heavy diesel oils did away with the need for men to stoke the boilers with coal. Instead, pumps inject the diesel fuel oil into massive reciprocating, piston engines, replacing the steam turbines in most of the Blue Ribband ocean liners. A bygone age, partly responsible for acid oceans and climate change.
Due to ocean and atmospheric pollution from dirty fossil fuels, belching harmful particulates and sulphur, the International Maritime Organization (IMO) has set clean air targets for shipping in 2030, 2040, 2050. With 100%, or zero emissions being the target for the year 2100. Heralding the new age of Zero Emission Waterborne Transport (ZEWT) ships.
The problem for the shipping industry at the moment is that no replacement fuel system is a clear winner, over another. Understandably, stakeholders are waiting to identify what to invest in. This includes ports, who must then provide the infrastructure to fuel international trade.
The resulting confusion is slowing the adoption of new technology, where investment in cargo ships is depreciated over 20 years. Hence, fleet operators cannot afford to make a mistake and invest in the wrong technology, or face financial ruin.