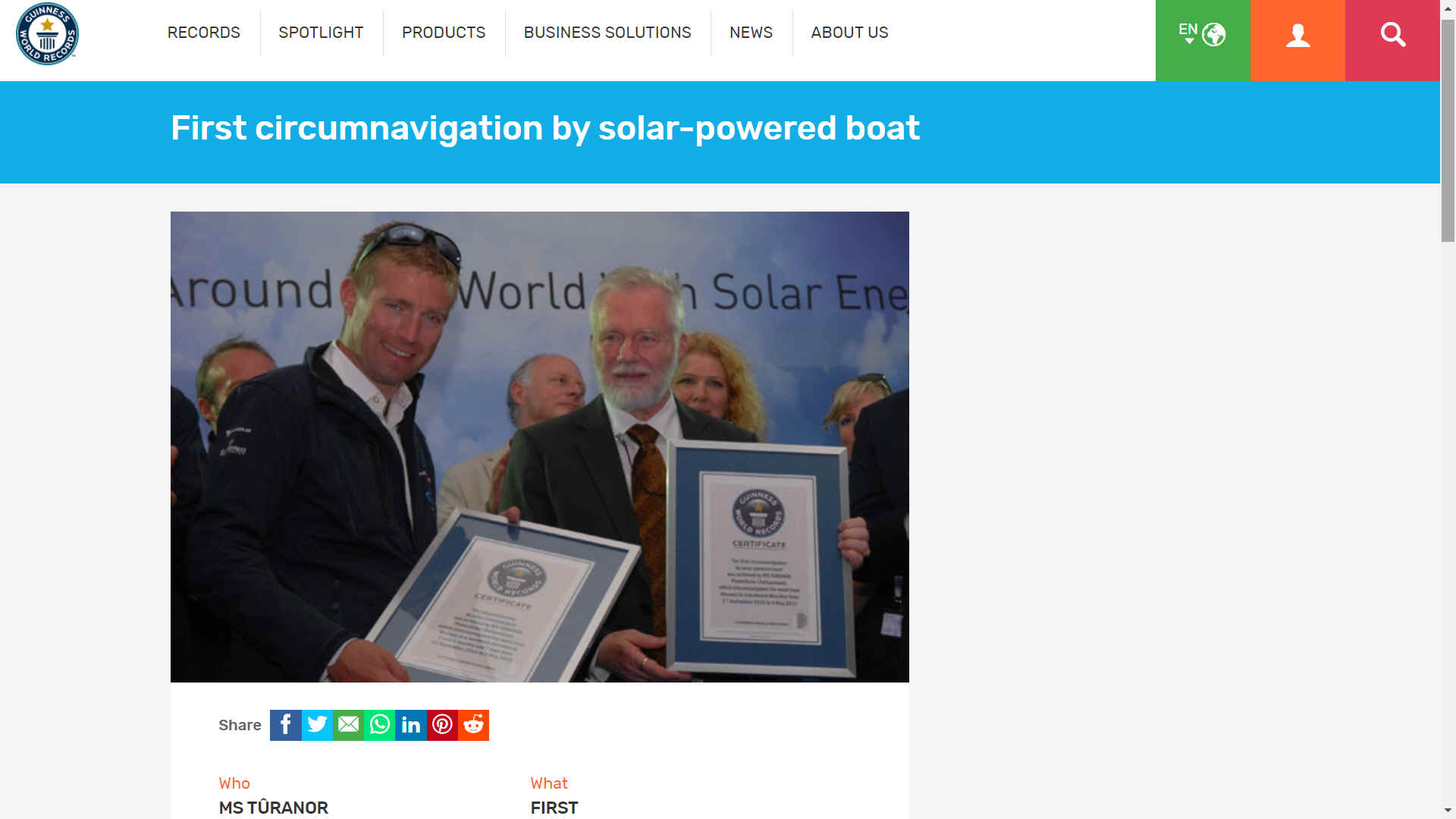 GUINNESS BOOK OF WORLD RECORDS: LONGEST JOURNEY
According to the famous record book: "The longest journey by boat on solar power only is 32,410 nautical miles (60,023 km; 37,296 miles), by MS TŪRANOR PlanetSolar (Switzerland), which circumnavigated the world in a westward direction leaving Monaco on 27 September 2010, passing through the Panama Canal and returning to Monaco after 1 year 7 months and 7 days of navigation, on 4 May 2012. MS TŪRANOR PlanetSolar crew included founder and expedition leader Raphaėl Domjan (Switzerland), engineers Christian Ochsenbein (Switzerland), bosun Jens Langwasser (Germany), captains Patrick Marchesseau and Erwan Le Rouzic (both France). Raphaėl Domjan, engineer Christian Ochsenbein and bosun Jens Langwasser followed the circumnavigation from start to finish with breaks in between."
"Other crew members joined the voyage on selected legs of the journey only. The boat left Kiel, Germany, where it had been built, on 31 March 2010 with fully loaded batteries, then headed for Hamburg and on to Monaco for the official start of the world tour on 27 September 27 2010 at 14:41 (departure line in front of the Fermont Hotel). It was a sunny day and the batteries were fully loaded. The PlanetSolar project, initiated by PlanetSolar founder and expedition leader Raphaėl Domjan and ship-owner Immo Ströher, aims to be the first vessel to circumnavigate the globe in a "solar" boat, i.e. one driven by a silent, pollution-free electrical engine powered exclusively by solar energy. The name "TŪRANOR" is derived from J. R. R. Tolkien's Lord of the Rings saga and translates as 'The Power of the Sun'."
"The MS TŪRANOR PlanetSolar, a 31-metre-long and 15-metre-wide catamaran, is powered by a 537 m² (5,780 ft²) photovoltaic solar generator. Batteries are charging during the day and discharging during the night through the propulsion that is composed of 2 semi-submerged propellers driven by 4 engines. Only solar energy is used during the world tour. The MS TŪRANOR PlanetSolar has a diesel backup, but it is sealed. The batteries began to charge as soon as the system was launched on the water in Monaco and can last for approximately 72 hours. The boat is capable of travelling non-stop around the world, but stopovers are made to maintain food supply and undertake public-relations engagements. On the boat showers, lights, fridges etc. are of course powered by solar energy. Only the kitchen operates with gas."
GUINNESS BOOK OF WORLD RECORDS: COMPLETES WORLD VOYAGE
According to the famous record book: "MS Tūranor PlanetSolar, the world's largest solar-powered boat, today completed an incredible round-the-world journey which has earned the catamaran and its crew a total of five world records.

Having begun its voyage in September 2010 with a mission to promote renewable energy, the vessel docked at Hercule Harbor in Monaco this afternoon to end its epic journey and become the first solar-powered boat to circumnavigate the globe.

As well as setting a new record for the longest journey by solar-powered boat, the project has also seen the catamaran claim Guinness World Record titles for the fastest crossing of the Atlantic by solar power and the fastest crossing of the South China Sea by solar power.

Measuring 31-metres in length and featuring 537 square metres of black solar panels mounted around its raised cockpit, the boat sailed more than 60'000 km during its 19-month adventure, travelling over every ocean and continent using only photovoltaic energy.

As well as passing through the Panama and Suez canals, the boat also made stop-offs in 28 countries including Mexico, Australia, Singapore and Abu Dhabi, with the breaks used to promote the use of solar energy at local events.

Swiss electrical engineer Raphael Domjan was inspired to start the project nine years ago after seeing the effects of climate change on an Icelandic glacier.

Speaking to AFP-TV ahead of the final leg of the journey, Domjan explained: "The idea was not to perform a feat but an eco-adventure with the aim of passing on the message that change is possible".

"We have everything at our disposal: the know-how, technology, raw materials and renewable energy to become sustainable and protect the planet".

Designed and constructed over a period of two years, MS Tūranor PlanetSolar cost a total of 15 million euros to build following funding by a number of sponsors and private partners.

Festivities celebrating the boat's arrival are set to continue throughout the night in Monaco, with a light show and a concert by Swiss band Sonalp both being powered in suitable fashion by the energy stored in the craft's batteries."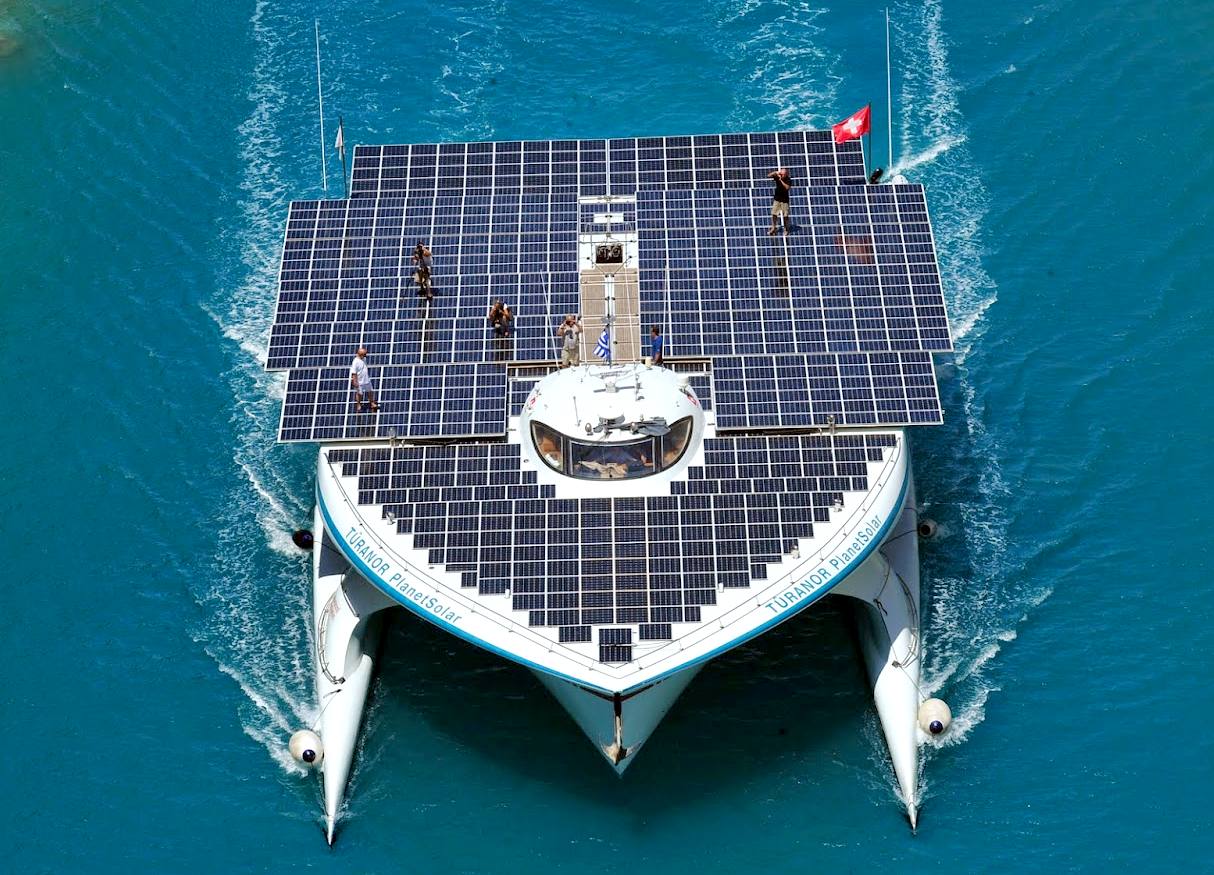 PLANETSOLAR SPECIFICATIONS

Length 31 m
Length (with "tail flap") 35 m
Width 16 m
Width (with "side panels") 26 m
Unladen weight 89 t
Height (above the waterline) 6.5 m
Total surface area of the solar panels 536.65 m2 (@17.4% efficiency)
Number of modules 825
Number of photovoltaic cell 38'000
Cell efficiency 22.6%
Total weight of the Li-Ion batteries 12 t
Autonomy without sunshine 3 days
Cruising speed 5 knots
Maximum speed 9 knots
Maximum engine power 120 kW
Cruising speed power 20 kW
Peak performance 93.5 kW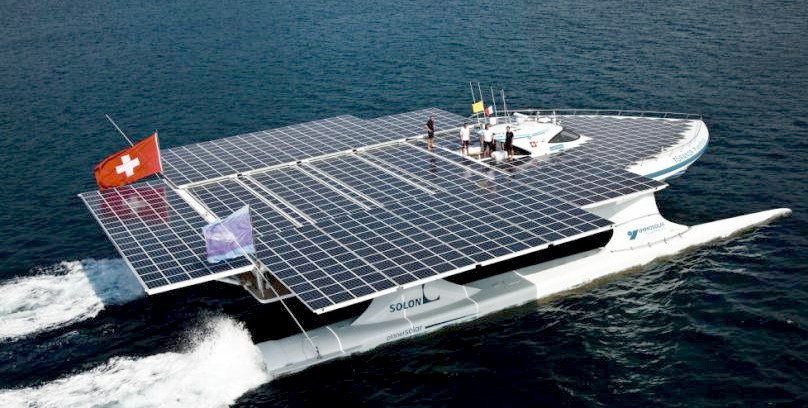 Turanor PlanetSolar measures 31 m long (35 m with flaps), with a beam of 15 m (23 m with flaps) and has a displacement of 85 tonnes. The catamaran's upper surface is covered in 537 m2 of solar panels allowing the vessel to be powered by solar energy alone. On 27 September 2010 the boat left Monaco on the first stage of an attempted circumnavigation.
| | | |
| --- | --- | --- |
| PLANET SOLAR | | |
| - | | |
| Peak power [ave pv+wind] = | - | 93.5kW (125.34 hp) [pv] |
| - | | |
| 24hr averaged power = | - | 31kW (41.78 hp) |
| - | | |
| Peak power to weight ratio = | - | 1.05kW/ton (1.4 hp) |
| - | | |
| 24hr averaged p/w ratio = | - | 0.34kW/ton (0.46 hp) |
| - | | |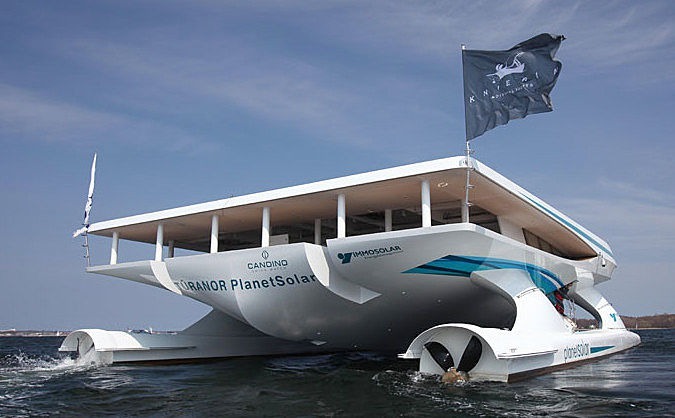 Note the unusual propeller design of this boat - surface piercing blades or paddles that create a lot of splash.
Guinness Book of World Records, certificates for transatlantic and circumnavigation 2010 and 2012 by a solar powered boat.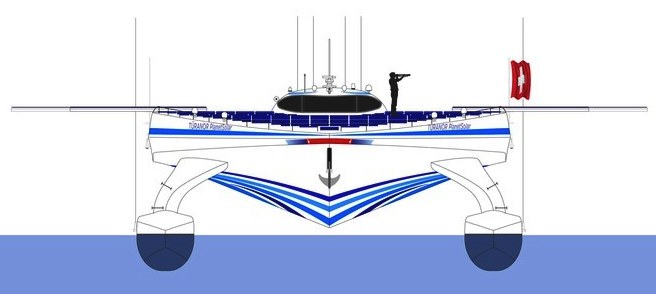 On a solar boat speed is all about having a large solar panel area in relation to the mass of the hull. Other considerations are frontal area and hull drag.
Guinness Book of World Records, certificates for the fastest crossing of the South China Sea and the world's largest solar powered boat @ 31 meters long x 15 meters wide and 85 tonnes.
LINKS & REFERENCE
https://www.guinnessworldrecords.com/news/2012/5/largest-solar-powered-boat-completes-around-the-world-voyage-41497/
https://www.guinnessworldrecords.com/world-records/first-circumnavigation-by-solar-powered-boat
https://www.guinnessworldrecords.com/world-records/longest-journey-by-solar-powered-boat
https://www.guinnessworldrecords.com/world-records/largest-solar-powered-boat
https://solarenergy.com/solar-resources/guinness-world-record-for-solar-boat-crew
Please use our A-Z INDEX to navigate this site