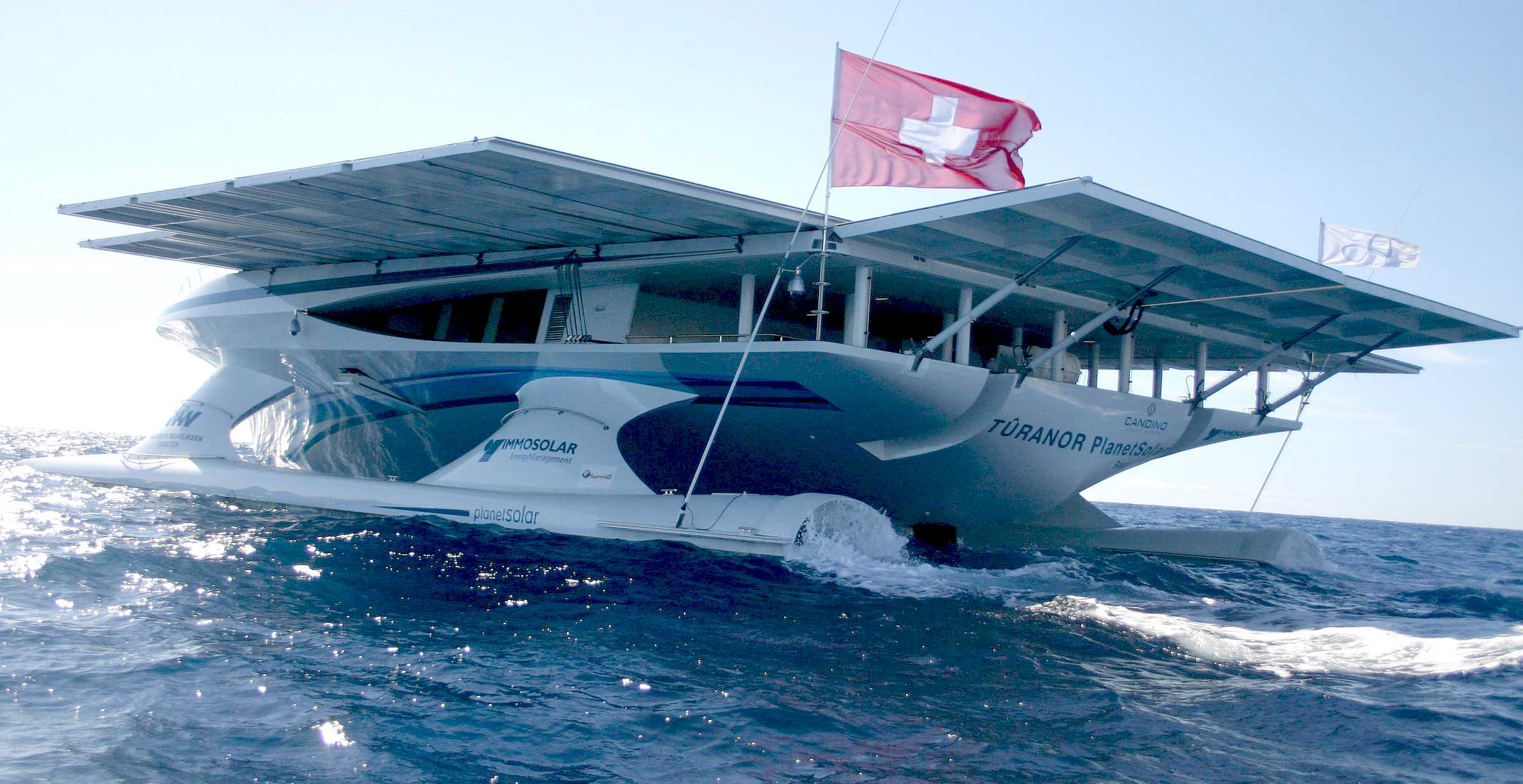 PlanetSolar heading out into uncharted technical waters. The theory was in place, but nobody knew if this solar powered boat could make it. But they did! The solar panel area on this ship was increased with solar panels on rollers, pulled out by the crew using winches. The Elizabeth Swann uses robotics and hydraulics to move solar wings that automatically track the sun, and fold away in storm conditions.
WP5. SATELLITE CYBER SECURITY, CLOUD, IoT
Incorporation of (satellite) low-latency encryption and anti-hacking software to prevent:
1. Hijacking of the autonomous asset
2. Ransomeware (malware)
3. Data acquisition
4. Identification and the digital identities of such attempts
5. Repeat offending, with automatic reporting to the authorities
6. Offenders stealing and re-selling data, with IP theft based prosecutions
7. Offenders escaping punishment, via advanced tracking and trojan (virus/spike) implants. Using their own methods against the perpetrators.
8. Profiting from proceeds of crime, via confiscation of black market crypto-currency
This WP can continue to be developed after launch of the vessel, provided that the hardware architecture is designed for independence at the outset.
Ship operating systems need to be physically separate from satellite communications, encrypted or not - with reboot flushing on command of an operator, or mechanically, at regular intervals. A software based firewall is not sufficient protection. Difficulties arise mainly from digital communications.
Ports need their own AIS (LRIT) protections. Threat modelling real-world scenarios include:
• Nation states jamming GPS signals to avoid detection of banned trade
• Pirates performing reconnaissance to determine if the cargo on a ship is what
they want to go after
• Drug cartels moving products through ports undetected, untargeted malware
designed for ransomware causing significant outages as well as terrorist activity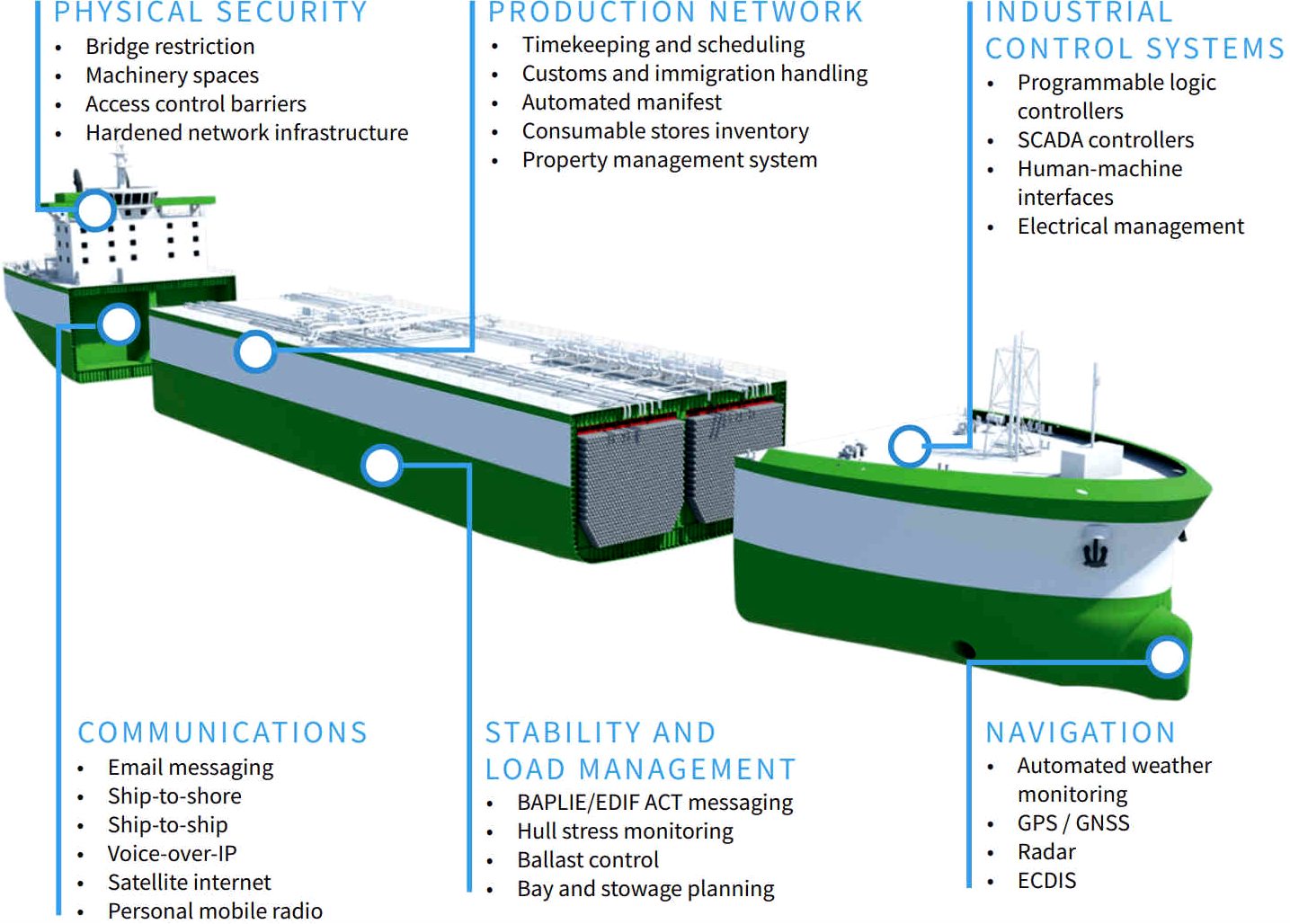 LLOYDS - "It is not only shipping assets which are at risk; the entire shipping sector is fundamentally dependent upon the same systems which interact with vessels either for scheduling, loading of cargo, or personnel assignment. Oil extraction platforms, cargo and loading docks, harbour masters and port authorities all rely upon the same ageing technical
infrastructure to ensure vessels reach their destinations safely and promptly."
COVID 19 WAKEUP CALL
The Building Blocks for a Cyber Resilient future has been highlighted because of Covid 19. There is no more business as usual.
Rapid and dramatic changes concerning how and where personnel perform their daily responsibilities require companies to provide that their security infrastructure, controls, processes, and plans are updated and operational. We have gone through a digital transformation in 2020, that probably would have taken us many years to realise in ordinary circumstances:

• Cyber Transformation & Risk Management
• Cloud Security Architecture and Path to Zero Trust
• Managing Compliance with a remote workforce
• Threat and Vulnerability Management and Rapid Response

The pressure is on to maximize performance and reduce spend on critical IT/security.
Web applications are the most frequently attacked assets in an IT environment. They present some of the greatest security challenges and are responsible for some of the biggest and most costly attacks.
Prevention strategies focused on network firewalls and user access controls are important, but they are not sufficient:

- We need to develop key capabilities to prevent, detect, and respond to
web application attacks
- Understand the requirements to detect attacks at the endpoint, network, cloud, and
application layer

- Learn about the critical role of a proactive response strategy to minimize the
impact of an attack and turn the tables on the hackers

As applications move to SaaS and cloud, it can make sense to have valuable ocean asset data gatherers connect directly to the Cloud. However, by intelligently routing traffic more directly - and from the Cloud back to our networks, we could expose our organization to sophisticated cyber attacks.

While a SD-WAN solution can modernize enterprise networking by centralizing management and improve application performance, addressing cyber security threats should not become an afterthought. We need a comprehensive approach to safeguarding a system for reliable route planning with built in next-generation firewalls.
A multi-layered security approach could accelerate the transition to the cloud and SaaS with increased agility. This WP is to look at ways of protecting and providing support for zero emission, solar and wind powered vessels.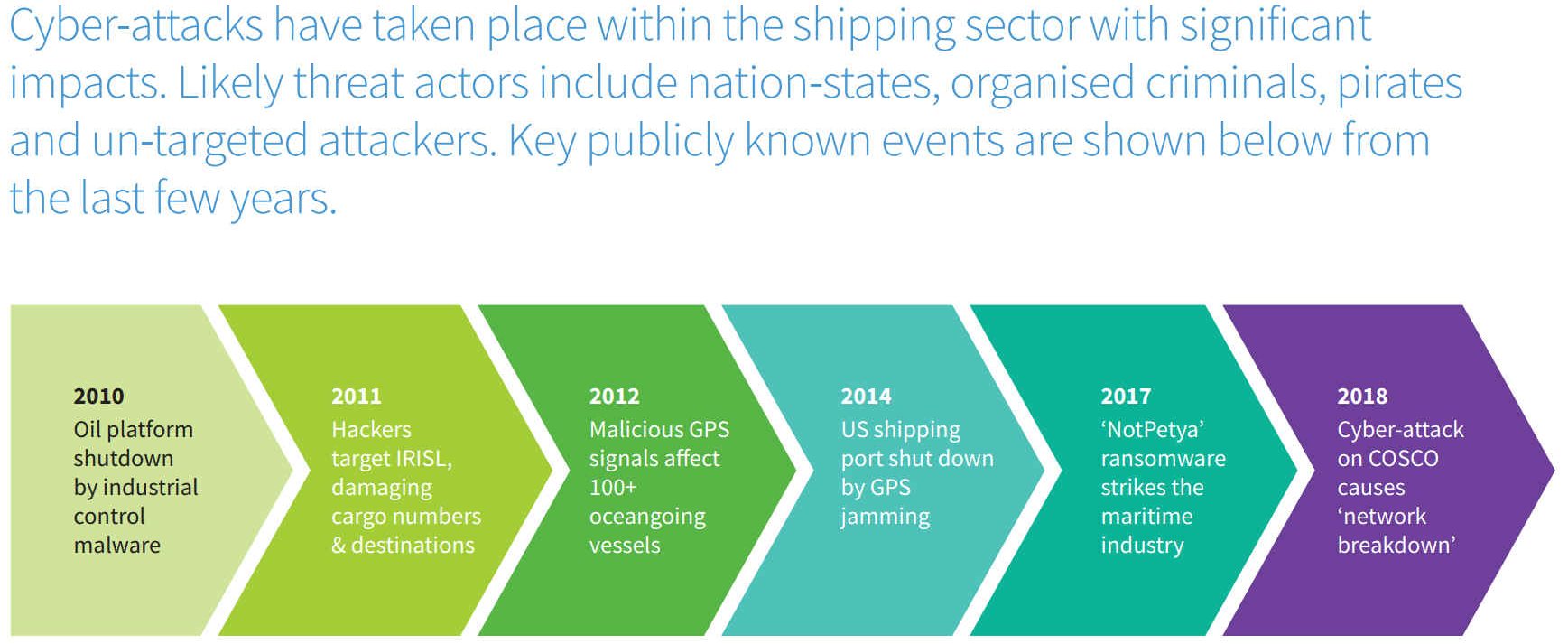 Ransomware is a form of 'malware', maliciously created computer software designed to stealthily infiltrate PCs, mobile devices, and even industrial control systems. The variant known as NotPetya represented a particularly aggressive and damaging strain of ransomware, utilizing highly advanced infiltration and lateral movement techniques to infect systems and gain persistence in a target's network once that access is established.
Once the malicious programme has control of the device, it locks-down access to the device and its functionality before demanding payment in the form of crypto-currency, untraceable digital currency upon which the black-market economy now runs. Clearly, the target must be breaking the crypto currencies and those who provide such services.
MAERSK AS A SHIPPING EXAMPLE - NOTPETYA
A virus infection can have a significant impact on the shipping sector, reliant as it is upon interconnectivity and reliable, accurate information exchange.

Maersk's response to this attack was admirable, rapidly switching from an IT-enabled process model to a manual, paper-driven model to bypass disabled systems.

This approach enabled the organisation to restore an estimated 80% of critical
functionality and throughout, while systems were intensively cleared and restored to their working state. This process of disinfection and restoration took over a week of intensive global effort, during which Maersk's internal technical staff and resources were tested to the limit.
The estimated financial impact was:
• USD $200,000,000 million dollars
• Infected systems included 45,000 PCs and 4,000 servers
• Affected facilities included 76 global port terminals being shut down

The source of Maersk's troubles has been attributed to cyber-warfare in the region
of the Ukraine, likely backscatter from the ongoing conflict there between Russia,
Ukraine, and NATO interests. The infection of NotPetya was traced back to a local
accounting software package, which rapidly spread through Maersk's interconnected infrastructure.

What we can learn from Maersk's ordeal is that shipping interests are caught in the
crossfire between nation states, organised criminals and their economic targets.
Even if not directly targeted themselves, shipping company assets can rapidly fall
victim to enhanced cyber-weaponry that is being developed at an accelerating pace.

WP1. PROJECT MANAGEMENT
WP2. PLATFORM DESIGN
WP3. PLATFORM BUILD
WP4. GIS, GEOSPATIAL AI INCORPORATION
WP5. SATELLITE CYBER SECURITY, CLOUD, IoT
WP6. SHAKEDOWN TRIALS IN THE ENGLISH CHANNEL
WP7. DATA HARVESTING DURING HIGH SPEED RUNS/RECORD ATTEMPTS
WP8. PERFORMANCE PREDICTION FROM ASSIMILATED ANALYZED DATA
WP9. DATA DISSEMINATION
WP10. CASTING OFF & UNMANNED DOCKING
WP11. ONBOARD/OFFBOARD VESSEL SECURITY
WP12. AUTONOMOUS CIRCUMNAVIGATION ATTEMPT
WP13. COLREGS COMPLIANCE LAW & LOBBYING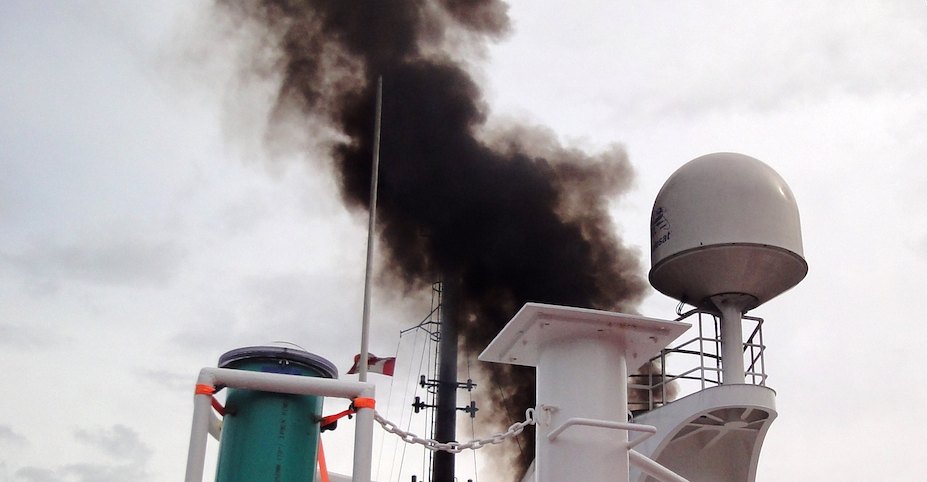 The Cleaner Ocean Foundation works to help protect the "seven seas" from the effects of anthropogenic atmospheric pollution like this ship that is belching diesel fumes like there is no tomorrow. We'd like to preserve tomorrow for our children. You can help us to make this scene a thing of the past.
WHY ARE WE DOING THIS?
Because we can, and because we can, we must.