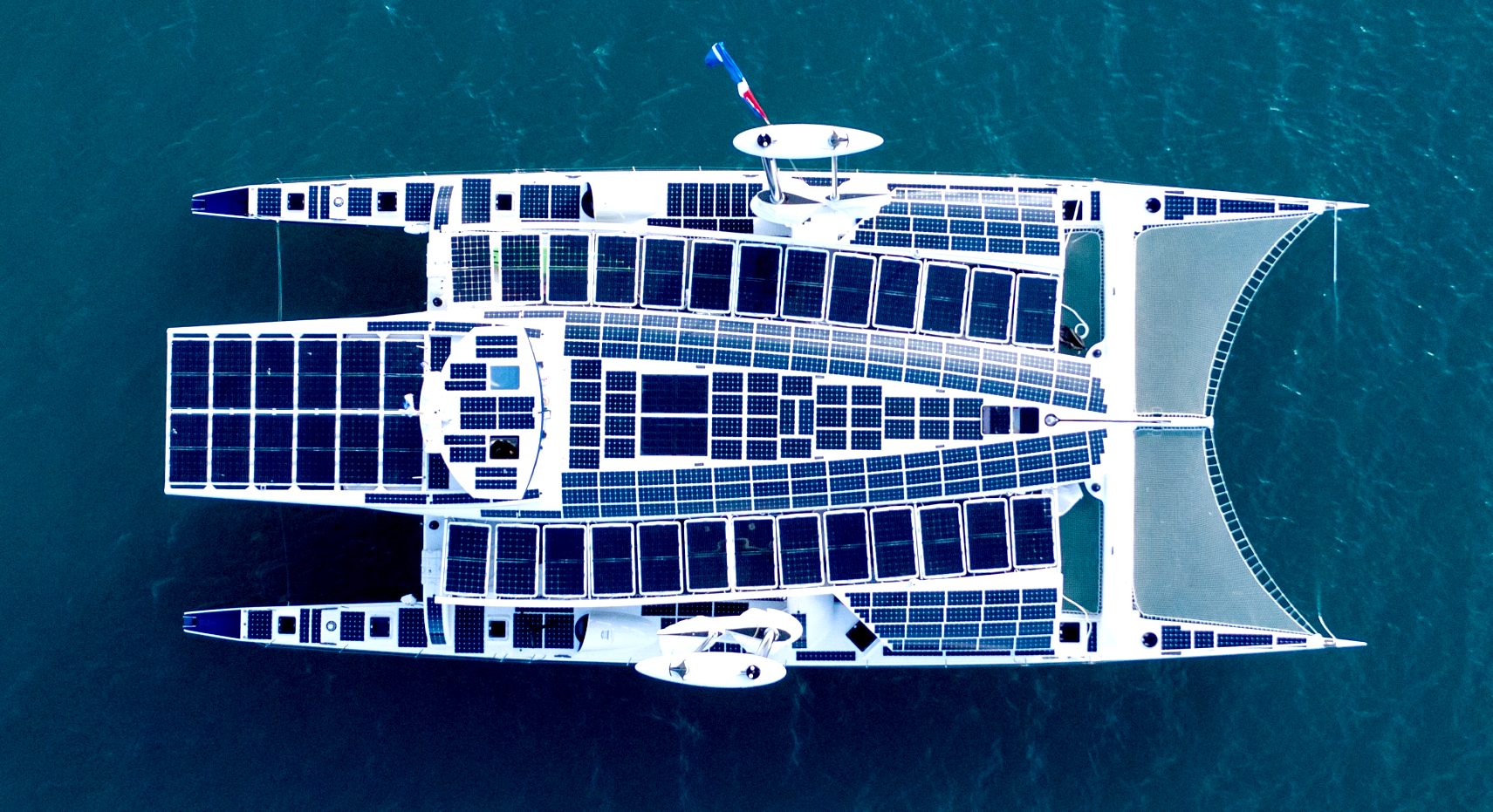 Energy Observer started out in life as a sail powered yacht, converted to solar, electric motor, and hydrogen fuel cell power, crossing the Atlantic at an average speed of 4.4 knots, energy autonomously. The LH2 assisted version of the Elizabeth Swann, is capable of cruising at speeds of 13 knots for long distances, but needs to be bunker refilled with liquid hydrogen between endurance events. At time of writing, ports do not have hydrogen available for shipping. Supplies would need to be arranged especially, on a temporary basis. The lack of infrastructure is a major blocker to the advancement of zero emission waterborne transport.
WP11. ONBOARD/OFFBOARD VESSEL SECURITY
Development of a remotely operated quad or octo-copter drone system with special landing pad, for monitoring of ship functions and close to events, including potential security risks: "Guardian Angel."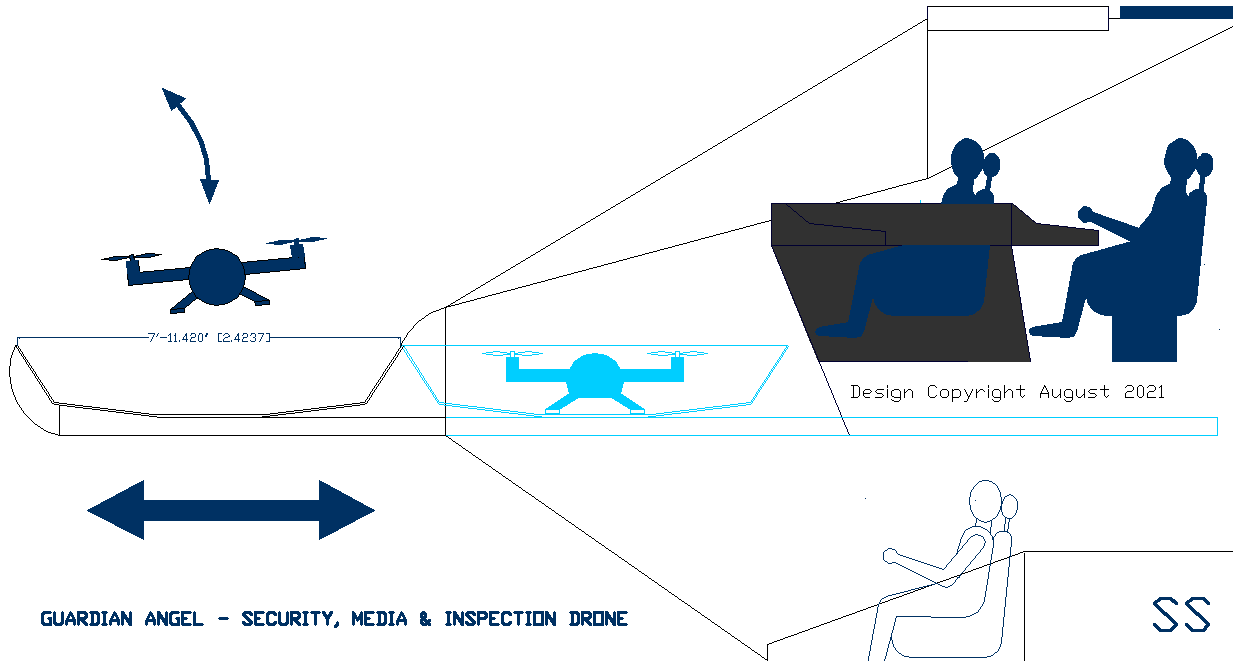 SIDE VIEW - Proposed method (V2.0) of incorporation in the nose of the Elizabeth Swann - as a slide-out compartment in the nose of the solar powered craft, featuring a 2.4 meter landing area, with (proposed) angled walls, to increase catchment area and soft-guide the drone. Shown here stowed in light blue, and deployed in dark colour.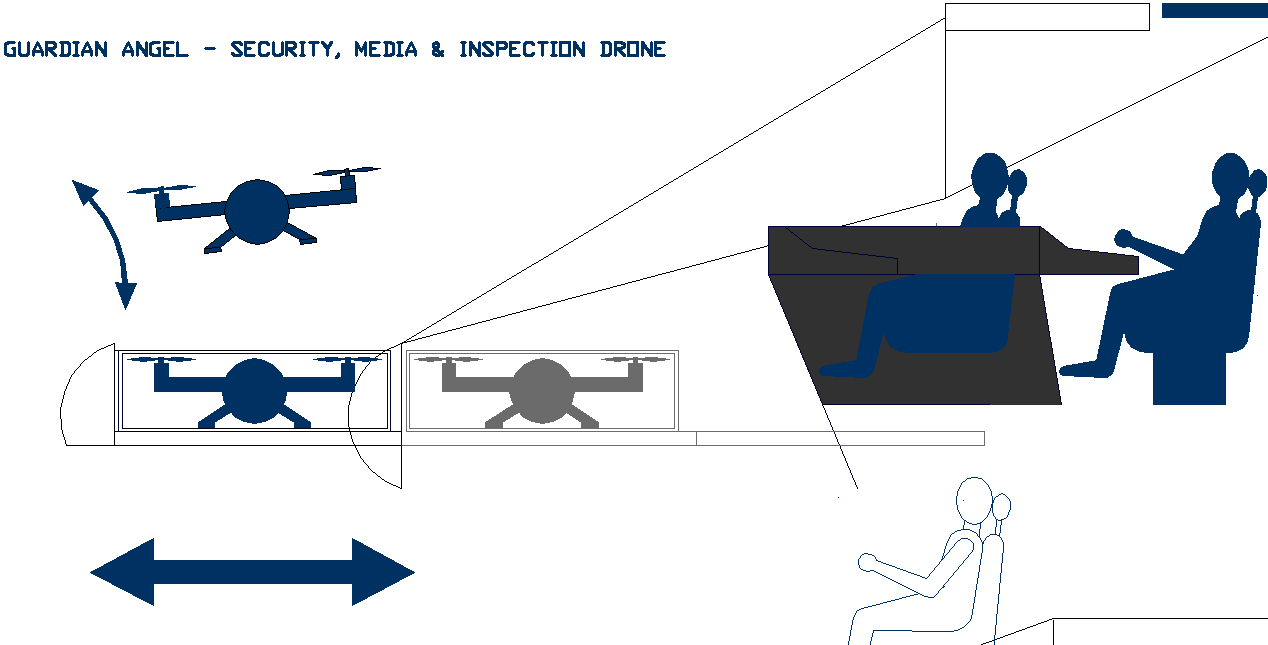 SIDE VIEW - Proposed method (V1.0) of incorporation in the nose of the Elizabeth Swann - as a slide-out compartment in the nose of the solar powered craft. The compartment (drawer) drains into the sea. The drone is charged automatically on landing.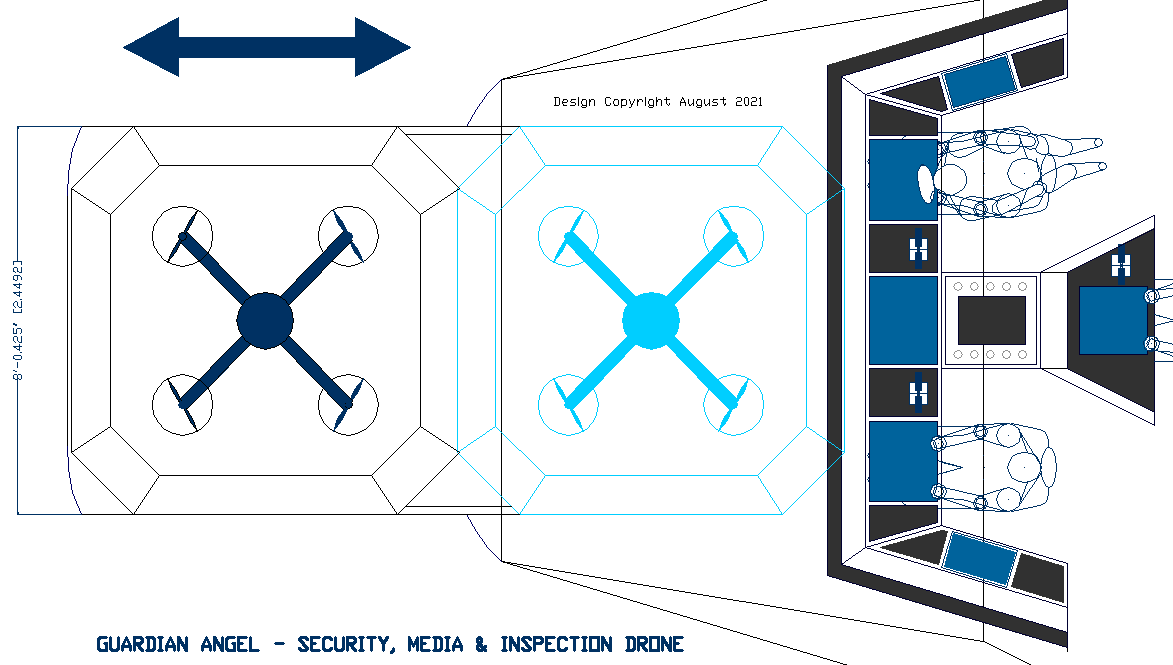 AERIAL VIEW - Proposed (V2.0) design for a slide-out landing tray with 2.4 meter catchment area, and (proposed) angled walls. Seen here deployed in dark colour, and stowed in light blue.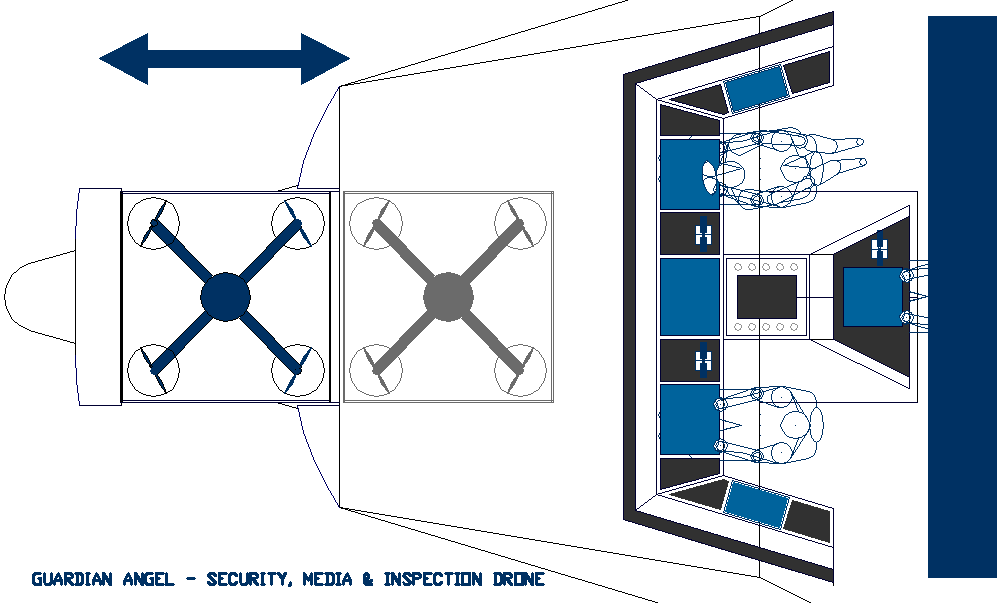 PLAN VIEW - The slide-out compartment (V1.0) is opened for launch, and retracted when landed, to protect the drone, seen here measuring 1.5 x 1.5 meters x 460mm deep. You can see this in context with the size of the Swann, in the diagram below. The proposal is for a double acting hydraulic ram operating on two sliders, with limit switches.
The 'Guardian Angel' is a drone linked to the onboard AI, Hal, and Captain Nemo (autonomous navigation system) that is designed to render assistance remotely to the Elizabeth Swann in terms of:
1. Potential security issues involving aerial surveillance
2. Search & Rescue (S&R) man overboard and recovery
3. Hull inspection and maintenance &in case of impact (e.g. marine debris)
4. Solar (wings) panel cleaning
5. Autonomous docking for greater safety and turnaround in ports
6. Media video streaming
7. Surveillance anti-piracy recording and incident reporting


As Blue Growth activities generally take place over very large areas of sea and ocean, airborne surveillance as well as satellite constellations and Small Flying Objects can offer valuable solutions to address these and other challenges. Maintenance of surveillance capabilities on and beneath vast areas of ocean is very challenging and requires emerging technologies as well as complex information and data services.

PORT INTERACTION - Docking of a vessel this size (even with bow/stern thrusters) will benefit from eyes in the sky. The method of launch and recovery does not detract from the solar panel area, and is far enough away from the turbine blades aft, to be safe. Even so, when docking the turbine would be furled. Filming of the mooring procedure could be useful in the event of a mishap.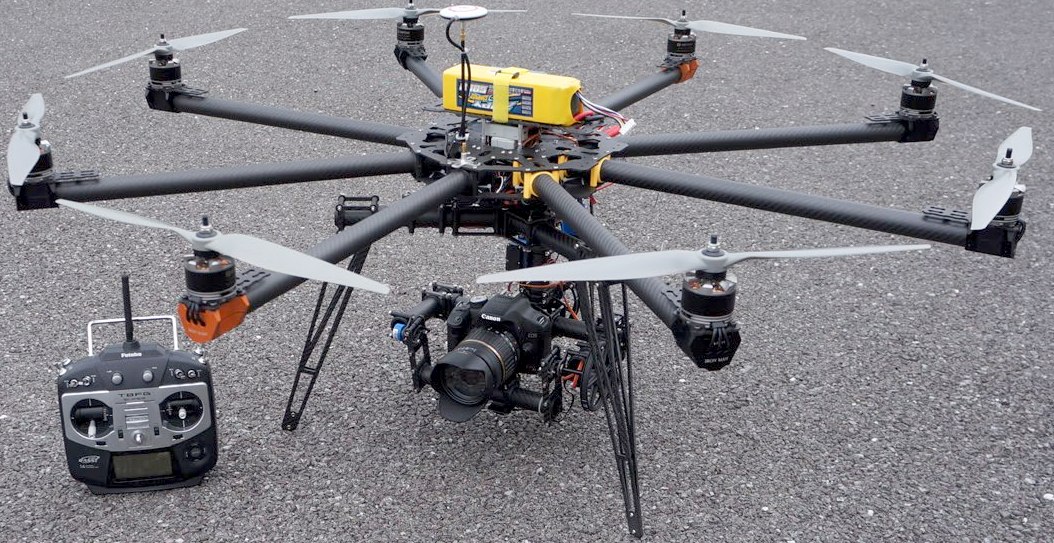 The inclusion of interactive media coverage, allows the operators to record arrivals/departures at route locations, and other events - to compile official project footage for eventual documentary use. It is akin to a dashcam in an automobile, where dashboard cameras on land vehicles record travel and can be used in litigation to resolve liability issues.
The big difference is that the 'Guardian Angel' flies, and has more sensors, such as infra-red for S&R.
The drone will have a special landing pad that docks, making safe electrical contact and charges the lithium batteries.
Cleaning fluids will be replenished, being treated seawater, such that any salt caking might be removed.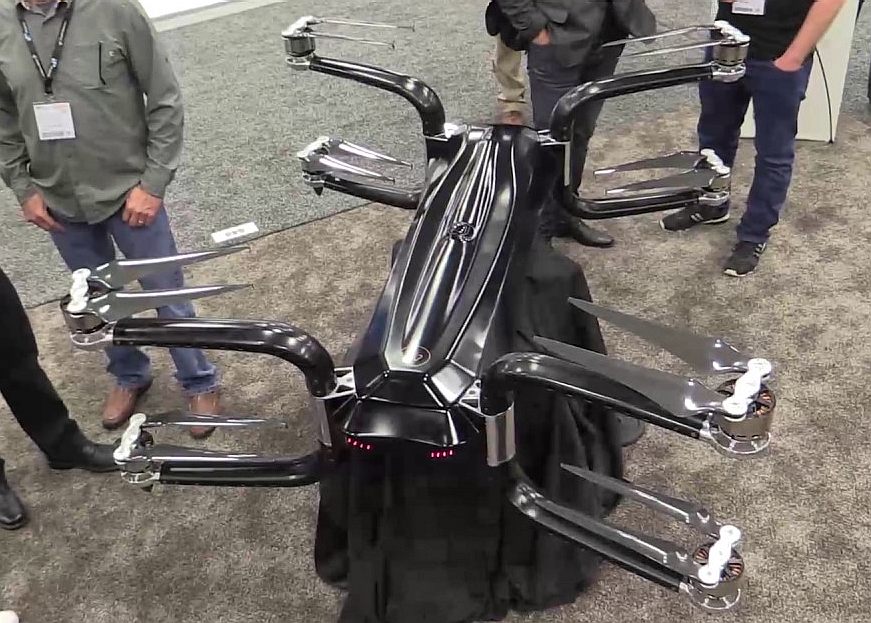 The size and payload specification and functions will be the subject of this WP. The drone does not need to lift a man in the water to effect a rescue, reducing the cost of the drone setup. The Elizabeth Swann is capable of providing a special lifebuoy for this purpose and in some circumstances, may even provide a life-raft. The drone needs to establish that a person in the water is alive, for that affects the urgency of any rescue (rendering assistance) operation.
A DCS distress alert and Mayday signal, follows a GPS positional fix. Post rescue, cancel distress signals.

WP1. PROJECT MANAGEMENT
WP2. PLATFORM DESIGN
WP3. PLATFORM BUILD
WP4. GIS, GEOSPATIAL AI INCORPORATION
WP5. SATELLITE CYBER SECURITY, CLOUD, IoT
WP6. SHAKEDOWN TRIALS IN THE ENGLISH CHANNEL
WP7. DATA HARVESTING DURING HIGH SPEED RUNS/RECORD ATTEMPTS
WP8. PERFORMANCE PREDICTION FROM ASSIMILATED ANALYZED DATA
WP9. DATA DISSEMINATION
WP10. CASTING OFF & UNMANNED DOCKING
WP11. ONBOARD/OFFBOARD VESSEL SECURITY
WP12. AUTONOMOUS CIRCUMNAVIGATION ATTEMPT
WP13. COLREGS COMPLIANCE LAW & LOBBYING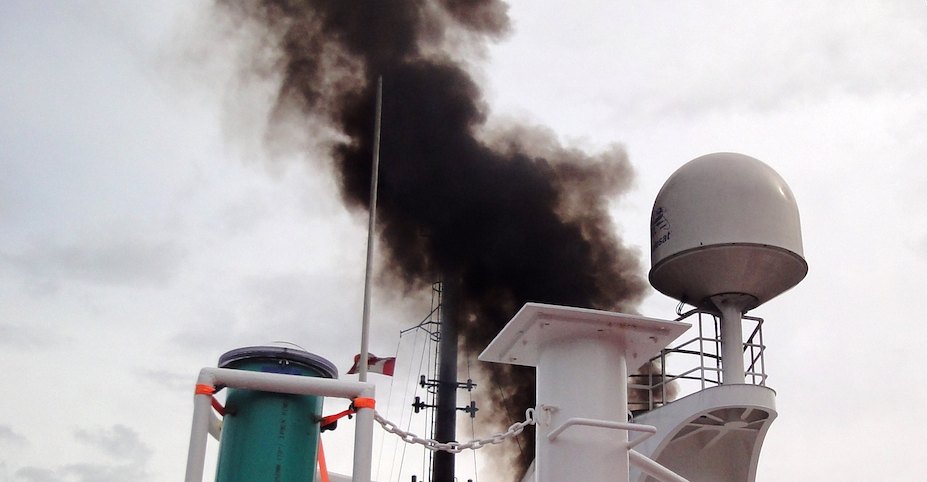 The Cleaner Ocean Foundation works to help protect the "seven seas" from the effects of anthropogenic atmospheric pollution like this ship that is belching diesel fumes like there is no tomorrow. We'd like to preserve tomorrow for our children. You can help us to make this scene a thing of the past.
WHY ARE WE DOING THIS?
Because we can, and because we can, we must.