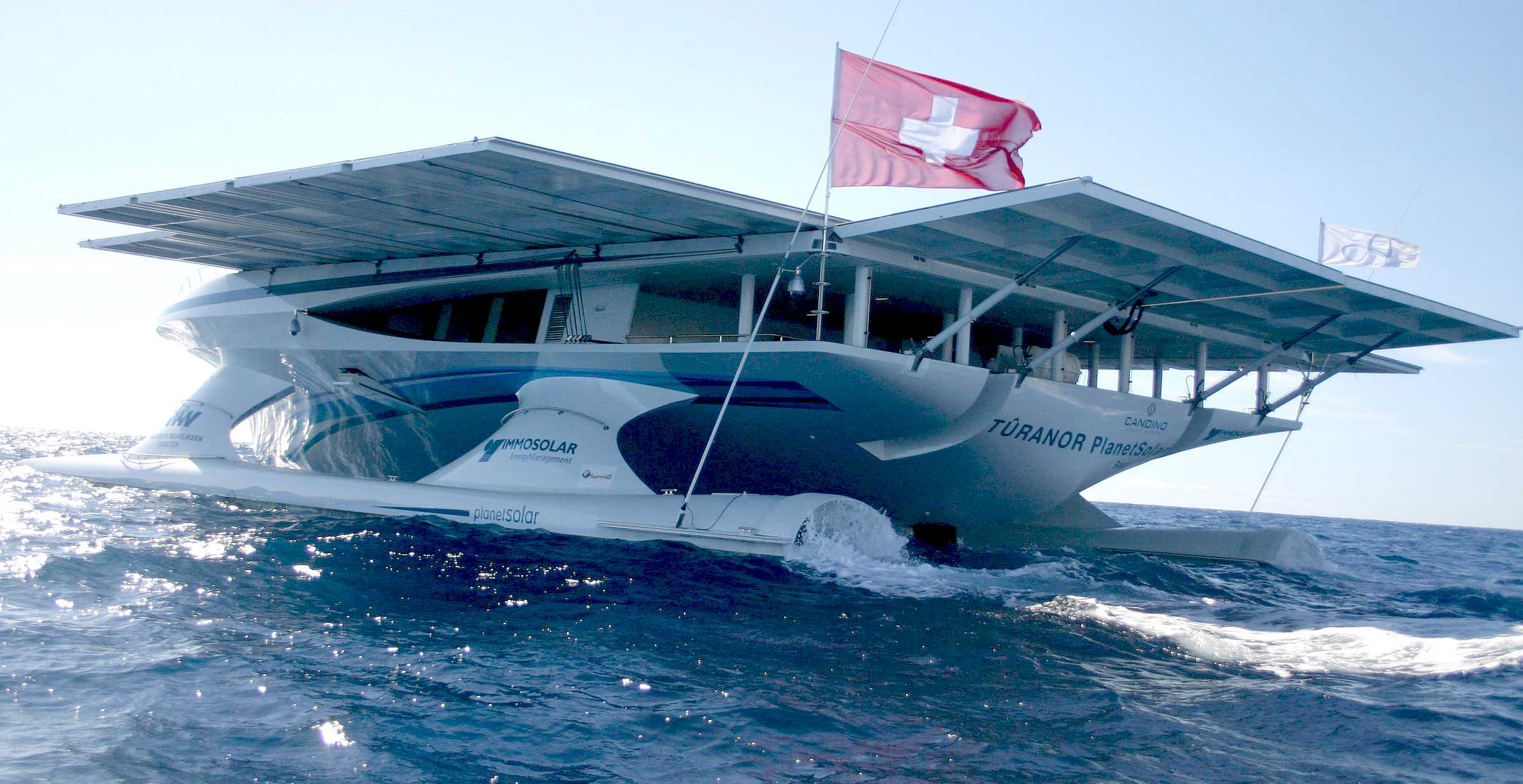 PlanetSolar heading out into uncharted technical waters. The theory was in place, but nobody knew if this solar powered boat could make it. But they did! The solar panel area on this ship was increased with solar panels on rollers, pulled out by the crew using winches. The Elizabeth Swann uses robotics and hydraulics to move solar wings that automatically track the sun, and fold away in storm conditions.

WP8. DATA ASSIMILATION & ANALYSIS

This are two stages to WP8 development:
A. Firstly, as a design development tool by way of simulation and analysis, and
B. Secondly, following stage A., operational vessel rigging in relation to real-time conditions.
WP8-A - COMPUTER SIMULATION
A clean sheet of paper approach to ship design, from the waves up and solar panels down, to improve the ratio of energy harvesting conversion from sun and wind, to propulsion, such as to make a vessel perform sufficiently well to be commercially viable in terms of cargo carrying. I.e. as near to 10 knots for green lane cruising as practical.
Computer simulation offers vessel designers a way of predicting expected design outcomes, without having to field a vessel, except to confirm the results of a/the program.

The proposed design (as a variable) is a trimaran with lightweight superstructure that is capable of carrying large solar panel arrays that can move to track the sun, mounted high enough from the water to limit sea salt accumulation, but low enough to avoid roll instability.
In addition to insolation, the superstructure may also carry a wind turbine on a moveable mast, such as not to shade the solar arrays, except when the sun is not shining – for example at night. The objective of the computer simulation, would be to contrast a vessel with pv panels and sun tracking only, against a vessel with wind turbine generators and pv panels in combination. Taking into account, that for much of the time a vessel is moored, wind and solar energy that is not being used for immediate transits, may be stored for use on subsequent voyages, and that being the case, operation of a vessel as a ferry might prove to be a good starting point when considering commercial applications.

The simulation would take into account variables such as hull drag (air & water), battery storage capacity, solar panel area and wind turbine configuration, against vessel displacement – to determine a design compromise. The variables would need to be adjustable, such as solar panel area, and wind turbine type (efficiency) and size. Increases in capacity will mean additional mass in a stronger supporting structure.

By virtue of adjusting the variables, it should be possible to operate the vessel in simulated real-world conditions using live geodata streaming (or stored data sets), for example to emulate crossing the Atlantic Ocean, where using trade winds and ocean currents, should prove to be a distinct advantage, as opposed to running a simulation using a route against prevailing winds/currents.

The resultant programme, though incorporating many variables, will be a serious development tool in calculating ideal zero emission ship combinations, for fleet operators looking to deliver goods as a scheduled service. Possibly also, helping to re-define ideal shipping routes at various times of the year, for different ship configurations.

In addition, should a simulation of (for example) a ferry show that there is significant energy being wasted in ports. We might then consider a small onboard hydrolyser and fuel cell rig, to store that energy as a supplementary energy store, provided that such a rig would not increase the mass of the vessel disproportionately. This might be a follow on module, aimed at the possibility of range extending for solar powered electric ferries, using hydrogen storage and fuel cells, to reduce battery mass. Although, with the Energy Observer, results have so far given performances lower than obtained with batteries on the PlanetSolar.

This is an outline where part of the project would be to define the variables, and how they might be incorporated, before writing any algorithm. Suggested as plug in modules, or bites of code, to make a project containable.
WP8-B - OPERATIONS
Assimilation and analysis of data by way of a software development tool (program) for the forward design of solar and wind powered commercial shipping - so as to begin to be able to predict the best Waypoints for a/the newly defined solar/wind powered formula - for example for cargo runs.
In all the history of sailing, it appears that there has not been a compilation of route and weather data such as to be able to run a program in real time to define a best course option for sailing vessels traversing the Atlantic ocean. Seafarers rely on their experience and weather-faxes, to plot a course in relation to the weather conditions they are experiencing.
In order to make this possible, a vessel that uses wind and solar power needs to be operated in all weather conditions at various times of the year, while gathering information as to performance.
As with the current robotaxis and truck development, the best (and safest) results for autonomous vehicles appears to be once a vehicle has learned a route. For example, from one port to another.
That information is then analyzed with various adjustable input parameters, such as to be able to predict with some degree of certainty, a course that will yield good results on average. Also, able to react to changing circumstances in an informed manner - such that as deviations from predicted performance are noted, the AI vessel may react to achieve reasonable transits, as far as is possible.
Such a program escalates inexperienced sailors to the same level as salty seadogs with a whole lifetime of knowledge, but better still, the skill level is enhanced with real time knowledge of weather conditions and a robotic crew that automatically trims a vessel to make best use of the prevailing conditions.
The programming is thus tailored software to be able to interface with other onboard robotics (AI) such as to be adaptable to other vessel formats, in comprehensive fashion.

WP1. PROJECT MANAGEMENT
WP2. PLATFORM DESIGN
WP3. PLATFORM BUILD
WP4. GIS, GEOSPATIAL AI INCORPORATION
WP5. SATELLITE CYBER SECURITY, CLOUD, IoT
WP6. SHAKEDOWN TRIALS IN THE ENGLISH CHANNEL
WP7. DATA HARVESTING DURING HIGH SPEED RUNS/RECORD ATTEMPTS
WP8. PERFORMANCE PREDICTION FROM ASSIMILATED ANALYZED DATA
WP9. DATA DISSEMINATION
WP10. CASTING OFF & UNMANNED DOCKING
WP11. ONBOARD/OFFBOARD VESSEL SECURITY
WP12. AUTONOMOUS CIRCUMNAVIGATION ATTEMPT
WP13. COLREGS COMPLIANCE LAW & LOBBYING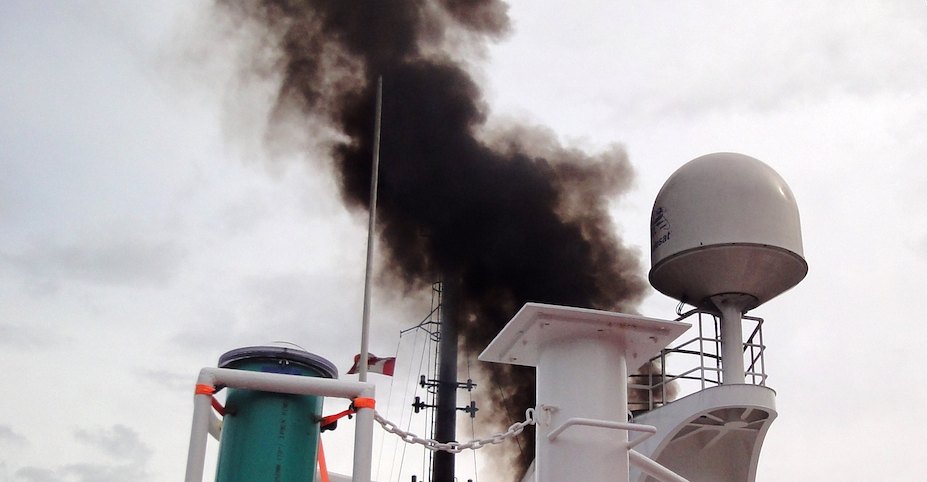 The Cleaner Ocean Foundation works to help protect the "seven seas" from the effects of anthropogenic atmospheric pollution like this ship that is belching diesel fumes like there is no tomorrow. We'd like to preserve tomorrow for our children. You can help us to make this scene a thing of the past.
WHY ARE WE DOING THIS?
Because we can, and because we can, we must.