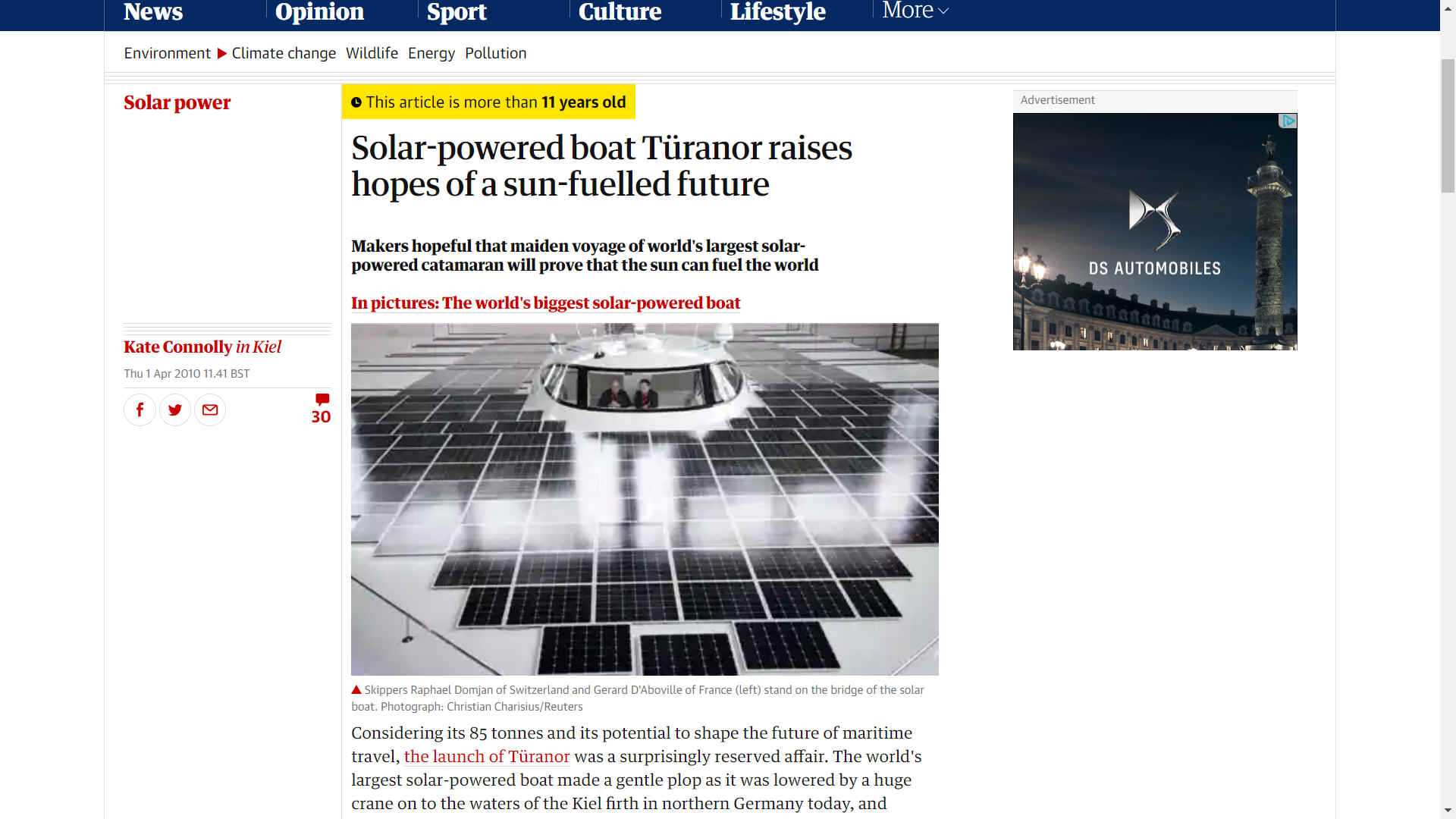 THE GUARDIAN 1 APRIL 2010 - SOLAR POWERED BOAT RAISES HOPE OF SUN FUELLED FUTURE

Makers hopeful that maiden voyage of world's largest solar-powered catamaran will prove that the sun can fuel the world.

Considering its 85 tonnes and its potential to shape the future of maritime travel, the launch of Türanor was a surprisingly reserved affair. The world's largest solar-powered boat made a gentle plop as it was lowered by a huge crane on to the waters of the Kiel firth in northern Germany today, and triggered the polite applause of onlookers – mainly fishermen and shipyard workers. "We've made it, she's safe, and she floats," whispered its owner, Immo Ströher, with tears welling in his eyes.

But the real challenges for the gleaming white catamaran still lie ahead, as its makers seek to use it to prove that the sun can fuel our world.

Next year, after an intense testing phase, Türanor – the name, inspired by JRR Tolkein's Lord of the Rings, means "power of the sun" – will embark on her maiden voyage, a round-the-world trip during which her two-man crew will attempt to chase the sun in order to capture as much available solar power as possible and navigate her at an average speed of 7.5 knots.

Ströher's granddaughter christened her today by smashing a bottle of champagne against her teak deck, and pronouncing: "May you always have plenty of water under your bows, and sun on your deck."

The 31-metre-long multi-hull vessel, the brainchild of Swiss former ambulance driver Raphael Domjan, is topped by scores of photovoltaic panels, with a total area of more than 600 sq metres, that covers most of the catamaran's surface. Additional panels are attached to outriggers on its starboard, port and stern sections, that can be retracted in stormy weather. The solar energy, which will be stored in the largest lithium ion battery in the world, will power the vessel's silent, pollution-free electric motor.

"The mission of the skippers will be to chase the sun," said Dany Faigaux, a member of PlanetSolar, the Swiss team behind the ambitious project. "Up until now, sailing navigation has involved working with the three parameters of the waves, wind and tide. But we've added two new dimensions – namely, sunlight and the lithium ion battery. It's a completely new form of energy management."

The £16m catamaran – chosen for its energy-saving ability to "slice" rather than "ride" through waves – will store energy in its batteries by day. It can run on its stored energy in the absence of sunlight for around three days at 7.5 knots, the speed of an average oil tanker. At slower speeds it could run for up to 15 days, according to its makers. [It took 26 days to cross the Atlantic @ 5.3 knot average]

Türanor, which will travel along an equatorial route – to take most advantage of the sunshine – will be helped by French meteorologists who will advise the most efficient path along which to steer it according to current conditions and forecasts.

If it is a particularly cloudy day, they might recommend a diversion to sunnier parts, even if the route turns out to be longer. "Its all about maximising its energy efficiency," said Faigaux.

The 34,000-mile journey will take the vessel across the Atlantic Ocean, the Panama Canal, the Pacific Ocean, the Indian Ocean and the Suez Canal to the Mediterranean Sea over a scheduled 160 days. The voyage is intended not so much to revolutionise sea travel – the technology requires the vessel to be as light as possible, so it would not be suitable for heavy container ships – as to prove the under-exploited potential of solar energy.

"We want to be the Phileas Fogg of the 21st century," said 38-year old Domjan, the project's pioneer. "But beyond Jules Verne's dream, our project is meant to serve the environment and to enable solar energy to replace fossil fuels, and to motivate engineers and scientists to develop these technologies," he said. Appropriately, one of the patron's of the project is Jean Verne, the great-grandson of the French author of Around the World in Eighty Days.

"I don't know why no one has tried it before," added Domjan, whose company also boasts what they say is the world's only solar-powered computer server. "But what we want to show is that all the technology that is in this boat is technology you can already find on the market, rather than just in the lab, and all of it can be applied to our normal, everyday lives."

Gerard d'Aboville, his fellow skipper for the forthcoming voyage, is no stranger to maritime challenges, having become the first person to row across the Atlantic Ocean in 1980.

"We'll have to learn a new kind of navigation," he said. "It's very different from any of the other challenges I've faced, which is what makes it so interesting. It's strongly symbolic for the future of solar energy, but I would not dare to say that tomorrow a merchant boat or a passenger plane will be powered by the sun."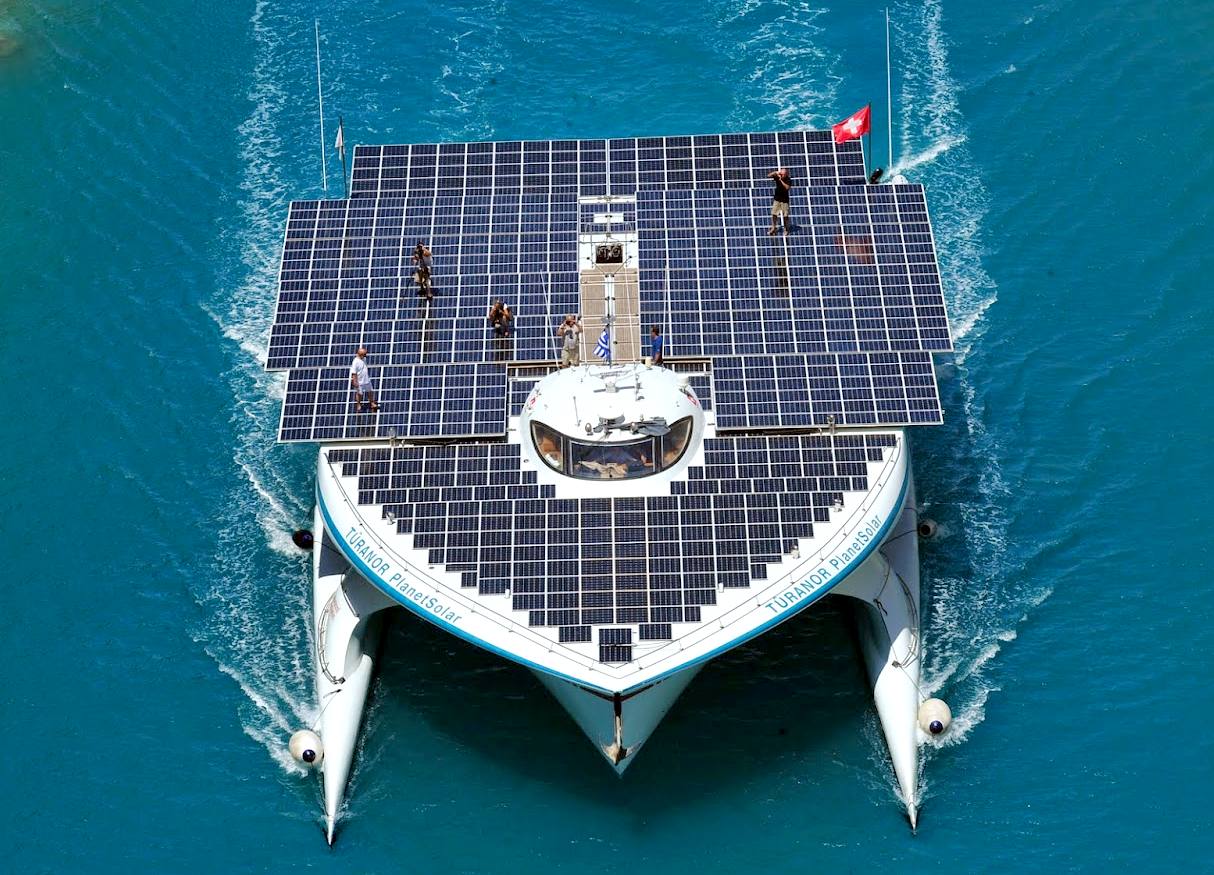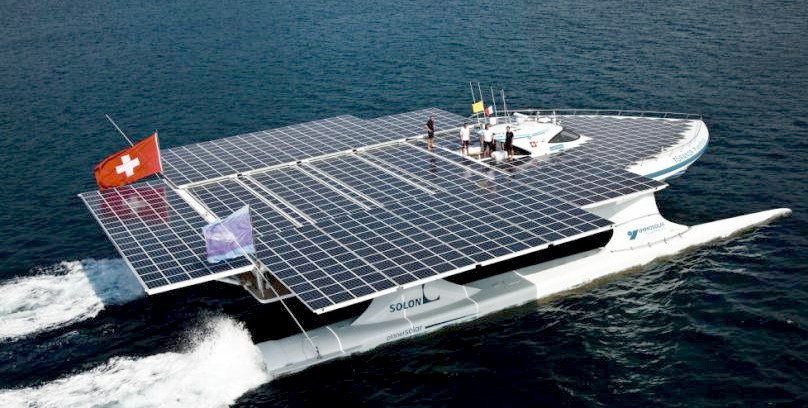 Turanor PlanetSolar measures 31 m long (35 m with flaps), with a beam of 15 m (23 m with flaps) and has a displacement of 85 tonnes. The catamaran's upper surface is covered in 537 m2 of solar panels allowing the vessel to be powered by solar energy alone. On 27 September 2010 the boat left Monaco on the first stage of an attempted circumnavigation.
| | | |
| --- | --- | --- |
| PLANET SOLAR | | |
| - | | |
| Peak power [ave pv+wind] = | - | 93.5kW (125.34 hp) [pv] |
| - | | |
| 24hr averaged power = | - | 31kW (41.78 hp) |
| - | | |
| Peak power to weight ratio = | - | 1.05kW/ton (1.4 hp) |
| - | | |
| 24hr averaged p/w ratio = | - | 0.34kW/ton (0.46 hp) |
| - | | |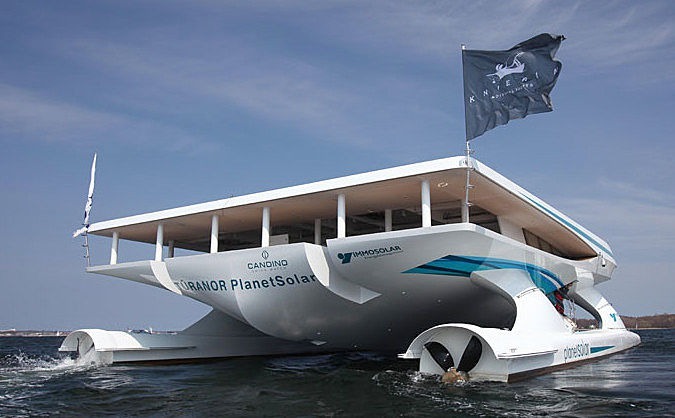 Unusual propeller design - surface piercing blades or paddles that create a good deal of splash, compared to electric jets.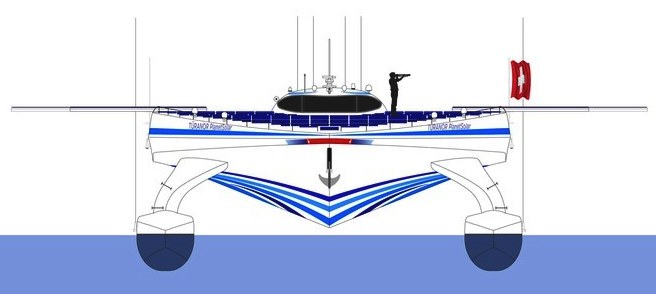 On a solar boat speed is all about having a large solar panel area in relation to the mass of the hull. Other considerations are frontal area and hull drag. The PlanetSolar is a relatively beefy design.
A BIT OF HISTORY
The first solar boat to travel around the world was the PlanetSolar, coming home on the 4th of May 2012. Computing power was not as advanced as it is today, when PlanetSolar set off on 27th September 2010, following the Sunshine Route, first shown in London at the 1994/95 Boat Show. Then in January 2013 a patent specification for a COLREGs compliant, unmanned autonomous navigation system was filed by a BMS engineer ( now our IP) with the suggestion in 'Claims' for using a solar powered trimaran (patent granted 12 June 2019) as a suitable hull configuration. This patent also included wind energy harvesting as originally advertised for the Mayflower 400.
LINKS & REFERENCE

https://www.theguardian.com/environment/2010/apr/01/turanor-solar-power-yacht-launch
Please use our A-Z INDEX to navigate this site