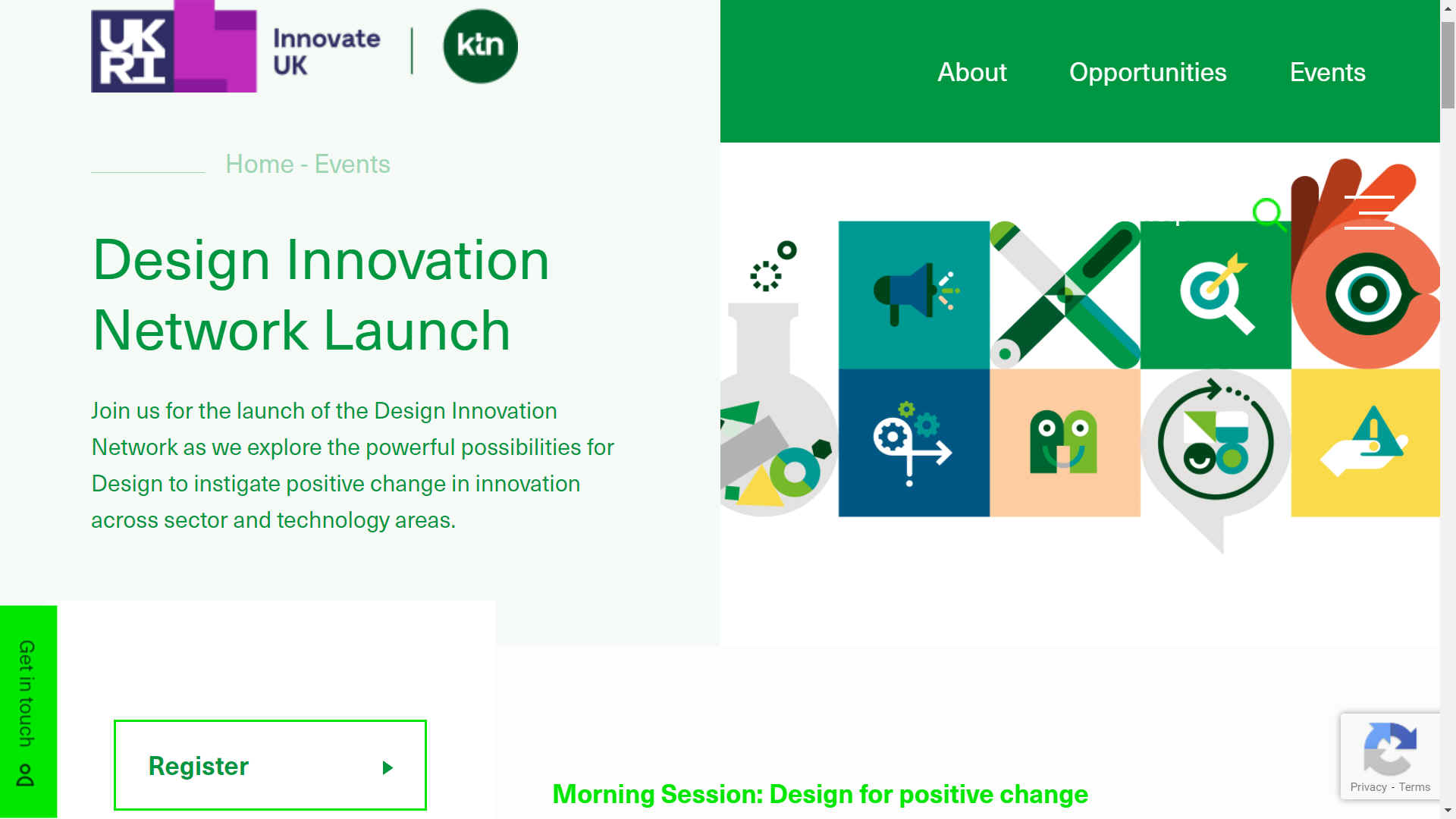 Advancing our knowledge and technological capabilities by design, will allow us to better control the enormous challenges we are facing such as global warming and ocean pollution. Designers today have more CAD tools at their disposal, provided they have access and know how to use this technology. Designers must also be possessed of the vision, with a good grasp of engineering principles, to be creative.

If "necessity is the mother of invention," then innovation is necessary for our changing times, and solutions are better if brought to market by good design. James Dyson revolutionized vacuum cleaner design with his bag-less, cyclonic hoovers. Then battery technology improved on the new technology, yet again. And they look far more attractive, since Dyson made a point of making his products stand out, by design. And don't forget that he started out with a wheelbarrow that used a ball, instead of a conventional wheel.
One example of design innovation is the range of hand tools now on the market, with features that make life far easier for the artisans employing them, giving them more control over cuts and fixing, easier tool changing, and faster production. Again, battery technology has virtually taken over from plug in cable tools.
Looking back on the tools of yesteryear, we might have thought we'd reached a pinnacle, but that pinnacle was just one more mountain on the road to a smarter future. The same applies to all walks of life. In automotive design, building design and construction - an example of which is fire safety, containment and evacuation of occupants - just as much as energy efficiency. Skyscrapers could be solar heated and ventilated, with much electricity coming directly from the sun.
Computers, satellites, navigation systems and communications. All better by design, and with the right people for the job. As in, talented innovators, with modern CAD skills and an understanding of technology to be able to apply it.
But in some areas we have gone backwards. Who remembers tea cozies? Usually woolen or cloth blankets for a teapot. Yet, there is no such thing for a modern electric kettle. The obvious benefit of which is energy savings - if boiling water often, such as in a canteen or office. Why? Because we buy kettles on price, where they are disposable items dependent on the life of their elements.
Other domestic appliances have come on in leaps and bounds. Washing machines will now include plastic filters.
Medical advances could include digital monitoring of the population, to replace the doctors - that are no longer available - post Covid. You try to get an appointment. They are all on virtual holiday. Digital monitoring would do away with the multiplicity of blood tests, saving time and money.
Storm Eunice, has shown that our power networks are far from adequate. Where we are based in Sussex, we've had multiple power cuts, taking huge slices out of two days. Power cuts could be a thing of the past with SmartNet (as one example) load leveling service stations. One major concern is the vulnerable living in close proximity, left in the cold and dark because of power cuts.
How can we transition from fossil fuels to a sustainable electric society, if every time there is a storm, the country comes to a standstill. For example, predicted weather data could have been used to identify weaknesses in the Grid, something else that could benefit from innovative design. By way of moving from national power line direct feed, to a smart buffered system. The design element here is blending such facilities into the landscape, and yet providing an efficient energy storage and transfer package. Sadly, the Network operators are more concerned with profits, than uninterruptible power supplies. Leaving their customers without power. But, everyone knows, prevention is better than cure. This is more of a policy issue, to force the speed of the transition. To leveraging investment from industry players, and forcing collaboration, where it is unrealistic to put such load on the shoulders of the innovators. Funding should reach the innovators who are the drivers of change, not the franchise operators, who are the establishment resisting change.
THE EVENT - 10:00 - 14:00 (GMT)

KTN and UKRI have organised morning and afternoon sessions, where there will be stimulating discussion on the possibilities for Design in Innovation. We are looking forward to learning more, hoping to apply what we learn to cabin and helm design ergonomics - with a view to improving the performance of crew and their comfort.

At this event we will be hearing from six Design Innovation thought leaders, and engage in an interactive panel session and you'll have the opportunity to share what you'd like the Design Innovation Network to offer.

The afternoon session will be Building Design in Innovation.

After the morning session the discussion will focus on some of the practicalities of Design in Innovation: funding, navigating design disciplines, the variety of approaches to designing and finding as well as selecting the right design talent.

We'll initiate the conversation with a fireside chat and open the floor for audience questions and wider discussion.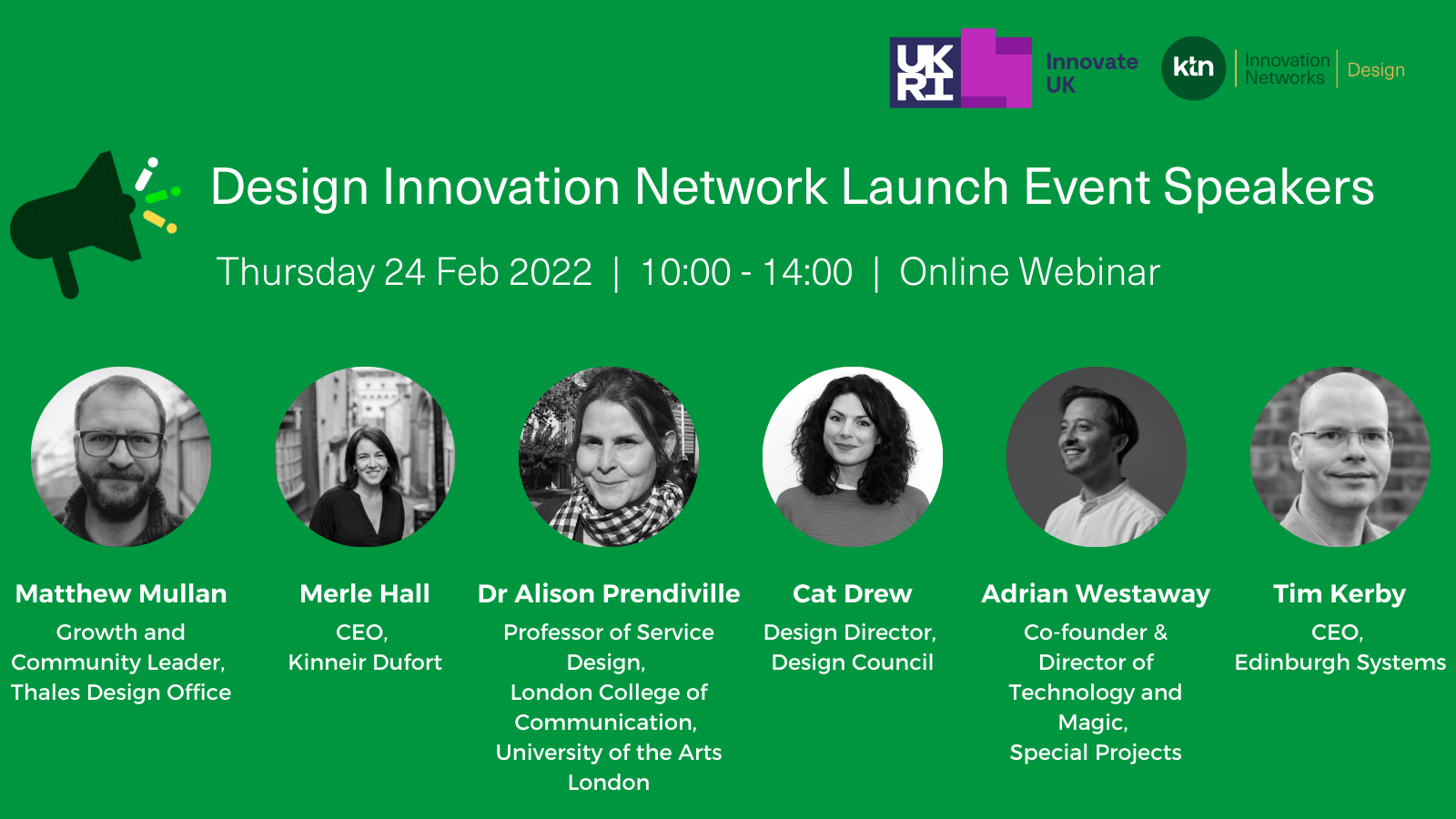 AGENDA

Morning Session: Design for Positive Change

10:00-12:00 - Session Outline

Welcome and Introduction to the Design Innovation Network – Abi Hird, Design Innovation Network Lead

Hello from the Design Innovation Network Advisory Panel – Chris Thompson, Chair for the Design Innovation Network Advisory Panel

Design as a foundational component of the Innovate UK Plan for Action

Six perspectives on Design for Positive Change:

Tim Kerby, CEO, Edinburgh Systems
Systems thinking for innovators.

Merle Hall, CEO, Kinner DuFort

Design for inclusion.

Cat Drew, Design Director, Design Council

Design for Planet | A perspective for the innovation community.

Matthew Mullen, Growth and Community Leader, Thales Design Office

Using strategic design within a global business.

Alison Prendiville, Professor of Service Design, University of the Arts London

Design at low Technology Readiness Levels and at the very earliest stages of innovation.

Adrian Westaway, Founder, Special Projects

Using design to inform decision making and to manage complexity and uncertainty – a practical example.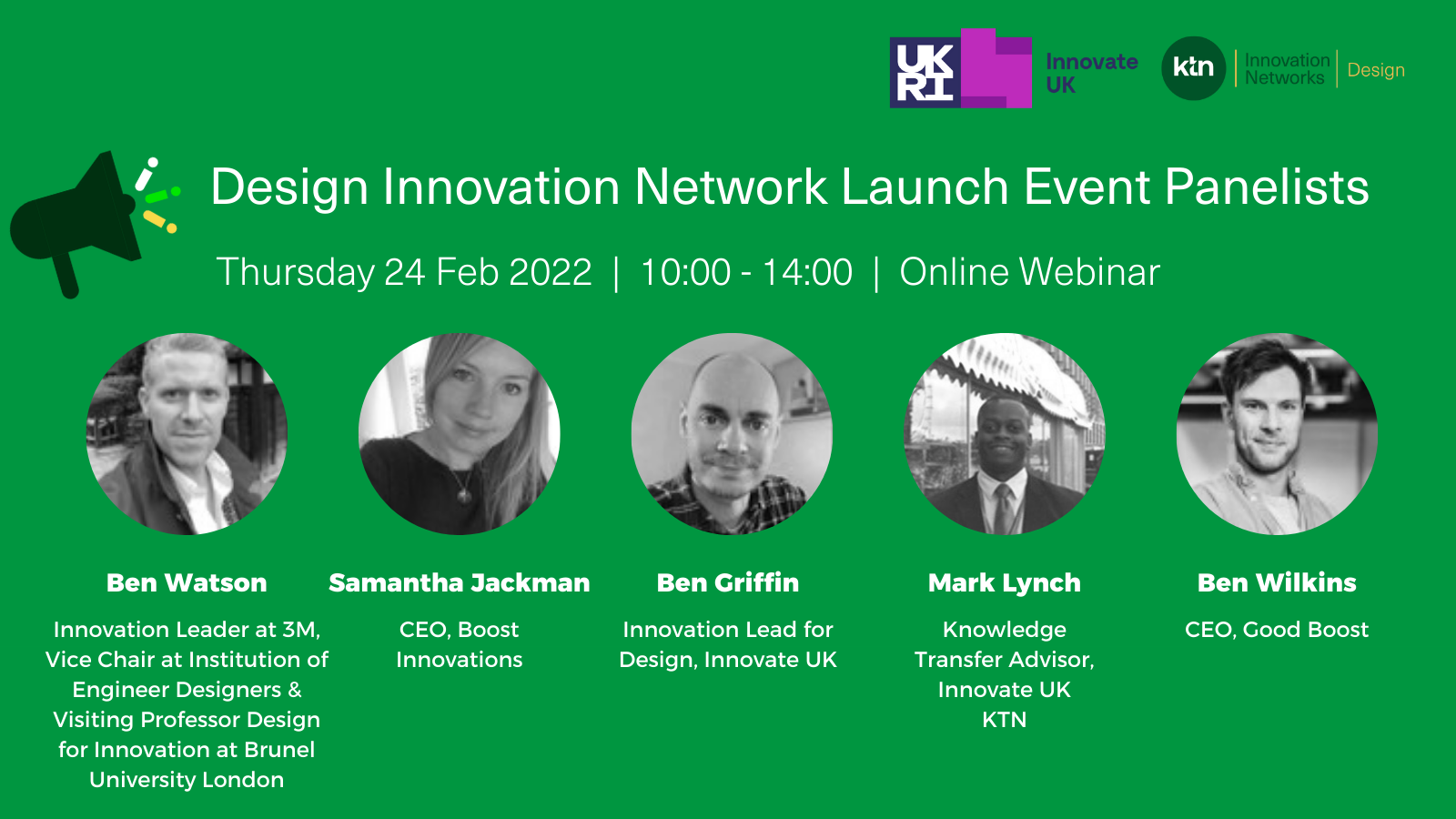 PANEL Q&A

Interactive session: what would you like the Design Innovation Network to offer?

Afternoon Session: Design Innovation

13:00-14:00

Session Outline

Fireside chat on the opportunities and challenges relating to Design in Innovation in practice. Panelists for this session include:

Ben Watson, Innovation Leader at 3M, Vice Chair at Institution of Engineer Designers & Visiting Professor Design for Innovation at Brunel University London.
Ben leads the development of both International and UK standards relating to Design and Innovation Management Systems and has a wealth of experience in how to apply design in innovation for best effect across a range of different sectors and project types.

Samantha Jackman, CEO, Boost Innovations

Samantha's approach to understanding her users is second to none. Find out how she used design to develop innovative insights and engage with her customers.

Ben Griffin, Innovation Lead for Design, Innovate UK

With years of experience in the design sector, Ben now leads Innovate UK's work in this area. Design is fundamental to good innovation, so much so that Innovate UK has formalised it as one of their pillars in their new Plan for Action.

Mark Lynch, Knowledge Transfer Advisor, Innovate UK KTN

With a strong background in design, Mark now builds, supports, and monitors a wide range of Knowledge Transfer Partnership (KTP) projects. KTP's offer a means of embedding strategically important capability and knowledge within a business. Find out how you can use KTP's to embed Design in Innovation.

Ben Wilkins, CEO, Good Boost

Ben's experience in design has been pivotal to building and scaling his digital health social enterprise. The design-led approach adopted has been key to securing funding, managing risk, shaping the innovation, and delivering impact.
DRIVERS - LEGALLY BINDING IMO TARGETS & COP 26?

The agreements coming out of COP26 (for example) are not legally binding - but the IMO's phasing out of polluting vessels in stages from 2030, are hard targets - and difficult decisions have to be made, as to what technology to adopt.

ZERO EMISSIONS

At COP26 it was agreed, countries will meet next year to pledge further cuts to emissions of carbon dioxide (CO2) - a greenhouse gas which causes climate change.

This is to try to keep temperature rises within 1.5C - which scientists say is required to prevent a "climate catastrophe". Current pledges, if met, will only limit global warming to about 2.4C. But they are slipping, even with this level of commitment. Without stepping up change, to get the job done, the human race and the planet are in for a rough ride COP26 was the event in Glasgow in 2021 where countries revisited the climate pledges they made under the 2015 Paris Agreement. COP27 is to be held in Egypt later in 2022. While we are hopeful there will be more focus and agreed targets, perhaps with proof of progress. We suspect that lobbyists from the fossil fuel contingent, will again hold sway with policy makers, to continue to blinker the plodding donkey.
Pollution from ship exhausts is a major consideration in addition to global warming, we have acid oceans from sulfurous exhaust caused by dirty bunker fuels. It may be that the shipping world is first to cross the finish line, leaving road transport in its wake. Replacement and future fuels include L2, LH2, Methanol, Ammonia and Peroxide.

FOSSIL FUEL SUBSIDIES

World leaders agreed to phase-out subsidies that artificially lower the price of coal, oil, or natural gas, without targets. These subsidies are braking the adoption of renewables, making solar, wind and hydrogen power appear less competitive than they actually are. Indeed, renewable electricity is cheaper than coal and nuclear power stations.
FUNDING DEVELOPMENT COOPERATION

Financial organisations controlling $130tn agreed to back "clean" technology, such as renewable energy, and direct finance away from fossil fuel-burning industries.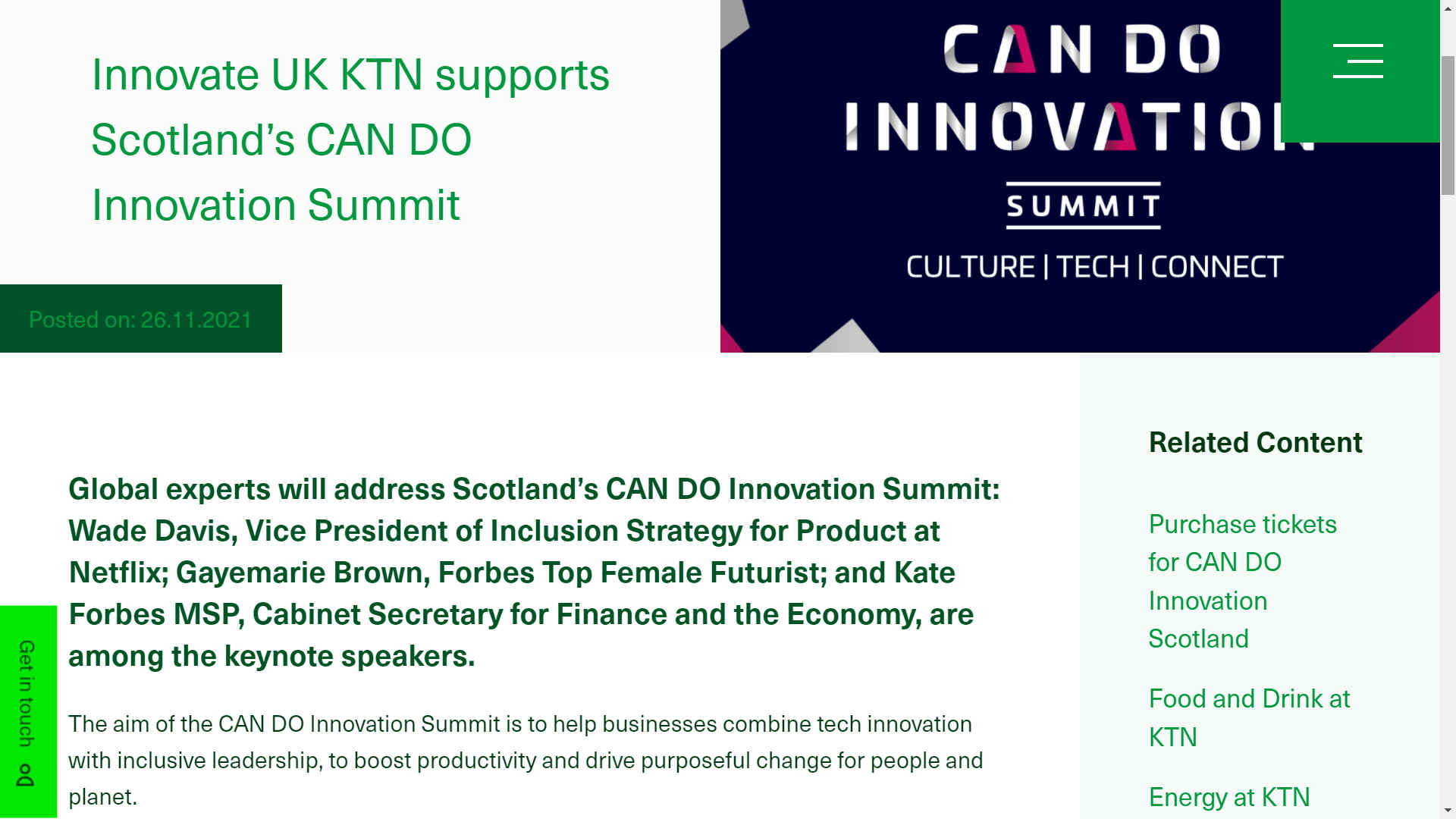 THE SCOTTISH CONNECTION: CAN DO EVENT
Global experts will address Scotland's CAN DO Innovation Summit: Wade Davis, Vice President of Inclusion Strategy for Product at Netflix; Gayemarie Brown, Forbes Top Female Futurist; and Kate Forbes MSP, Cabinet Secretary for Finance and the Economy, are among the keynote speakers.
The aim of the CAN DO Innovation Summit is to help businesses combine tech innovation with inclusive leadership, to boost productivity and drive purposeful change for people and planet.

Scotland's third annual CAN DO Innovation Summit early next year is a focal point for business innovation in Scotland. The virtual event will connect small to medium sized enterprises (SMEs) and start-ups with leading innovators, academics, entrepreneurs and investors from across the globe to explore new opportunities that marry purpose and profitability.

The 2022 iteration of the Summit will offer practical insights on how people power, combined with the right tech, and sustainable and inclusive business practices, can accelerate and enable a smoother digital transformation journey for Start-ups and SMEs. The event will also provide a timely legacy platform to examine what the outcomes of COP 26 will mean for business.

Now in its third year, the Summit, which last year attracted over 1000 attendees from across the globe, will be held online from 23rd February 2022. In-person elements will also take place in the weeks leading up to the Summit.

With a focus on community-building and peer to peer learning; more than 40 speakers are expected to take part in the 2022 CAN DO Innovation Summit, including SME business leaders from a broad church of sectors – from energy, advanced manufacturing and the arts to fintech and food and drink.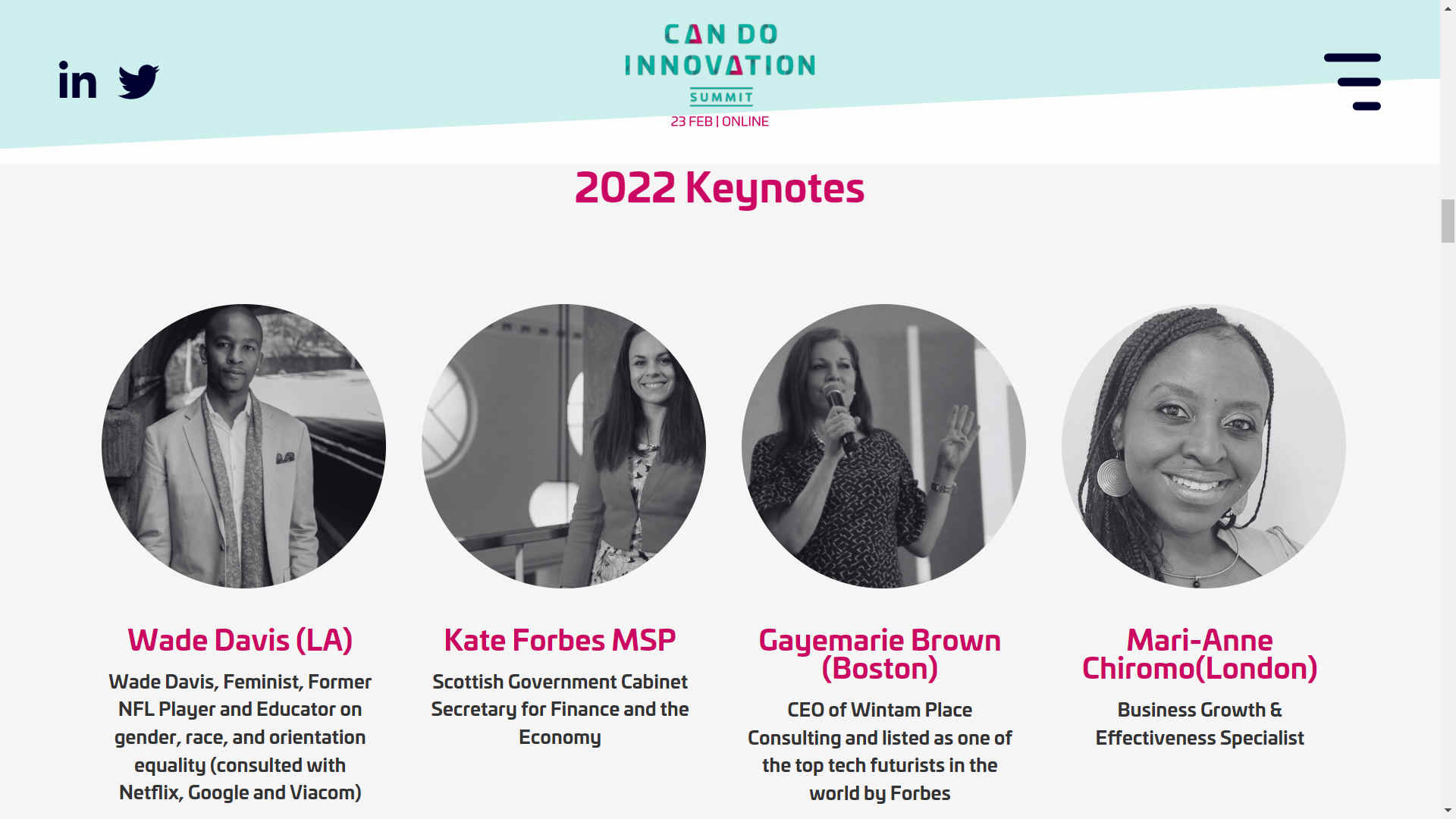 KEYNOTE SPEAKERS CONFIRMED FOR THE SUMMIT INCLUDE:

Kate Forbes MSP, Cabinet Secretary for Finance, and the Economy.
Wade Davis, Vice President of Inclusion Strategy for Product at Netflix. Davis is a Global Champion for Innovation for UN women, a former national surrogate for President Obama and was the first NFL LGBT inclusion consultant.
Gayemarie Brown, CEO of Wintam Place Consulting, listed as one of the top futurists in the world by Forbes with more than 25 years' experience helping companies of all sizes across the world apply existing and emerging tech to update their business models for the future.
Dan May, Art Director and VFX Artist at award-winning design studio Painting Practice (Black Mirror, Gravity and the recent HBO/BBC show, His Dark Materials)
Diverse industry insights will be complemented by contributions from leading academics, investors and a range of innovation ecosystem support agencies advising on matching tech with business needs, funding, growing digital talent, collaboration opportunities and more.

Innovate UK KTN will be hosting two in-person 'question time' panel sessions at the Summit where the audience will be curating the questions around:

Are SMEs the missing link in tackling climate change?
and
The New ROI: Return on Inclusion
Scottish Government Cabinet Secretary for Finance and the Economy Kate Forbes is quoted as saying:
"Innovation will be at the heart of Scotland's successful and pioneering green economy. The CAN DO Innovation Summit will be a key focal point in supporting a strong, collaborative approach to drive sustainable growth and a culture of innovation in Scottish businesses."

Dr Susie Mitchell, programme director, Glasgow City of Science and Innovation (lead agency for the CAN DO Innovation Summit) is quoted as saying:
"Scotland is already a leader in innovation and we will showcase that at the Summit. By designing support, including 'market square' and peer learning opportunities like the Summit, that empower Start-up and SMEs to innovate through digital, diversity and a commitment to influence change – we will get one step closer to reaching our ambition of standing shoulder-to-shoulder with the best performing countries, while tackling some of the biggest challenges of our time."

Gayemarie Brown is quoted as saying:
"All businesses need to understand how to apply new technologies such as AI, IoT, Robotics, 3D printing or next generation blockchain to drive change, increase efficiencies and reduce costs. Innovation is accessible to all companies, requiring a mindset that embraces design thinking, agility and change. I'll be talking about emerging tech that businesses need to know about in the digital transformation space, to update their business models, stay ahead of the curve and embrace the future".
CONTACTS KTN
Anita Onwuegbuzie
Knowledge Transfer Network Limited
Unit 218, Business Design Centre
Upper Street, Islington,
London N1 0QH
(+44) 03333 403250
https://twitter.com/KTNUK
https://www.linkedin.com/company/ktnuk
https://www.facebook.com/ktnuk/
CONTACTS CAN DO SCOTLAND
info@candoinnovation.scot

https://www.linkedin.com/company/can-do-innovation-summit
https://twitter.com/CANDOsummit