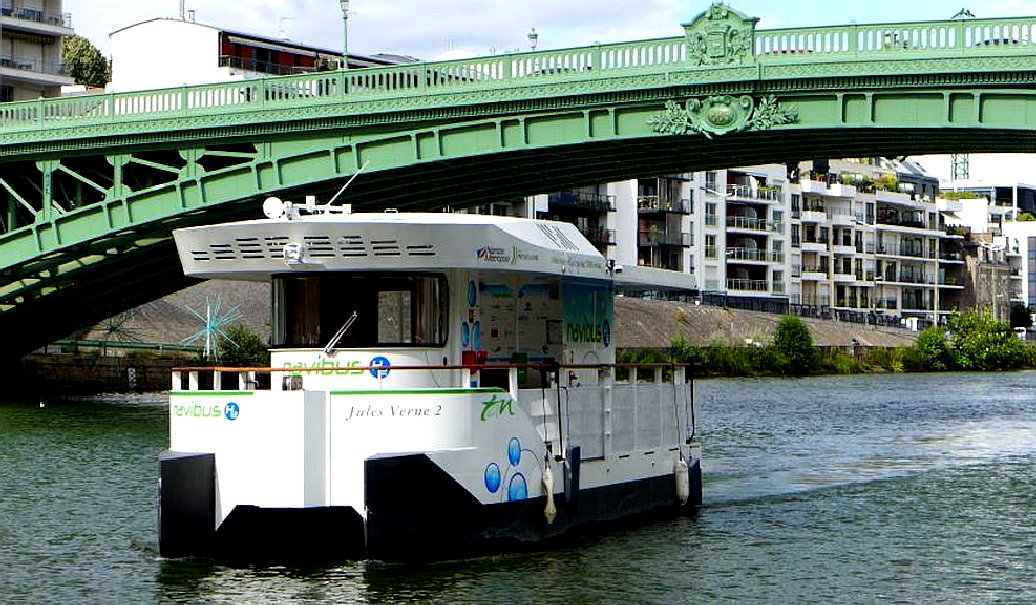 Jules Verne 2, Navibus at Nantes
NANTES, JULES VERNE 2

With this means of power supply and operation of fuel cells, the vessel will only discharge water. Silent, non-polluting and rapid-charging, the vessel will be able to carry 12 passengers and 6 bicycles on board, that is a total of 80,000 people a year. In the end, it will completely replace the current ferryman Erdre.

Having been in the testing phase on the Loire for several months, Jules Verne 2 was one of the vessels that escorted Energy Observer on its arrival in Nantes in September 2017.
The riverboat runs on two fuel cells of 5kW each, both equipped with electrochemical batteries powered by hydrogen. For supply, JV2 will have a hydrogen station, which will be temporarily installed in Port Boyer. Currently under construction, this hydrogen station will be fueled by the official supporter of Energy Observer, Air Liquide. This vessel belongs to the new pollution-free generation of waterborne craft – the fuel cell-powered "Zero Emissions boats" or ZEWTs.
QUOTES:

"Since the reintroduction of the tramway, Nantes has been innovating to develop travel solutions that are cleaner for the environment. This hydrogen-powered vessel is a new solution which will meet the challenge of energy transition."

Bertrand Affilé, Mayor of Saint-Herblain & Nantes Métropole VP
CONTACTS
....
STANDARD ISO CONTAINERS - A 20m3 cryogenic tank, multi-layered vacuum insulation container in stainless steel. These units are heavier than a comparable aluminium tank such as those developed for the Space Shuttle, but they are more economical and available off the shelf. Large tanks are available from many manufacturers concerning LNG and hydrogen, where cryogenic temperatures are involved.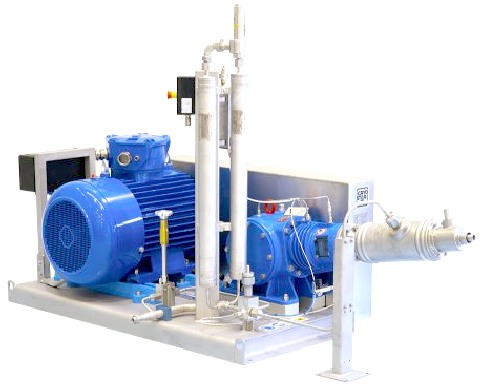 LH2 TRANSFERS - Cryostar (Zone Industrielle, 68220 Hésingue, France) has developed a range of liquid hydrogen piston pumps with large capacities and small footprints, as an ideal system for increasing the pressure of hydrogen. For example, the A-MRP 40/55-K LH2 cryo pumps are explosion proof skid mounted piston pumps designed for simple and safe installation for use with a liquid hydrogen source. Three different sizes are available, with capacities ranging from 6 to 190 kg/h with easy flow adjustment. They can be used with all types and makes of LH2 tanks and ISO containers.
MARINE HYDROGEN PROJECTS
2000 - The 22-person Hydra ship was demonstrated.
2003 - Duffy-Herreshoff watertaxi went into service.
2003 - Saw the debut of Yacht No. 1, and Hydroxy3000.
2004 - The AUV DeepC, and Yacht XV 1 were shown.
2005 - The Type 212 submarine, powered underwater by fuel cells, went into service with the German navy.
2006 - The 12-person Xperiance was debuted, as well as the Zebotec.
2007 - The 8-person Tuckerboot and the Canal boat Ross Barlow debuted.
2008 - The 100-passenger Zemships project Alsterwasser went into service in Hamburg.
2009 - The Nemo H2 and the Frauscher 600 Riviera HP went into service.
2013 - The Hydrogenesis Passenger Ferry project went into service.

2018 - HySeas III project: A consortium to build the world's first sea-going car and passenger ferry fuelled by hydrogen fuel cell propulsion, secured EU funding. The vessel is planned to operate in and around Orkney by 2021, which is already producing hydrogen from constrained renewable energy. The project is being led by Ferguson Marine Engineering Ltd (which is also involved in SWIFTH2) and St. Andrews University.
2018 - Jules Verne 2, hydrogen-powered passenger vessel, Nantes
2019 - The Kawasaki New Sunshine Project was taking shape.
2020 - The car ferry MF Hydra is under construction in Norway. It uses liquid hydrogen, two 200 kW fuel cells, a 1.36 MWh battery, and two 440 kW diesel generators. The hydrogen tanks and the fuel cell are located on top of the ferry. The hydrogen is trucked from Leipzig in Germany.
2023 - Fjord cruise ship Havilla, Havyard, NES, liquid hydrogen fuel cell & battery powered