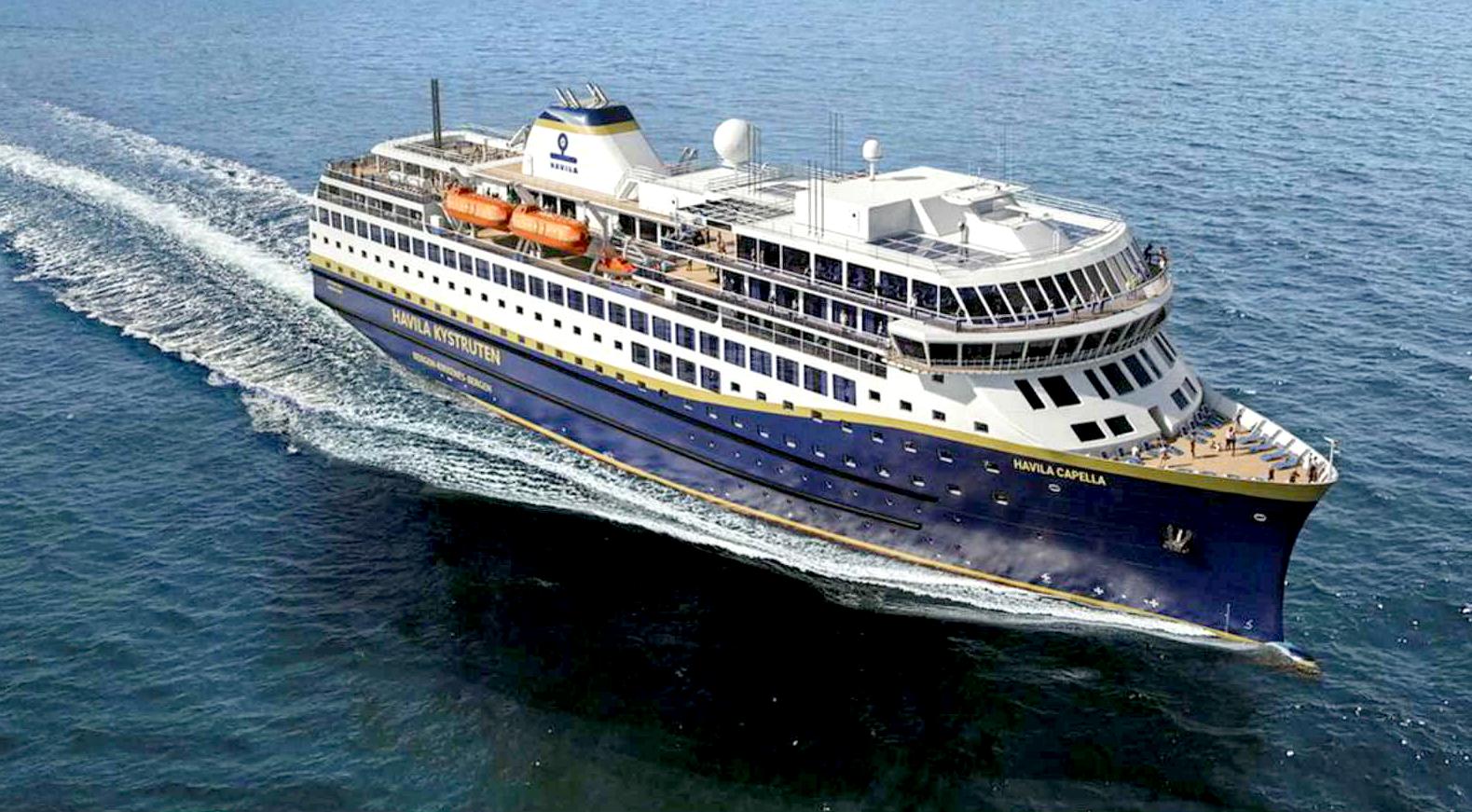 NORWEGIAN FJORD CRUISER, LH2 FUEL CELL POWERED
NES HAVYARD GROUP FREECO2AST DESIGN NORWEGIAN LH2 CRUISE SHIP FJORDS, NORWAY

The world's first liquid hydrogen fuel cell cruise ship is planned for Norway's fjords, a vessel is to be retrofitted by 2023, that will combine a 3.2MW hydrogen fuel cell with battery storage, load levelling. The vessel is being retrofitted for Havila is part of Havyard Group's FreeCO2ast development project.

A group of Norwegian companies is developing the systems to achieve zero-emission shipping by combining LH2 and fuel cells with batteries, as decarbonisation penetrates further into the transport sector.

Bergen-based system integrator Norwegian Electrical Systems (NES) intends to install a 3.2MW hydrogen fuel cell into a large vessel currently being designed by Havyard Design Group for the ships owner; Havila.

It will be the largest fuel cell ever placed on a major ship, replacing the more frequently used compressed gas.

Stein Ruben Larsen, senior vice president sales at NES is quoted as saying: "The ability to move to a 3.2MW fuel cell that enables the vessel to sail zero-emission for long distances along the coast will be a milestone within green shipping."

"For tourists experiencing the Norwegian coastline it means this vessel will be able to enter the country's unique ad beautiful world heritage fjords where vessels powered by any form of hydrocarbon that produces CO2, exhaust and other emissions will be banned from 2026."

Norway's electricity is mostly generated from clean hydropower and onshore wind, but commercial and cruise ships running on fossil fuels have been polluting coastal communities, and causing substantial CO2 emissions.

According to the International Maritime Organisation (IMO), shipping is causing 2.5% of global greenhouse gas emissions, while the EU says the industry is responsible for some 13% of the economic bloc's emissions in the transport sector.

With electricity not being an option, green hydrogen produced from renewables such as offshore wind is seen as an alternative fuel to lower or end emissions in the shipping sector.

The Norwegian experience could also be interesting for larger economies like Germany, which in a draft for a national hydrogen strategy seen by Recharge mentions it plans a massive use of hydrogen in difficult-to-decarbonise parts of the transport sector, such as shipping.

The liquid hydrogen will be supplied from a bunkering vessel or truck, and then stored on board of the cruise ship in a liquid hydrogen tank.

To be used in the fuel cell, the liquid hydrogen will be converted into gas again, NSE general manager for sales and marketing, Svein Ove Farstad, is quoted as saying.

Svein explained that there are already other hydrogen-driven vessels, but "this will be the first time on a ship of this size." "For other vessels the requirements might be different and compressed hydrogen gas will be the preferred medium." "We are also considering other technologies that are hydrogen carriers, like ammonia, but for the FreeCO2ast project it is liquid hydrogen."

The project team is working with chemicals group Linde, and fuel cell supplier PowerCell to obtain an Approval in Principal (AiP) for the hydrogen system. The applicable regulations, and starting point for an AiP is compliance with the International Code for the Construction and Equipment of Ships Carrying Liquefied Gases in Bulk (IGC Code) SOLAS chapter VII and IMO's Interim Recommendation for Carriage of Liquefied Hydrogen in Bulk.

NES started looking into batteries in 2013, but has now expanded its business to look at fuel cell integration to also be able to decarbonise larger ships.

"For some vessels batteries will be feasible," NES technical vice president Torbjørn Haugland is quoted as saying.

"But for larger vessels and longer routes batteries will not have enough power or capacity. Here, we need to look at other solutions, and fuel cells are part of this solution." "However, we cannot use fuel cells powered by hydrocarbons, so, with the growing acceptance and production of hydrogen, we looked at integration of a liquid hydrogen tank and the required fuel delivery system."

From 2021 onwards, Havila hopes to have four vessels sailing along the Norwegian coast, at first equipped with battery packs and natural gas as fuel. Their latest ship belongs to the new pollution-free generation of ships – the fuel cell-powered "Zero Emissions Ships" or ZEWTs.

CONTACTS
...

STANDARD ISO CONTAINERS - A 20m3 cryogenic tank, multi-layered vacuum insulation container in stainless steel. These units are heavier than a comparable aluminium tank such as those developed for the Space Shuttle, but they are more economical and available off the shelf. Large tanks are available from many manufacturers concerning LNG and hydrogen, where cryogenic temperatures are involved.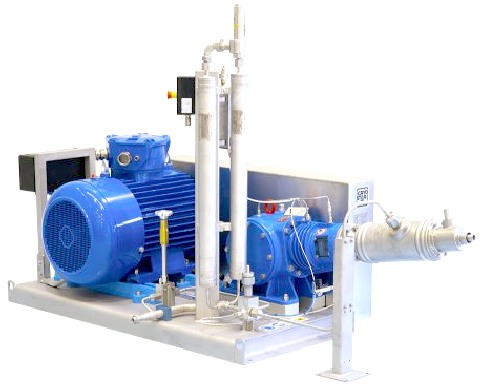 LH2 TRANSFERS - Cryostar (Zone Industrielle, 68220 Hésingue, France) has developed a range of liquid hydrogen piston pumps with large capacities and small footprints, as an ideal system for increasing the pressure of hydrogen. For example, the A-MRP 40/55-K LH2 cryo pumps are explosion proof skid mounted piston pumps designed for simple and safe installation for use with a liquid hydrogen source. Three different sizes are available, with capacities ranging from 6 to 190 kg/h with easy flow adjustment. They can be used with all types and makes of LH2 tanks and ISO containers.
MARINE HYDROGEN PROJECTS
2000 - The 22-person Hydra ship was demonstrated.
2003 - Duffy-Herreshoff watertaxi went into service.
2003 - Saw the debut of Yacht No. 1, and Hydroxy3000.
2004 - The AUV DeepC, and Yacht XV 1 were shown.
2005 - The Type 212 submarine, powered underwater by fuel cells, went into service with the German navy.
2006 - The 12-person Xperiance was debuted, as well as the Zebotec.
2007 - The 8-person Tuckerboot and the Canal boat Ross Barlow debuted.
2008 - The 100-passenger Zemships project Alsterwasser went into service in Hamburg.
2009 - The Nemo H2 and the Frauscher 600 Riviera HP went into service.
2013 - The Hydrogenesis Passenger Ferry project went into service.

2018 - HySeas III project: A consortium to build the world's first sea-going car and passenger ferry fuelled by hydrogen fuel cell propulsion, secured EU funding. The vessel is planned to operate in and around Orkney by 2021, which is already producing hydrogen from constrained renewable energy. The project is being led by Ferguson Marine Engineering Ltd (which is also involved in SWIFTH2) and St. Andrews University.
2018 - Jules Verne 2, hydrogen-powered passenger vessel, runs on two fuel cells of 5kW each, both equipped with electrochemical batteries powered by hydrogen. For supply, JV2 will have a hydrogen station, which will be temporarily installed in Port Boyer. Currently under construction, this hydrogen station will be fueled by the official supporter of Energy Observer, Air Liquide.
2019 - The Kawasaki New Sunshine Project was taking shape.
2020 - The car ferry MF Hydra is under construction in Norway. It uses liquid hydrogen, two 200 kW fuel cells, a 1.36 MWh battery, and two 440 kW diesel generators. The hydrogen tanks and the fuel cell are located on top of the ferry. The hydrogen is trucked from Leipzig in Germany.
2023 - Fjord cruise ship Havilla, Havyard, NES, liquid hydrogen fuel cell & battery powered