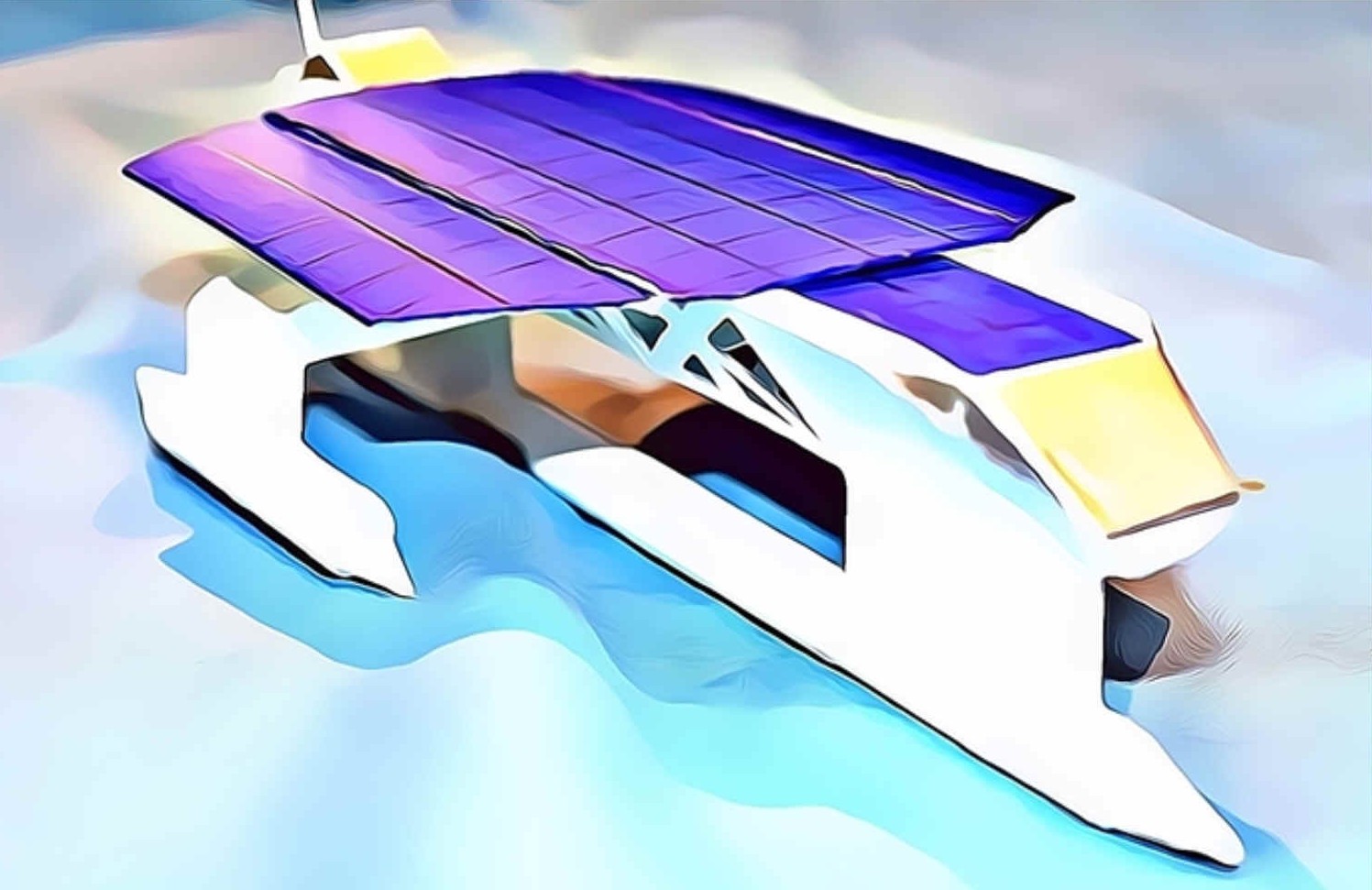 It all started with this tiny model, made of paper and cardboard. It floated perfectly, with the central hull just submerged for low drag running, and the outriggers just skimming the surface, to provide stability.
In the years that followed the swing wing system and wind turbine boom were developed on a land vehicle. The idea was to combine a rotary sail generator with solar panels to allow faster blue water transits, allied to advanced computer navigation for green lanes. Although that may hold potential for future shipping, wind turbines development has been shelved in favour of hydrogen fuel, as a renewable and sustainable energy source - with the potential to increase long range transits.
The Elizabeth Swann is an in-progress design study, under development into 2023, in the hope of defining technical solutions that will allow this high performance vessel to beat the present water speed record for solar powered vessels, and to set new records for hydrogen powered vessels, including the Atlantic on pressurised gas, and a fast circumnavigation on liquid hydrogen, seeking to beat Jules Verne's 80 days wager in the Reform Club, London.
For this we need robotic trimming of the solar and wind harvesting apparatus, linked to geographical weather conditions and current location, for efficient course prediction and route optimization.
To enable this we use Hal AI, coupled to Captain Nemo™, the name for our autonomous navigation and autopilot system, after 20,000 Leagues Under The Sea.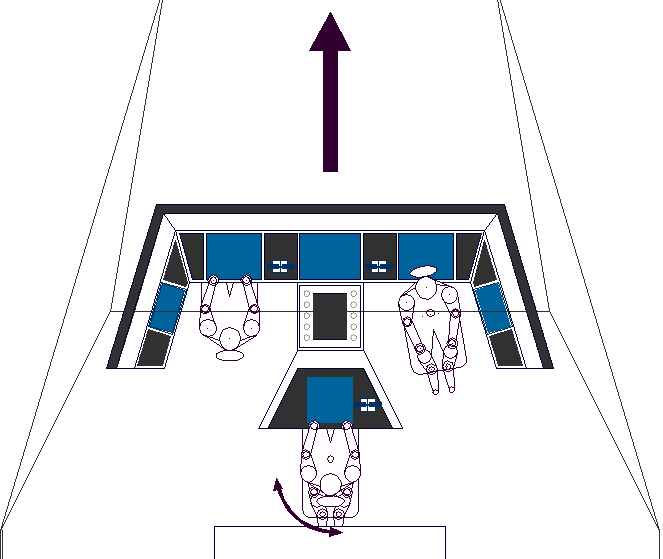 HELM PLAN VIEW - Spacious forward helm position, showing seating positions for three crew and a state of the art instrument console arrangement with digital displays. Behind the third (central) seat is a chart table that doubles for other general duties, since charts are largely irrelevant on a ship with autonomous navigation capabilities and electronic instruments, as is the crew. But then the Swann is also a scientific research vessel.
The Elizabeth Swann is a leading edge design with many innovative features designed to increase our knowledge and mastery of the sea.
She needs no diesel or other fossil fuels to travel from waypoint to waypoint, and no crew to hoist the mast or control the solar panels.
That is our dream and ambition. Are we asking too much from the scientists of today? We think not. Indeed, the technology to make Captain Nemo function effectively is now widely available in various packages, each supplier offering different solutions.
FICTION
Captain Nemo™ features in several fictional adventures Hal, including a long awaited re-boot of Robert Louis Stevenson's Treasure Island: a search for pirates gold, belonging to the notorious pirates Blackbeard and Henry Morgan. Never recovered. Captain Nemo also features in an adventure involving a cloned Cleopatra VII, the last pharaoh queen of Ancient Egypt.
FACT: ABOUT AUTONOMY - THE HUMAN ELEMENT

The cost of a containerized cargo shipping crew makes up about 44 percent of a vessel's total operating costs. Eliminating those costs is a hefty advantage of the crewless approach; getting rid of human life support systems - heating, cooling, ventilation, and sewage, also cuts down a significant set of expenses.

Removing all decks, bridges, cabins, and crew areas lowers fuel costs while adding more room for cargo. We've already witnessed how advanced technologies are improving safety on the water, from highly sophisticated and precise navigational tools to remote machine monitoring.

Reducing the potential for human error will be a boon to the cargo industry, especially considering that it cost the industry the equivalent of $1.6 billion in liability insurance claims over the past five years. Global insurance carrier Allianz estimates that 96 percent of marine accidents can be attributed to human error.

In Finland, the Advanced Autonomous Waterborne Applications Initiative (AAWA) was a collaborative effort among a host of academic researchers, shipbuilders, and automation experts including Rolls Royce, Deltamarin, Finferries, and other firms. This was a €6.6 million project to demonstrate proof of concept.

The China Classification Society and HNA Technology Logistics Group announced the formation of the Unmanned Cargo Ship Development Alliance (UCSDA. The nine-member group includes China's largest shipbuilder Hudong-Zhonghua, Houston-based classification and tech services firm ABS, Rolls Royce, and Wärtsilä. The Alliance plans to unveil their first crewless cargo shipping vessel in 2021.
Progress on the unmanned front was made in 2021, with the Saildrone Surveyor crossing the Pacific autonomously and and Sea-Kit gaining Lloyds Register certification. With IBM's Mayflower in the running for an unmanned Atlantic crossing.
PIRACY
Cyber security and piracy pose a set of compelling concerns to be dealt with before putting unmanned cargo vessels into oceangoing service. As with any industry embracing the IoT, the potential for mayhem caused by hackers is a primary worry for shippers. Security analysts warn of the potential for cargo and ship losses that could cost billions.

While some enthusiasts minimize the threat of piracy given the sleek, deckless designs that make ocean boarding nearly if not impossible, cyber piracy is a deep concern, as is the security of semi-autonomous vessels that may have extremely streamlined onboard crews.