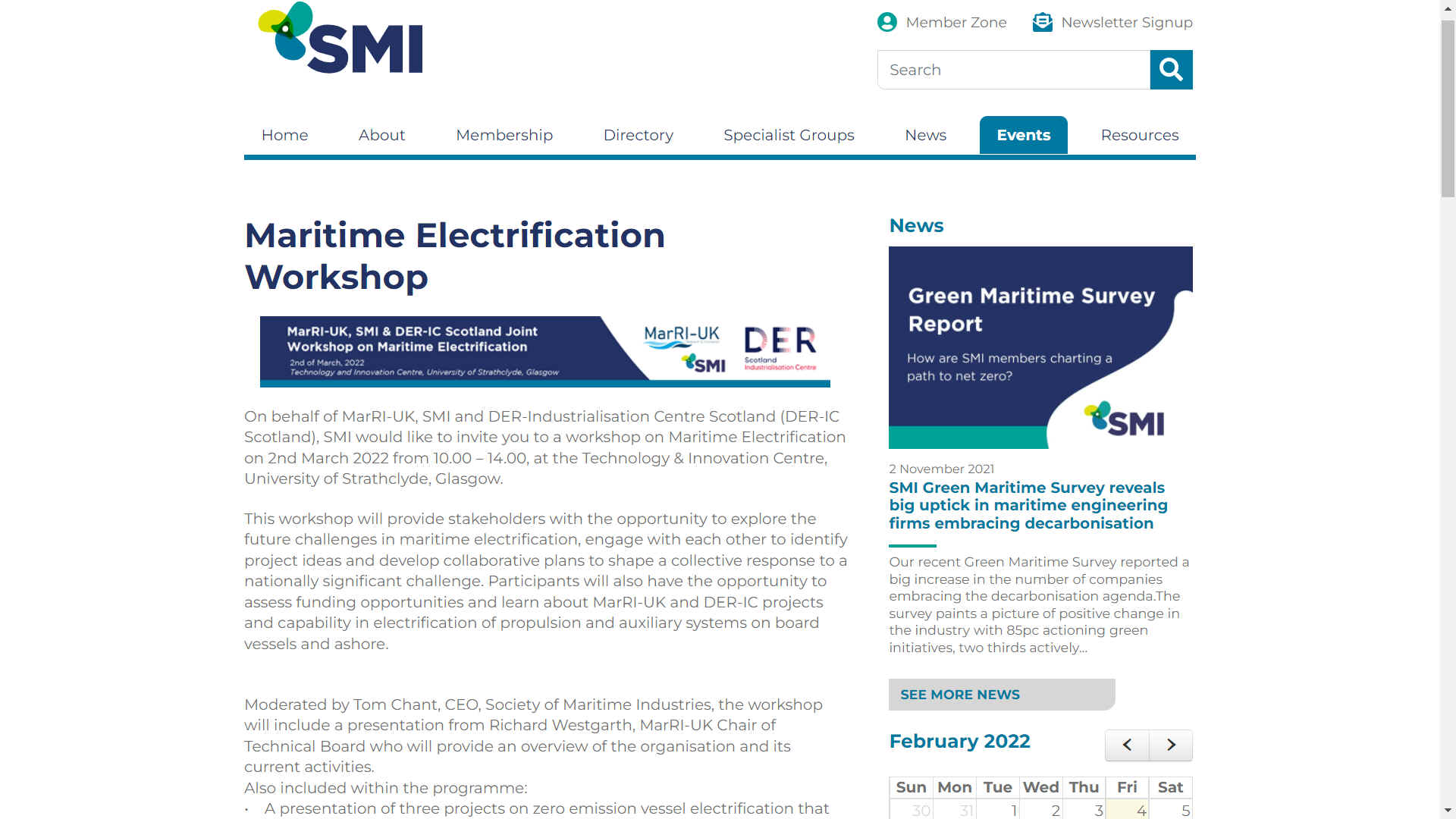 Advancing our knowledge and technological capabilities will allow us to better control the enormous challenges we are facing such as global warming and ocean pollution.
STRATHCLYDE UNIVERSITY, GLASGOW - 2 MARCH 2022 10:00 - 14:00 HRS

On behalf of MarRI-UK, SMI and DER-Industrialisation Centre Scotland (DER-IC Scotland), SMI would like to invite you to a workshop on Maritime Electrification on 2nd March 2022 from 10.00 – 14.00, at the Technology & Innovation Centre, University of Strathclyde, Glasgow.

This workshop will provide stakeholders with the opportunity to explore the future challenges in maritime electrification, engage with each other to identify project ideas and develop collaborative plans to shape a collective response to a nationally significant challenge. Participants will also have the opportunity to assess funding opportunities and learn about MarRI-UK and DER-IC projects and capability in electrification of propulsion and auxiliary systems on board vessels and ashore.

Moderated by Tom Chant, CEO, Society of Maritime Industries, the workshop will include a presentation from Richard Westgarth, MarRI-UK Chair of Technical Board who will provide an overview of the organisation and its current activities.
Also included within the programme:
• A presentation of three projects on zero emission vessel electrification that have been funded through MarRI-UK's Clean Maritime and Technology & Innovation UK Maritime Call and supported by the Department for Transport.

• DER Industrialisation Centre - Scotland will present an overview of Power Electronics, Machines and Drives (PEMD) projects and opportunities that can be transferred, and/or add strength to the maritime sector.

Participants will have the opportunity to contribute through interactive activity sessions during the workshop.

Join us at the University of Strathclyde by registering your interest in attending this free-to-attend workshop here.
DRIVERS - LEGALLY BINDING IMO TARGETS ?

The agreements coming out of COP26 (for example) are not legally binding - but the IMO's phasing out of polluting vessels in stages from 2030, are hard targets - and difficult decisions have to be made, as to what technology to adopt.

ZERO EMISSIONS

At COP26 it was agreed, countries will meet next year to pledge further cuts to emissions of carbon dioxide (CO2) - a greenhouse gas which causes climate change.

This is to try to keep temperature rises within 1.5C - which scientists say is required to prevent a "climate catastrophe". Current pledges, if met, will only limit global warming to about 2.4C. But they are slipping, even with this level of commitment. Without stepping up change, to get the job done, the human race and the planet are in for a rough ride COP26 was the event in Glasgow in 2021 where countries revisited the climate pledges they made under the 2015 Paris Agreement. COP27 is to be held in Egypt later in 2022. While we are hopeful there will be more focus and agreed targets, perhaps with proof of progress. We suspect that lobbyists from the fossil fuel contingent, will again hold sway with policy makers, to continue to blinker the plodding donkey.
Pollution from ship exhausts is a major consideration in addition to global warming, we have acid oceans from sulfurous exhaust caused by dirty bunker fuels. It may be that the shipping world is first to cross the finish line, leaving road transport in its wake. Replacement and future fuels include L2, LH2, Methanol, Ammonia and Peroxide.

FOSSIL FUEL SUBSIDIES

World leaders agreed to phase-out subsidies that artificially lower the price of coal, oil, or natural gas, without targets. These subsidies are braking the adoption of renewables, making solar, wind and hydrogen power appear less competitive than they actually are. Indeed, renewable electricity is cheaper than coal and nuclear power stations.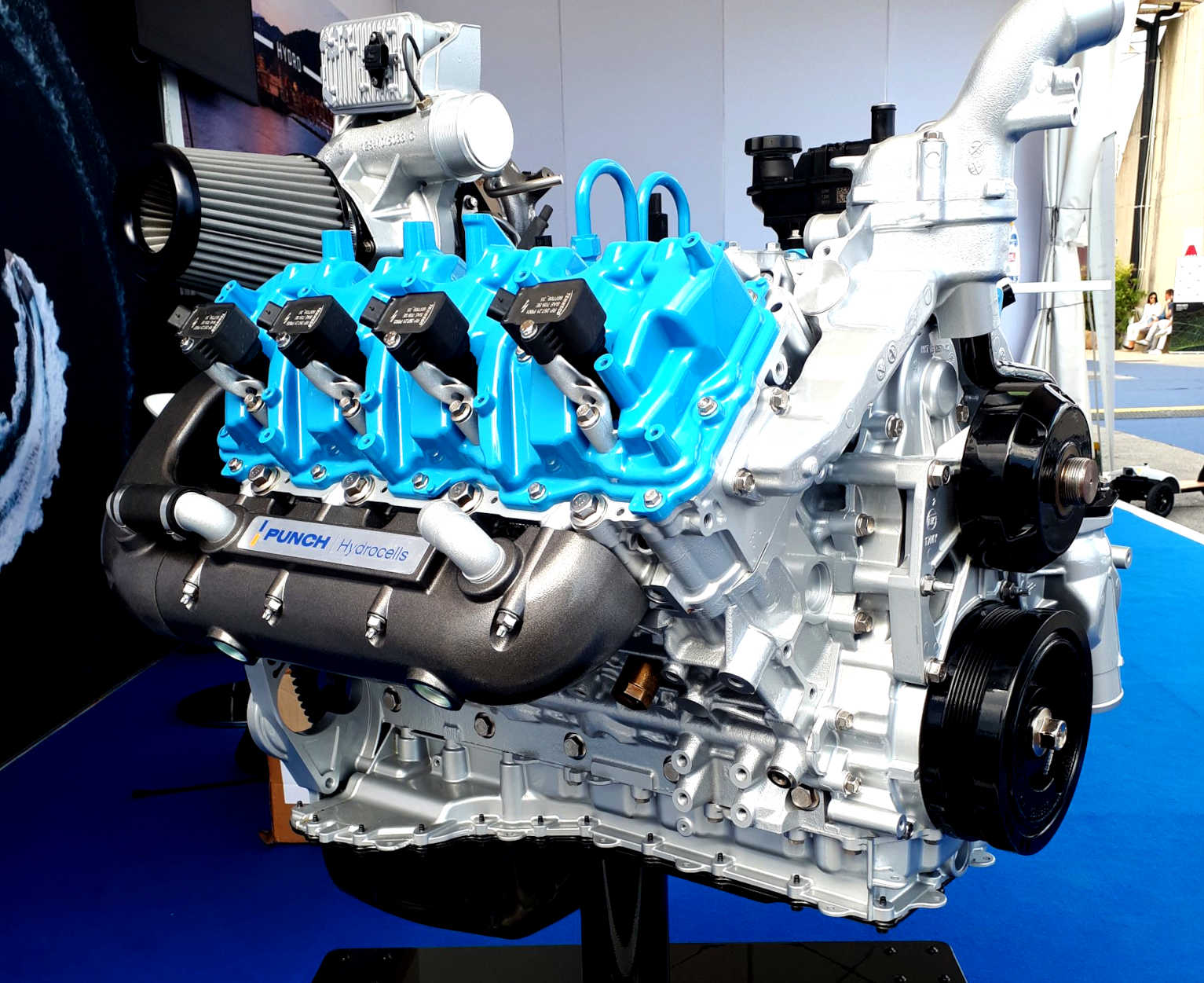 DURAMAX - Hydrogen is deemed to be more efficient through an electrical drivetrain and conversion, but the H2 fueled diesel engines such as the 6.6 liter unit above, offers a stop gap until power components are in place that are robust enough for container ships and cruise liners.
FUNDING DEVELOPMENT COOPERATION

Financial organisations controlling $130tn agreed to back "clean" technology, such as renewable energy, and direct finance away from fossil fuel-burning industries.
ALL TALK NO ACTION ? - Greta Thunberg is right about blah, blah, blah, but in a transitional period we need excellent leadership based on an achievable vision, with realistic targets. Funding zero emission marine transport is positive action aimed at moving us forward.