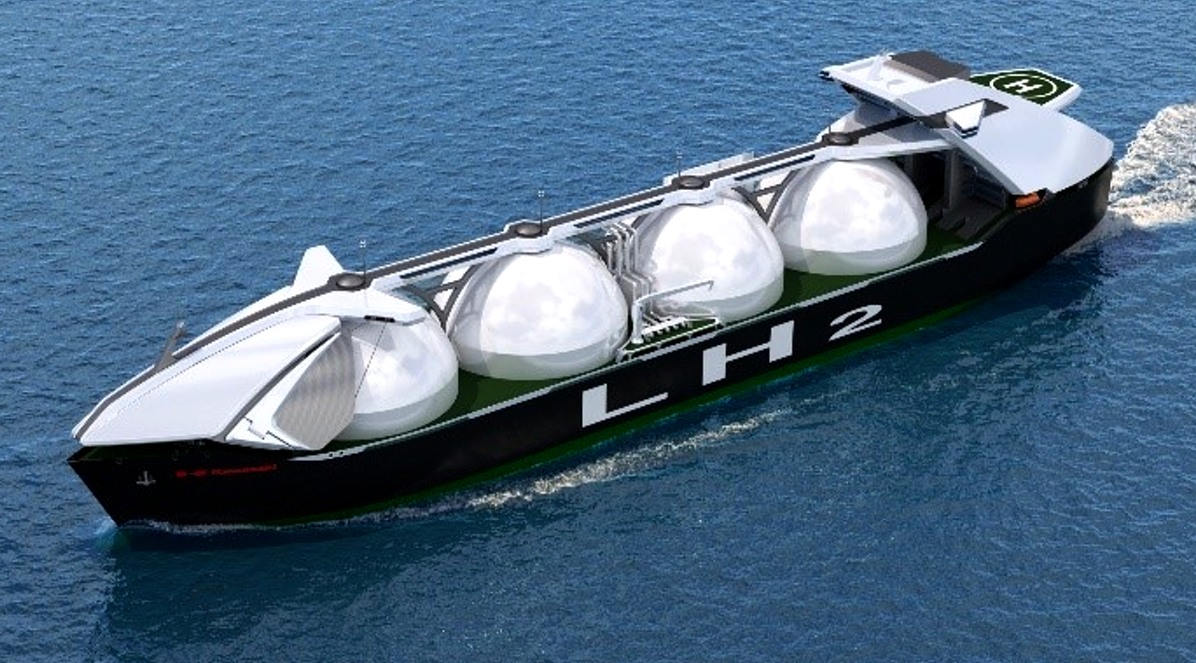 Suiso Frontier - Liquefied hydrogen tanker, large liquefied hydrogen carrier - cargo carrying capacity of 40,000 m3 × 4 tanks.
KAWASAKI HEAVY INDUSTRIES 9 MAY 2021

Classification society ClassNK has issued an Approval in Principle (AiP) to Kawasaki Heavy Industries for the design of a cargo containment system (CCS) of the world's largest capacity (40,000 m3 class per tank) developed for use on a large liquefied hydrogen carrier.

The CCS for which the AiP was obtained is designed to contain cryogenic liquefied hydrogen, reduced to a temperature of -253 °C and one eight-hundredth its initial volume, for shipping by sea in large amounts. This containment system has the largest capacity of its kind worldwide used in liquefied hydrogen marine transport.

The CCS was developed using design, construction and safety technologies fostered through building of the Suiso Frontier, a pioneering liquefied hydrogen carrier built by Kawasaki that offers a 1,250 m3 carrying capacity. In addition, the CCS utilizes a new type of insulation structure.

The main features of the CCS announced by Kawasaki are:

- Enables transportation of cryogenic liquefied hydrogen in large amounts thanks to tank capacity on par with tanks used on large liquefied natural gas (LNG) carriers.

- Utilizes an independent, self-supporting design with a structure capable of responding flexibly to thermal contraction that occurs when loading cryogenic liquefied hydrogen.

Features a newly developed, high-performance heat insulation system that mitigates boil-off gas (BOG) which occurs in response to heat ingress.

- Designed to effectively utilize BOG as fuel to power the ship, thus contributing to reduced CO2 emissions from liquefied hydrogen transport operations.

Kawasaki developed the CCS as part of a project with financial support from NEDO. The company is currently developing a large, 160,000 m3 liquefied hydrogen carrier using four CCS tanks, which is scheduled to start commercial operations by the middle of the 2020s. Amid global calls for the early achievement of carbon neutrality targets, Kawasaki is striving to achieve large-volume transport of liquefied hydrogen, for which demand is expected to grow as a clean energy source.

To contribute to the maritime transportation of hydrogen, which is anticipated to expand its use worldwide, in 2017 ClassNK published the "Guidelines for Liquefied Hydrogen Carriers" describing the safety requirements for liquified hydrogen carriers based on IMO's Interim Recommendations for Carriage of Liquefied Hydrogen in Bulk.

ClassNK carried out the design review of the newly developed CCS for a hydrogen liquified carrier based on its Part N of Rules for the Survey and Construction of Steel Ships incorporating the IGC Code, and its guidelines incorporating the IMO's interim recommendations. In addition, a comprehensive safety assessment of the CCS was conducted based on the HAZID risk assessment results, which has led to the issuance of the AiP.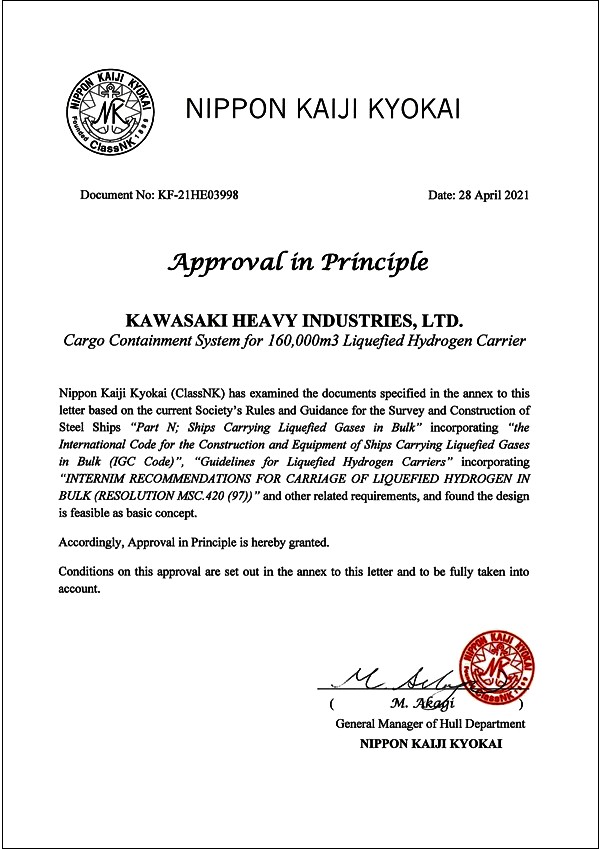 *1 Constructed by Kawasaki as a member of the CO2-free Hydrogen Energy Supply-chain Technology Research Association (HySTRA; website: http://www.hystra.or.jp/en/ ), as part of the Demonstration Project for Establishment of Mass Hydrogen Marine Transportation Supply Chain Derived from Unused Brown Coal by the New Energy and Industrial Technology Development Organization (NEDO)

*2 International Code for the Construction and Equipment of Ships Carrying Liquefied Gases in Bulk. A set of international regulations governing the constructions and equipment of such ships. All ships that carry liquefied gases and that were built in or after 1986 are forced to adhere to the code, and ClassNK incorporates the code as part of its Rules and Guidance for the Survey and Construction of Steel Ships

*3 Provisional recommendations adopted by the IMO for bulk transport of liquefied hydrogen.
*4 Method of assessing risk, which is determined by experts based on the frequency with which potential hazards in a system arise, and aimed at identifying ways to minimize that frequency.
*5 NEDO Technology Development Project for Building a Hydrogen-based Society / Technology Development Project for Large-Scale Utilization of Hydrogen / Project for Enlargement of Liquefied Hydrogen Cargo Tank Facilities and Development of Unloading Terminal Equipment.
It is unclear if the Suiso Frontier is powered by the hydrogen she carries, to qualify as a zero emission waterborne transport, or ZEWT.
CONTACTS
....
STANDARD ISO CONTAINERS - A 20m3 cryogenic tank, multi-layered vacuum insulation container in stainless steel. These units are heavier than a comparable aluminium tank such as those developed for the Space Shuttle, but they are more economical and available off the shelf. Large tanks are available from many manufacturers concerning LNG and hydrogen, where cryogenic temperatures are involved.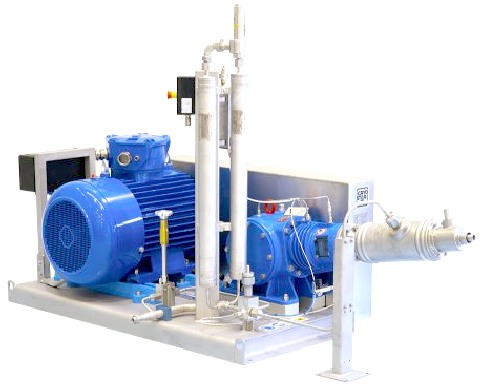 LH2 TRANSFERS - Cryostar (Zone Industrielle, 68220 Hésingue, France) has developed a range of liquid hydrogen piston pumps with large capacities and small footprints, as an ideal system for increasing the pressure of hydrogen. For example, the A-MRP 40/55-K LH2 cryo pumps are explosion proof skid mounted piston pumps designed for simple and safe installation for use with a liquid hydrogen source. Three different sizes are available, with capacities ranging from 6 to 190 kg/h with easy flow adjustment. They can be used with all types and makes of LH2 tanks and ISO containers.
MARINE HYDROGEN PROJECTS
2000 - The 22-person Hydra ship was demonstrated.
2003 - Duffy-Herreshoff watertaxi went into service.
2003 - Saw the debut of Yacht No. 1, and Hydroxy3000, Germanisher Lloyd, MTU Friedrichshafen
2004 - The AUV DeepC, and Yacht XV 1 were shown.
2005 - The Type 212 submarine, powered underwater by fuel cells, went into service with the German navy.
2006 - The 12-person Xperiance was debuted, as well as the Zebotec.
2007 - The 8-person Tuckerboot and the Canal boat Ross Barlow debuted.
2008 - The 100-passenger Zemships project Alsterwasser went into service in Hamburg.
2009 - The Nemo H2 and the Frauscher 600 Riviera HP went into service.
2013 - The Hydrogenesis Passenger Ferry project went into service.

2018 - HySeas III project: A consortium to build the world's first sea-going car and passenger ferry fuelled by hydrogen fuel cell propulsion, secured EU funding. The vessel is planned to operate in and around Orkney by 2021, which is already producing hydrogen from constrained renewable energy. The project is being led by Ferguson Marine Engineering Ltd (which is also involved in SWIFTH2) and St. Andrews University.
2018 - Jules Verne 2, hydrogen-powered passenger vessel, Nantes
2020 - The car ferry MF Hydra is under construction in Norway. It uses liquid hydrogen, two 200 kW fuel cells, a 1.36 MWh battery, and two 440 kW diesel generators. The hydrogen tanks and the fuel cell are located on top of the ferry. The hydrogen is trucked from Leipzig in Germany.
2021 - The Kawasaki Suiso Frontier (New Sunshine) Project ClassNK Approval in Principle liquefied hydrogen tanker.
2023 - Fjord cruise ship Havilla, Havyard, NES, liquid hydrogen fuel cell & battery powered