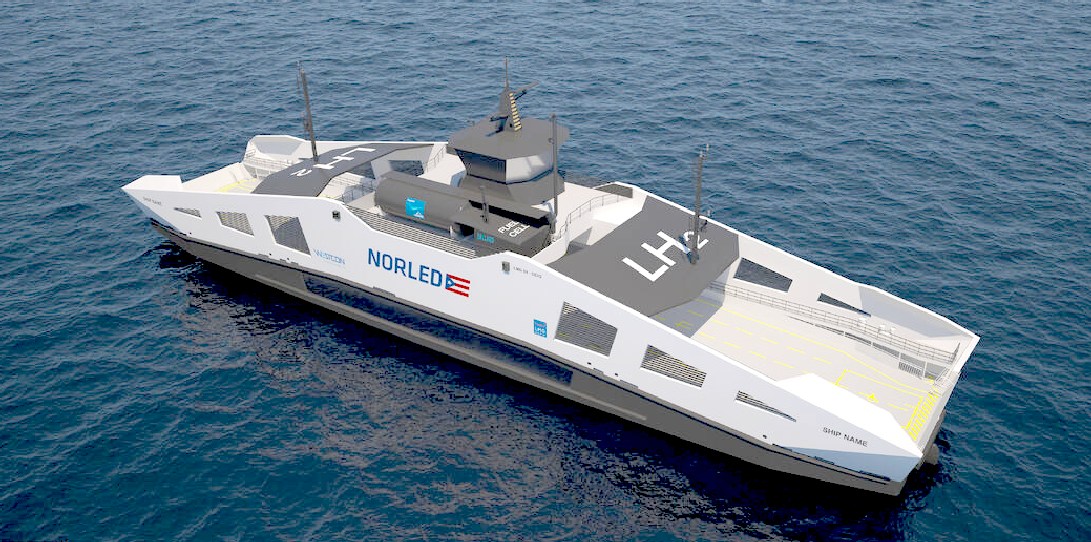 MF Hydra - In 2017 Norled started seriously looking into fuel cells in response to a new tender for zero-emission powered car ferries through the Norwegian Public Roads Administration, which specifically asked for hydrogen-powered fuel cells for the tender vessels. This led to Norled starting up technical development in the summer of 2017, where the tender bid was submitted in autumn 2018 and ultimately Norled winning the tender.
MF HYDRA - 5 AUGUST 2021

Norway's Norled has taken delivery of Hydra, the world's first liquid hydrogen powered ship. The ferry was designed by LMG Marin and built by Westcon at their shipyard, and is classified by DNV.
MF Hydra uses liquid hydrogen, two 200 kW fuel cells, a 1.36 MWh battery, and two 440 kW diesel generators. The hydrogen tanks and the fuel cells are located on top of the ferry. The hydrogen is trucked from Leipzig in Germany.

The ferry qualifies as zero emission waterborne transport, or ZEWT. Ballard is supplying the fuel cell power systems for two of Norled's zero-emission ferries. Those systems are being developed by Ballard Marine Center of Expertise in Denmark.
MF Hydra is 82.4 meters long with the ability to carry up to 300 passengers and 80 cars. The vessel can operate at a molded speed of 9 knots using Shottel thrusters.

It features liquid hydrogen supplied from industrial gas and energy company Linde. Liquid hydrogen new 24MW electrolyzer at the Leuna Chemical Complex in Germany, which will use Proton Exchange Membrane (PEM) technology to produce green hydrogen.
The vessel specification includes an 80m3 (CBM) tank for hydrogen storage. As reported by LMG Marin, the ship will be ready to sail, quoted as being: "once the supply is available, hopefully in the next few months."

The fuel cell-powered ferry is expected to reduce its annual carbon emissions by up to 95 per cent, the company claims. It is scheduled to sail on the triangular route between Hjelmeland-Skipavik-Nesvik in Norway.
Norled used Gexcon for safety and risk analysis. The system integrator is Westcon Power & Automation located at Karmøy, Norway. The ship builder is Westcon Yards in Ølen and the ship design is conducted by LMG Marin in Bergen, Norway.
Linde will build and install onshore and on board hydrogen storage, distribution and safety equipment.

The project comes as Norway is trying to decarbonise transport, and in particular its large shipping and ferry sector.

Bergen-based system integrator Norwegian Electrical Systems (NES) last year announced plans to plant a 3.2MW hydrogen fuel cell onto a large vessel currently being designed by Havyard Design for the ship owner Havila to cruise Norway's fjords. Cruise ships are among the largest emitters of greenhouse gases on Norway's coasts.

"We believe that hydrogen will play a significant role in the future of zero-emission ships," said Heidi Wolden, CEO of Norled.

The electricity to power the electrolyzer in Leuna to produce the green hydrogen will come from certified renewable energy in Germany (and later from a yet-to-be-built renewable power plant close to the Leuna plant).

Renewable electricity is cheaper and more abundant in Norway, but Germany is already at the start of a massive ramp-up of a green hydrogen sector and with it electrolysers. In the longer run, German does expect to become an importer of green hydrogen, though.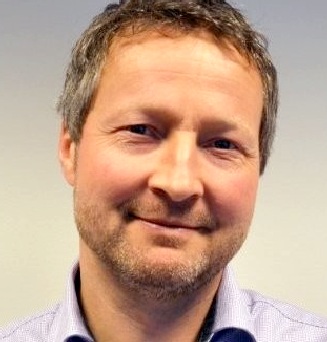 IVAN ØSTVIK - Is the project manager at Norled AS, overseeing the development of some of the new ships being built for their fleet. He works on car ferries and high-speed passenger boats. This includes addressing zero-emission regulations, including their experience with both fuel cell and battery powered ferries.
Ivan is a naval architect by profession. He's been working with ship design, marine technology and offshore wind for over 25 years. His main task at Norled is to construct the world's first ship to be powered by liquid hydrogen that they hope will be in operation in 2021. Apart from the 80 cubic meter cryogenic tank, the other significant issued is implementing fuel cell technology at scale.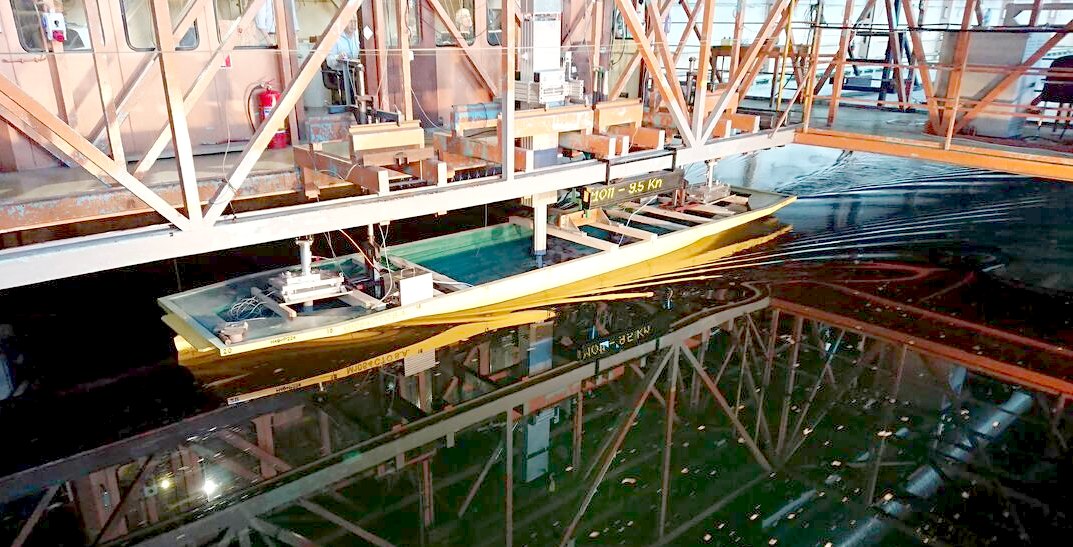 TANK TESTING - A large scale model of the car ferry undergoes trials to determine handling and power requirement. Fluid dynamic modeling is also used for design, but there is nothing like seeing a hull perform with your own eyes.
CONTACTS
Linde is a leading global industrial gases and engineering company with 2020 sales of $27 billion (€24 billion). The company serves a variety of end markets including chemicals & refining, food & beverage, electronics, healthcare, manufacturing and primary metals. Linde's industrial gases are used in countless applications, from life-saving oxygen for hospitals to high-purity & specialty gases for electronics manufacturing, hydrogen for clean fuels and much more. Linde also delivers state-of-the-art gas processing solutions to support customer expansion, efficiency improvements and emissions reductions.

LGM Marin provides all design, engineering and documentation required to build ships, floating structures and on-purpose platforms. LMG Marin assist ship owners to introduce cutting-edge, environmentally friendly solutions for their ships.
STANDARD ISO CONTAINERS - A 20m3 cryogenic tank, multi-layered vacuum insulation container in stainless steel. These units are heavier than a comparable aluminium tank such as those developed for the Space Shuttle, but they are more economical and available off the shelf. Large tanks are available from many manufacturers concerning LNG and hydrogen, where cryogenic temperatures are involved.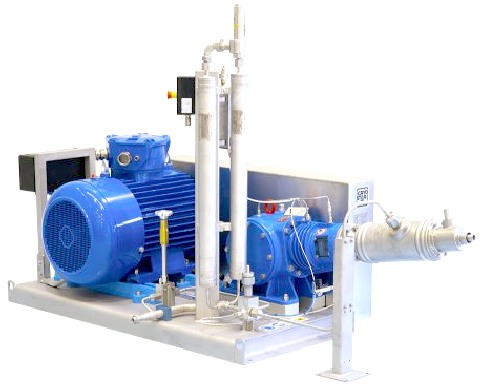 LH2 TRANSFERS - Cryostar (Zone Industrielle, 68220 Hésingue, France) has developed a range of liquid hydrogen piston pumps with large capacities and small footprints, as an ideal system for increasing the pressure of hydrogen. For example, the A-MRP 40/55-K LH2 cryo pumps are explosion proof skid mounted piston pumps designed for simple and safe installation for use with a liquid hydrogen source. Three different sizes are available, with capacities ranging from 6 to 190 kg/h with easy flow adjustment. They can be used with all types and makes of LH2 tanks and ISO containers.
MARINE HYDROGEN PROJECTS
2000 - The 22-person Hydra ship was demonstrated.
2003 - Duffy-Herreshoff watertaxi went into service.
2003 - Saw the debut of Yacht No. 1, and Hydroxy3000, Germanisher Lloyd, MTU Friedrichshafen
2004 - The AUV DeepC, and Yacht XV 1 were shown.
2005 - The Type 212 submarine, powered underwater by fuel cells, went into service with the German navy.
2006 - The 12-person Xperiance was debuted, as well as the Zebotec.
2007 - The 8-person Tuckerboot and the Canal boat Ross Barlow debuted.
2008 - The 100-passenger Zemships project Alsterwasser went into service in Hamburg.
2009 - The Nemo H2 and the Frauscher 600 Riviera HP went into service.
2013 - The Hydrogenesis Passenger Ferry project went into service.

2018 - HySeas III project: A consortium to build the world's first sea-going car and passenger ferry fuelled by hydrogen fuel cell propulsion, secured EU funding. The vessel is planned to operate in and around Orkney by 2021, which is already producing hydrogen from constrained renewable energy. The project is being led by Ferguson Marine Engineering Ltd (which is also involved in SWIFTH2) and St. Andrews University.
2018 - Jules Verne 2, hydrogen-powered passenger vessel, Nantes
2021 - The hydrogen powered Norled car ferry MF Hydra is ready for use in Norway.
2021 - The Kawasaki Suiso Frontier (New Sunshine) Project ClassNK Approval in Principle liquefied hydrogen tanker.
2023 - Fjord cruise ship Havilla, Havyard, NES, liquid hydrogen fuel cell & battery powered